New York, USA (MARCH 19th 2015) FOR IMMEDIATE RELEASE:
In October 2014 David Balkan, the CEO of Joseph L. Balkan, was accepted as a scholar in the Goldman Sachs initiative entitled 10,000 Small Businesses or 10KSB. This was the thirteenth cohort of the initiative and is being taught at LaGuardia Community College. LaGuardia Community College is located in Long Island City, NY. Prior to being accepted applicants must fill out a detailed application and provide financial information. Then the applicant is personally interviewed by a panel of professionals. After the careful screening process is completed, only thirty fortunate scholars are chosen out of the high number of applicants that apply.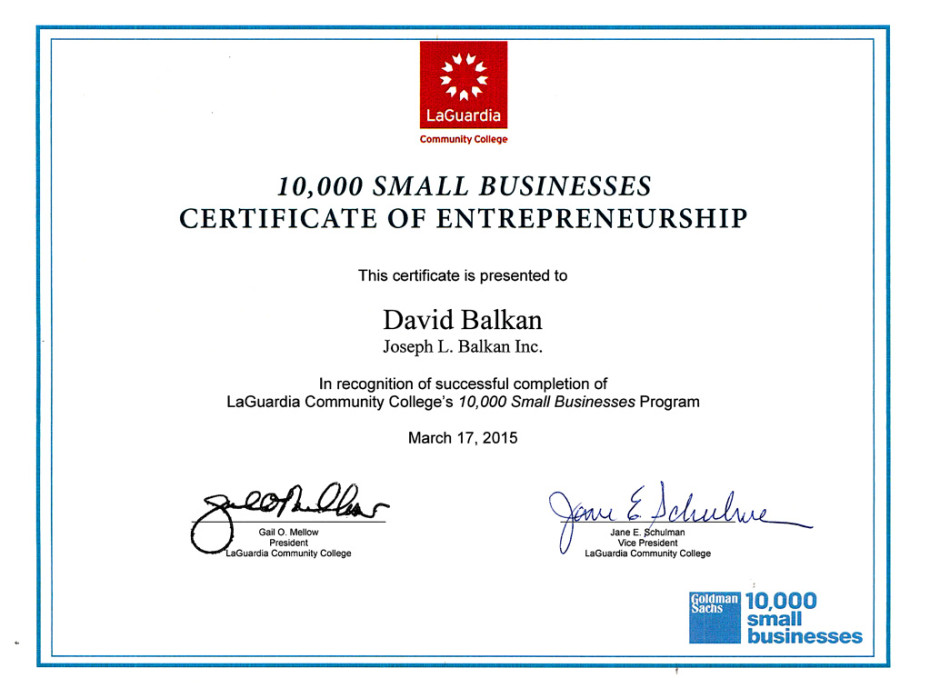 What is the 10,000 Small Businesses program?
10,000 Small Businesses is a $500 million investment to help small businesses create jobs and economic opportunity by providing them with greater access to business education, financial capital, and business support services. The program is based on the broadly held view of leading experts that greater access to this combination of education, capital, and support services best addresses barriers to growth. 10,000 Small Businesses is funded by Goldman Sachs and The Goldman Sachs Foundation.

The program is currently operating at community colleges in Chicago, Houston, Long Beach, Los Angeles, New Orleans, Cleveland, Salt Lake City, New York City, Philadelphia, Miami, Detroit, and Dallas-Fort Worth, and will continue to expand on a city-by-city basis, as determined by the Goldman Sachs 10,000 Small Businesses program.

AACC received a grant from The Goldman Sachs Foundation to develop tools to support 10,000 Small Businesses program delivery across all participating community colleges and to leverage the program's work within AACC's community college network and beyond.

Goldman Sachs 10,000 Small Businesses is designed for business owners with limited resources who have a business poised for growth. Applicants must demonstrate a commitment to growing their business and creating jobs within their community. Applicants should be an owner or co-owner of a business in operation for at least two years.

10,000 Small Businesses has an immediate impact
There are many common threads that most small business owners share. There are the feelings of victory and fulfillment. However, some of them are not as positive. The uniqueness of owning and operating a small business is sometimes an isolating experience. For example, between dealing with various regulatory bodies and human resource issues, owners can feel as if they are alone in the battle, surrounded. The 10,000 Small Businesses program realizes that owners are frequently left to fend for themselves in finding the resources, both professional and financial, to make their endeavor successful on all levels. It is more common than not for small business owners to feel like their business is running them, not that they are running their business. Under such stresses, the enthusiasm and joy of owning and operating one's own business can fade or in some cases entirely vanish. David Balkan is the CEO of Joseph L. Balkan, a long established house sewer and water service line contractor in NYC. He felt impressed and exhilarated after only two full days of a scheduled twelve-day cohort.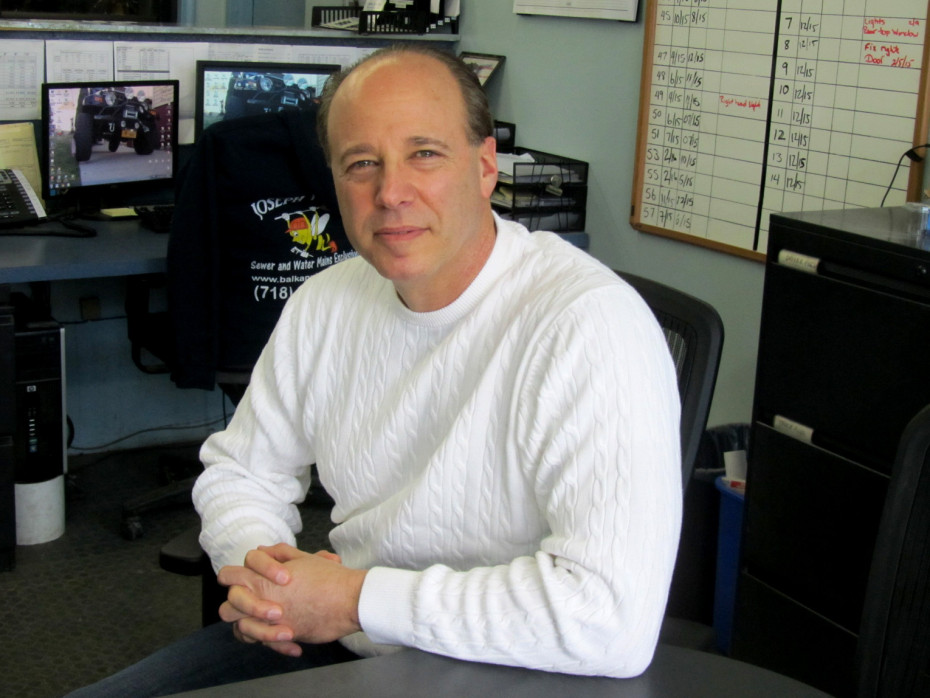 I applied for the 10,000 Small Businesses program with very little knowledge of it and its purpose. I assumed all applicants were accepted, and due to past experiences with seminars I did not have exceptionally high expectations.

The first thing that I noticed upon entering the introductory meeting with my fellow scholars was an energy level that reverberated throughout the room. It was immediately clear we were like-minded business people who were looking to connect, share, learn, and grow. The feeling of camaraderie was almost immediate.

The next impressions were that the program is tightly organized and lead by a full team of focused and dedicated professionals. The moderators and administrators are closely associated with LaGuardia Community College, each with their own set of expertise to offer.

In short, after only two sessions I feel empowered and re-energized. I am both learning and sharing thoughts in a setting that is truly unique to me. My cohorts and myself have begun the process necessary to grow both our businesses and ourselves as individuals. I have undertaken the opening of a new stand-alone business simply based upon the new environment and energy I have been exposed to.
10KSB Cohort XIII graduates 28 scholars on March 17, 2015
Frequently what starts well does not end well, but Goldman Sachs 10,000 Small Business program built up steam as it went along. Each class, referred to as a Mod, taught a distinctive set of skills to the scholars. Skills such a team building, leadership, financial forecasting, and discovering growth opportunities (just to name a few) were all covered. 10KSB is the equivalent of a mini-MBA, kind of like an MBA on steroids. Graduates leave the program with a heightened skill set, and a clear trajectory to fast-track their success. However, there is so much more to the program. The initial camaraderie of the scholars developed into genuine friendships, and vendor relationships developed between most. Twenty-eight scholars, who are like minded business people, found support in different ways. A quilt was made, with each scholar comprising a fabric of a tightly knit unit. The past alumni of 10KSB continue to meet regularly, as will Cohort XIII. The 10,000 Small Businesses program has had an almost immediate impact on the Balkan family of companies. In January of 2015 a new stand-alone drain cleaning company, Balkan Sewer & Drain Cleaning, Inc. was launched by Balkan. This new venture was primarily due to the inspiration that was drawn from the program, the Business Advisors, and fellow scholars. It is Balkan's hope to follow suit, as most participants do, by adding jobs and strength to an already existing small business.
Who are the 10,000 Small Businesses program advisers?
The 10,000 Small Businesses is lead by an impressive array of Advisory Council members which includes; Warren Buffett of Berkshire Hathaway, Michael Porter of Harvard Business School, former NYC Mayor Michael Bloomberg, and Lloyd C. Blankfein the Chairman and Chief Executive Officer of The Goldman Sachs Group, Inc.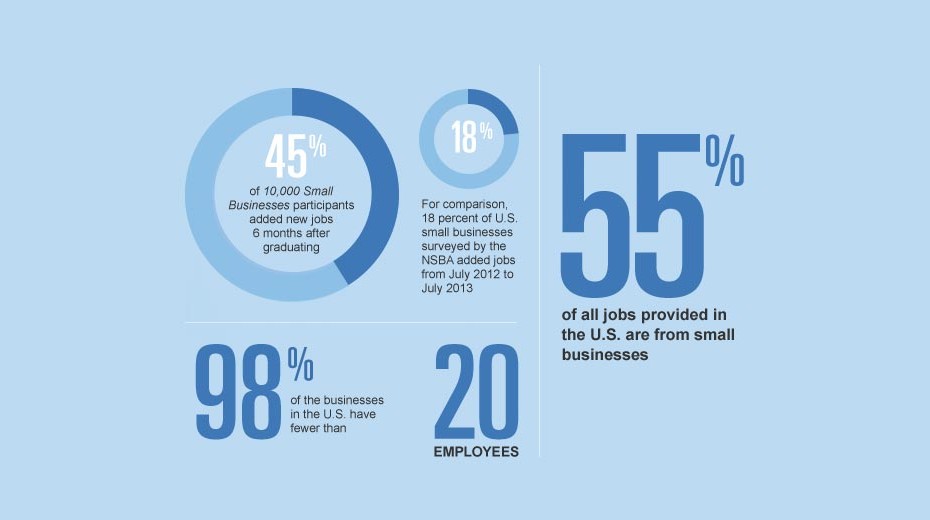 What learning institutions offer the program?
LaGuardia Community College, New York, NY
Los Angeles City College, Los Angeles, CA
Long Beach Community College District, Long Beach, CA
Delgado Community College, New Orleans, LA
Houston Community College, Houston, TX
City Colleges of Chicago, Chicago, IL
Cuyahoga Community College, Cleveland, OH
Salt Lake Community College, Salt Lake City, UT
Community College of Philadelphia, Philadelphia, PA
Miami Dade College, Miami, FL
Macomb Community College, Oakland Community College, Wayne State University (Consortium), Detroit, MI
Dallas County Community College District, El Centro College, Dallas-Fort Worth, TX
About Joseph L. Balkan Inc.
Balkan Sewer And Water Main is the largest sewer line replacement and water main service company in New York City. We are licensed, bonded, and insured. As a family run sewer and water main company in operation for over 50 years, our 10-year guarantee means we continue to stand by our work after the job is done.We are expertly equipped, from our 48,000 square foot facility to dozens of trucks, heavy moving equipment, backhoes and pneumatics. For all your subsurface plumbing including; water main repair and water main replacements, sewer repair and sewer replacements, catch basins, fire hydrants, manholes, and specialty excavation work, we can help. Contact Balkan Sewer And Water Main today or visit www.balkanplumbing.com.