New York, USA (April 13th 2021) FOR IMMEDIATE RELEASE:
We did it! We uploaded 200 YouTube videos! Today, we are pleased to announce that we recently reached another memorable milestone. Balkan Sewer and Water Main Service uploaded our 200th video on our YouTube channel. We have certainly come a long way from the first time we uploaded a video. We still cannot believe our first video was uploaded onto the YouTube platform over a decade ago in 2010.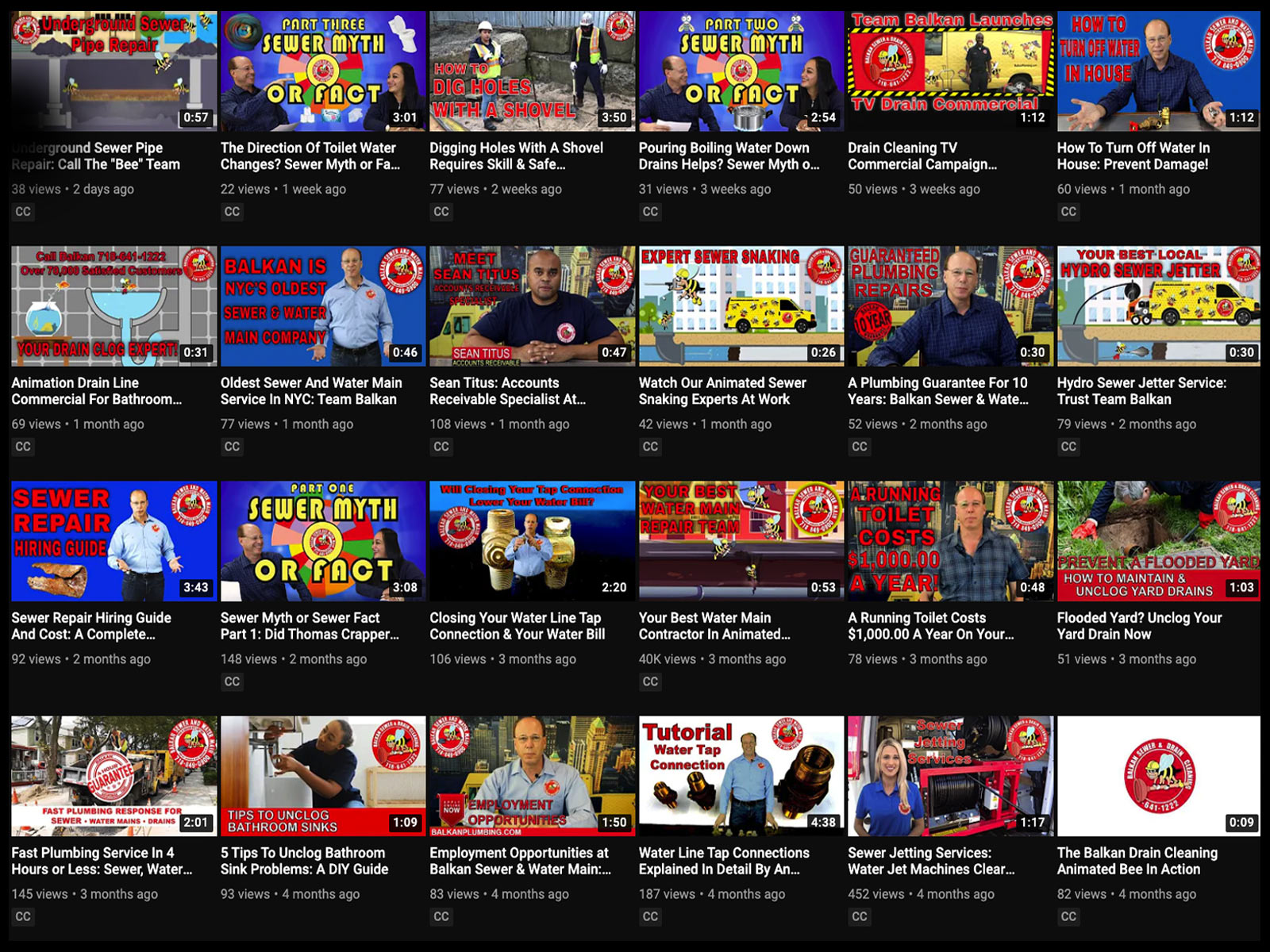 Our channel has always aimed at helping homeowners and building owners alike. Even people in the trade have learned from our many videos. Many of of our over 200 YouTube videos can expand your knowledge of plumbing, sewer, and water main issues. We create and upload videos that do the following:
Offer tips and advice on common issues that homeowners and building owners face every year
Videos that introduce our customers and clients to the dedicated members of the Balkan team
Provide an inside view into problems we have discovered and solved across New York City
We understand that when homeowners and building owners have an issue they do not want to watch a ten-minute video that does not address their issue until the 8-minute mark. Our videos are short, and they get right to the point. We think our videos are fun to watch, and our subscribers believe the same.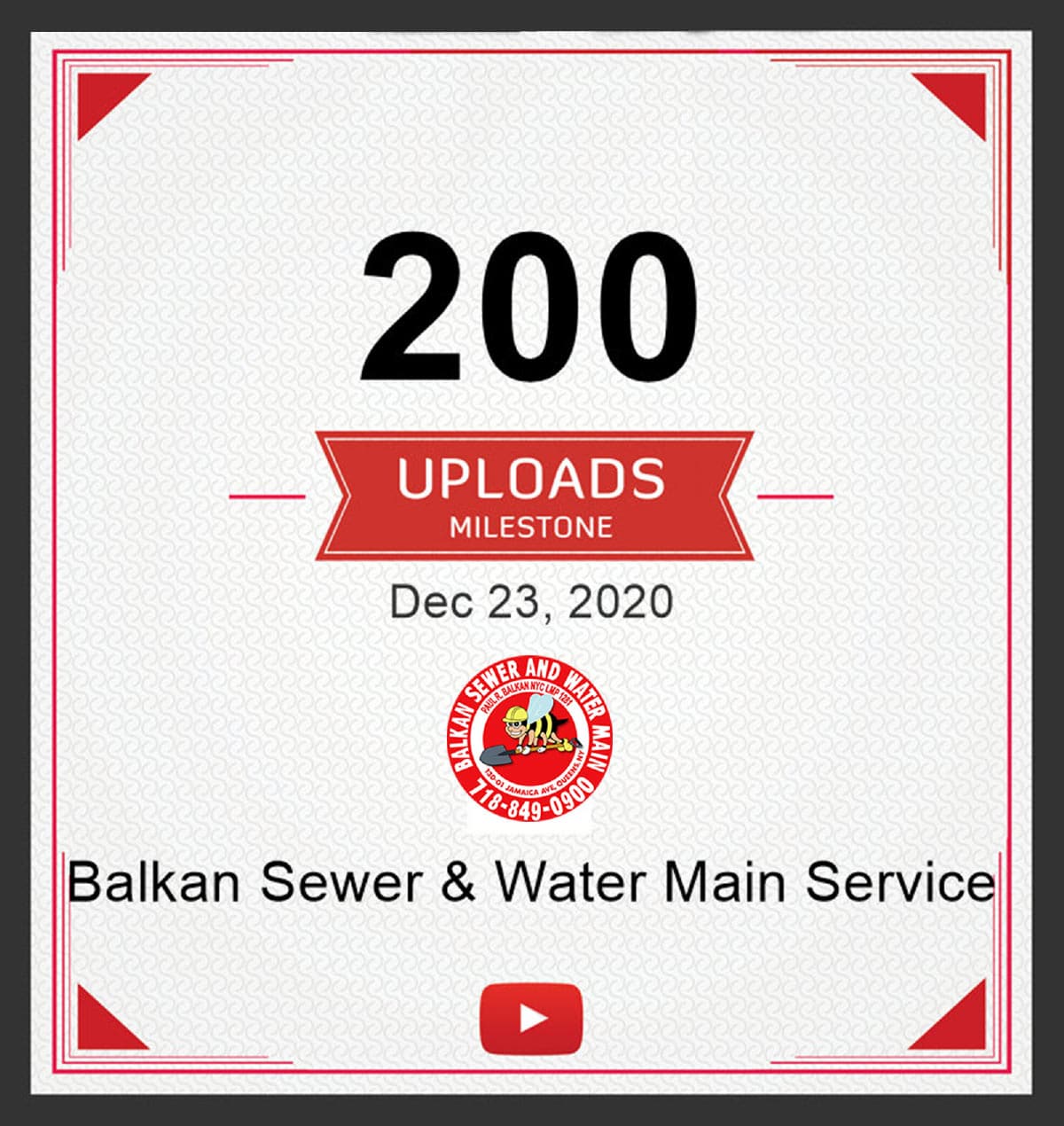 200 YouTube Videos With Quick Facts and Helpful Advice
When you subscribe to Balkan and Sewer Water Main Service's YouTube channel, you will receive facts and advice that will always be helpful and useful. Behind every video, there is a goal and a mission to educate our viewers about issues that are related to plumbing, sewer, and water main services. We are able to address some Frequently Asked Questions (FAQs) in videos that are two minutes or less. We understand that when you are having problems, you want to have the problem addressed quickly. Our videos will offer key facts that we know our viewers will want to know.
The Balkan Team
As you scroll through your YouTube channel, you will also find videos that feature members of the Balkan team. We are happy to offer our current customers and potential customers a personal look into some work we have done and how certain problems are addressed. We are also happy to show some faces our customers may not always see. Every Balkan team member is valued, and our spotlight videos will allow our viewers to get to know members of our dedicated staff. Our team members are proud to serve our customers, and we are proud to put them under the spotlight.
A Trip Down Memory Lane
Over the years, we have learned that we have to focus on producing content that our viewers care about the most. Before we create our content, we go over the top questions and concerns our customers have asked over the years. We know these are the topics people care about and will continue to have questions about.
We continue to add to our list and before we know it we have the information we need to create fresh content that our viewers will continue to watch. Here are some examples of videos we have created:
How do I stop my faucet from leaking?
Why does my toilet keep running?
How can I unclog my tub or sink?
What do I do when I have a plumbing emergency?
Why are my pipes making so much noise?
What is that smell?
History of plumbing
Signs there is a blockage in your sewer
Reaching Our Customers
The dedication and passion we have for our customers have always been strong and steady. Since we uploaded our first video, we trusted that our status on YouTube would grow based on the dedication and passion we have. On YouTube, we are allowed to do one of the things we love to do—serve our customers. Over the years, we have tried our best to create engaging videos that are also compelling and educational. We want every video to be enjoyable to watch from start to finish. We also want to give our subscribers and future subscribers the ability to fully understand the techniques we use to solve home and building plumbing problems. After over 200 YouTube videos, we do believe we've travelled a long way down that path!
Closer Personal Connection Through Videos
One key thing we have noticed over the years with video is it encourages a level of closeness that helps with building a solid community. We can create a closer connection with people and allow them to see how and why certain situations are addressed. There is something about watching a video where our viewers can feel like we are there with them working on the problem. The YouTube platform has allowed us to bring in more customers and create strong and personal connections that will last for a lifetime.
The Balkan Culture
For our over 900 YouTube subscribers, we always want positively represent the Balkan brand. Team Balkan is fully committed to communicating and educating. We have a tremendous amount of love and respect for our customers, and we hope this shows through our video content. The Balkan target audience continues watching and sharing their opinions on our video content. Communication has always been a staple in the Balkan culture, and we will continue to use different mediums to communicate and connect with our customers.
YouTube Is Our Creative & Educational Video Outlet
Our YouTube channel has given us a creative outlet. The Balkan Sewer And Water Main channel allows us to do something different from uploading pictures and written content. It is also nice to see members of our team to get in front of the camera a little and share information about themselves and what they bring to Balkan. We know the majority of our customers and potential customers rely on our videos. Videos have proven to be an excellent way to capture our audience's attention. Our content is all about what our customers want to see, and the creativity at Balkan shines through our video content.
Balkan's Unparalleled Customer Service
Providing great customer service involves more than just showing up to a job site, fixing the problem, and leaving the job site neat and clean. Technicians at Balkan Sewer and Water Main Service will do this, but they will also go above and beyond. Our YouTube channel presents an opportunity to give customers added value by using a platform they can turn to when they have problems.
A key part of customer service is owning any customer service opportunity regardless of whether we are present. We are the brand, and we understand everything will fall on us. We want our customers to know that we genuinely care about them and the problems they are having. Our YouTube videos demonstrate a willingness to correct any problem our customers have had in the past or may have in the future.
If you ever run into a plumbing, sewer, or water main problem at your home or in your building, please do not hesitate to contact us today. We are the team you can trust for any problem you may have. Our technicians are reliable, highly-skilled, professional, and friendly. We have nearly 70 years worth of experience to address any need you may have.
Uploading 200 videos is an incredible milestone for us. As of today, we have uploaded over 200 videos. We encourage you to subscribe to our YouTube channel if you want to stay informed on common problems. Contact us online or call us at (718) 849-0900 or (718) 943-5720.
About Balkan Sewer And Water Main
The Balkan Team provides expert sewer and water main repairs and replacements. We are experts in all types of NYC underground plumbing. Balkan Sewer And Water Main Service was founded in 1952. Since its inception, the foundation of the company has been based upon integrity and honesty in all of our dealings. That solid foundation has enabled us to thrive in every economic climate. The year 2020 actually marks our 68th consecutive year in business. As we have grown, we have become increasingly dependent upon a "Team First" approach. What helps ensure a continuation of our high standards, overall integrity, and high company morale, is that same team approach. Complete client satisfaction has always been the number one goal at Balkan Sewer And Water Main. That is why we are NYC's largest and most trusted sewer and water main service in New York City. Simply put, if it's plumbing, and it's underground, we do it. For almost 70 years, and for over 70,000 New Yorkers to date, Balkan is "The Team You Trust".