New York, USA (Nov 25th 2018) FOR IMMEDIATE RELEASE:
Balkan Sewer and Water Main celebrated our first annual company outing at Citi Field. As part of our outing,  our Team took part in the Papa John's giveaway, the Pizza Box Challenge. We are all aware of how challenging and stressful workplaces can sometimes be. That is why it is important that employees are given a chance to relax and recharge their batteries. One of the happiest and exciting times of the year for many people is during the summer. During the summer, there a variety of festivities and events taking place.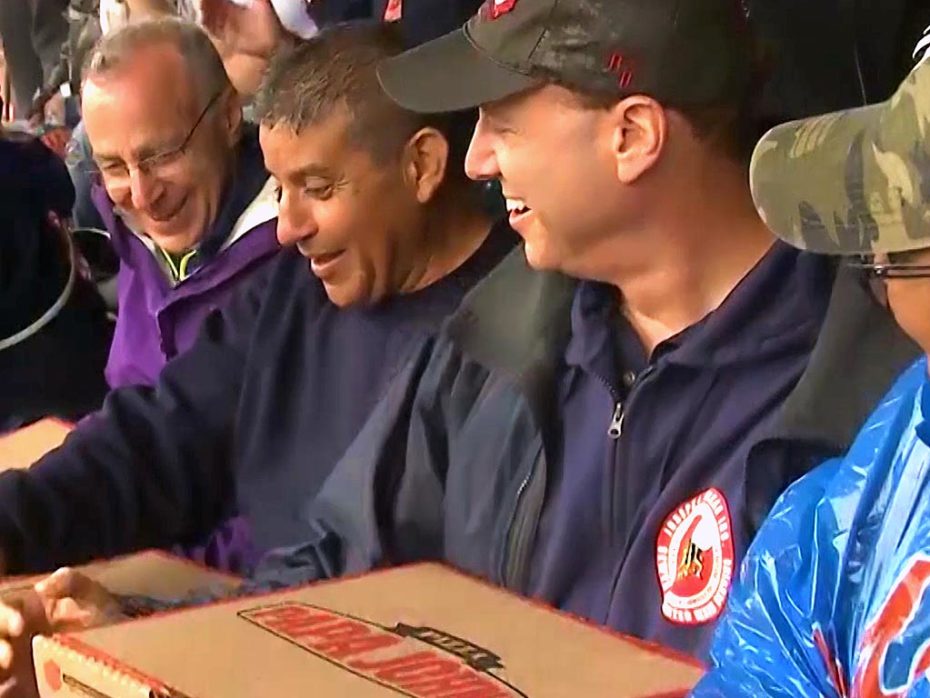 The summer is a great time to host company outings. Besides having an enjoyable time, company outings serve a deeper purpose than just having fun. Company outings can have an incredible impact on an entire workplace. Employees are able to spend time connecting with one another, and potentially building lifelong friendships. This can have an incredible impact on an entire business, and an employees quality of life.
When team members interact with one another on a daily basis, it does allow them to build a friendship and a bond to some degree. However, a company outing can be the spark that is needed to creating authentic chemistry. An outing will give everyone the chance to enjoy a casual, relaxed atmosphere that will give everyone the chance to be themselves. Sometimes the team just needs to let go and spark conversations with everyone throughout the entire company hierarchy. A fun outing will give everyone the chance to know each other better as a family regardless of what position they hold with the company.
The 1st Balkan annual company outing, with many to come!
It was time for the 1st Annual company outing for the Balkan Sewer And Water Main family. On September 9th, we had a memorable event at Citi Field. Even though we did not have a day filled with sunshine, the rain did not stop us from showing up and having a blast! Despite being a rainy day, over 40 people turned out to have a great time. We all enjoyed an exciting Mets baseball game as they took on the Philadelphia Phillies.
While the game was impressive, there was another exciting event that took place during the game. As part of the Papa John's giveaway, we received Mets gift cards as a prize after one of our team members selected Pizza Box #2 in the Pizza Box Challenge. In addition to the Mets gift cards that we will be sure to put to good use, everyone in the section received a coupon for a free cheese stick. Yum! Yum!
Our first outing was designated for everyone to take their minds off all the work we have done and have a good time. Summer was coming to a close, and we needed to recharge and refresh before it was time to take on the fall and winter seasons. We believed that this type of outing would allow everyone to return to work with more energy and a renewed outlook on work and their team members.
The rainy and nasty day did not stop the Balkan team from having a great time. After a memorable day of all play and no work, everyone was able to return to work feeling restored. It was incredible to enjoy all the people who have been so dedicated to maintaining, protecting, and repairing water lines, sewers, water mains, and much more.
While this was our first company outing, it will not be our last. Balkan Sewer And Water Main has plans to make this outing the first of many in the future. All of us had a day that we will not forget on September 9th. With our batteries now recharged, we are once again ready to assist you with any sewer or water main issues you may have. Remember to prepare your sewer and water main for the carnage NYC winters normally bring to the subsurface infrastructure.
If you want to make sure your home will be ready for what may come during the remainder of this year, please contact Balkan Sewer and Water Main today for a free consultation.
About Balkan Sewer And Water Main
Joseph L. Balkan founded our family company in 1952. Since its inception the foundation of the company has been based upon integrity and honesty in all of our dealings. That solid foundation has enabled us to thrive in every economic climate. The year 2017 actually marked our 65th consecutive year in business. As we have grown, we have become increasingly dependent upon a Team First approach.

That team first approach has allowed Team Members to advance to various positions of authority and responsibility. This helps ensure a continuation of our high standards, overall integrity, and high company morale. Complete client satisfaction has always been the number one goal at Balkan. That is why we are the most trusted and largest sewer and water main contractor in all of NYC. That is a position we have held for decades.