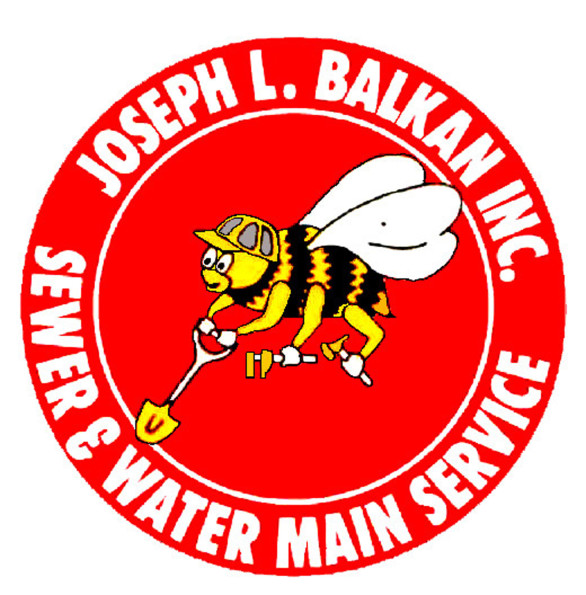 Many properties suffer with recurrent water damage or flooding that a new trench drain or area drain could easily correct. These types of drain hardware installed properly and connected to a house drain, detention tank or a drywell can permanently alleviate many long-standing water problems.
Some of the issues a trench drain or area drain can address:
Water entering and damaging garages after a rainfall.
Water entering basements from low lying entrance doorways.
Winter icing conditions from standing water in low lying areas.
Ponding conditions created by poor drainage.
A trench drain or area drain will not only alleviate the above conditions, but other conditions as well. An area drain or trench drain can also eliminate a potential liability from both physical and property damage. Furthermore it will increase the value and appeal of your property by allowing for a cleaner, dryer, and more sanitary environment.
It is very important to remember that these devices must be professionally installed or they can create more problems than they solve. Installing a drain system is not a job that should be trusted to a handyman or unlicensed individual.
Trench drains or area drains installed improperly can create problems:
Sewer gases escaping into your property creating a health hazard.
Sewer gases fouling the air outside of your property.
House sewer back-ups from various debris entering into the sewer system.
The trench drain or area drain frequently getting clogged or blocked up.
Seepage through the ground undermining the surrounding area or flooding a basement.
Department of Buildings or DEP issuing violations.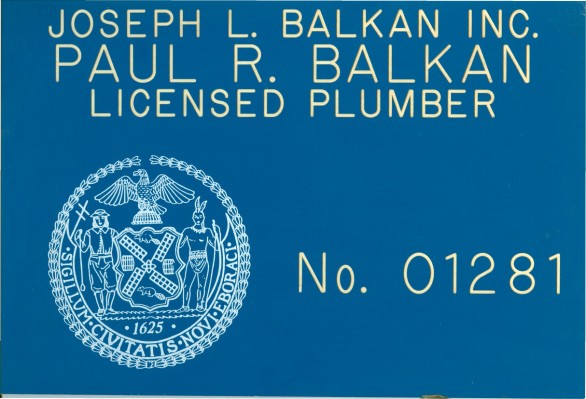 A licensed NYC Plumber who has proper insurance such as Joseph L. Balkan Inc. is the wise choice to professionally install an area drain or a trench drain.
As an example of the expertise required, these plumbing fixtures must be properly trapped to ensure that unwanted debris does not clog or damage the device or your sewer.
A sewer trap will also prevent sewer gases from fouling the air inside or outside your property. Most importantly the device must work as designed and be have a  tight fit. Only a skilled professional can analyze the situation and determine if a trench drain or area drain is the proper solution or even legal to install in your neighborhood. It makes little sense to attempt to address one problem only to create more problems.
Area Drain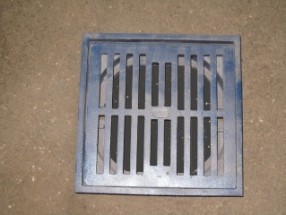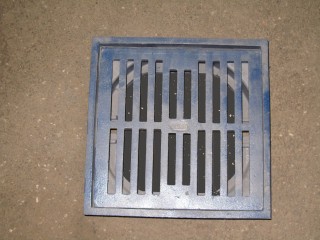 An area drain is designed to be installed to address a relatively small area such as a door entrance way to a basement, a landing, or a small patio area.
Another appropriate situation is if the surrounding surface is sloped to a particular point, such as the center of a concrete slab. As with all plumbing fixtures it must be properly 'trapped' and maintained as debris such a leaves accumulates.
Many times installing a screen over an area drain will prevent leaves and debris from clogging the grate and allowing water to drain longer between cleanings. Area drains must be maintained properly – which means keeping the grate and strainer clear of leaves and sediment. Properly installed by a licensed professional this device will last for many years and be a wise investment. This device can potentially save thousands of dollars in property damage and potential liabilities at a very reasonable cost.
Trench Drain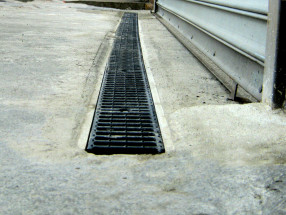 A trench drain is designed for a larger area, usually a driveway or a commercial property. A trench drain does not need water to be directed to a particular point, it can handle the length of an opening such as a driveway entrance pictured above.
Furthermore because it comes in sections it can be built to accommodate any desired length or unique situation. A trench drain will eliminate unwanted water accumulation inside areas such as a garage or driveway. Lifting the sections of metal grates allows for periodic cleaning and maintenance – visual inspections are easy to perform.
Balkan Sewer And Water Main Service has been professionally installing all sorts of trench drains and area drains for well over 60 years and for all types of applications. A Balkan sewer or water main installation results in a long-lasting and permanent solution for any sewer line or water line problem. Balkan provides trusted 'Results Not Excuses'.