New York, USA (June 20th 2019) FOR IMMEDIATE RELEASE:
Company logos are often cute and visually appealing. But rarely does a company logo speak to a family and business history that spans well over 70 years. However, that 70-year history is precisely what the Balkan Bee plumbers logo represents. As many New Yorker's have grown accustomed to spotting the Balkan Sewer And Water Main Bee logos all over New York City, they frequently ask "Hey, what's with all the Bees?". Learn all about the real life, behind-the-scenes story of the Balkan Sewer And Water Main Bee logo, it's inspiration from WWII and evolution into our corporate mascot.
Service, Inspiration and Seabees of the South Pacific
My Father, Joe Balkan, was one of those fighting Seabees back in WWII. While he was relatively fearless growing up in East New York during the great depression, he only grew more so after living through World War II. Living through the war almost didn't happen for Joe Balkan. Joe was walking along a beach in Southeast Asia with a pal of his. As Joe was in mid-stride, his pal reached across his chest and stopped his next step, which he almost completed. It would have been Joe's last, as he was inches away from stepping on a land mine. Once you live through an experience like that, not much can intimidate a fellow. That proved true for Joe throughout his entire life.
While serving his country, Joe dreamed of returning home and owning his own business. In 1952 Joe fulfilled that dream by founding Balkan Sewer And Water Main. And when it came time to create his company's plumbers logo, Joe reflected on his time serving his country in the Seabees. The decision was made to pay homage to the Seabees by using the Seabee logo as the inspiration for the Balkan Sewer And Water Main logo. Thus was the beginning of the history of Balkan Sewer And Water Main.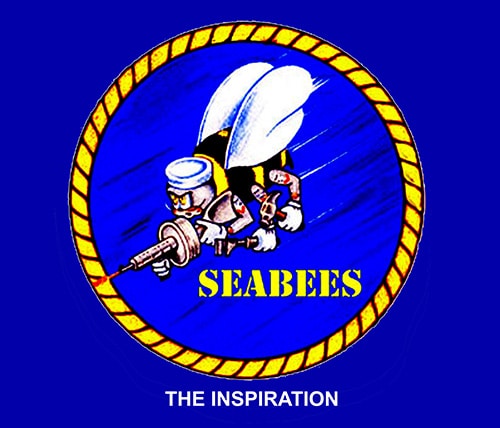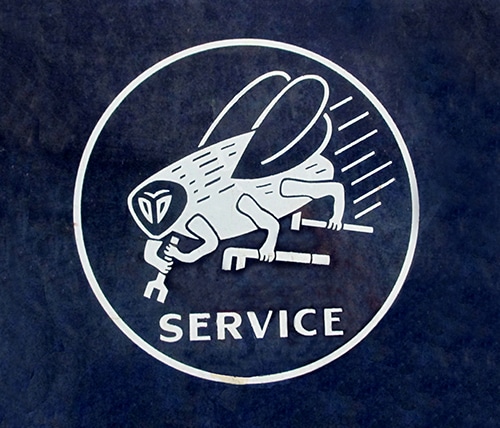 The most significant change to the original Seabee logo was replacing the tools of war with the tools of peace and prosperity. Gone were the machine guns, replaced with the same pipe wrenches we use every day to maintain New York City's subsurface infrastructure. Thus was born the Balkan Sewer And Water Main family's first logo in 1952. Just as the Balkan Sewer And Water Main business would grow over the years, so would the Balkan Bee logo continue to evolve.
The Balkan Bee Plumbers Logo of the 1980s and 1990s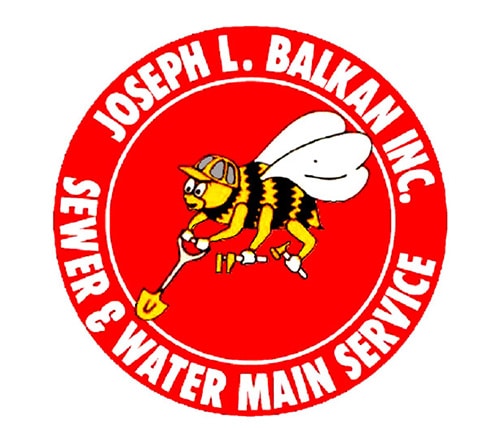 As my brother Paul and myself took the reigns of the family business, things began to change. And just as any generational change, major decisions were made. One of those decisions made was to start specializing in house sewer and water service line work. During this time, the company also encountered significant expansion, much to Joe Balkan's delight. The family thought a fresh new plumbers logo Bee was needed to express this, so we introduced a new and modernized version of the original logo.
As the 1990s came along, the business grew exponentially. That meant the need for more worker bees. Thus a squadron of Bees was enlisted and put into service. Each Bee represented a unique aspect of our dedication to service. This new series of Balkan Sewer And Water Main Bee logos were incorporated into our brand, and became recognized throughout New York City. It is not uncommon for passersby to snap and forward cell phone pictures of our Balkan Bees on location working in (and underneath) New York City.
The Pivotal Role of Lang Moss
Any recount of the Balkan family business and its growth must include Lang Moss. Although not related by blood, Lang was considered family by Joe Balkan, and then his sons as well. Lang Moss came up from the South at 19 years old in 1958 and found a job working alongside Joe. That was a job he maintained for 46 years until 2004. During that time, he was also instrumental in mentoring and both of Joe's sons. First Paul Balkan, and then David Balkan, as each of them entered and learned the business.
As much as any individual, besides Joe Balkan himself, Lang Moss assured Balkan's bright future through an incredible work ethic, dedication, and devotion to the company. During his long tenure, he was considered the most skilled backhoe operator and sewer foreman in the NYC house sewer industry. Even more importantly, as a human being, he was simply a lovely man, with infectious energy and spirit.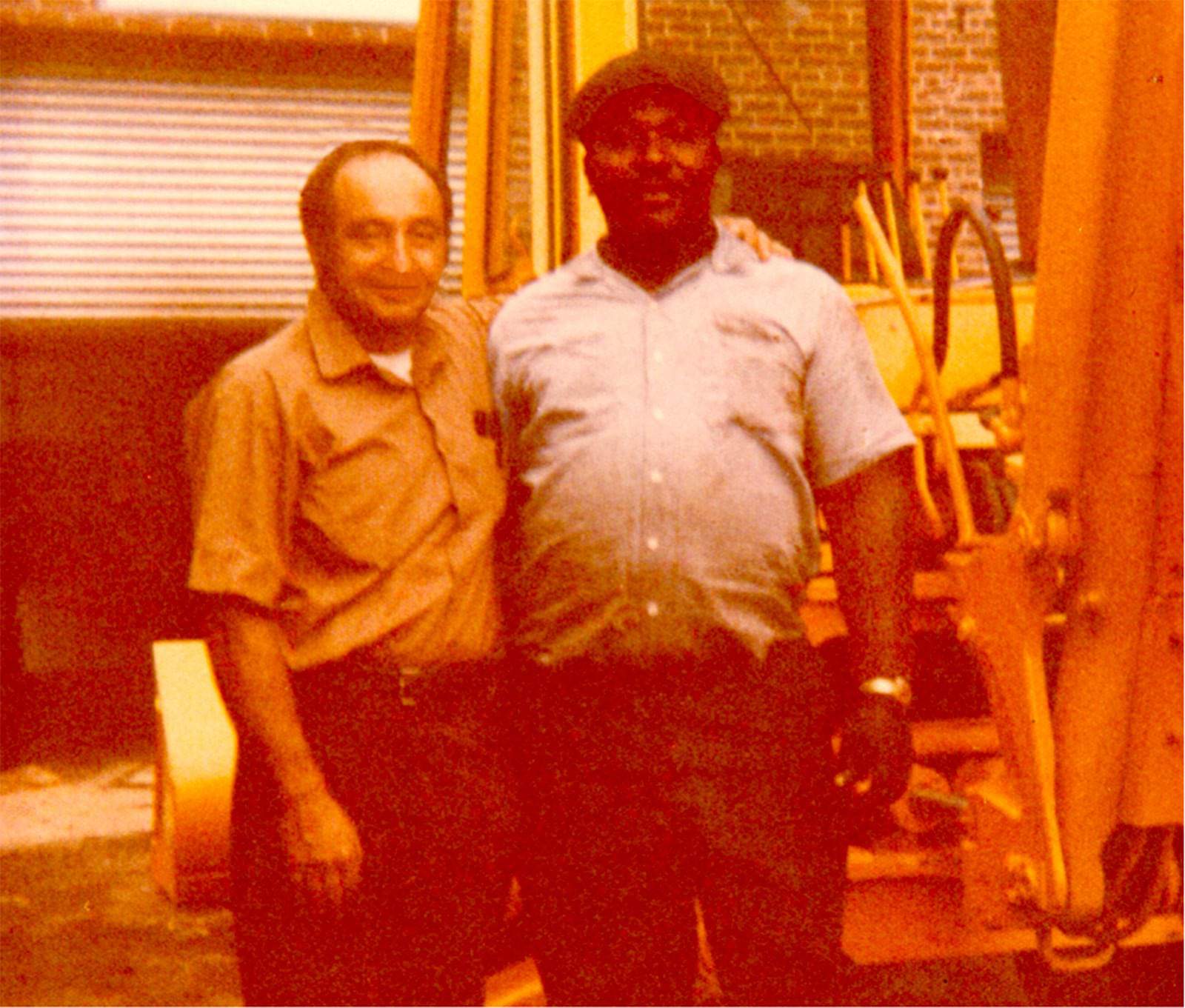 The Balkan Sewer & Drain Bee Logo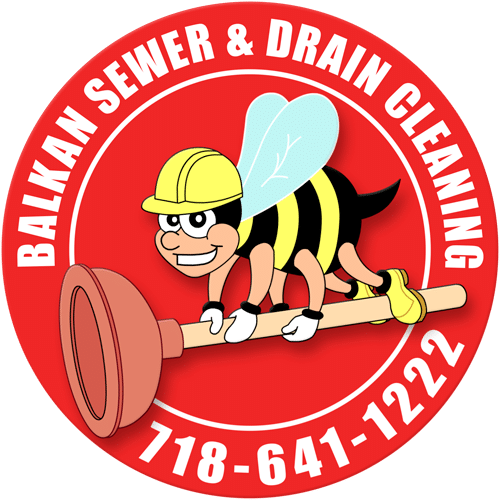 In 2015, we created a new version of the Balkan bee logo for the newly launched Balkan Drain Cleaning Service. After years of Clients requesting drain cleaning services with the same expected quality and service as our sewer and water main services, Paul and Dave Balkan launched Balkan Drain Cleaning Service. There was great hope in 2015 that the service would catch on, and we have in fact been overwhelmed with the positive response.
From homeowners, to commercial accounts, to national firms, Balkan Drain Cleaning has become among the most trusted drain cleaning services in New York City. This accomplishment is in large part due to the tried and true family values that made Balkan Sewer And Water Main a household name. We are known for honesty and integrity in all things we do. Those values are at the heart of our success, a success that spans many decades.
We take great pride in displaying the Balkan Sewer And Water Main Bee plumbers logo on the outside of our corporate headquarters, and every backhoe, dump truck, and rapid-response vehicle. With a direct line from our service to the country in the past, Balkan Sewer And Water Main continues to serve by providing the subsurface infrastructure improvements, maintenance, and repair that keep New York City going strong. So now you know, "What's with all the Bees?"
About Balkan Sewer And Water Main
Joseph L. Balkan founded our family company in 1952. Since its inception the foundation of the company has been based upon integrity and honesty in all of our dealings. That solid foundation has enabled us to thrive in every economic climate. The year 2019 actually marks our 67th consecutive year in business. As we have grown, we have become increasingly dependent upon a Team First approach.

That team first approach has allowed Team Members to advance to various positions of authority and responsibility. This helps ensure a continuation of our high standards, overall integrity, and high company morale. Complete client satisfaction has always been the number one goal at Balkan. That is why we are the most trusted and largest sewer and water main contractor in all of NYC. That is a position we have held for decades.