New York, USA (July 28th 2020) FOR IMMEDIATE RELEASE:
As David Balkan, the CEO of Balkan Sewer And Water Main Service, this article and the accompanying video are autobiographical to a large degree. This article and video tell the story of our family business, from my Dad's vision, which took hold as one of the Fighting Seabees during WWII, to present day. While a major component of our family business's history was my brother Paul entering the business, and then myself, the story reaches far beyond that. We are indeed proud and delighted to share with you our Balkan company history.
Our company had humble beginnings, much like many businesses founded by the returning veterans of WWII. It took a lot of hard work, determination, and integrity to become New York City's largest and most trusted sewer and water main service. Please take the time to allow us to share in our story. If you're a New Yorker, there's even a good chance you took a part in it.
Logos That Tell A Deeper Story About A Family Business
Our Bee logo is a familiar sight in the New York City area. You may have noticed those famous bees that are so central to our brand. You can see our bees on our trucks, the uniforms we wear, and our buildings. Many people routinely ask us, "What's up with all the bees?" Read on and watch our Balkan company history video to find out!
It all started over 75 years ago. Our dad served in South East Asia in World War II as part of the Naval Construction Battalion (NCB), otherwise known as the "SeaBees" for short. When he returned from World War II, our father started building his American Dream. He married my mother, and to save money, he quit smoking cigarettes. With the money he saved, he bought his own plumbing company, Balkan Sewer and Water Main Service. That is actually a true story of how Joe Balkan got his "venture capital" to start what became a multi-generational family business.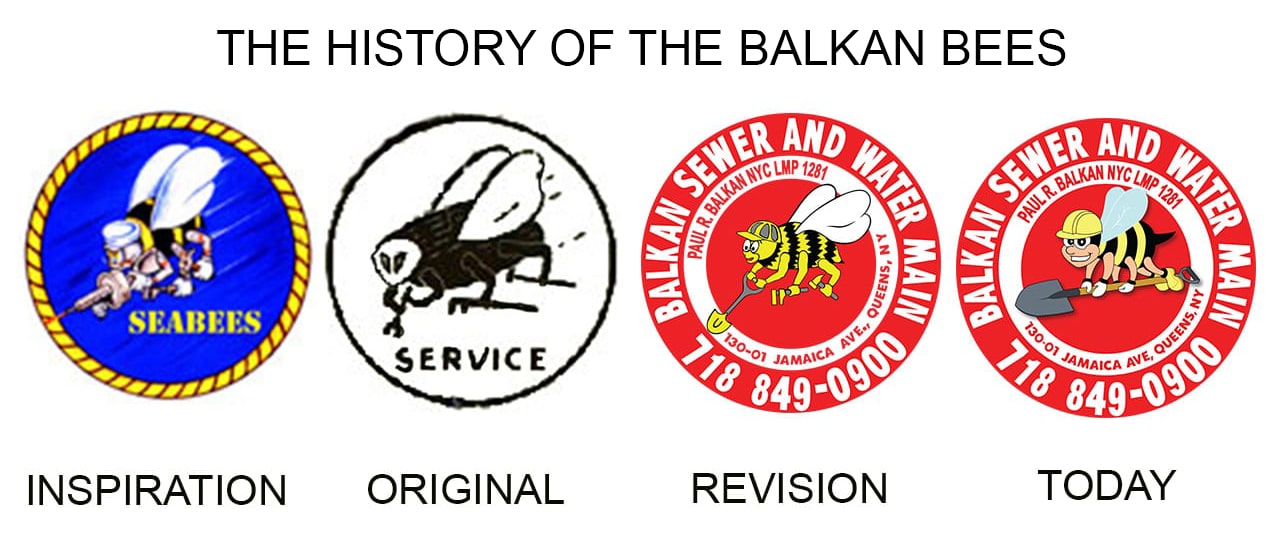 Our father always felt a deep connection with the Naval Construction Battalion. His time in the service instilled in him a positive work ethic, the meaning of trust and loyalty, and the value of friendship and teamwork. With those core values in mind, our Dad incorporated the bee, the symbol of the SeaBees, into his company logo. He also instilled those admirable traits as the rock solid foundation of his new family company. Of course, to make his logo more friendly and relevant to his work, our father Joe Balkan took out the machine-gun and replaced it with pipes and wrenches.
Four Rules Lay The Groundwork For Success
Our father always followed four rules as he started his family business. These rules reflected the values he lived by as a SeaBee, and in civilian life as well. These four commitments gave Balkan Sewer and Water Main Service a solid foundation:
One: Keep the promises you make.
Two: Show up on time.
Three: Solve people's problems with integrity.
Four: Charge a fair price.
One would think that these are 4 simple rules. But there is a beauty and intelligence when simplicity is applied to complicated situations. Business, just like life itself, presents many complicated situations. These four rules provided the guidance and trajectory for a high degree of future success.
A Game Changing Addition to the Balkan Family Business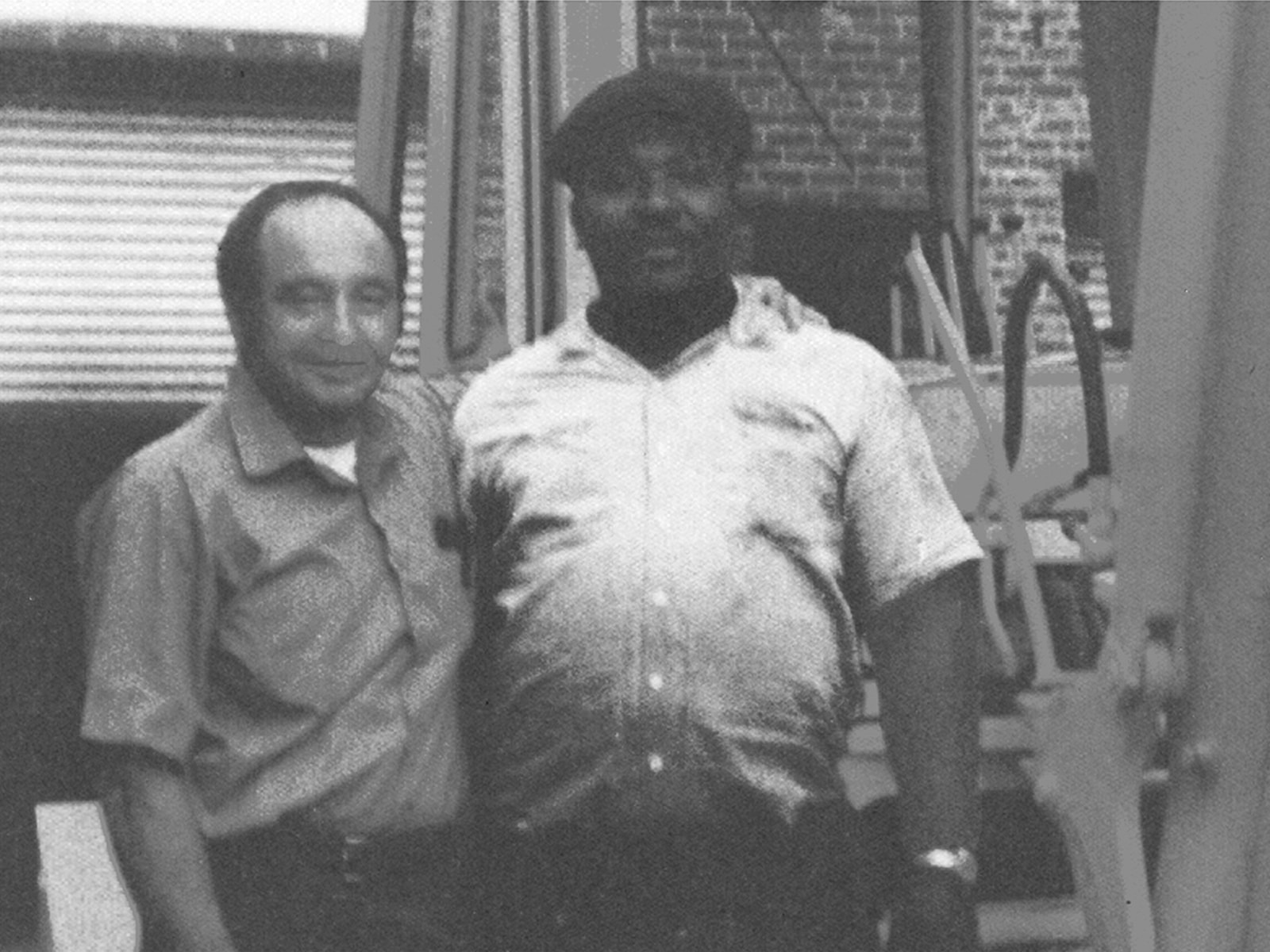 In 1958, Lang Moss, who was then 19 years old, came to New York City from the South to start a new life. Lang and Joe Balkan formed a lifelong bond. Joe frequently only half-joked that Lang was his "fourth son". Sometimes Paul and myself felt Lang was our Dad's 1st son! Lang, along with Joe himself, truly became the heart, soul, and backbone of our operation. Lang remained with our company for 46 years.
Lang Moss served as a mentor for my brother Paul and myself when we joined the company in 1980. He also became a generational part of our family, and us of his family as well. There is rarely a period of time that goes by us without recalling Lang in the fondest way possible. In his time he was the best backhoe operator in NYC, but more than that, he was simply an exemplary human being.
Joe Balkan Achieves His American Dream
Working together with Lang and with his two sons, Joe Balkan had achieved the American dream of building a successful family business. What made it even more meaningful was that is was based on a committed partnership, and strong family values. With his sons Paul and myself by his side, our father worked with Lang, and continued to make Balkan Sewer and Water Main Service known for its reliability and integrity.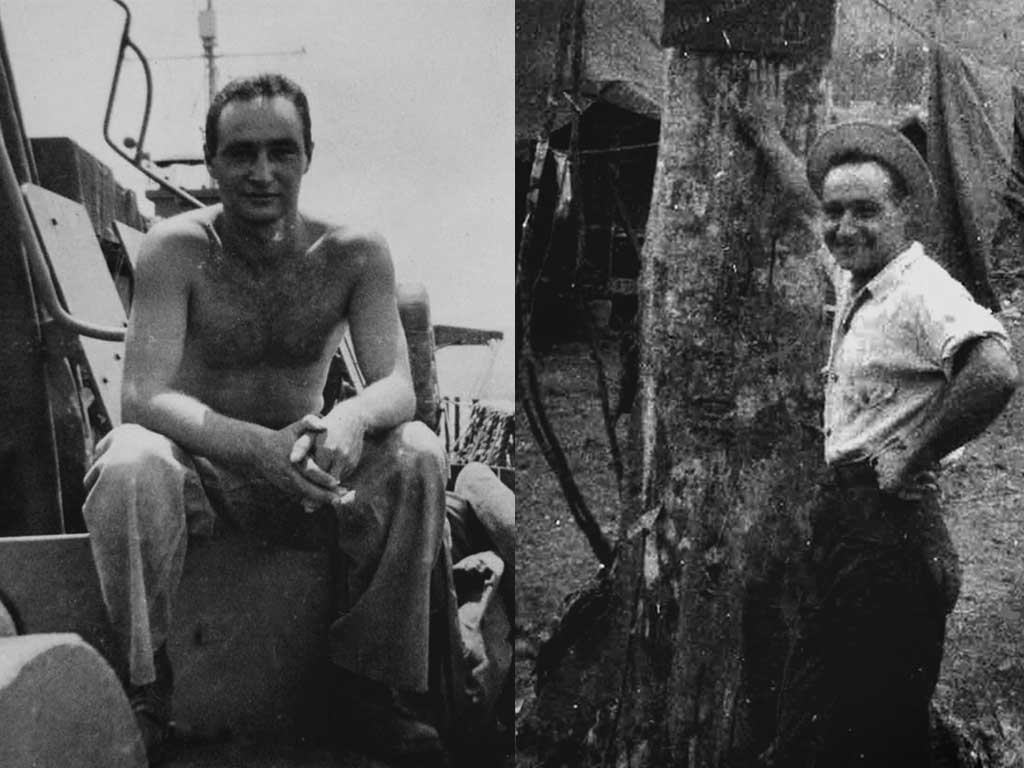 Over the past almost 70 years Balkan Sewer and Water Main Service has served over 70,000 customers. Even today, we remain the same family business that first dedicated itself to the founder's commitments. The bees in our logo have evolved over the years, taking on a new look from time to time. For example, when we added the drain cleaning business, so came along yet another Bee. Through it all though, the values which they represent have never changed:
We still show up on time; we solve your problem with integrity; and we always charge a fair price.
The Answer to that "Bees Question"!
So if you are driving on the streets of New York City, and see those bees on our trucks, a building, or a sign, you now know the answer to that common question, "What's up with all those bees?" Not only do you know our story as a family business, but how we came to be the most trusted and reliable sewer and water main company in New York City. You will also remember the SeaBees, and how they reflect to this day the simple values Balkan Sewer and Water Main lives by – and delivers – every time.
We hope you enjoyed our Balkan family company story and video. It is a story we share with pride. For more information about how we can solve the sewer water main problems for your home, please contact Balkan Sewer and Water Main Services to schedule an appointment.
About Balkan Sewer And Water Main
The Balkan Team provides expert sewer and water main repairs and replacements. We are experts in all types of NYC underground plumbing. Balkan Sewer And Water Main Service was founded in 1952. Since its inception, the foundation of the company has been based upon integrity and honesty in all of our dealings. That solid foundation has enabled us to thrive in every economic climate. The year 2020 actually marks our 68th consecutive year in business. As we have grown, we have become increasingly dependent upon a "Team First" approach. What helps ensure a continuation of our high standards, overall integrity, and high company morale, is that same team approach. Complete client satisfaction has always been the number one goal at Balkan Sewer And Water Main. That is why we are NYC's largest and most trusted sewer and water main service in New York City. Simply put, if it's plumbing, and it's underground, we do it. For almost 70 years, and for over 70,000 New Yorkers to date, Balkan is "The Team You Trust".