New York, USA (March 30th 2021) FOR IMMEDIATE RELEASE:
The year 2021 marks nearly 70 years of Balkan being a family-owned and operated business. But it also is the year we jump start our new sewer and drain cleaning commercial television campaign. We are talking an all new TV commercial, our first ever Balkan TV commercial! Over our almost 70 years we have already experienced big and busy years that brought major changes. However, for 2021 we have even more great plans and initiatives underway at Balkan Sewer And Water Main.
The Balkan Name: A Little Family Business History
With the expansion of our team in every trade and department, we anticipate more growth. Our guaranteed response time of 4 hours or less means that we are ready to respond to more of your calls. We anticipate some great times ahead, and we are not holding back. Our new TV ad featured The Balkan Drain Cleaning Bee. The history of the Balkan Drain Cleaning Bee dates back to Joseph L. Balkan, a fearless New Yorker, who was one of the many fighting Seabees in WWII.
While serving his country during WWII, Joe had dreams of returning to his beloved home and starting his own business. Nearly 70 years ago, in 1952, the dream that Joe had turned into a living reality. Joe's dream business turned into Balkan Sewer and Water Main. When it came time to create the logo for Balkan Sewer and Water Main, Joe knew what wanted to do.
Joe wanted to pay homage to his time served in WWII, and he wanted to pay homage to the Seabees as well. He accomplished that by using the Seabees logo. Over the years, the Seabees' logo has undergone various changes, but our latest version was created in 2015. The 2015 version of the Balkan logo recently made its first ever TV appearance.
Breaking Into The TV Commercial World
The majority of homes still have one or more televisions in their home. With that said, we felt it would be ill-advised of us to forego advertisements on the television screens. With that in mind, we launched our first drain cleaning commercial for potential customers to enjoy, and past customers to reminisce with. Our services have been put on display across the entire metropolitan area of new York. This allows potential and current customers to understand what we are trying to accomplish in 2021 and beyond.
We find it important to reach as many people as we can in different mediums. Television ads are an extremely viable option for promoting our brand and our services. With our new TV drain cleaning commercial, our services will be placed in front of many thousands of people. In that way, when you find yourself in a difficult situation with your plumbing, sewer, and water main systems you'll know who to call .
In Case You Get Bored, We Made A 2nd Drain Cleaning Commercial!
We felt like typical commercials are off-putting, particularly when sewer cleaning is involved. So we hoped a lighthearted and engaging animation would actually give you a laugh or two. We actually produced two animations just to keep things interesting!
Why Did We Make A Drain Cleaning Commercial?
The golden age of television is not over. While popular streaming services continue to grant viewers a wider range of options. Many of these options they may not be able to find on national networks and local networks. TV advertising still can make an impact. Television is ingrained in our culture. We understand that not everyone is going to be moved or swayed by social media marketing and advertising.
Television commercials have the unique power to appeal to the visual and audio senses. Many of you folks watch short advertisements on your phone while scrolling through social media. This does not have the same impact as watching crystal-clear images on your living room or bedroom television.
We take pride in being able to create an engaging and humorous drain cleaning commercial. While at the same time, we can show off the brand of Balkan Sewer and Water Main. Of course, we also give a brief look of what type of services we provide. Balkan provides such a wide range of drain, water main, and sewer services. Of course the commercial would have been longer than 30 seconds to show all of that! We still wanted to show our customers and potential customers what the Balkan team has been doing for decades. Our technicians continue to be faced with challenges and hurdles, but they are solved swiftly and efficiently.
The Balkan Drain Cleaning Commercial: The Meaning
You will never know the true source behind a plumbing problem until you think outside the box and take it one step at a time until you get to the root of the problem. When you discover the reason behind the problem you will have to solve that problem and ensure the problem will not return. In our commercial, we presented a problem: a clogged sink.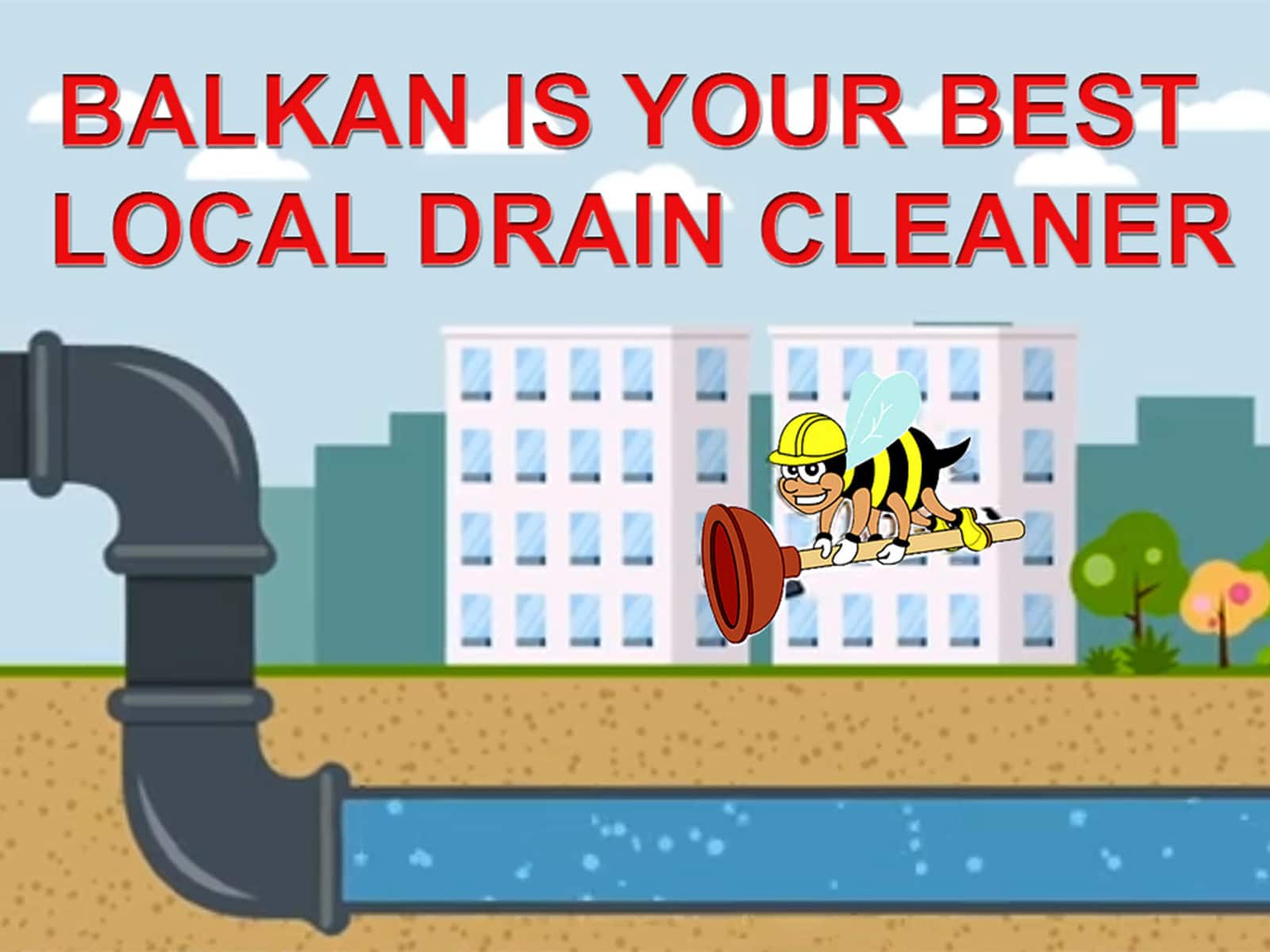 Over time, deposits of anything you can think of can clog up a sink. This will become evident when you see water slowly going down the drain. During the drain cleaning commercial, the Balkan Bees worked as a team to ensure the problem was solved. One by one, the Bees used their skills and tools to find the sources of the problem and solved it.
Creating a better team dynamic within the Balkan workplace starts with communication, togetherness, and guidance. The Balkan technicians work best when they are working together, and the teamwork of the Balkan Bees lead to the quick and efficient repair of the clogged sink.
The Balkan Way
From homeowners to business owners, the services we offer at Balkan have become among the most reliable and trusted services in New York City. The Balkan values, missions, and goals were established decades ago, and those values still hold true today. The Balkan name has become a name that many households and commercial businesses know and love.
The team here at Balkan Sewer and Water Main understand that it is important to keep our customers and our viewers informed and updated at all times. Whether it is how to maintain a water main, to preventing major leaks, or how to update a kitchen or bathroom, the Balkan team will provide the services that our customers need.
The values that were established in 1952 when Balkan Sewer and Water Main was given life remain at the forefront of our success. For decades, we have taken pride in the Balkan Sewer and Water Main being displayed in a variety of forms, including on our vehicles and outside our headquarters. We are proud to be a family company that serves households and commercial spaces across New York City.
Our Mission
For all phases of sewer, main, and drain issues from structure maintenance to repair and improvement, Balkan Sewer and Water Main provides fast, reliable, and efficient 24-hour emergency service. It is our mission to professionally provide the range of services homeowners, property owners, business owners, etc. need across New York City. We hope our new sewer and water main television drain cleaning commercial helps to convey this.
We always hope to set your mind at ease. Our technicians will handle every call and visit with fairness, respect, and honesty. The personal and business relationships we have created over the years are meaningful, and we want them to continue for years to come. We want everyone who utilizes our services to feel confident and secure every time.
Our professional and experienced technicians will always deliver the quality of work you need while delivering high-quality customer service that will always be remembered.
With the wealth of information readily available online, we understand that more people will decide to tackle projects on their own instead of calling a professional. At Balkan, we want you to know that our services will always be available when you find yourself facing one of the common plumbing issues.
For more information on the Balkan services or to request a rapid quote, please do not hesitate to contact us today. Call us today at (718)-849-0900(English) or (718) 943-5720(Espanol). We would also love to hear your thoughts on our first-ever TV commercial.
About Balkan Sewer And Water Main
The Balkan Team provides expert sewer and water main repairs and replacements. We are experts in all types of NYC underground plumbing. Balkan Sewer And Water Main Service was founded in 1952. Since its inception, the foundation of the company has been based upon integrity and honesty in all of our dealings. That solid foundation has enabled us to thrive in every economic climate. The year 2020 actually marks our 68th consecutive year in business. As we have grown, we have become increasingly dependent upon a "Team First" approach. What helps ensure a continuation of our high standards, overall integrity, and high company morale, is that same team approach. Complete client satisfaction has always been the number one goal at Balkan Sewer And Water Main. That is why we are NYC's largest and most trusted sewer and water main service in New York City. Simply put, if it's plumbing, and it's underground, we do it. For almost 70 years, and for over 70,000 New Yorkers to date, Balkan is "The Team You Trust".