When an emergency water service line repair is needed in NYC, why not trust the company that other professionals trust? There are a multitude of different types of utility service lines in NYC that are constantly being upgraded, repaired, or newly installed. They include overhead and underground transmission, distribution and telecommunication systems, as well as work on AC/DC converter stations and substation sites. During these installations a utility contractor in New York City may have occasions when they disrupt a water main and cause a water service line leak. When that happens immediate and professional repairs must be performed. Improper or delayed repairs of a  water service line would reflect poorly on the contractors reputation and cause costly delays for their own work crews. Delays on a job site can cost thousands of dollars to a contractor that they cannot recoup. In addition work delays can aggravate the affected community.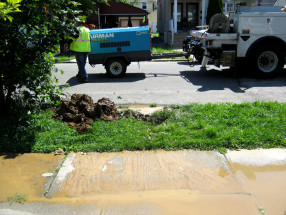 Joseph L. Balkan Inc. is the company trusted  by professional utility contractors for  water main emergency repairs and replacements in NYC. Telephone company, Gas utility, Electric utility, and even tree planting contractors all trust Balkan. Fast water service line repairs performed safely, with proper permits, and done to code, makes for a winning combination.
A case in point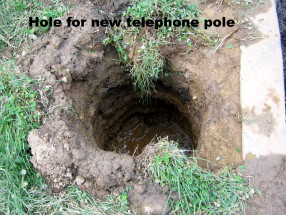 On Friday June 8th at around 9:30 AM a utility line contractor struck and ruptured a water service line for a home in Queens while auguring a hole for a new telephone pole. Unless immediate emergency water main replacement service was received there could be all sorts of ramifications for the utility contractor. In addition the possibility of  the homeowner suffering through a Summer weekend without water was unacceptable. Balkan was contacted and trusted to take care of the situation. With a history of using a uniform pricing policy and fast service this particular contractor had many pleasant experiences with Balkan in the past.

In this case an experienced Field Supervisor from Balkan was at the site in minutes, a crew was mobilized within one hour, and on the scene in two hours. The Queens water line installation crew worked non-stop from start to finish, putting in extensive overtime to ensure all concerned parties were attended to and that there were absolutely no open issues for the Utility Contractor. The entire water line was replaced with K copper tubing by the end of the work day. Replacing the existing lead water line was mandatory as it is not legal to repair a lead water line in the City of New York.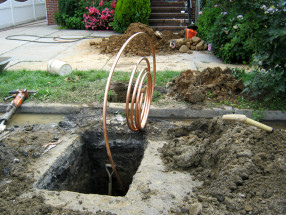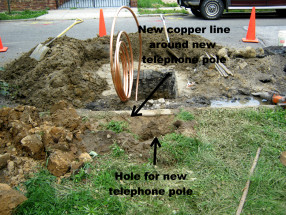 Using specialty underground tools
What really ended up saving the day was a  specialty tool Balkan had invested in – an underground piercing tool. On the particular job site in Queens the ground was extremely hard and making tunnels, which is a necessary part of an installation, was very difficult. If not for the piercing tool the installation would never have been completed  before the start of the weekend, and additional areas inside the property would to have been disturbed. Reinvesting in its business is another unique feature of Balkan – top level service cannot be maintained without top level tools and equipment.
 Trust the professional that the Pros trust
For a complete client service package Balkan is unsurpassed.
Free site visits and free estimates at no obligation.
Fast and reliable service.
Uniform pricing no matter the degree of emergency.
Long term guarantees.
No subcontracting.
Over 60 years in continuous operation.
All work backed by a 48,000 square foot facility that is unmatched in the industry.
A courteous and experienced staff on hand 12 hours a day.
After-hours calls answered promptly by an actual Balkan representative.
There are good reasons why the pros of the NYC subsurface industry in trust Balkan. Homeowners and property owners alike will receive this same high level of service and professionalism. Call 718 849-0900 today for your free and no obligation site visit and assessment of any sewer or water line issue.
What is an underground piercing tool?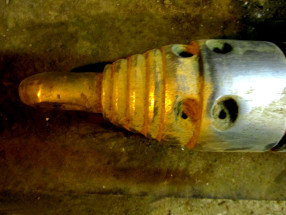 An underground piercing tool is also known as a boring tool. It is air driven and typically used when soil conditions make tunneling by hand difficult. It is also utilized when making additional excavations or trench work  will greatly disturb carefully finished or landscaped  areas.
The typical underground piercing tool is between 3″ and 4″ in diameter, although other sizes are made as well. They are in a shape similar to a missile, hence why they are sometimes referred to as a missile. The tool Balkan Sewer And Water Main Service uses is air powered and has a piston inside the body that pushes the head forward and drives the tool itself  into the soil. When the piston and the head of the tool retracts it is at a lower rate of speed so it remains imbedded in the surrounding soil. Each push forward allows it to penetrate further into the soil until eventually the tunnel is completed.
This penetrating tool should only be used by a highly trained and skilled individual. If used improperly it can cause utility and property damage. In addition its use should be restricted to areas that do not contain any other subsurface utilities. As always utilizing the NYC One Call System (now called the New York 811 system) to mark out all utility lines is a mandatory part of any reputable company's work-site safety program – it is also the law.