New York, USA (Sept 17th 2018) FOR IMMEDIATE RELEASE:
After 65 years, a NYC Plumber can get a little tired looking and droopy. That said, Balkan Sewer And Water Main Service is pleased to announce the completion of extensive exterior renovations – a complete facelift. The Balkan Team Headquarters is located at 130-01 Jamaica Avenue, in the Richmond Hill section of the Borough of Queens. It is now all spiffed up, beautified, and depicts a proud family history as well.
Balkan is one of the oldest-operated, family-owned plumbing business in metropolitan New York. The Balkan Team is therefore proud to present our Balkan Sewer And Water Main exterior renovations. The Balkan facilities are located along one of the main thoroughfares through Richmond Hill. Balkan is located just a few blocks from the famed "triangle" intersection of Myrtle and Jamaica Avenues.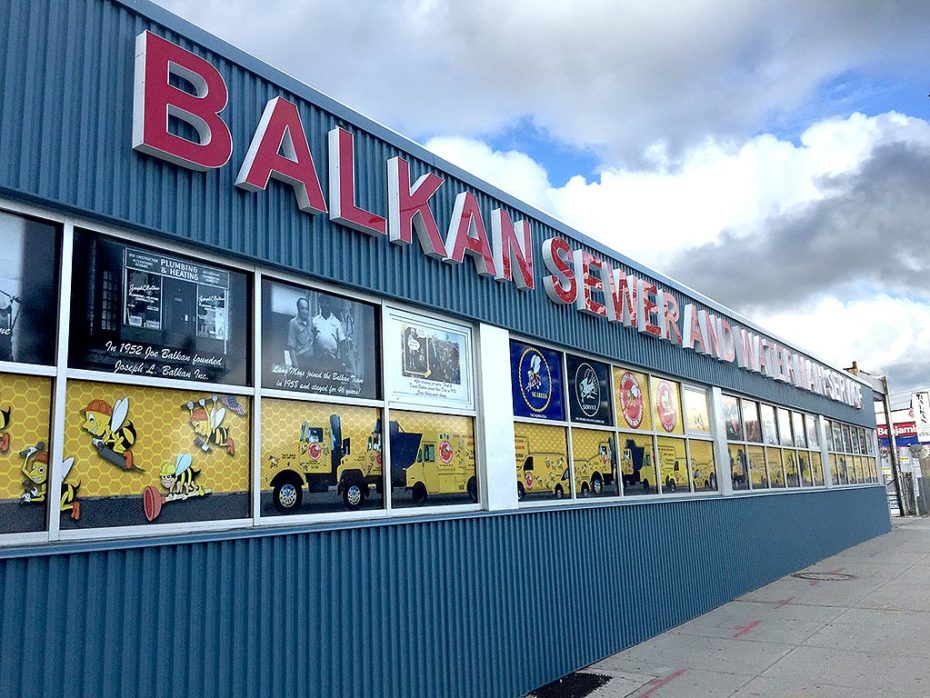 A bright and cheery facelift, for a bright and exciting future
The faded brick facade facing Jamaica Avenue has been replaced with tasteful blue siding, along with lighted signage for Balkan Sewer & Water Main Service. The expanded steel security-covered windows also have been replaced with new aluminum-frame windows. The brightly colored window graphic artwork proudly features the company's signature bee logo. This bumble bee logo is a tribute to our founder's dedicated service in the Navy Seabees. It also depicts Joe Balkan's future plans while serving our country in WW II, and fulfillment of those plans.
Passersby from throughout the metropolitan area will recognize the representations of our bright yellow vans, trucks, and equipment. Our fleet is routinely spotted on a daily basis across the boroughs of Queens, Brooklyn, Manhattan and the Bronx. You may be familiar the Balkan busy bees yourself, as Balkan Sewer And Water Main is the largest sewer and water main contractor in the city. If we've never performed work for you, we've certainly worked on your block for a neighbor.
A Proud Family History in Queens
This attractive renovation of our 48,000-square-foot headquarters is just the latest contribution Balkan Sewer And Water Main has made to the community since our father recognized the need for quality plumbing services in New York City and founded his business in 1952.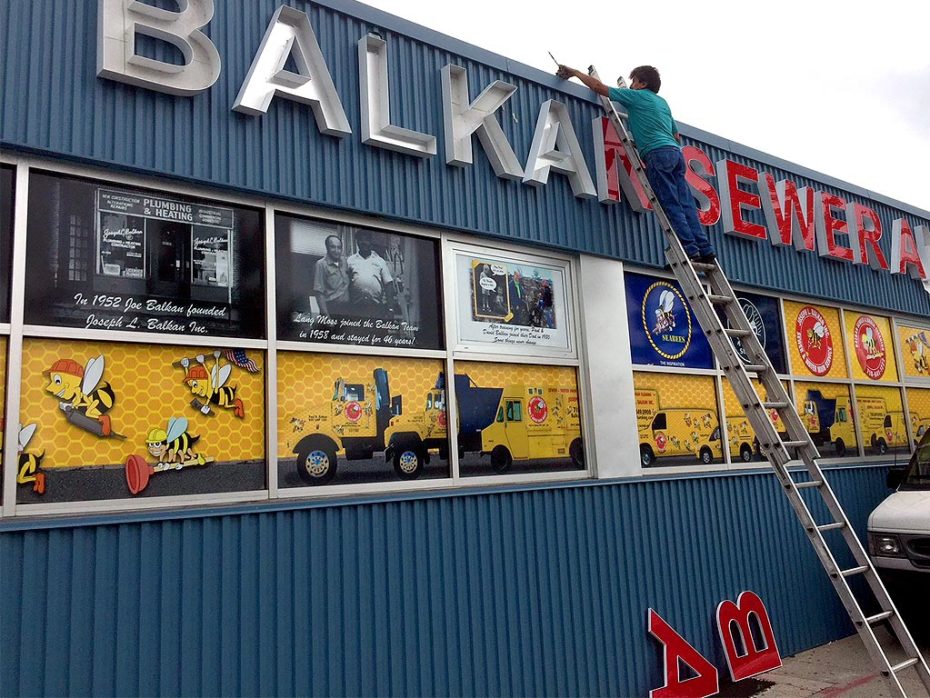 Founder Joseph L. Balkan dedicated his company to providing quality plumbing services to New York City residents when he made the decision to leave a safe job at the Brooklyn Navy Yard, following his World War II service in the Navy Seabees (actually a nickname taken from the acronym for Construction Battalion — C.B.'s). Joe's sons, Paul and David, have carried on that commitment to "Quality & Service" that has maintained Balkan Sewer And Water Main as the oldest subsurface plumbing contractor operating in New York City under the same family name.
Today, Balkan Sewer And Water Main completes more than 2,000 sewer and water main installation projects each year throughout the New York City metropolitan area. The large headquarters/warehouse in Richmond Hill allows the company to keep all of the construction tools and materials on hand, so customers are not left waiting while needed supplies are shipped into the city.
Exterior Renovations Verify our Continued Commitment
The Balkan Sewer And Water Main Team is not content to sit back and rest on our history. We understand our New York City customers need our continued commitment every day. That is why this past August Balkan extended in-house customer service representatives being available until 9pm, 7 days a week. Furthermore, our Field Technicians are likewise on the road until 9pm, 7 days a week, attending to your calls for service. That means we can virtually provide service around the clock.
Important to our clients, Balkan Sewer And Water Main does not charge a premium for after-hours service, weekend service, or Holiday service. Balkan will adhere to the company's "uniform pricing policy". You as a homeowner or property owner will pay the same rate for plumbing services, no matter what time of day or night it's needed. Our 10-year guarantee on full replacements is your assurance that our work remains a fixture in your home for decades to come.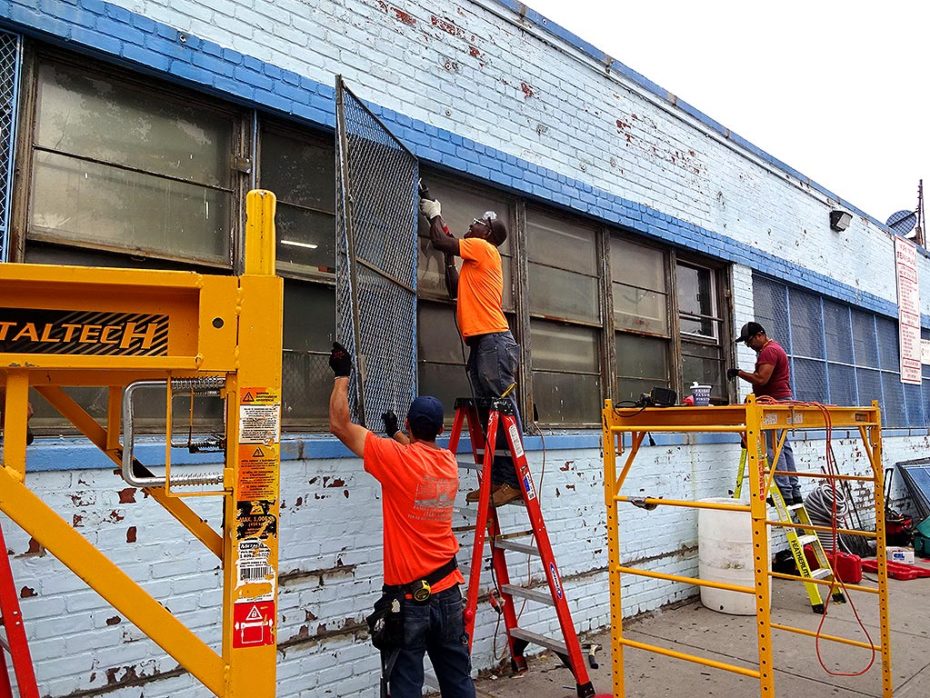 Award winning house sewer, water main, and drain services
Balkan Sewer And Water Main Service also is proud to receive the recognition from our customers for this commitment. In 2017 alone, Balkan Sewer And Water Main was honored with the Angie's List Super Service Award, Yelp's "People Love Us" Award, Energi's Risk Management Award and an A+ accreditation from the Better Business Bureau. The first two awards may mean the most to you as a homeowner or property owner because they speak to our customers' satisfaction with our technicians' work and dedication. Just recently, the Balkan Team was awarded the highly prestigious HomeServe Service Delivery Award for the entire Northeast United States.
If you have questions about Balkan Sewer & Water Main Service, or would like further information about the recently completed exterior renovation project, contact Balkan Sewer And Water Main through our website, or call 718-849-0900 to reach our administrative office. We also offer service in Spanish through a dedicated telephone line at 718-943-5720.
About Balkan Sewer And Water Main Service

Joseph L. Balkan founded our family company in 1952. Since its inception the foundation of the company has been based upon integrity and honesty in all of our dealings. That solid foundation has enabled us to thrive in every economic climate. The year 2017 actually marked our 65th consecutive year in business. As we have grown, we have become increasingly dependent upon a Team First approach.

That team first approach has allowed Team Members to advance to various positions of authority and responsibility. This helps ensure a continuation of our high standards, overall integrity, and high company morale. Complete client satisfaction has always been the number one goal at Balkan. That is why we are the most trusted and largest sewer and water main contractor in all of NYC. That is a position we have held for decades.

Team Balkan is proud to share their origin and history