Sewer line replacement and water line replacement work is very complicated. It's very hard to meet, no less exceed, a Clients expectations. So it may be a surprise when a company is proud of their reputation, professional affiliations, and Client satisfaction rate. Balkan is such a company. We actually urge our prospective Clients to 'check us out' when considering who to hire for a sewer line replacement or water line replacement.
Angies List
NYC Better Business Bureau
Citysearch
NYC Department of Buildings
The Master Plumbers Council
Our Clients Say It Better Than We Ever Could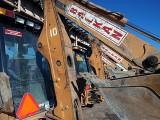 When Balkan completes a sewer line or water line replacement we try very hard for complete customer satisfaction. That includes after-care for any remaining issues that may arise after a sewer line or water line replacement. Balkan prides itself on a company wide dedication to high quality service and integrity in all dealings with Clients, City agencies, and vendors alike. The end result of this dedication and integrity is an extremely loyal Clientele, purchasing materials at the best available price, and being held in high regard throughout all City agencies. What follows are some short excerpts from actual Client comments. Balkan averages at least one five-star review each week for sewer line and water line replacement work throughout the entire NYC metropolitan area.