New York, USA (Jan 22th 2019) FOR IMMEDIATE RELEASE:
Balkan Sewer and Water Main Service is pleased to announce that we were recently awarded the "People Love Us on Yelp" award for 2018. This is certainly an honor for the entire team. We are incredibly thankful for all of our customers who have loved Balkan Sewer On Yelp in 2018. We are likewise proud of the entire team, who helped make this happen. At Balkan, we take pride in offering high-quality work and customer service at prices you can afford.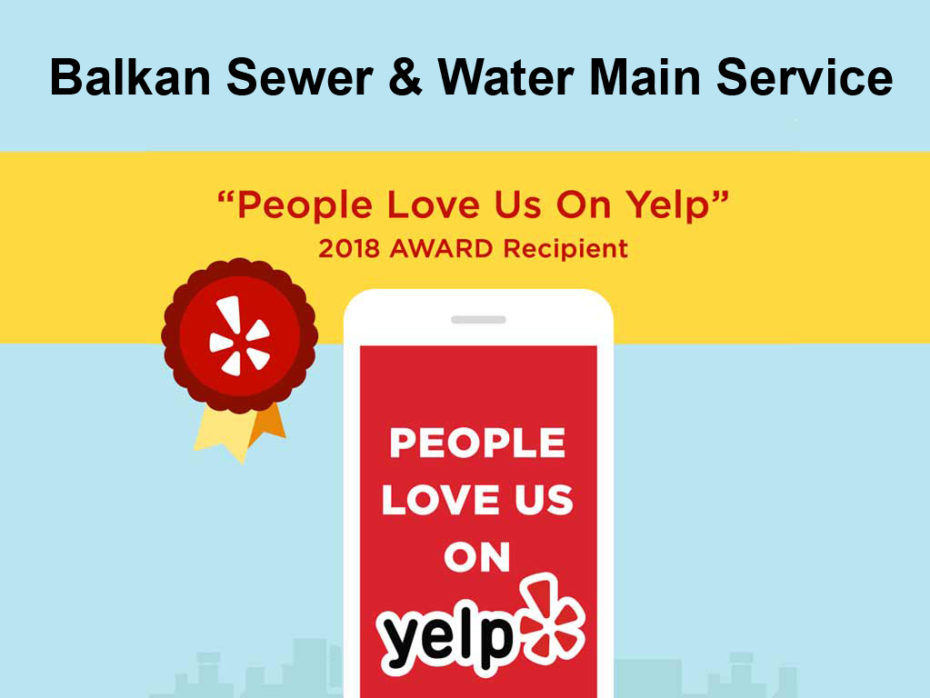 The Balkan Team is proud to say that we always strive to serve all of our customers, not just the customers that find Balkan sewer on Yelp. All clients can depend on us to perform to very the best of our ability. As a result, we have developed a nice following on Yelp and have received over 40 reviews. We know not every business receives positive recognition, especially during the digital age. Our Team realizes that it takes great attention to detail, and a commitment to getting every job done the right way. Each and every client's experience can lead to a review that hundreds, thousands, or millions of people can see.
The Power of Positive Reviews
When a positive review is seen on the internet, the people reading the reviews can be sure the customer had a good experience. That is because he or she took time out of their day to share the experience. As a result, positive reviews can help others find quality services in their neighborhood.
When many people think about Yelp, they generally think about restaurants and other businesses in the hospitality industry. However, Yelp's platform has grown and elevated to include any business that offers services and products to the public. Naturally, this includes plumbing companies like Balkan Sewer and Water Main Service. And while awards are not the driving force behind our great services and affordable prices, it is always a great feeling to be recognized.
The Balkan Team: A dedication to a common goal
The incredible Balkan team helped make this happen. At Balkan, many on our team have been part of the Balkan team for a number of years. When you work with people who share the same values, it makes serving the community better and easier. At Balkan, our team members are screened, trained, professional, and courteous at all times. We know how difficult it can be for homeowners to let people in their home. At Balkan, your home and your family will always be in good hands. When you find Balkan Sewer on Yelp, you've found peace of mind.
No Delayed Responses
Getting to the root of plumbing, sewer, and water main issues is part of our business. As you have already noticed, it is even part of our name. We know that when someone contacts us, it likely means they are in need of our services as soon as possible. At Balkan, we always want to provide outstanding customer service. This will mean responding to our customers in a timely manner. This can even mean responding to emergencies at any time of the day.
Providing Multiple Services
From repairing sewer lines, to unclogging pipes or drains, our team will go attend to any job. Our list of services continues to lead customers back to us as different plumbing problems arise throughout the year. We can take on any job that involves repairing, replacement, servicing, maintenance, and so much more.
The Balkan Way
One of the reasons why we are loved on Yelp is because we are devoted to our customers. Your satisfaction is at the core of all of our actions. We know that we are not the only business that states we love our customers, but we truly mean it when we say it. Putting all our customers first, and listening to their problems and concerns, is part of delivering great customer service. Listening to our customers gives us the ability to be proactive at solving any issues they may have. It allows us to provide custom solutions, not cookie-cutter answers. Also, it helps us solve your problems the right way, the first time you see us.
It is always appreciated when we receive awards for our customer service. From everyone at Balkan, we want to thank all of our customers, and everyone on the team who helped make this happen. We are excited to have won the "People Love Us on Yelp" award again. We will never stop doing our best to serve all of our customers. Our goal is to always raise the bar for Balkan sewer on Yelp .
If you have already found yourself with a sewer, or water main service problem this year, please contact Balkan Sewer and Water Main.
About Balkan Sewer And Water Main
Joseph L. Balkan founded our family company in 1952. Since its inception the foundation of the company has been based upon integrity and honesty in all of our dealings. That solid foundation has enabled us to thrive in every economic climate. The year 2019 actually marks our 67th consecutive year in business. As we have grown, we have become increasingly dependent upon a Team First approach.

That team first approach has allowed Team Members to advance to various positions of authority and responsibility. This helps ensure a continuation of our high standards, overall integrity, and high company morale. Complete client satisfaction has always been the number one goal at Balkan. That is why we are the most trusted and largest sewer and water main contractor in all of NYC. That is a position we have held for decades.