A sewer repair and sewer check valve installation in Queens was recently performed by Balkan Sewer And Water Main Service. This Queens homeowner had been suffering from basement flooding for quite some time, particularly after heavy rainfall. Careful inspection of the condition and of the house sewer line proved critical to properly addressing the situation and showcased 'The Balkan Difference'. 
Why Balkan was called to the scene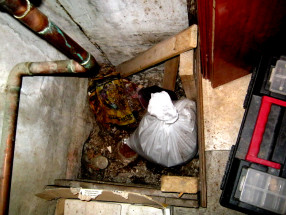 Many homeowners in NYC frequently suffer from basement flooding during heavy rains. But in the borough of Queens it seems to be a particular problem for many reasons. It seems that a combination of issues including over development, a lack of dedicated storm sewers in many areas, and an inadequate sewer system in general all combine to make many Queens properties subject to routine flooding and water damage.
The property in question was no exception – the owner would actually place sand bags over the sewer trap during heavy rain to keep the rain water from rushing out. Balkan was called in to analyze both the sewer drain problem and to properly correct the situation. , This owner received expert advice and a solution at no obligation or charge – Balkan provides free site visits and no-obligation written estimates
The original scope of work
After carefully looking over the situation it was determined that a sewer check valve would be a great help for this homeowner. Not every house with a sewer back-up condition is a good candidate for a backwater valve. A careful investigation by a trained individual must be performed first. The following conditions are some of the situations that would make installing a sewer check valve not a good idea:
Rain leader lines connected to the house sewer.
Area drains connected to the house drain.
Trench or zip drains connected to the drain.
Large multi-family houses.
Commercial properties with many plumbing fixtures.
Fortunately for this homeowner none of the above conditions existed and a new water-tight access pit, house trap, and check valve could be installed. In addition the entire disturbed area would be carefully cemented to make it water proof.
Careful examination reveals another condition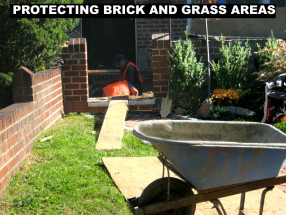 'The Balkan Difference' means not just blindly fulfilling work orders and not carefully examining the installation before completion. In the case of this installation of a sewer check valve is was discovered that the house sewer beyond the foundation wall was disjointed and not properly connected. If this had not been noticed the backwater  valve would have functioned – but water would still pour out from the disjointed and disconnected sewer pipes.
Thanks to careful oversight and supervision excavation was performed outside the house to ensure a proper connection and a long-lasting repair. Replacing an additional 10′ of extra heavy cast iron sewer pipe meant a proper and professional repair – a reason why people say 'Balkan Sewer And Water Main provides answers and solutions not excuses'.
A correct and long-lasting repair is no accident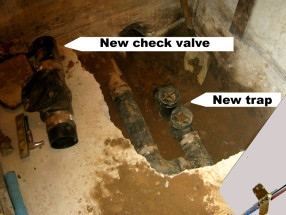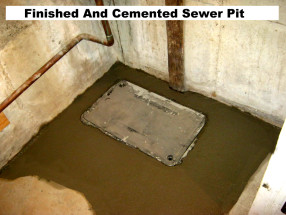 When sewer repair or sewer replacement work is required in Queens or any other Borough of NYC  careful and accurate pre-inspection must be coupled with careful job site supervision. In the case above simply preventing sewer water from backing up through the house drain would not have been enough. It would have simply found another outlet through a section of defective sewer pipe just outside the foundation wall. Taking pride in each and every installation and standing behind it with long-term guarantees is what makes Balkan the most trusted NYC sewer and water main contractor since 1952.
What is a backwater check valve?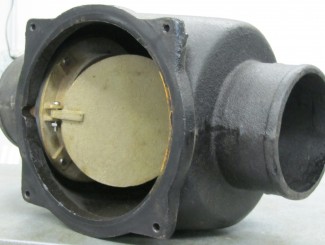 In most cases, a backed up drain does not mean that the house sewer line is defective or even needs to be cleaned. A cleaning should usually be the first step in diagnosing the issue. Often the solution to prevent a flooded basement and stop periodic backups is to install a sewer check valve. These are also known as backwater valves. A sewer back water valve is a one-way valve that permits waste water to flow out, yet automatically seals when sewer water attempts to enter the house system. A sewer check valve (backwater valve) is a very simple and dependable device. [Read the entire Sewer Check Valve article]