Emergency water main problems can occur with little or no warning. What differentiates a water problem from a water emergency? The amount of damage that can be done by the water problem and the impact it will have on one's lifestyle is one of the main factors. If you are ever in any doubt that you are in need of a NYC emergency water main repair, we would recommend that you err on the side of caution and seek help right away.
What issues demand a NYC water main emergency repair?
While we have provided a more detailed explanation below, here is a "short list" of conditions that would demand immediate action. In many cases your commonsense will lead the way to making that determination.
Certain DEP Notices or Violations
A threat of the loss of water service to your building
Dangerous conditions for pedestrians or vehicles
Threat of damage to your personal property
Washout damaging a public roadway or sidewalk
Sinkholes presenting liability issues
An icing condition due to frozen leaking water
Your Best NYC Emergency Water Main Repair Option
Balkan Sewer and Water Main Service professionals have the proper equipment and expertise to handle the most complex sewer, water main, and drain issues. When someone calls us, there will never be a job that will be too small or too big for us to handle. We are always ready to respond to emergency calls throughout the entire year. We actually guarantee that! Team Balkan has a guaranteed 4 hour response time for sewer, water main, or drain line work. Additionally Balkan provides free and no obligation site visits 7 days a week, and after hours as well.
Team Balkan will always take prompt action because we know how vitally urgent is when it comes to reducing structural or property damage. When a water main emergency happens, it is always important to act fast. We are known throughout NYC for providing emergency water repair services. We do not just show up and tell you what the water or sewer problem is, but we come prepared to provide immediate relief. That is why after almost 70 years and over 70,000 satisfied customer, Balkan is "The Team You Trust".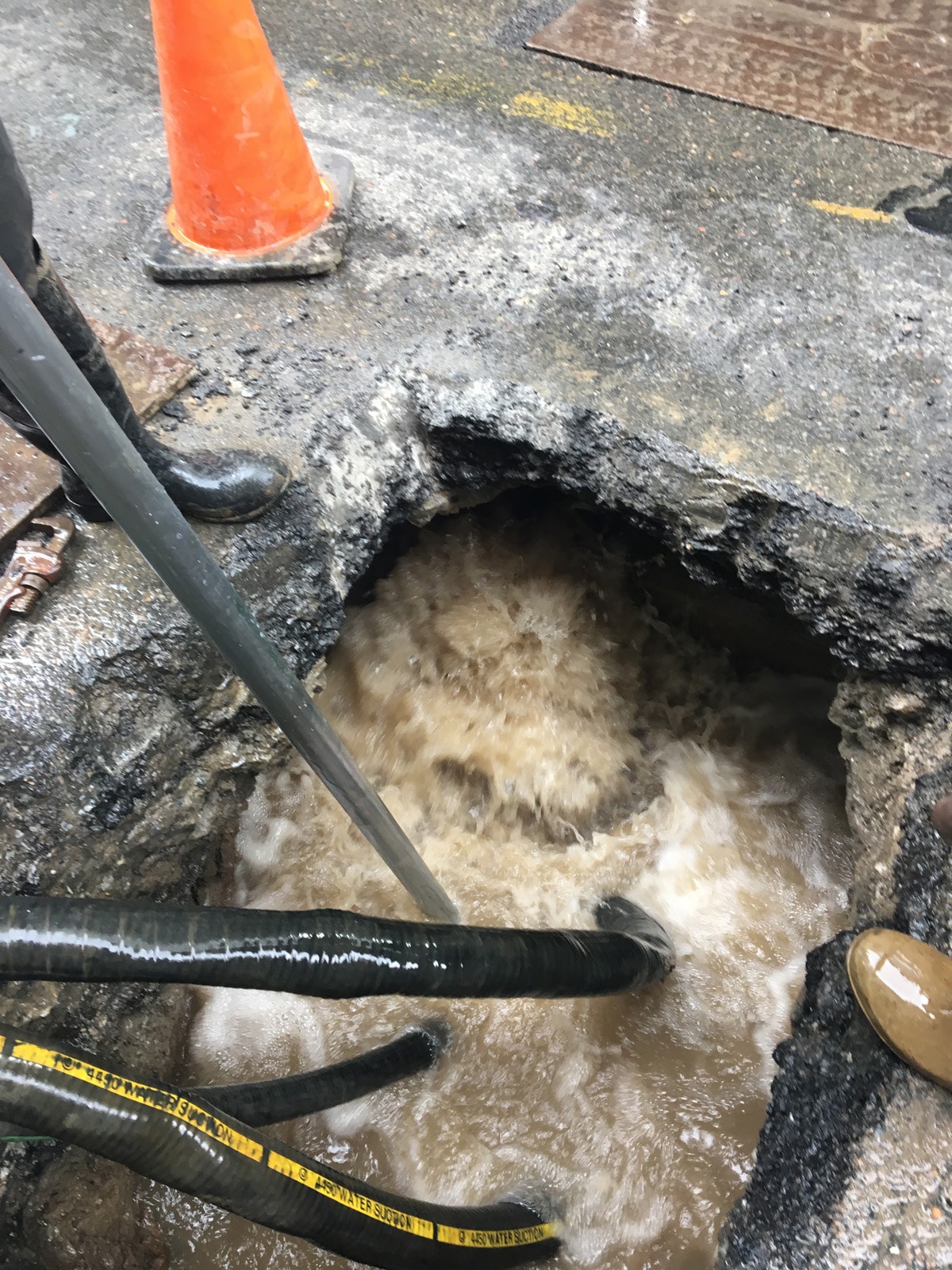 Taking Immediate Emergency Water Main Repair Action
Recently, we received a call from a homeowner who was having a lead water main emergency. A member of the Balkan team immediately responded to the call and arrived at the home well within our 4 hour response time guarantee. Once at the home, the Balkan representative discovered a flooding basement. As we all know, flooding can cause significant damage. The Balkan rep took swift action and remedied the flooding by using a water-tight repair clamp. The homeowner was not charged, and the homeowner was able to breathe a sigh of relief until the rotted water service line could be replaced the next day.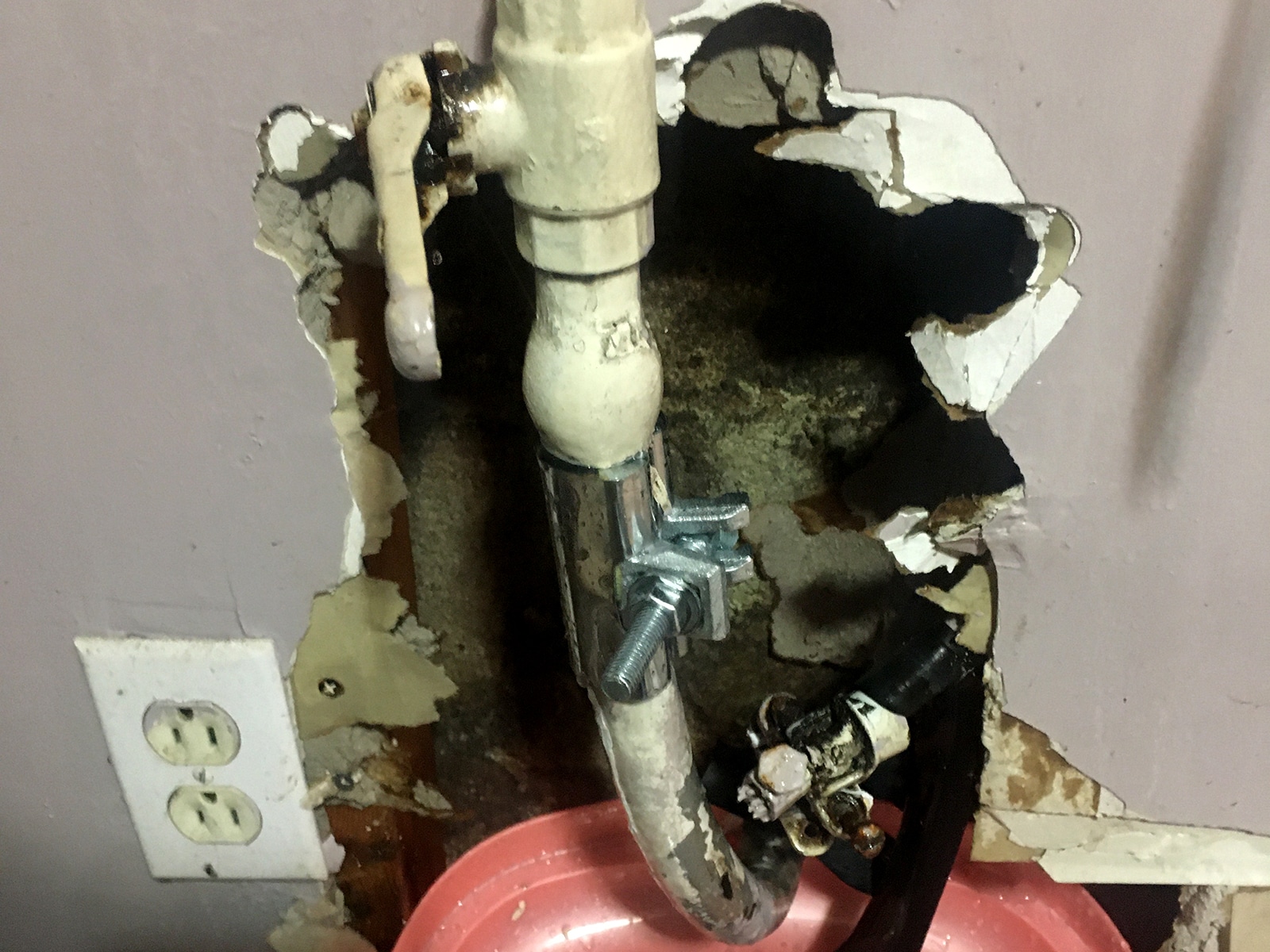 When Should You Call For An Water Main Repair?
As mentioned earlier, even when you are not sure if your problem qualifies as an emergency, you should still call an emergency service as soon as possible. If you reside in NYC or Nassau County, remember that Balkan provides free site visits 7 days a week, and after hours as well. If you ever face any of the following situations, one or more members of the Balkan team will arrive at your home fully equipped to take on whatever problem you are having.
Burst Water or Sewer Pipe
When a pipe bursts inside or outside your home, the overflow of water coming into your home should lead you to contact an emergency service immediately. Even water leaks outside your property can cause extreme damage. While you can shut off the water flow by turning off your main water valve, that will only stop interior water leaks. Furthermore, if you have an active sewer leak, it creates health concerns as well. In any case, you will need a team of professionals to provide additional assistance and repair the pipe damage. If the burst sewer or water pipe is outside your home, you'll need a water line specialist like Balkan to take prompt action.
Sewer Line Leak
If you walk into one of your bathrooms and discover that wastewater is taking over your bathtub, your sewer line could be clogged. You can also have a sewer clog if your toilet starts to fill as soon as you turn on your bathroom sink. It is essential to have the problem assessed and repaired quickly so you can avoid any additional issues. Bear in mind that sewer leaks can frequently be mistake for a water line leak. In these cases it's important to try a sewer dye test.
Overflowing Toilet
If your toilet is overflowing, you have a water emergency. Just as you can temporarily solve the problem of a burst pipe by shutting off the main valve, you can do the same for an overflowing or clogged toilet. Typically every toilet has a dedicated shut off valve located just above the floor. Addressing the overflowing toilet emergency right away can help to prevent additional water damage. But you need the toilet repaired or unclogged to restore service.
We know the internet is filled with many DIY guides and videos. You may be tempted to search for your problem online and try to repair the problem yourself. If you decide to take on the problem on your own and make one mistake, you can create a bigger problem. Our highly experienced technicians are available every day of the week, and we offer prompt repairs.
With nearly 70 years of solving all types of sewer, water main, and drain challenges, we can get your home to normal in no time. Contact Balkan Sewer And Water Main when you are faced with a sewer, drain, or water main repair emergency.