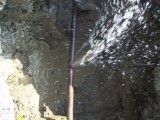 Broken Water Main- NYC DEP shuts broken water main until a water main repair can be made. When an emergency situation arises due to a water main break, the DEP issues notices and violations, sometimes it is forced to shut the broken water main service line before it can cause property damage or affect the roadway. When that happens a homeowner can be left without water service.
A reputable water main company is needed the most when service is interrupted. Repairing or replacing a broken water main after is has been shut down requires an accurate estimate within minutes, mobilization and completion of the water main repair or replacement within 24 hours.
Few water main companies are capable of providing complete service for a broken water main within 24 hours. Balkan Sewer and Water Main Service routinely responds to customers in need and completes water main installations within 24 hours.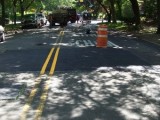 When a customer had their water main shut on 194th Street in Queens and called Balkan, the installation was completed within one day. The roadway was permanently restored the next day, the job site left broom clean. When you need results, not promises call Balkan Sewer and Water Main Service -Balkan provides the same superior service throughout NYC for broken water mains and any sub surface plumbing issue that you may have.