If you are a Brooklyn homeowner, a Brooklyn water main break can be stressful under any circumstances. But imagine if you're faced with a DEP Three Day Notice, low water pressure, and a lack of funds? Add in if you happen to be a senior citizen, and that is truly a stressful mix of circumstances. That is exactly the predicament a homeowner found themselves in recently on Sterling Place in Brooklyn. Balkan Sewer And Water Main teamed up with HomeServe to help out, and save the day for these good people.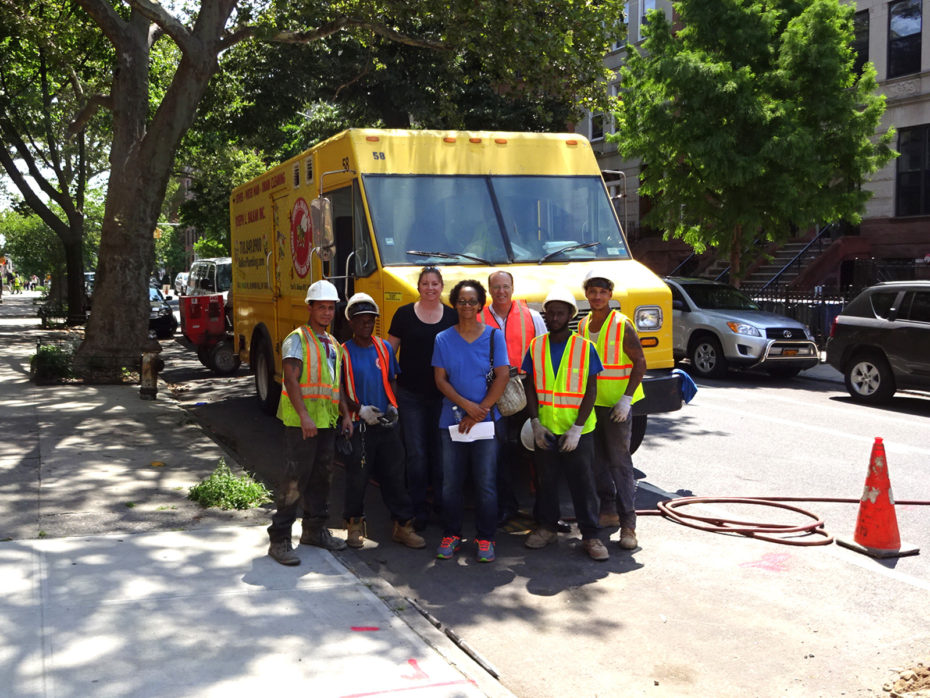 The steps to cure a Brooklyn water main break
While it may seem simple if you are uninitiated, curing a Brooklyn water main break takes an awful lot of coordination and teamwork. It's a lot more than digging some holes in the ground, and pushing in a pipe. An Emergency DOT permit number had to first be secured in this particular case. This enabled Balkan to start work in a timely manner. As a matter of course, the DOT actually verified the emergency that very day.
The next step involved a crew of four men working as a team to accomplish the end goal. They made a series of holes, and then connecting tunnels between each hole. Only then could the new coil of 1 1/4″ K copper be slid from the tap hole across the street, to inside the basement. This new 1 1/4″ main replaced an old 1/2″ lead line. That old 1/2″ lead line was barely letting any flow of water into the house, even before the leak occurred. After the new line was inserted, the tunnels could be properly filled, and one of the holes filled as well.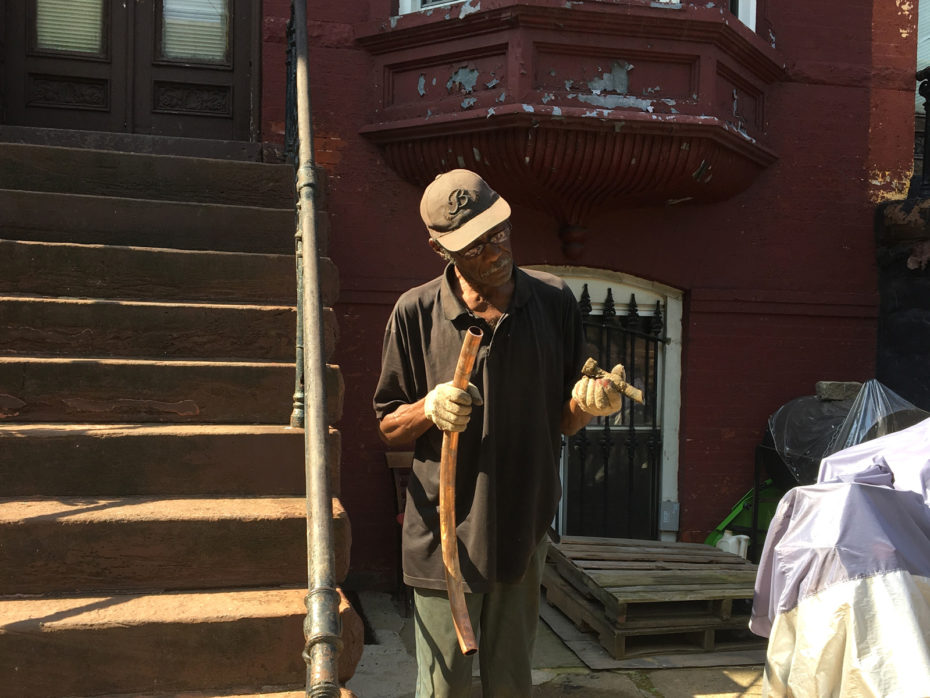 Another vital part of doing a proper job for these good people involved replacing a 1/2″ driven tap connection on the city main with a new 1″ tap connection. With the larger tap, and larger service line size, the occupants now had better water pressure then in the entire history of their ownership of this house.
You're not left with potholes as a reminder with a Balkan installation
Among the last tasks of doing a high quality job, is making sure the excavations do not settle. In this case that meant Balkan had to truck away all of the excavated material, and replacing it with NYC DOT approved backfill material. The DOT was then notified to witness our certified compaction testing. A Balkan in-house paving crew paved the very next day, ensuring a long-lasting and permanent final roadway restoration. Our Brooklyn neighbors will never have a pothole as a reminder of one of our jobs; as a matter of fact we guarantee it for three years.
The importance of installing a Brooklyn water main to code
Sizing a water main properly is of vital importance. When a Brooklyn water main break occurs, homeowners can get overly concerned with a quick-fix, or a rush hiring decision. Taking the time to make a careful hiring decision has its benefits. A job done to code is to your utmost benefit, and that is what the Balkan Team offers. As an example, on this job we found a 1/2 inch driven tap. As the name implies, it was driven into the city water main before the advent of power tools. And just like it was driven in, it can pop out. That is why Balkan notified the DEP, and had a DEP professional tapping crew drill in a new 1″ tap using specialized equipment.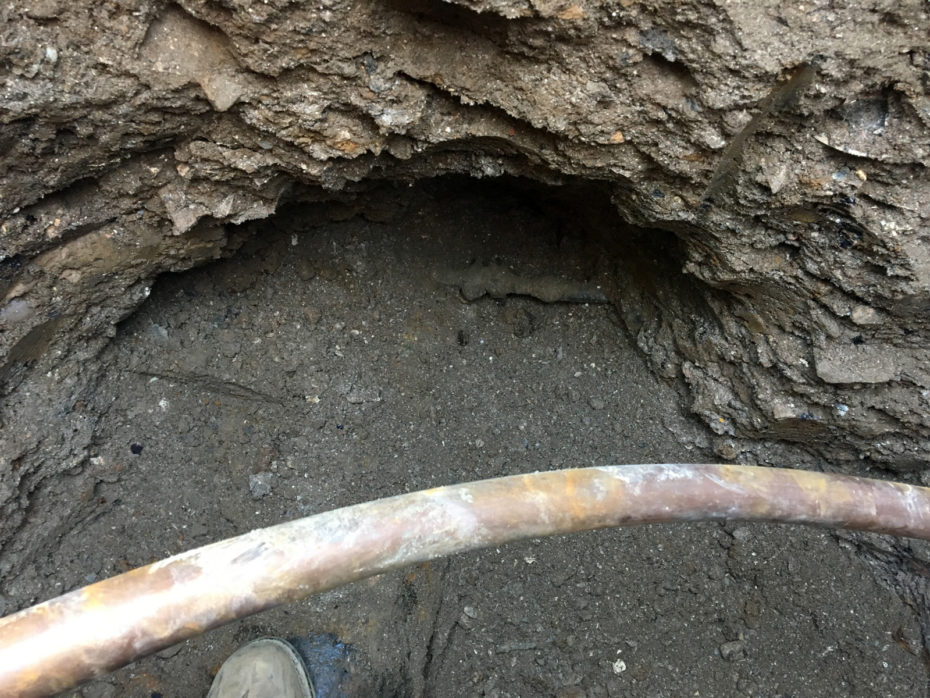 Another vital step was upgrading to an 1 1/4″ service line size that would enable the occupants of the house to use all the plumbing fixtures simultaneously, and with no loss of water pressure. That is a feat a 1/2″ driven tap attached to a  1/2″ lead line could never accomplish.
What is the HomeServe cares program?
HomeServe is a home service protection company with an international presence. Even with this large and varied market, that crosses many borders, they connect personally with the local neighborhoods where they have a presence. A part of that connection is giving back to these communities in a truly benevolent way. HomeServe Cares is a big part of that good faith effort.
HomeServe USA is a leader in providing home emergency repair service plans. At HomeServe, our mission is to free our customers from the worry and inconvenience of home emergencies. A core component of our culture is to give back to the communities we serve and as part of this commitment, we are offering the HomeServe Cares Program.  This program aims to assist homeowners faced with a service emergency who meet the following criteria:

The homeowner does not have a service plan from HomeServe
The necessary funds to cover emergency home repairs and no other funding sources are available for the repairs
Delay in repairs will cause a serious health and safety hazard
Program Guidelines
Under HomeServe Cares, from among eligible applicants, HomeServe will arrange for emergency repairs at no cost to the homeowner through HomeServe's network of local, licensed and qualified contractors.

Eligibility for the HomeServe Cares Program requires completing the application form fully and meeting all the requirements specified within the application.

Not all applicants will qualify and not all qualifying applicants will receive emergency repair services.  The availability of emergency repair services for qualifying applicants will depend on overall demand for the HomeServe Cares Program, the availability and demand for HomeServe's network of local, licensed and qualified contractors in the applicant's neighborhood, the nature of the home repair service requested, the urgency of the Applicant's need, the health and safety hazard presented, and HomeServe's availability in the home's location at the time of the Application.  Ultimately, the decision will be the sole discretion of HomeServe. Read more about the HomeServe Cares program.
Trust the Balkan Team
It is rare nowadays for a company to work as a team, and whose number one goal is customer satisfaction. The Balkan Team not only sets that as a goal, we achieve it as evidenced by our stellar online reputation. Whether you have a Brooklyn water main break, or a broken underground plumbing line anywhere in NYC, our over 65 years of service makes us your 1st choice. Our team-wide dedication ensures superior service every time. Balkan seamlessly solves any underground plumbing issue by utilizing our proven processes. This same dedication and our proven processes enable the Balkan Team to provide a superior installation, and at a lower cost. Want to learn more? Contact Balkan Sewer And water Service today.