Brooklyn water main replacement and repair work is a specialty field within the NYC licensed plumbing industry. Plumbing contractors that perform this type of work must meet certain criteria to be qualified.
Licensed by the NYC Department of Buildings as Master Plumbers.
Must have liability insurance for a minimum of $1,000,000.00 for each occurrence.
Must have workers compensation insurance for their entire work force.
Must be bonded with the NYC DOT in order to secure permits.
Must not sub contract out any plumbing work – all work must be performed by an employee who is under their direct supervision.
NYC Licensed Plumbers must have their place of business within the city limits.
Many are registered with the Business Integrity Commission (BIC).
In some respects being in compliance with all the various city code requirements is only the beginning of the story. The most skilled licensed plumber may have no idea how to properly install or repair a water main properly and to code requirements. In addition Brooklyn water main replacement and repair work presents unique conditions each and every day. It seems that not a day goes by when some unexpected condition pops up. Brooklyn water main job sites routinely encounter issues such as: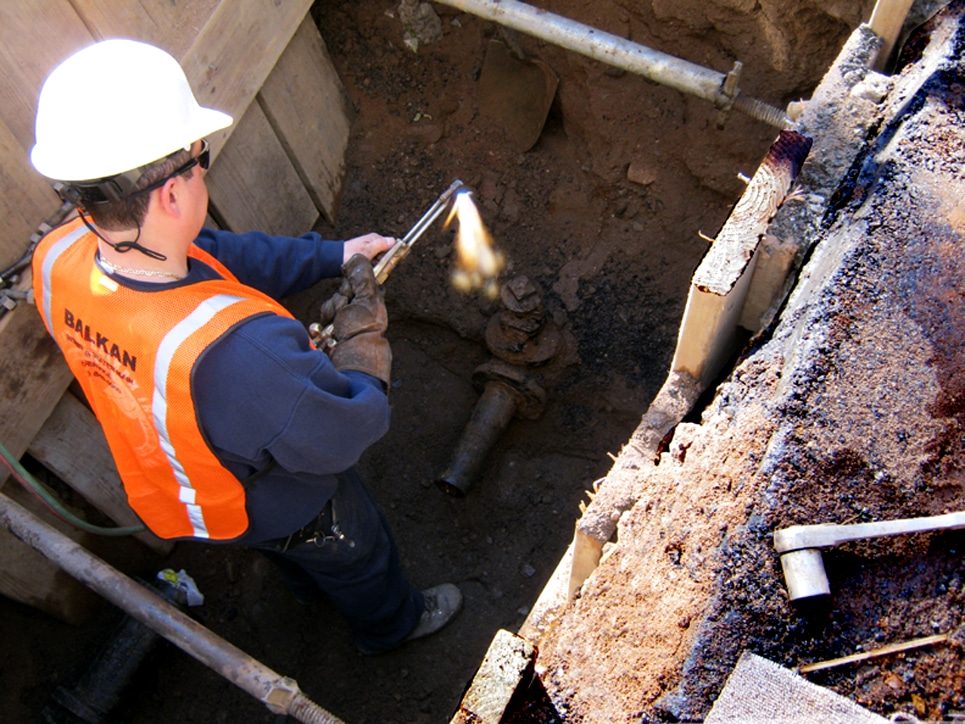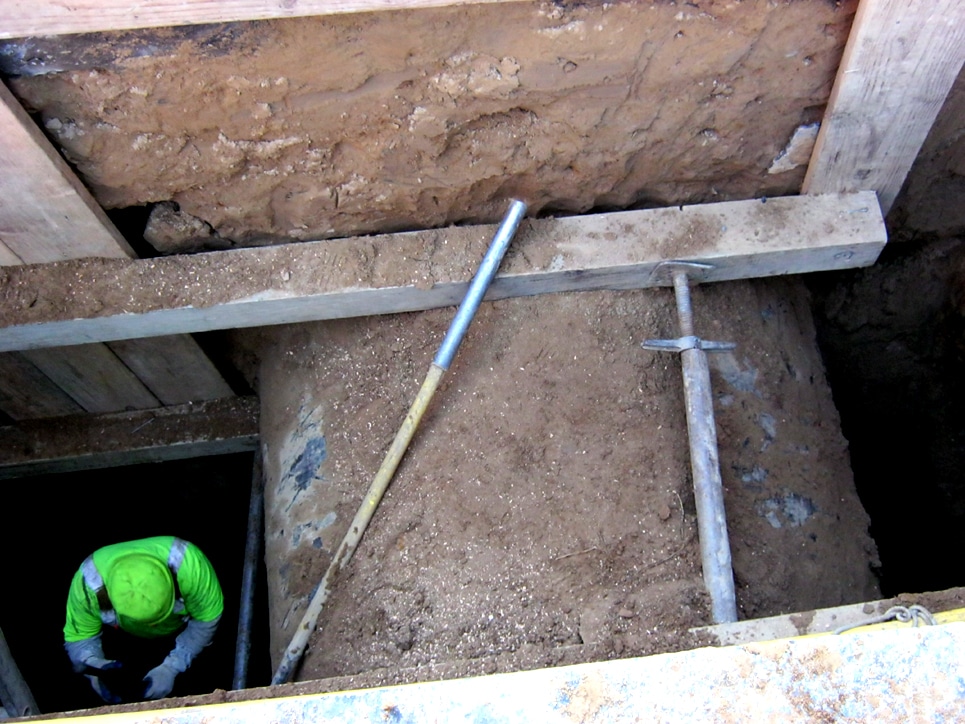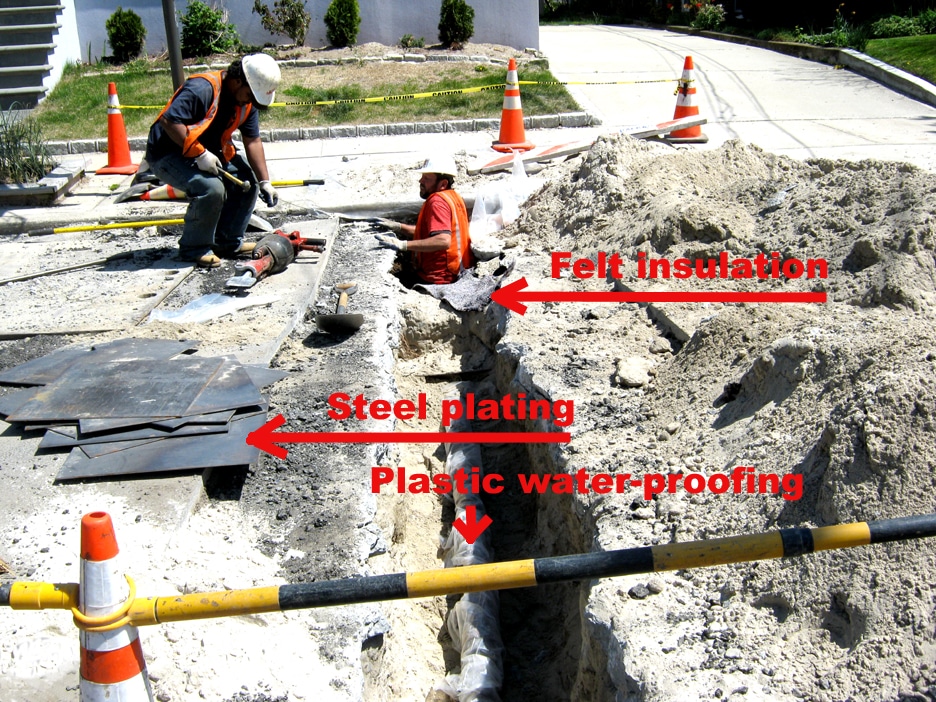 Buried trolley tracks that have to cut out and removed using a torch.
Underground obstructions such as subway shafts and main distribution lines.
Banks of utilities that demand installing the water service above 3 1/2′ deep. Insulating and plating is required for a shallow water service line.
Landmarked areas that have to restored just as they were found.
Classic iron fences that have to be left untouched or expertly put back in place.
Old rock foundation walls that have to penetrated and then carefully put back in place and waterproofed.
Rock conditions in unexpected locations.
Unique brick or cobblestone roadways that must be restored in-kind.
Newly paved roadways that must be restored to strict DOT compliance.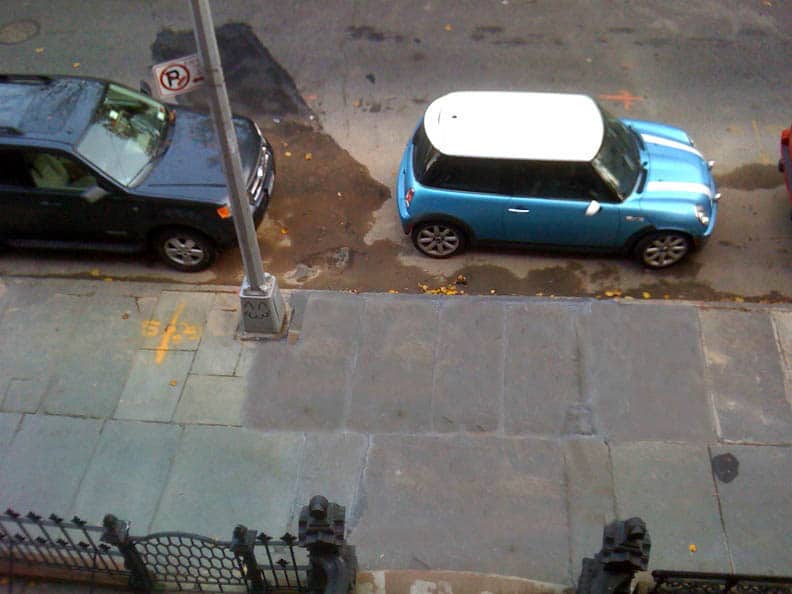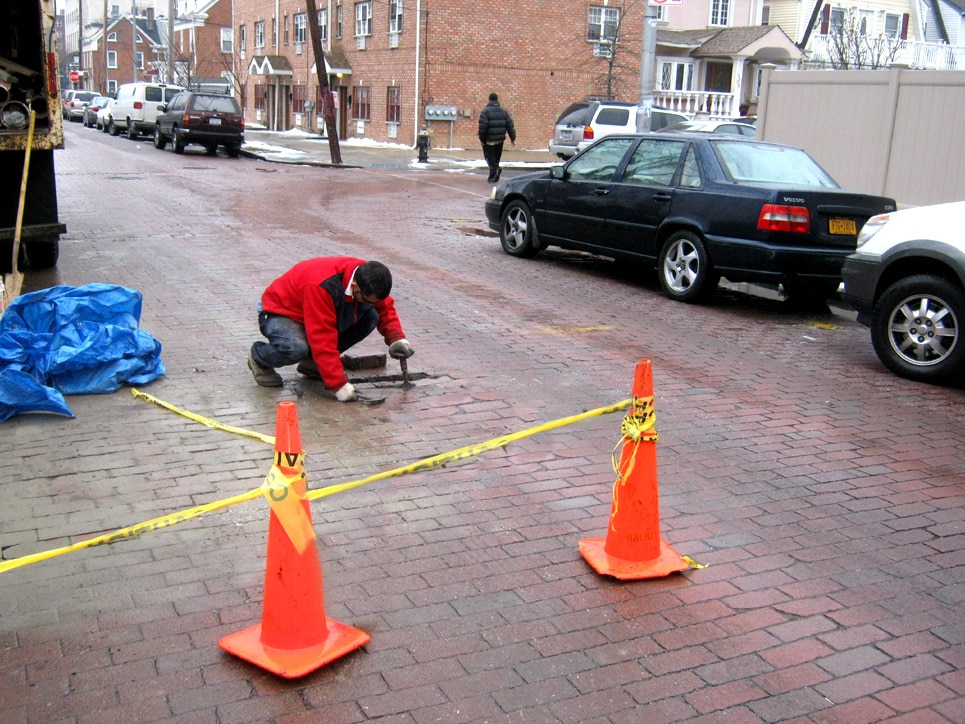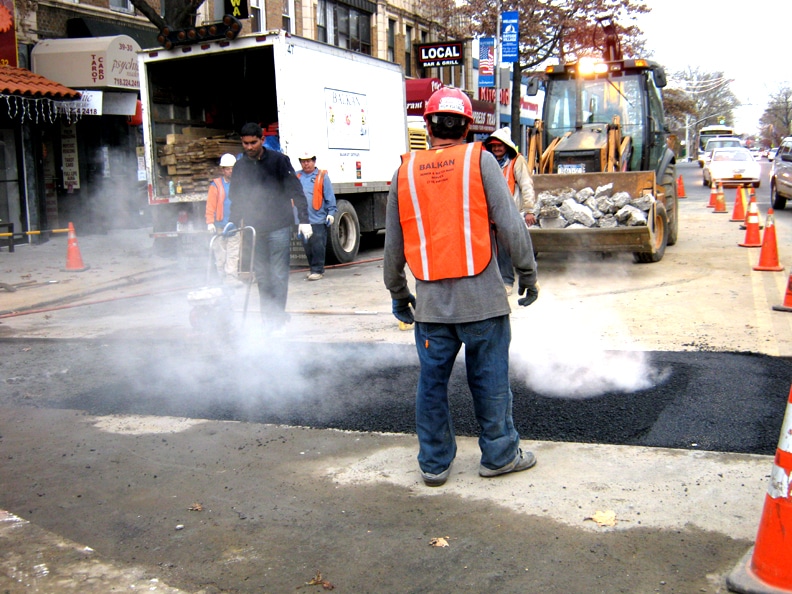 Trusted in Brooklyn since 1952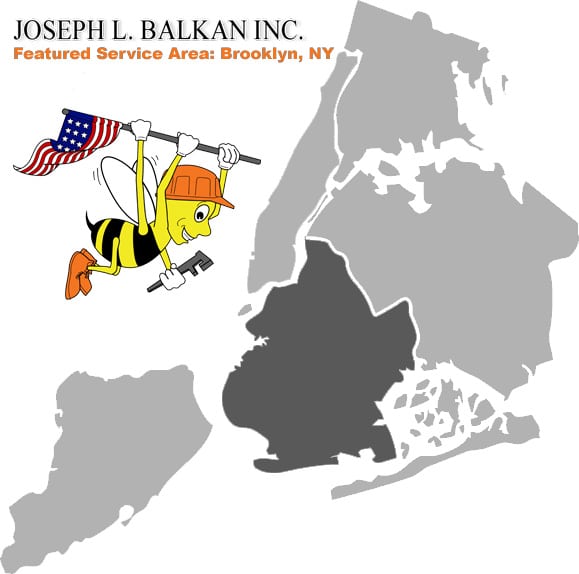 Needless to say when Brooklyn water main replacement or repair work is required choosing the right water main contractor can save a lot of aggravation and frequently result in cost savings as well. Joseph L. Balkan Inc is a NYC water main contractor that has been in continuous operation for over 60 years and who's original office was actually located in East New York on Blake Avenue in Brooklyn. Being in business since 1952 means that it is unlikely that a situation will arise that we have not encountered previously and probably on more than one occasion.
With a management team that has decades of experience and a 48,000 square foot facility Balkan has a solution for any water main or subsurface situation. In addition our expert office staff is familiar with the entire permit process and can expedite the start and completion of your work. Balkan will frequently start and fully complete a water line repair or replacement ahead of schedule and exceed the clients expectations. The many positive reviews available online are a testament to that fact.
From Red Hook to Cypress Hills and from Seagate to Greenpoint, or anywhere in between, we can provide same day service featuring free on-site visits and no-obligation written estimates. Having a full staff of tradesmen and a variety of specialty equipment and tools means that we never subcontract any aspect of water main or sewer line work. Balkan features in-house paving and cement crews, in-house fabricators and mechanics, and state-of-art tools and materials. When you require quality you can count on Balkan's exclusive use of domestic materials and fitting that meet or exceed code requirements.
A Water Main Contractor That Invests In Its Business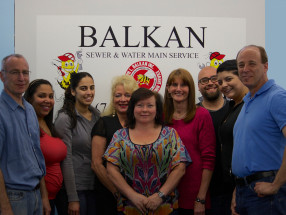 Through every economic environment, whether good or bad, Balkan sewer and water main service continues to follow the principals that form the foundation of its growth and continued success. One of these vital principals is to constantly invest back into the business. That means even in a down economic environment Balkan continues to make bulk purchases of sewer pipe and water main materials to keep costs down and to provide a superior customer service experience. That also means that Balkan purchases only quality materials that meet or exceed code requirements, such as using only domestic extra heavy cast iron pipe and North American K copper. [Read more about New York City's premier water main contractor]