New York, USA (MARCH 31th 2010) FOR IMMEDIATE RELEASE:
When a three-story brick building in Williamsburg Brooklyn collapsed, Balkan arrived shortly afterward to provide emergency water main service. The building was being renovated and collapsed on Monday afternoon, critically injuring a worker who was trapped in the rubble and leaving three other people with minor injuries, the Fire Department and witnesses said.
The building, at 34 Conselyea Street, collapsed about 1:30 p.m., said Jeff Wilser, who lives two doors away and heard a boom. We thought it was a planned demolition, he said.
Mr. Wilser said he had seen a man trapped under the debris, moaning in pain. All we saw was his head, he said. A spokesman for the Fire Department said the man had been transported to Bellevue Hospital Center in Manhattan.
James Leonard, a deputy assistant chief for the Fire Department, called it a major collapse and said the injured included a person who had gone to the collapse to try to help.
One hundred firefighters responded to the site, where they found two men buried in the rubble. One was submerged to his waist, and the other to his head.
He was just moaning and incoherent when our members got to him, Chief Leonard said. They could barely communicate. The firefighters used air bags to free the men.
Emergency service disconnections of the water and sewer services were required to prevent further damage. Upon receiving a request for emergency service Balkan Sewer and Water Main Service mobilized and provided the service required. Balkan provided labor, equipment, permits, and required NYC DEP inspections as requested. In an emergency, knowing who to trust is vital. Balkan provides emergency service  and results, not promises.
[button link="/contact-balkan-plumbing/" bg_color="#EA6E24″ window="yes" size="xl"]Get a FREE 0n-site visit today![/button]
ABOUT WILLIAMSBURG BROOKLYN
courtesy of wikipedia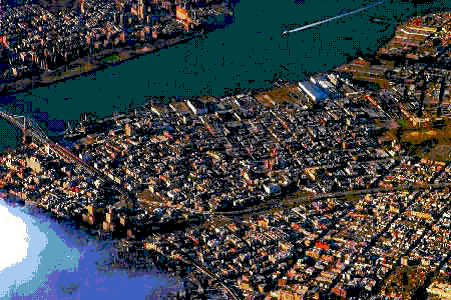 Williamsburg is a neighborhood in the New York City borough of Brooklyn, bordering Greenpoint, Bedford-Stuyvesant, and Bushwick. The neighborhood is part of Brooklyn Community Board 1. The neighborhood is served by the NYPD's 90th Precinct. In the City Council the western and southern part of the neighborhood is represented by the 33rd District; and the eastern part of the neighborhood is represented by the 34th District.

Many ethnic groups have enclaves within Williamsburg, including Germans, Hasidic Jews, Italians, Puerto Ricans, and Dominicans. The neighborhood is also a magnet for young people moving to the city, and is an influential hub for indie rock and so-called "hipster" culture. Williamsburg is home to a thriving art community, which is largely associated with one of its main thoroughfares, Bedford Avenue. Williamsburg is viewed as both a haven for established immigrant families and as an area of artists and hipsters. The sometimes-clashing definitions have been highlighted by a growing population and rapid development of housing and retail that is changing the look and feel of the neighborhood.