The Queens Chamber Of Commerce recently interviewed David Balkan, the CEO of Balkan Sewer And Water Main Service. What became readily apparent is that the business community, and business and community, are indeed intertwined as one. They truly should act as one – community supporting local business, and business supporting the local community. David Balkan, speaking on behalf of the entire Balkan Team, was honored to be interviewed by Tom Grech. Tom is the President and CEO of the Chamber Of Commerce. What became immediately apparent is the like mindedness of both of these local Queens men. Both Tom and Dave have a commitment to the greater good, and of giving back to the community, and to people in general. That is also why Balkan is also committed to supporting the River Fund. To learn more about the River Fund visit www.river.fund.
Business & Community: Tom Grech Interviews David Balkan
Our first guest today is a newer member of the Queens Chamber named David Balkan, the CEO of Balkan Sewer And Water Main. Balkan is New York City's largest the most trusted service provider. Before we introduce David, I want to also thank him very much. We've done a program we started here a couple of weeks ago called Adopt A Small Business. You know writing a check to become a member of the Chamber Of Commerce, whether it's a small entry level one, or a medium size, or a large one, those dollars are harder and harder to come by now. Of course, that is due to the current pandemic.

So we have this program of doing well by doing good, it's called adopt a small business. Now we've asked companies large and small to adopt 1, 5, 10, 50, or more small businesses who need our help. I want to make sure everybody realizes when we say that we help, we help all small businesses. That's whether they're members of the Chamber, or not. We give a little bit of an extra push when somebody gets adopted. That's ecause we want to make sure they get the full value that we offer. We thank our sponsors for their efforts in this initiative. I just found out before this interview that Balkan is adopting a number of small businesses. So David, I am grateful on behalf of the Chamber Of Commerce. Thank you for your sponsorship of this program, and thank you for adopting these businesses.
The Interview: The Dynamics of Local Business and The Community
So David Balkan, there you are! Nice to see you with that great background of the city that never sleeps. Thanks for being on the program today and welcome.
Thanks Tom, it's it's truly an honor to be asked.
Thank you so much David. So tell me a little bit about about yourself, and what makes you tick. Let's hear how you got into plumbing, and into the sewer and water main business.
Oh my goodness, start with an easy one! I would say that the business has evolved over the years, and I have as well as an individual. So what made me tick before, is not what makes me tick now. Right now I'd say my true commitment is to my people, to my work family. To make them successful, and to nurture them. To discover talents they they might not even know they have. To develop them, and find roles for them. That's because over here at Balkan we're really committed to once somebody's "in"; almost like if you were to adopt a child, you don't let them in your house, and then throw them out. Once they're in, we do everything in our power to nurture them, find a place for them, and make it work.
How many employees do you have today? How many vehicles on the road do you have David?
Well, we're down a bit since Covid. We have a little over 80 full-time employees, and we probably have about 25 vehicles or so, maybe more, on the road every single day.
So you're one of those, you're one of those everyday heroes I talk about. And I'm not trying to be, you know funny, or strange when I say that. But I know you well enough to know, like most other small business owners, I know you have a responsibility in your heart, as you bring them on to board, they're part of your family, work family, or otherwise, right. That's 80 different mortgages, 80 different rental bills, 80 different kids of these families to educate. I know how serious you take that. So in general you know again, we're we're capitalists at the Queens Chamber Of Commerce. Which in some parts of our city and our country is almost a dirty word, right? But some days we're capitalists with a capital C, and some days we're capitalists with a small c. But we always look at ourselves here at the Chamber as being compassionate, so that's why it's great to have somebody like you, that treats your employees like family.
Tell me some of the breadth and scope of the things that Balkan does day-in and day-out in its business here in Queens County.
Well you know, before I get into the nuts and bolts of what we do; I think really what we're all about, because you're talking about capitalism, is that capitalism comes down the road. We try to give awesome service, and to be courteous and respectful to everybody we deal with. Which trickles down, if that's how we treat our people, then that's how they're going to treat our customers. So it starts with a pleasant experience dealing with people that are usually in a state of distress. Something's broken, leaking, not working, there's a sinkhole, or there's something overflowing. So we put them at ease. We actually have a commitment, a company guarantee, that we will be at a person's residence in four hours or less.
We do drain cleaning, we do water main and house sewer repairs, replacements, upgrades, and new connections. If the building's getting demolished, we'll do the service line disconnections. Essentially if it's plumbing and it's underground, that's what we do. We deal directly with homeowners. Frequently we get subcontracted out, because what we do is a specialty type of work.
Understood; and so your geographic reach, tell me where it starts and, tell me where it goes to. Where do you cover within the New York metropolitan area.
Okay, that's a great question. We're centrally located in Queens. Therefore we have easy access to Queens, Brooklyn, the Bronx, Manhattan, and Nassau County as well.
So, do you also service commercial accounts as well?
Absolutely, again you know if it has anything to do with a water supply line or a drain system, regardless of what type of building it's located in, or out of, and the size of it, we handle it. We can do it, for sure.
So some companies during this pandemic, have put their head in the sand out of fear, or whatever else. And some have plugged forth, some have just gone in there never business as usual, right. Some companies have really worked hard at, as we we coined a phrase here, of "making lemonade out of lemons". And we have a lemon tree growing in the New York area right now. Tell me some of the things that your firm has done regarding the community, and in in a feel-good way, and a boots on the ground way, to help the communities that you serve.
Oh boy, that actually gets very emotional for me. A number of years ago I was driving down Lefferts Boulevard, and I saw this line of people going all the way down the block, and around the corner. I never saw that before, and I didn't really know what was it, or what it was about. Then when I investigated it a bit. I found out it was this organization called the River Fund. Among the many services that they provide, they have a food bank, and that really touched me. It still touches me to this day honestly. So we committed that from that point forward every single month we give a donation of $250.00 a month towards the River Fund. And to this day, if I drive by on a Saturday and I see that, I pull over to the side of the road and I just watch that scene of people. I'm tickled that I feel a small part that somebody on that line is getting food that we gave the funds for. It just touches me.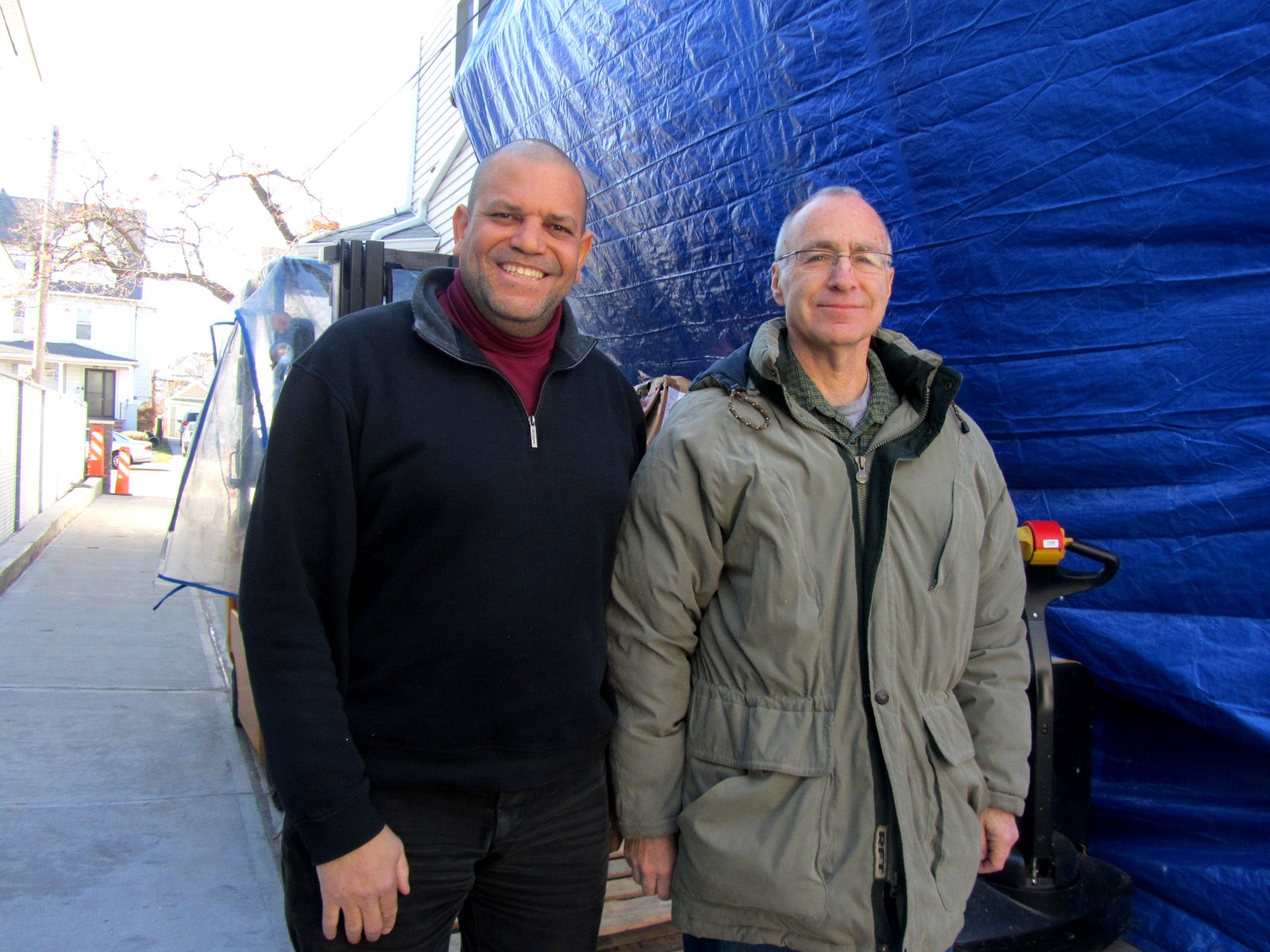 You know what, it's a good point because you know what, thank you for that. As a fellow New Yorker these are the times they say that try men's souls. Without a doubt I will tell you I worked a lot behind the scenes watching, not doing any heavy lifting, when Emma Leavy made our own video. I saw it in bits and pieces along the way, with zero creativity on my part, and zero knowledge about how to make even a short three point, four, six second movie clip. When it was all done, and she sent me that clip. She sent it to me late at night one night, and my family was asleep. I played that video, and I don't mind telling you, I was bawling like a baby seeing that video for the first time. Not so much that we put it together, or that we did it, but it just to me demonstrated that feeling of community.
So you know what, it's okay to be emotional about it. Because I think lots of times people in the general public, folks that do not work for a small business, or do not own a small business, don't understand how much effort and time goes into it. So we tout small businesses from the highest mountain. In fact we tout all businesses, whether they're medium, large, or small, as contributors to the greater good. And so, I thank you for sharing that.
I'm going to ask Henry to pop up the the Balkan Sewer And Water Main website in a second, as we continue the conversation. So water and sewer mains, well is there anything going on? Anything that might be like, whether it's rules or regulations, department of buildings, any codes, that might be in the offing or coming soon, that consumers ought to know about? That you can help them with, when it comes to their plumbing and sewer situation, David?
There's really nothing dramatic taking place. You know, more and more I will say that people are signing up with service line protection companies, and we are a vendor with the two primary companies. Because most unlike in days gone by, most heads of the household are both working now. So the service line protection companies do alleviate the stress of having to find a contractor when something breaks or backs up. That's a relatively recent development in the last few years. But otherwise, the regulations and codes are pretty much stable. There's nothing too dramatic that is transpiring.
That's great. Before I let you go back to your to your daily duties and managing that company, I'd like to ask you again, in the spirit of capitalism, and getting the name out there as a sponsor, would you mind please sharing the the actual website. Also please share the best number to reach Balkan for any kind of problems they may have.
Oh sure, the website's super easy, it's balkanplumbing.com, and our direct phone number is 718-849-0900. We actually have people "live" in the office 7 days a week and holidays until nine o'clock at night. So if people have a problem, there's a representative there for sure. And we have people in the field till nine o'clock at night as well. So if you folks out there ever have a problem, you know we're on it. And there's no premium for nights, just so you know and to throw that in there.
You sound like a real smart, and fair, and very savvy business person. Before I let you go, any closing thoughts?
I am just tickled that you asked me to partake in this. I love your organization. If I have a regret, it's I should have joined years ago. The Queens Chamber Of Commerce is just awesome.
Can I videotape that, and play it?
Okay, for sure! You guys are awesome. The resources you provide, and the way you helped us out during the pandemic; I couldn't thank you enough.
Well thank you very much. What I would be honored to do is, because you know what I have this philosophy "to who much has given, that much is expected", and also "givers gain". If you want to send a link to that River Fund group to Brendan, or myself, at the end of this thing, sometime today or tomorrow, or whenever. I'd be happy to put them on one of my blasts for some of the good things that they do. Send me that link if you don't mind, and I'll make sure that we let the world know what they do, and how they do it.
Absolutely.
Thank you David Balkan, the CEO of Balkan Sewer And Water Main. Thank you so much, have a great great weekend, and thanks again and be well. What a guy. I mean giving money back, giving funds back, and employing all those people. He's the epitome of a good decent man, and a good decent business.
A Little Bit About The Queens Chamber Of Commerce
The Queens Chamber Of Commerce is a vital and growing business association, but at the same time they are so much more than that. In many respects they are about business and community being one in the same. The Chamber of Commerce is equally passionate about both. While they provide an array of services and networking for local small business owners, they provide many benefits to the local community as well. As recent examples the Queens Chamber Of Commerce provided various PPE to Balkan during the Covid outbreak, and provided a very talented intern to Balkan as well. In addition, the QCC provides a constant stream of useful information online. To learn more visit the Queens Chamber Of Commerce.
About Balkan Sewer And Water Main
The Balkan Team provides expert sewer and water main repairs and replacements. We are experts in all types of NYC underground plumbing. Balkan Sewer And Water Main Service was founded in 1952. Since its inception, the foundation of the company has been based upon integrity and honesty in all of our dealings. That solid foundation has enabled us to thrive in every economic climate. The year 2020 actually marks our 68th consecutive year in business. As we have grown, we have become increasingly dependent upon a "Team First" approach. What helps ensure a continuation of our high standards, overall integrity, and high company morale, is that same team approach. Complete client satisfaction has always been the number one goal at Balkan Sewer And Water Main. That is why we are NYC's largest and most trusted sewer and water main service in New York City. Simply put, if it's plumbing, and it's underground, we do it. For almost 70 years, and for over 70,000 New Yorkers to date, Balkan is "The Team You Trust".