Sewer line connections are one of the most important features of a modern home. They are likewise one of the most disastrous features of any modern home when it fails. Sewer lines allow us to live comfortably in an enclosed space, without worrying about the negative side effects of waste disposal. However, for many New Yorkers, a cast iron sewer pipe repair can be a fact of life.
Subsurface sewer lines carry your waste neatly away, except when they do not. New Yorkers are incredibly aware of the commonality of sewer line clogs. Whether they are caused by you, someone else, or the concerted efforts of your building residents, it is a stressful event.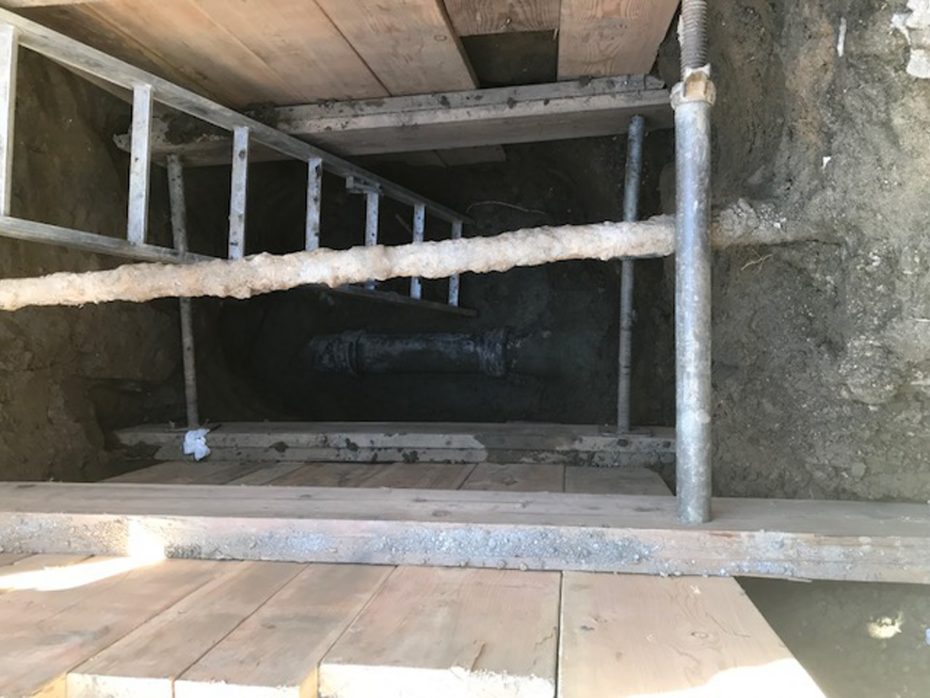 When a sewer line clogs, it creates a terrible health risk to the people nearby. It also creates a damage risk to any and all nearby the property. The more it backs up, the more likely it becomes that someone will get sick as a result of exposure to raw sewage coming up in his or her home. What you might not realize is that these sewer lines backing up might have a direct effect on your lifestyle, and the activities of your neighbors. Only in rare instances is a house sewer issue a result of the sewer pipes being made of cast iron. As noted below, it is not the extra heavy cast iron itself. More often than not, it was the manner in which it was originally installed. The rare exception to this is when chemicals, or extremely acidic or alkaline waster water, cause the cast iron to rot. In these rare cases either a neutralizing tank, or the use of other approved materials are advised.
Why Many Sewer Lines Feature Extra Heavy Cast Iron
Extra heavy cast iron is an incredibly popular form of metal. That is because it is so strong. Pots and pans made of cast iron, for instance, are very heavy and tend to last forever if you know how to keep them. Cast iron pipes should  work the same way in theory. This great inherent strength is what caused early city planners to choose cast iron as the chosen material for house sewer pipes. After all, a strong metal is far less likely to crack, sag, burst, or spill sewage. Unlike vitrified clay soil pipe, it is not brittle. Unfortunately, some future problems may not have been foreseen at the time of the original installation. When installed without great care, even an extra heavy cast iron house sewer pipe repair can be eventually needed.
What Goes Wrong with Cast Iron Pipes
Extra heavy cast iron sewer pipes are incredibly durable and long lasting. Even constant exposure to waste water will take many decades to break down an unsealed surface. However, modern cast iron pipe is coated. This coating adds even more years of useful life to your house sewer system. Very old cast iron pipes that are not coated can form scaling over the years. But pipe scaling that drops into the pipe is easily cleared out in most cases.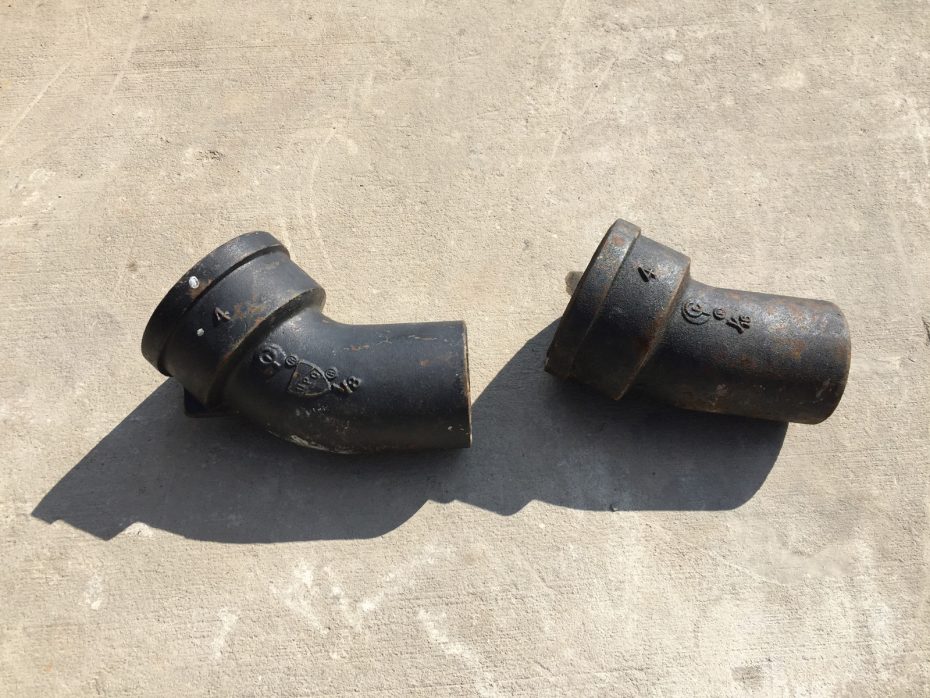 The 3 basic issues that arise with cast iron pipe installations:
Poorly connected joints: If pipes are not connected tightly (as designed) they can sag, or allow for root intrusion. Using approved gaskets, and connecting tightly, will avoid these issues.
Improperly  supported pipes: Cast iron pipes should be supported under the end of each section with solid blocks or bricks. In many cases crushed stone should be placed under the run of pipe. An unsupported joining point will inevitably lead to issues down the road.
Failure to use approved fittings: Specially designed fitting are made for offsets, or increasing or decreasing pipe sizes. These include 45 degree bends (referred to as 1/8 bends), and 22 1/2 degree bends (referred to as 1/16 bends).  Other common fittings are 6″x 4″ reducers, and short pieces with a hub on them (referred to as "dutchmen"), which are used to connect directly to a city sewer in many cases).
Improperly using other types of material in lieu of the above approved fittings will lead to issues down the road. For instance, offsets or bends made without use of a fitting will lead to clogs, or a pipe separation. A change in size of pipe without a proper reducer will lead to root intrusions, or pipe separation. Each of these potential defects can easily cost a few thousand dollars down the road to correct.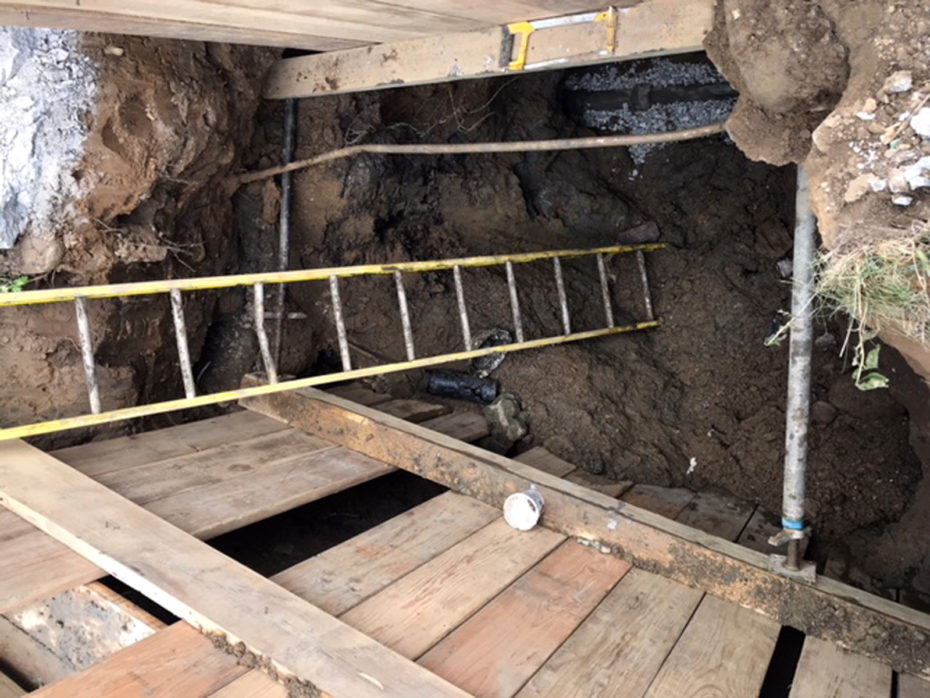 Clearing a Cast Iron Sewer Pipe Clog
When you call your local cast iron sewer pipe repair service, there are a few things that can be done with and for your sewage pipes. The first is to clear the line of roots, rust, or any other built-up debris. Often the best way to do this is with high-pressure water, sometimes known as hydro-jetting. While water initially caused the problem, it can also be a solution. High pressure jetting will knock free the rust and other debris that has built up inside your sewer line. Specialty tips on the end of a water jet can even cut out root intrusions. A water jet frequently restores the full flow of water, and the full inside diameter of your house sewer.
When a cast iron sewer pipe repair is needed
Pipes come in assorted materials, intended for many different purposes. If you are having trouble with an old pipe and live in NYC, trust Team Balkan.  The professionals of Balkan have a full line of water jets, HD sewer cameras, and a full range of drain cleaning machines. However, if you do need a cast iron sewer repair, or any type of sewer repair, Balkan has over 65 years of experience.  That means Balkan can expertly pinpoint the problem in many cases, and also acquire detailed connection information from the NYC DEP. A smart and informed start to your cast iron sewer pipe repair, will invariably lead to a happy conclusion.
Once approved to commence work, crews are expedited from a 48,000 square foot facility. They are backed by a team of Quality Assurance Professionals, and overseen by the same family ownership and direct supervision. For more information about a cast iron sewer pipe repair, contact Balkan Sewer And Water Main today.