A combined house sewer is the most common type of house sewer connection in NYC. It has unique characteristics that are unlike a dedicated house storm sewer or house sanitary sewer. A combined sewer system for a house or building combines the flow of rain water and sanitary water at a certain point into one drain line.
Most typically the combining point of the storm and waste water is at the property line. In theory it is designed this way for more easily connecting to a dedicated city sanitary or storm sewer if one is built in the future.
For instance if a new city storm sewer is built, the Wye at the property line would be removed. Then a new dedicated house storm line would be installed from the property line of the building to the new city storm sewer. This is much easier and less costly than reworking the entire drain system for a building.
Older combined sewer systems for buildings in NYC
Many older buildings in NYC have a combined sewer system that varies greatly in one important aspect than described above. In many older residential and commercial buildings in NYC the storm lines and sanitary lines are combined together to the dedicated house drain inside the building. Having the sanitary and storm flow combined inside the building has a number of disadvantages.
One negative impact of storm and sanitary water being combined at different locations inside the building is that it makes it much more difficult to separate the flow at a later date. Instead of simply being able to remove a Wye, the entire house drain system has to be reworked . After the house drain system is reworked, a completely new house sewer has to then be installed.
Another perhaps more important issue is if there is a city sewer backup. When the flow of rain water and sanitary water are separated outside the building, a backwater check valve can be installed on the sanitary drain to prevent a backup.
[button link="/contact-balkan-plumbing/" bg_color="#EA6E24″ window="yes" size="xl"]Get free expert advice today[/button]
However when the sanitary and storm flow are combined inside the building a check valve is usually not the proper solution. This is because a check valve, once in the closed position, will not allow storm water to escape from the building to the city sewer.
Newer combined house sewer systems
A more recently designed house combined sewer system varies is some important aspects. Most notably is that most newer systems demand that either a detention tank or dry wells are installed along with the new house sewer. In some cases both a dry well and a detention tank must be installed for a new combined sewer system.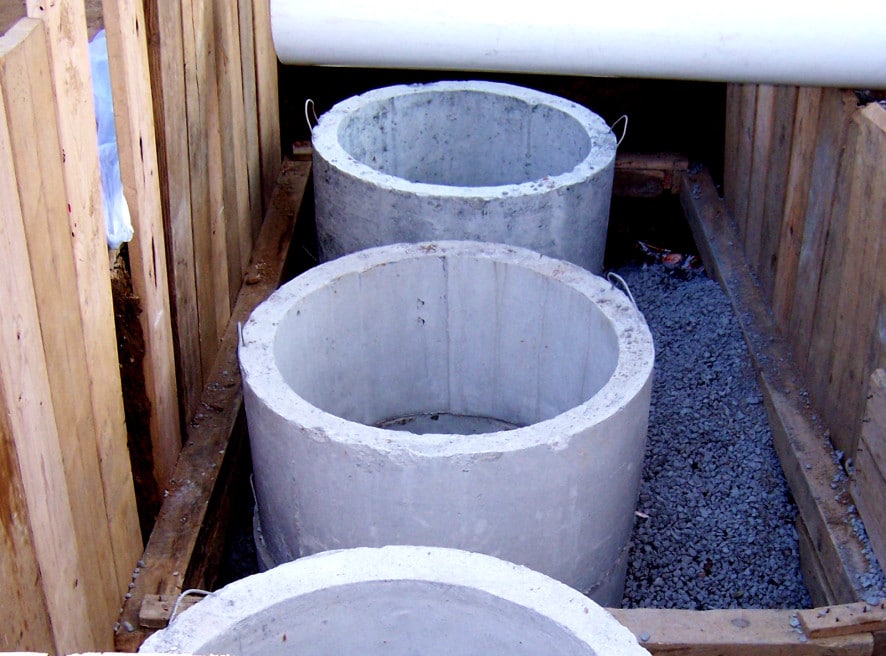 A detention tank is designed to detain a portion of the water for a period of time during a flash rain storm. By restricting the flow of rain water it provides relief to the city sewer during extreme rainfall. Likewise a dry well that takes a portion of the storm water from a property also provides relief to the city sewer system. A dry well permanently holds water until it is absorbed by the surrounding soil.
An often overlooked advantage of unpaved areas such as grass and shrubs is that they too absorb rain water and relieve the burden on the city sewer. For certain new projects NYC instituted rules that require a certain percentage of finished areas be left unpaved for this very reason.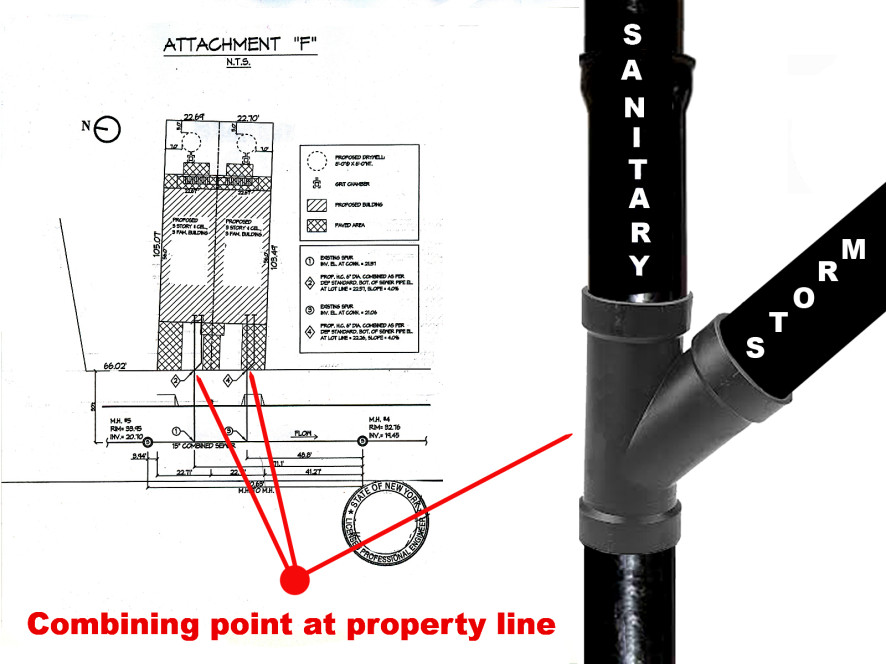 As stated previously a new house combined sewer system keeps the flow of storm and sanitary water completely separated until combined outside the building. Because a combined sewer takes both storm and sanitary flow there are times the size of the house sewer may have to be larger than usual.
A typical house sewer in the outer Boroughs of NYC is 6″. However a combined sewer system may have to be increased to 8″ or larger for certain commercial or multi-family buildings. Some buildings actually require multiple house sewers to handle all the flow of waste and rain water.
How the flow of rain water is restricted from detention tanks
Approximately 1′ or 2′ from the bottom of a typical detention tank is the outlet pipe. It is typical for the outlet to be smaller in diameter than the house sewer itself, or have a reducer on it restricting the outlet flow of rain water. During a heavy rain the restriction of flow allows rain water to build up inside the detention tank itself. This temporary restriction of flow provides relief to the city sewer system when it is most stressed.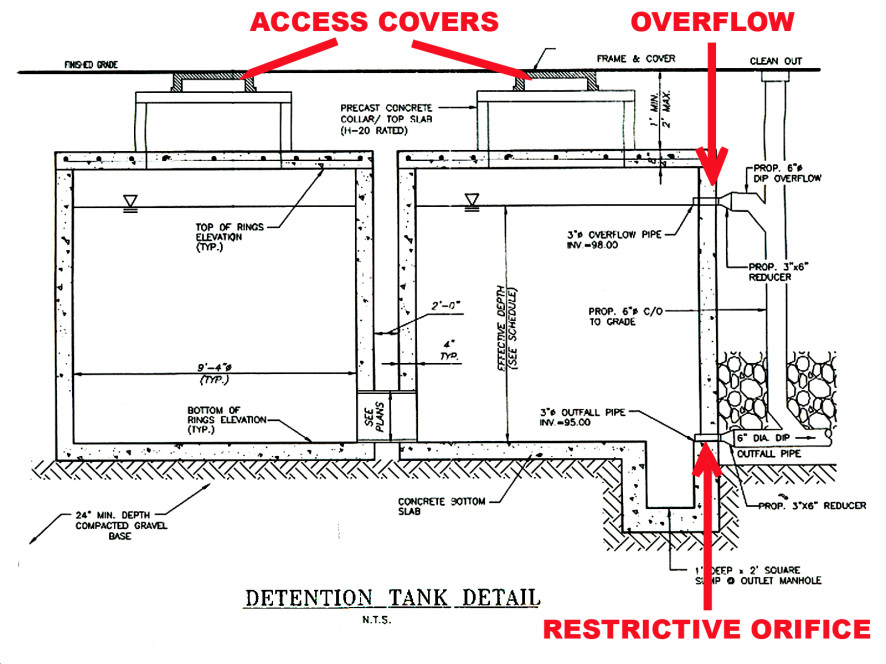 A foot or two below the top of the detention tank is the overflow outlet pipe. Once the detention tank builds up with rainwater, the outlet pipe allows it to escape to the house sewer, then to the city sewer. The intent is that the overflow pipe from the detention tank allows water to escape after a flash storm or a heavy rain has subsided.
Detention tanks typically have access covers built into the top slab for future maintenance. There is also a sump at the very bottom of the tank to accumulate sediment and debris. This helps prevent the outlet pipe from getting clogged.
Who to call for house sewer work
Subsurface plumbing is a specialty in the NYC plumbing industry. Only a small group of licensed master plumbing firms have chosen to specialize in water service line and house sewer work. It is always best to trust a company dedicated to this type of work. Not only is a plumbing license required, but specialty insurance requirements must also be met. In addition a NYC Department of Transportation Bond must be on file in order to secure permits.
[button link="/contact-balkan-plumbing/" bg_color="#EA6E24″ window="yes" size="xl"]Get a free on-site visit today[/button]