The water main is the primary pipe that connects buildings to the city water supply. Its primary function is to move water from the public pipes into the private ones a home or business. If the water main becomes damaged and starts leaking, the consequences can be significant. A water main leak can cut off water access or lead to dangerous sinkholes. While the water main is normally not easily accessed or monitored, you can detect leaks before they become an issue. Review this guide to learn more about water main leaks, so you know when to call for help.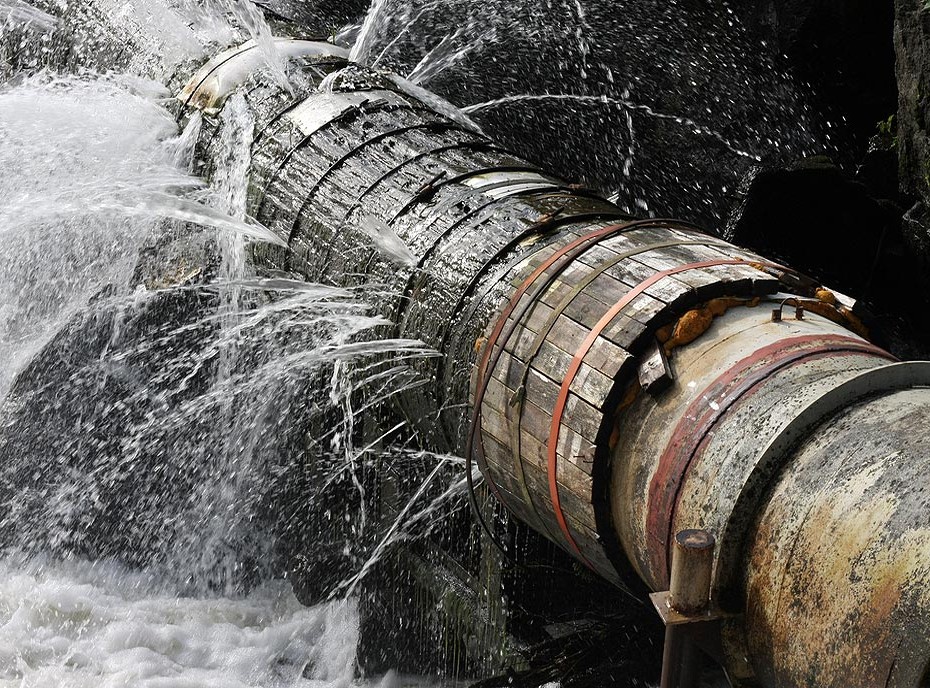 Water Main Leak Causes
The most common cause is aging plumbing. Corroded pipes can deteriorate and start to leak. Also, as pipes age they are less likely to stand up to the pressure of frozen ground or seismic disturbances.  While northern lattitudes are more prone to ground freezing, seismic disturbances and material deterioration can occur anywhere.  Knowing the risk factors in your area can aid in preventing your next water main leak.
Out-of-date plumbing can also leak when water usage increases with demand and the current water main is too shallow or thin to keep up with the new level of use. If your plumbing has not been modernized for a while, yearly monitoring and inspection can detect issues before they occur. This can be a good precaution if your water usage has changed, or intends to change at this property be it a home or business.
Signs of a Water Main Leak
The most common signs of a water main leak may include:
Changes in water pressure. If your water pressure goes from good to non-existent, it could be unique to your plumbing system. However, if others on your street complain of the same effect, it is likely due to a water main leak.
Bubbling and flooding. When the water main springs a leak, you will see water spill over into the street or bubble up in your yard.
Noise and vibration. In some homes or offices, a water main may be accessible. If so, it is frequently located prominently in the basement. People often report they first hear the noise while in the basement alone late at night when everything else is quiet.
Sinkholes. The news often features large and dramatic sinkholes that swallow cars and terrorize the public. Sinkholes of any size, though, are dangerous and a likely sign of pipe leakage.
A spike in water usage. Leaks often reveal themselves through shocking water bills. If you are a homeowner, small increases in your water bill could be normal but you should not see anything large unless you just installed a pool or hot tub. Office buildings will not usually see a considerable increase either unless parts of it were unoccupied until very recently.
A combination of any of these factors means a water main leak is very likely. Even if you only witness one of these signs, it is best to call a water main repair professional immediately. A professional will be able to perform a trustworthy water leak test.
Preventing a Water Main Leak
If you acquire a building with either lead or galvanized plumbing, it is better to make a change to more reliable materials, so you are safe instead of sorry. Replacing lead or galvanized plumbing is the best way to prevent a water main leak and save yourself from future damage and an emergency condition. Additionally, pay attention and have possible leaks investigated immediately. A water main leak caught early may be remediated with less-expensive maintenance work.
Worried that your water main may be on the brink of disaster? Contact Balkan Sewer And Water Main and we will evaluate it for you. Our fast service and courteous water main leak professionals will help bring peace of mind and avoid your next water main leak.  Balkan Sewer And Water Main is properly licensed, bonded, and insured and will quickly and accurately handle all your water main leak and sewer repair needs.