K copper water main service lines supply the vast majority of water to most properties in New York City. A copper water main will typically last 50 years or more and does not interact with water to form rust or corrosion. K copper is malleable meaning it can bend and move with the surrounding ground during freeze and thaw cycles or when other ground shifting events occur. Other materials such as brass, ductile iron, and galvanized pipe are more prone to break when subject to ground shifting.
When to repair an existing K copper water main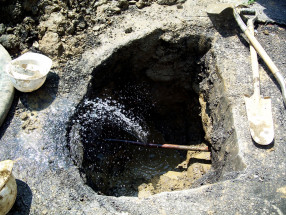 Besides the age factor other factors come into play when deciding to do a water line repair or a complete replacement on a copper water main. Similar to a broken sewer line unless the leak is at the tap connection in the roadway, inside the basement foundation wall, or near the front of the house an attempt to repair the line usually does not make much sense. Being certain where the break is located is vital to performing the repair and the repair being cost effective.
Many water line leaks occur at the tap connection or near the foundation wall because those are stress points. Leaks at those two points do not indicate that the service line itself is in poor condition. A third stress point where many leaks occur is around a curb valve if one is present.  Typically a curb valve is only present if the water service line also provides fire sprinkler protection for the building. If a curb valve is present in other situations it could indicate that the water line is very old. Such is the case in Southeastern Queens where the Jamaica Water Supply used to service the area and make use of sidewalk curb valves.
If a copper water main line is leaking at some other point not listed above a repair is not a good idea and can lead to additional work being required that can greatly increase the price. A water line leak that is not at a joint or connection on the water service line line is indicative of a service line whose useful life is over.
Unlike galvanized pipe and lead water lines that are not legal to repair, spot or partial repairs are legal on a copper water main.
The cost difference between a repair and a replacement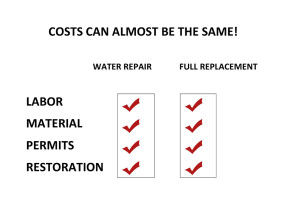 Similar to sewer repair work a repair on a copper water main typically costs around 50% of the full replacement cost. In most cases many of the charges are identical regardless of the scope of work. Items such as permits, road or cement restoration, tools, equipment, and much of the labor required are identical or quite similar. [Read more about water line repair versus replacement]
How a K copper water main is connected
Unlike any other water service line material a K copper water main connection is made by flaring the end of the copper water tubing using a flaring tool. The flared water tubing is then connected by using a special flare fitting that compresses on either side of the flared copper. These connections are long-lasting and trustworthy.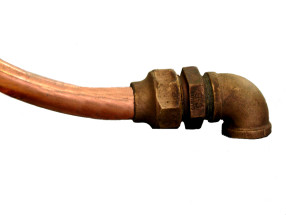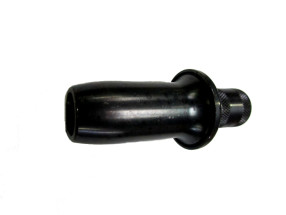 K copper is used for virtually all water service lines that are 2″ or smaller. For service lines larger than 2″ ductile iron pipe is used in almost all cases. However a 2″ or smaller line will accommodate the vast majority of properties in Queens, Brooklyn, Staten Island and the Bronx. In Manhattan larger water service lines are much more prevalent due to the size of the buildings and number of plumbing fixtures. K copper water tubing gets brittle as it ages. If an older line is repaired proper care must be taken so the ends do not split or crack when the flare is being made.
Some special cases
There are some special cases when it makes sense to partially replace a copper water main. One example which particularly happens in Queens is if a house has a great set back from the curb line. If there is a leak in the yard or out in the street a partial replacement may make sense if the water line is less than 25 or 30 years old. A spot repair is not a good idea, but the line can be replaced from the tap connection to the curb or from the house to the curb. In either case a curb valve should be installed so if the line ever breaks again the street will not have to be opened.
Another special case can be if the house is in the midst of changing ownership. A partial replacement may make sense if a copper main main exists. But it is advisable that both buyer and seller negotiate out a deal so a proper full water line replacement is done.
Read recent articles about water line work
[posts-by-tag tags = "water main repair" date = TRUE number = 5]