A water main upgrade may be needed on a building for a number of reasons. The reasons for a water main upgrade typically vary from insufficient water pressure to a need for fire sprinkler protection. Recently a new fire main was required in Corona Queens when a two family house was being legally converted to a three family house. On multiple family homes in New York City fire sprinkler protection is required. If a multi-family home is not in code compliance, particularly regarding fire protection, there is an onerous fine structure. There is also the possibility of the tenants being forcibly evicted by the Department of Buildings for their own protection.
A water main upgrade for fire protection requires that an engineer be hired in order to draw up plans. The plans then have to be approved by the Department of Buildings and the NYC DEP. In addition there has to be plans for a new water meter that must also be carefully examined before approval. Being in compliance in this case meant a new water service line, a new water meter, and fire sprinkler heads installed throughout the building.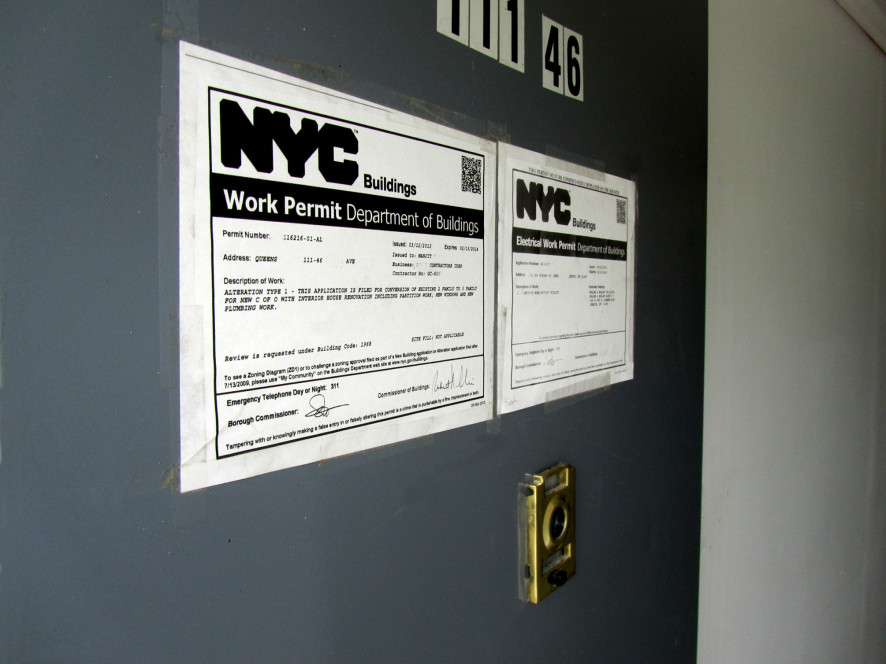 Whenever a work permit is secured from the Department of Buildings it must be prominently displayed at the job site. In addition is must be kept current and all work must conform to the approved plans. The NYC DOB strictly enforces their rules, regulations, and codes. Any deviation from an approved plan is typically not tolerated.
The need for this water main upgrade in Corona arose when the owner decided to legally upgrade the building from a two family house to a three family house. In the recent past many houses were built as legal two family homes with the intent of the owner using them as a three family home. New York City's recent crackdown on this practice has caused many owners to reconsider the ramifications of misusing their buildings and violating their certificate of occupancy.
[button link="/contact-balkan-plumbing/" bg_color="#EA6E24″ window="yes" size="xl"]Get a FREE no-obligation site visit today![/button]
On this job location on Corona Avenue the city water main was located under the public sidewalk in front of the house. This meant the roadway would not have to be opened. This kept the cost of the water main upgrade below the typical budget for such a job. On a roadway such a Corona Avenue that could mean substantial savings. Regardless of that fact all code requirements would still have to be met. That meant that three valves, the tap connection, curb valve, and inside OSY valve would all have to line up. Offsets on a water main for fire protection are not allowed unless special field conditions exist and prior approval is received from the NYC DEP. A right hand swing would have to be present at the wet tap connection and all materials would have to meet code.
Why call Balkan for a water main upgrade
There are the obvious concerns when a water main upgrade is needed. Every client should verify that proper permits are secured. Then they should ensure that the work is inspected and signed off by a DEP Field Inspector. However there are other factors as well.
All water line work performed by Balkan utilizes high quality domestically produced brass fittings. Imported brass from outside North America is notoriously of poor quality. In addition none but domestically produced K copper is used for and water main upgrade up to 2″ in diameter. After 2″ in diameter other materials are required by code. Lastly all valves installed by Balkan meet or exceed code requirements. For these reasons and others Balkan is able to give long-term and unconditional guarantees on all water main replacement work.
Final restoration of disturbed areas is the detail of the installation that an owner will always remember a plumbing contractor by. That is why Balkan directly employs highly trained tradesmen that typically restore all disturbed areas the very next work day. Just like a Balkan plumbing installation, disturbed areas restored by Balkan are guaranteed long-term. The usual guarantee on any public sidewalk or roadway restored by Balkan is three years.
[button link="/contact-balkan-plumbing/" bg_color="#EA6E24″ window="yes" size="xl"]Get a FREE no-obligation site visit today![/button]
All Balkan installation crews, whether for a water main upgrade or any installation, are under the direct supervision and employ of the Balkan brothers. Paul R. Balkan and David Balkan carefully screen and test all applicants and have an in-house training program. On this particular installation in Corona the foreman had been a Balkan employee for over fourteen years.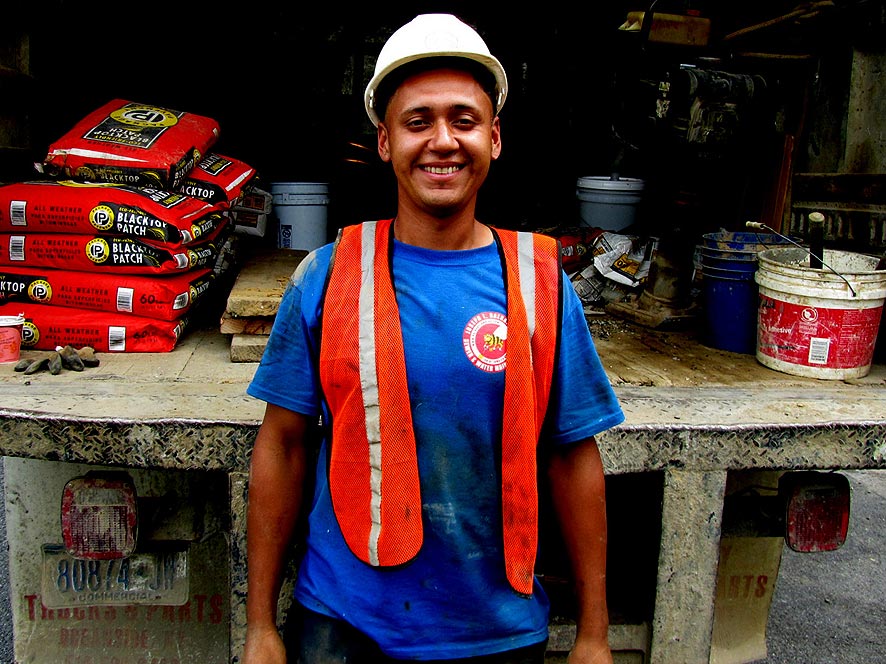 A little bit about Corona in Queens, NY
Corona in Queens is bordered by Flushing Meadow park on the East and Junction Boulevard on the West. 44th Avenue separates it from East Elmhurst on the North, and the Long Island Expressway separates it from both Rego Park and Forest Hills on the South.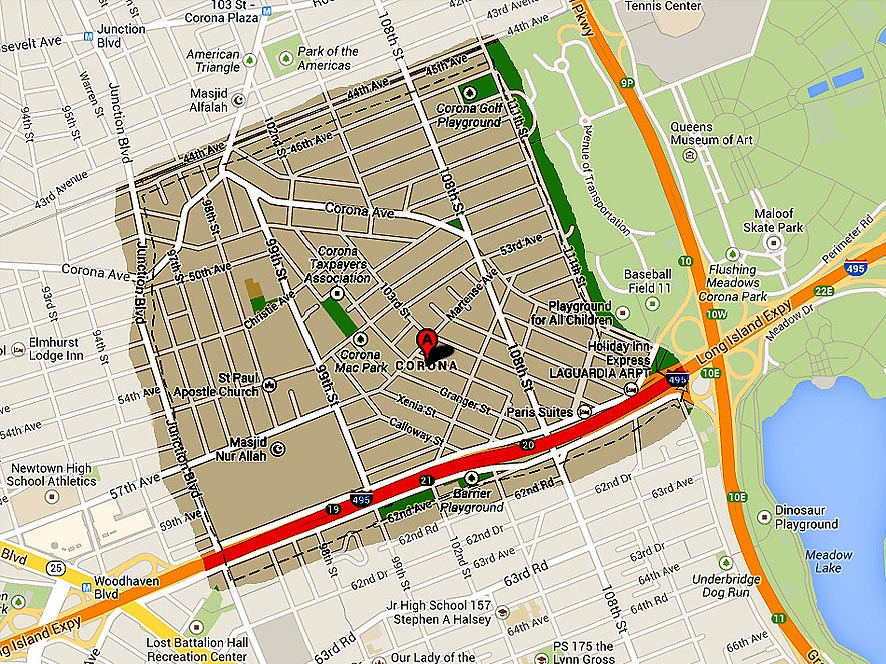 Many memorable structures from the 1964 Worlds Fair are still visible from Corona. Two of the easily recognizable ones are the Unisphere and the New York Pavilion. Citifield, the home of the Mets, is also housed inside Flushing Meadow Park.
A diverse Hispanic community comprises the majority of Corona's population. Prior to the 1950's Corona was predominantly an Italian neighborhood. Due to it's diverse population many unique and truly authentic ethnic restaurants call Corona their home. Corona is easily accessible from both public transportation and by car as well.
[credit]