New York, USA (OCTOBER 8th 2013) FOR IMMEDIATE RELEASE:
There are many factors that affect the cost of sewer and water work on service lines in New York City. This article will act as an overview, with more detailed and in-depth information contained as well. Surprisingly even though costs can vary for a number of reasons, the actual factors comprising the cost of sewer and water work are fairly simple.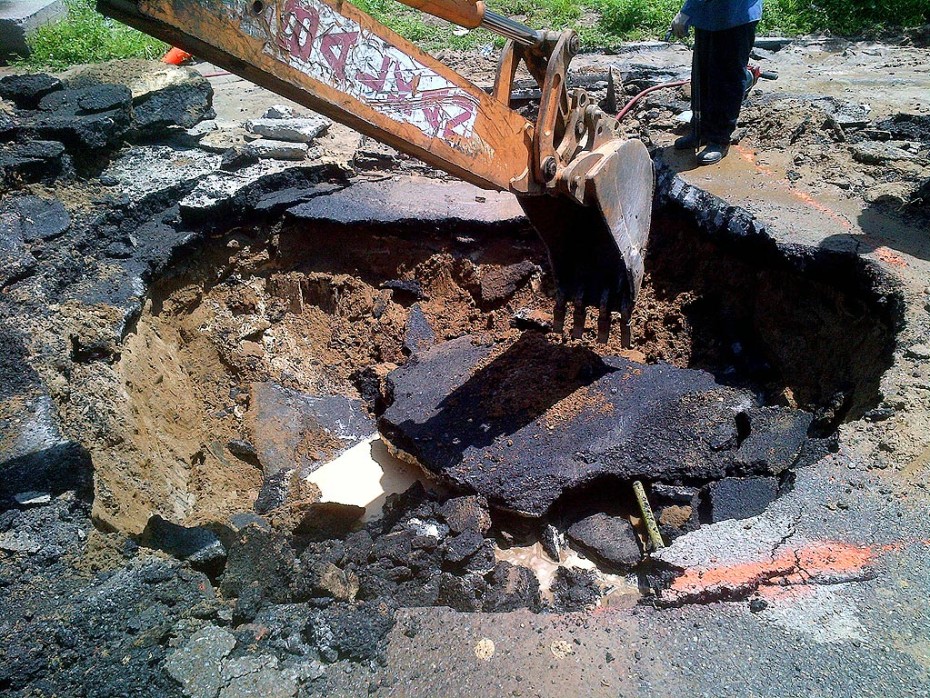 The cost difference between sewer and water work
House sewer work is substantially more expensive than water service line work as a rule. There are some basic reasons for this:
Sewer lines are typically much deeper than water service lines. Sewers work by gravity – they get deeper the farther away from a building they get.
Sewer work requires an open trench, tunneling is not permitted.  Typical water line work is done by making a series of holes, and then by tunneling.
Sewer pipes cost much more than K copper per foot – typically around 500% more.
Sewer work requires a more skilled work force which is more highly compensated.
The above factors result in a typical main sewer line replacement costing about 3x the amount of a typical water service line replacement.  It is frequently advantageous to replace water line when a sewer replacement is being done. Adding a new water service line to a sewer installation can frequently result in over a 50% savings.
The cost difference between a repair and a replacement
As a rule of thumb a water line or sewer line repair cost will be approximately 50% of a full replacement. Naturally repair pricing varies depending on the location and the extent of the repair. On most water line repairs most cost factors can almost be the same as a replacement. Coupled with other factors, a water line repair in many cases is not a viable option.
It should be clearly noted that repair of galvanized and lead water service lines is expressly forbidden by NYC DEP rules and regulations. Likewise lining of drain lines or water supply service lines in NYC is also a code violation.
Factors that alter the price of a sewer and water line job
The basic factors that make up the cost of sewer and water main work are only a few. The primary factors consist of labor, material, permits, and restoring disturbed surfaces. Trucking fees for removal of excess soil and debris, and supplying clean fill are also a factor.
But other factors can come into play when subsurface plumbing work is needed. The following are some legitimate issues that can raise the cost of a sewer and water main job above the normal price range:
City sewer connections that exceed 13′ deep.
Bed rock that must be broken and removed to perform an installation.
Ground water that is present above the depth of the sewer and water line installation.
Heavily trafficked roadways requiring traffic control.
Work hour limitations imposed by the Department of Transportation.
Trees present in line with the installation. In these cases an Arborist must be present and excavations must be carefully dub by hand.
Typical sewer and water line work prices
The price structure in Brooklyn and Queens is fairly uniform. Factors in the Bronx usually make costs for sewer and water main work 25% to 33% higher. Manhattan work is unique and requires a careful site visit to each location. Every job in Manhattan will vary greatly as will the cost.
The majority of all water line work in Brooklyn and Queens work will fall into a price range of between $2,000.00 to $4,000.00.
A typical sewer repair in the outer boroughs will cost between $4,000.00 to $5,000.00.
A full sewer replacement in the outer boroughs will cost between $8,000.00 to $12,000.00.
When prices fall out of this range (either higher or lower) the issues should be able to be explained by the plumbing contractor. Prices can be substantially lower when the public sewer and water main are located under the sidewalk area, as opposed to the roadway. By the same token there are instances when work is on a wide roadway and the run of pipe is longer than is typical.
It is always wise to get an on-site visit to get a clear and accurate quote. Equally as important is to get a clear description of the required work before the work actually begins. Another important point is to get the price of a full replacement regardless of if a repair is the desired scope of work. Always be prepared for the worst case scenario.
About Joseph L. Balkan Inc.
Balkan Sewer And Water Main is the largest sewer line replacement and water main service company in New York City. We are licensed, bonded, and insured. As a family run sewer and water main company in operation for over 50 years, our 10-year guarantee means we continue to stand by our work after the job is done.We are expertly equipped, from our 48,000 square foot facility to dozens of trucks, heavy moving equipment, backhoes and pneumatics. For all your subsurface plumbing including; water main repair and water main replacements, sewer repair and sewer replacements, catch basins, fire hydrants, manholes, and specialty excavation work, we can help. Contact Balkan Sewer And Water Main today or visit www.balkanplumbing.com.