Homeowners ripped off by illegal sewer repair work
It is excusable that homeowners are not aware that house sewer liners are not legal in NYC for a sewer repair – homeowners should not be expected to know the plumbing code. However it is inexcusable that contractors continue to use illegal sewer liners for sewer repair and replacement work in NYC and take advantage of unsuspecting homeowners. Both the NYC DEP and NYC Department of Buildings have gone on record to formally condemn sewer liners as illegal and not an approved sewer repair method, so it is not a debatable point. Yet year after year innocent people continue to be taken advantage of to the tune of thousands of dollars a pop being sold on 'trenchless' house sewer installations.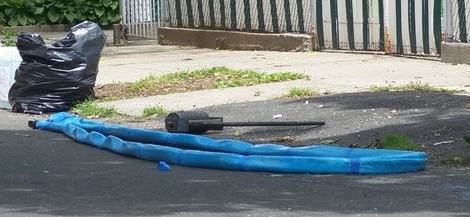 Who says liners are illegal for house sewer work?
The NYC DEP has expressly written that lining is not an approved repair method for a house sewer and subject to violations written to the Homeowner.
NYC DOB – Sewer Liners Are Illegal

The NYC Department of Buildings has written that house sewer lining is not permitted and firms doing such work are subject to investigation.
It seems that the only people saying trenchless liners are legal in NYC for sewer repair are the unscrupulous firms installing them. However recently some homeowners have won important decisions regarding illegal and faulty trenchless sewer liners.
Expert council from Balkan helps innocent homeowners
One many occasions homeowners have contacted Balkan in a state of distress because of faulty work on their house sewer. They had paid thousands of dollars for a sewer liner using trenchless technology in lieu of a traditional and legal house sewer repair. The companies performing the work were not licensed plumbers and the illegal sewer liners never worked properly. Even though companies involved had really nice videos of trenchless installations, reality did not match the videos. These unlicensed sewer contractors were unresponsive, and in most cases were actually 'shell companies' with no assets. However in two cases the homeowners paid for the sewer work using a credit card. At first the credit card companies involved were reluctant to take any action.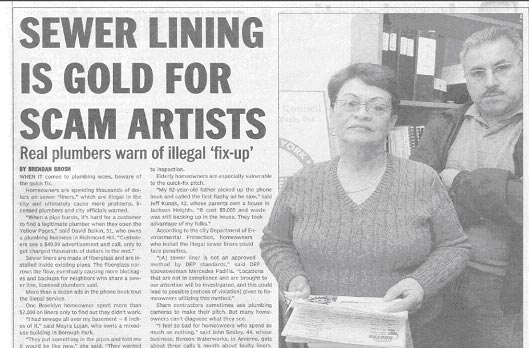 That was where Joseph L. Balkan Inc. stepped in. At absolutely no charge and no financial benefit to itself Balkan provided documentation including plumbing code reference, letters, and gave important guidance as to a proper course of action. It was no easy fight, but eventually the credit card companies gave in and reversed the full charge placed on the credit cards. Recently one homeowner was refunded thousands of dollars after a hard-fought dispute. Doing the right thing for a homeowner in distress from faulty house sewer work does not have to have a financial benefit to be rewarding. A sincere 'thank you' letter from a grateful homeowner can be as good as gold!