New York, USA (March. 23rd 2021) FOR IMMEDIATE RELEASE:
When you have an amazing team, it's important to do everything you can to take care of them. That's how we feel here at Balkan Sewer & Water Main Service. We have always upheld a "Team-First" approach to taking care of our staff along with their equipment and booked appointments. With that in mind we have issued a company-wide discretionary bonus to all employees as a "thank you" for working through the Corona virus pandemic. Our goal has been to keep everyone safe, at the top of their game. Remaining safe and properly equipped for each client's service needs during the pandemic was indeed challenging. Whether we're clearing a kitchen drain or rebuilding a sewer pipe, the Balkan team had to "know their stuff". This company-wide bonus was an acknowledgement to that level of professionalism and devotion to service.
"In these challenging times for all, appreciation and gratitude should be shown to all members of a team. Even in an uncertain economy, we decided to issue this discretionary bonus as a sign of appreciation. "

– David Balkan
The Balkan "Team-First" Philosophy
Here at Balkan Sewer & Water Main Service, we know the value of a good team. As a matter of fact, a company is only as good as its people. This is why "Team-First" has been a core part of our business philosophy and company culture for years. The scope of services we provide to our clients takes skill, dedication, and sometimes braving hazardous situations. To ensure each of our team members is best equipped to help clients, first we must make sure they are taken care of. To this end, we have been equally dedicated to providing all the training, equipment, and support each team member needs to safely give their best for each client service.
Of course, a philosophy and company culture goes deeper than equipment and training. We also care about the needs and capabilities of our team. Team-First means that we want our team to be healthy, safe, and happy in and out of work. That is why we've taken extra measures to make sure everyone is OK during the COVID-19 pandemic. Part of being okay during a pandemic is financial security as well. With that said, Balkan has actually added to its workforce, and of course issued a discretionary bonus to the entire team.
Good Management Makes Good Teams
A big part of the Team-First philosophy is good management. For example, if schedules are too tightly packed, this creates unnecessary stress, rushed driving, and potentially unhappy clients. If vehicles aren't packed for the day's service, something vital could be missing when our team needs it most. This is why we are dedicated to good managing techniques. To keep both team members and clients happy year after year.
Good management means listening to your team members when they have something to say. We trust our experts. So if they say we need new tools in a kit or their vehicle needs a tune-up; we listen. As a matter of fact, we have all-inclusive monthly safety meetings, and weekly took box talks. If a team member is sick, we make sure they are OK and provide leave as needed. If a team member has a concern about a client, we look into the issue and resolve it to the best of our ability. In short, happy employees make fr happy customers.
By putting our team first, we make sure that their expertise influences our decisions and their well being is a top priority.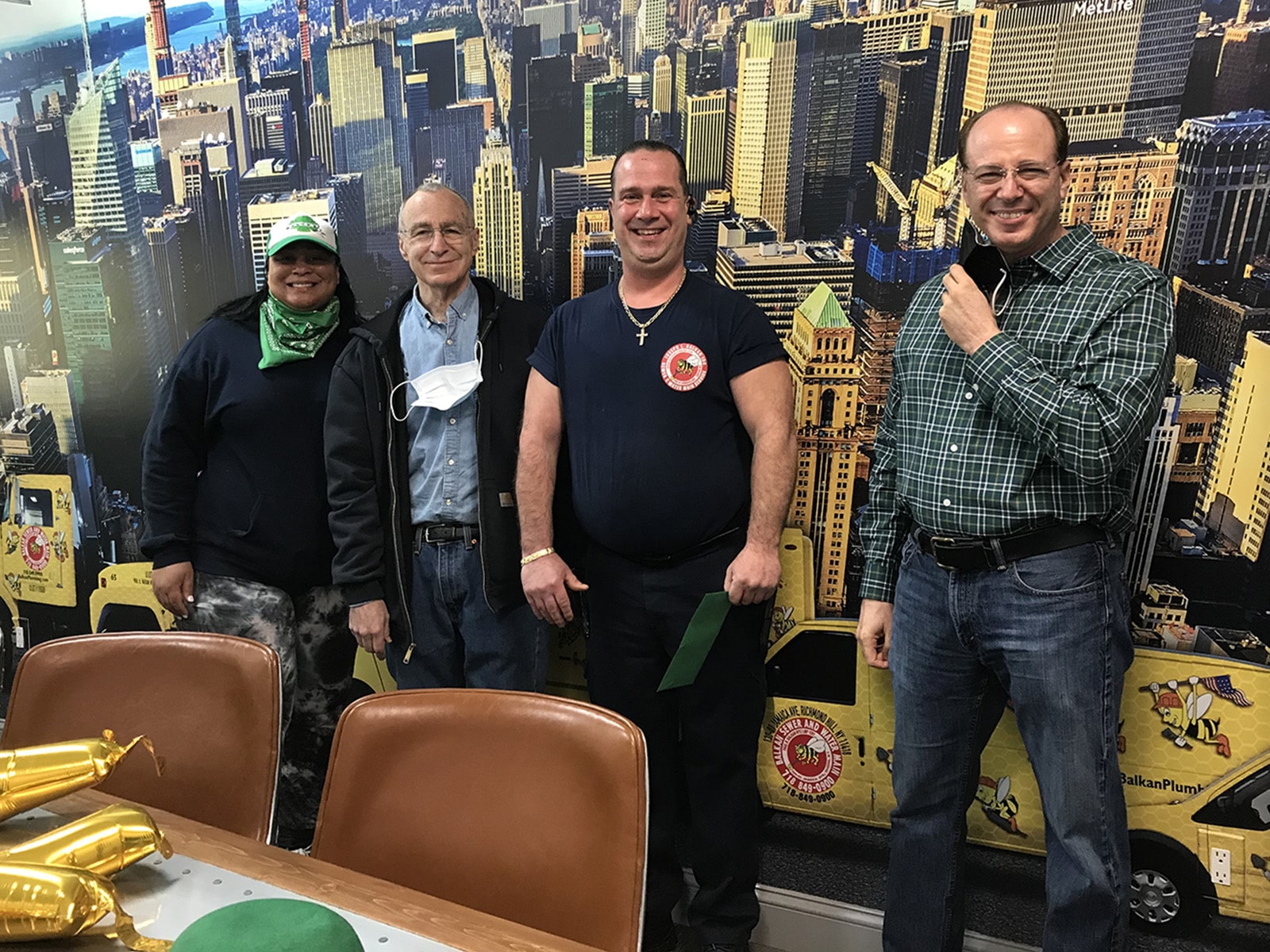 Our Team Stayed Strong During COVID-19
The COVID-19 pandemic was a disaster for most areas, and NYC was no different. A metropolis like NYC thrives on leaving your home, then walking and traveling in large crowds to do just about everything. Locking up and staying home impacted so many families that local we-come-to-you services became vital just for survival. You may have also noticed that sending everyone home put some stress on residential pipes that the pipes were not accustomed to.
During COVID-19 our team worked like champions through the pandemic. Dedicated to customer care, we know that your drains, water mains, and sewer issues won't fix themselves just because you're in lock-down. Our team worked tirelessly to provide water line, drain, and sewer services to local residents across the NYC area. We serviced anything from single family homes, to Manhattan skyscrapers.
In masks and gloves, our team diligently continued to provide both emergency and maintenance plumbing services to NYC residents in need. That is exactly why we are so proud of them and wanted to say "Thank You" in the best way we knew how, in words and deeds. That meant a verbal "thank you", and financial thank you in the form of a discretionary bonus for working through a pandemic.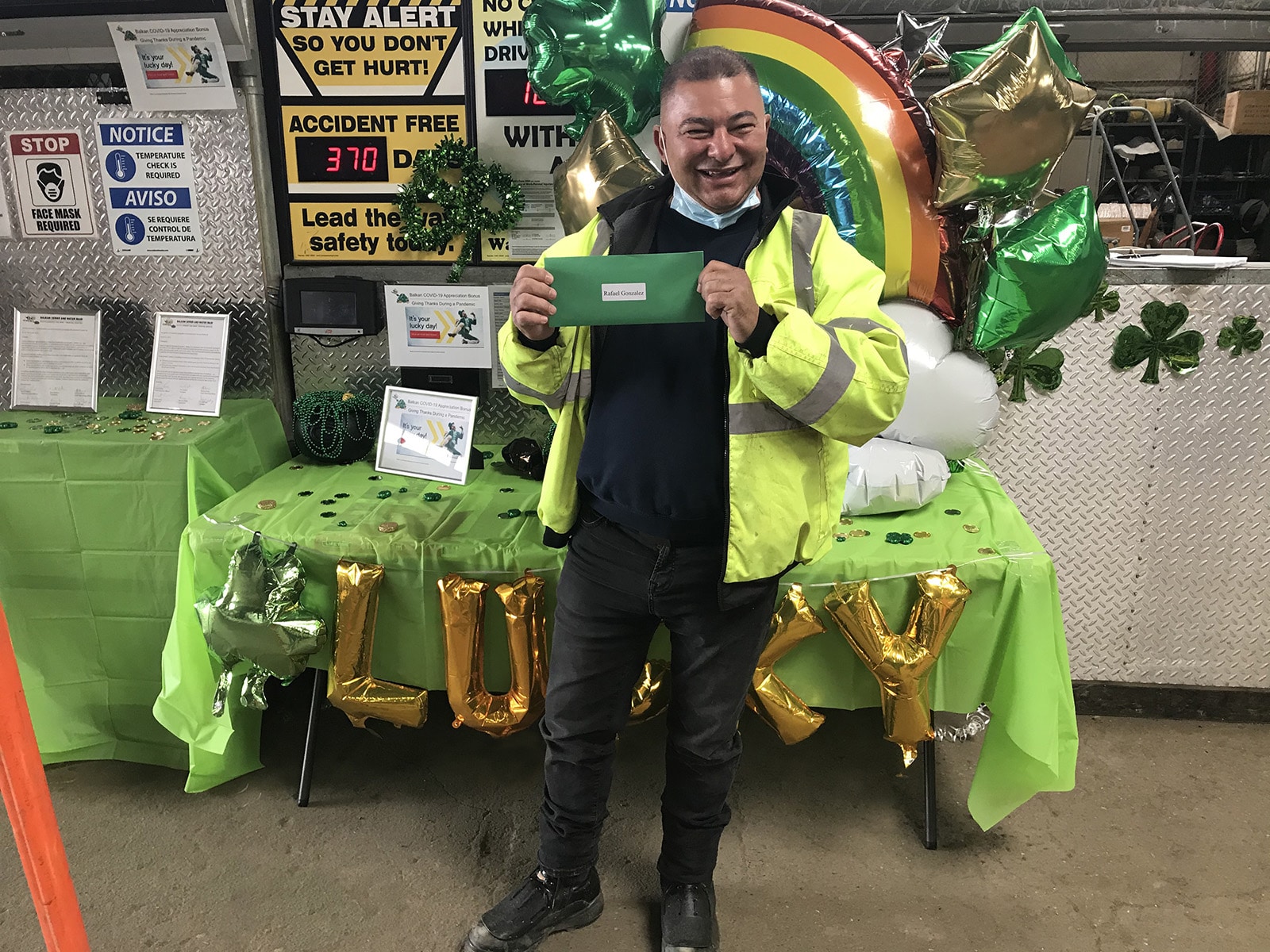 How to Reward the Best Main, Drain, & Sewer Team in NYC?
So management here at Balkan asked ourselves. How can we reward our amazing team for all their extra effort during the pandemic?
Gift baskets? Thank-You cards? An office cake? None of that seemed like enough. We know not everyone's into wine and many are allergic to flowers. So the best way to say "Thank You" during these trying times is money. Every single non-millionaire in NYC could use a little extra cash during this pandemic to stock up on supplies. And tide over any lost income due to the economic shake-up. So we decided that a cash bonus was the best possible way to thank our team in a way that every single team member would appreciate.
Considering that our teams braved virus exposure and emergency conditions during this time, we figured a $20 slipped into a floral greeting card wouldn't do the trick. To truly thank each team member, we wanted to make a difference in their lives. And provide a little extra in case households were struggling the way so many are today.
That is why we decided to give every one of our 80 member staff a $500 bonus this year.
Putting the Team 1st with a $500 COVID Discretionary Bonus
Balkan Sewer & Water Main is proud to present each and every one of our team members with a $500 bonus for working through the pandemic with passion and dedication. Each member of our team has faced risks and challenges to provide plumbing and drain services to our local clients. Each and every one of our 80+ team members has shown incredible heart during this global ordeal. And we could think of no better way to make them know we appreciate that dedication.
Meet Our Amazing Balkan Sewer & Water Main Team
To find out who these incredible technicians and staff are who have been providing steady plumbing and drain services through the pandemic, head over to the 'About' page on our website and scroll to Meet Our Team. We are so proud of the Balkan team this year and you should be, too. In all our almost 70 years of sewer, water main, and drain services in the NYC area, we have never been prouder of our team for facing challenges and overcoming them with verve.
If you need expert drain or sewer services in NYC, you know you can trust the Balkan team. Meet some of our team in person by calling for drain inspection and repairs! Contact us today and we'll take care of you.