Domestic fire sprinklers are more frequently required in new residential buildings. Although automatic fire sprinkler systems have been used for hundreds of years, they were historically used for commercial buildings and office buildings. Buildings such as factories, department stores, and warehouses were the original site of fire sprinkler systems. A fire protection system can be simply defined as a measure that consists of a water supply system, and a heat sensor to trigger the sprinkler head. There are also systems that involve standpipes, and siamese connections as well.
Recognition for the benefits of the system in domestic and residential buildings keeps on growing. The life saving, and property protecting, values of domestic fire sprinklers is indisputable. Thus, they have become a more recognized and cost-effective inclusion to more non-commercial projects than ever before.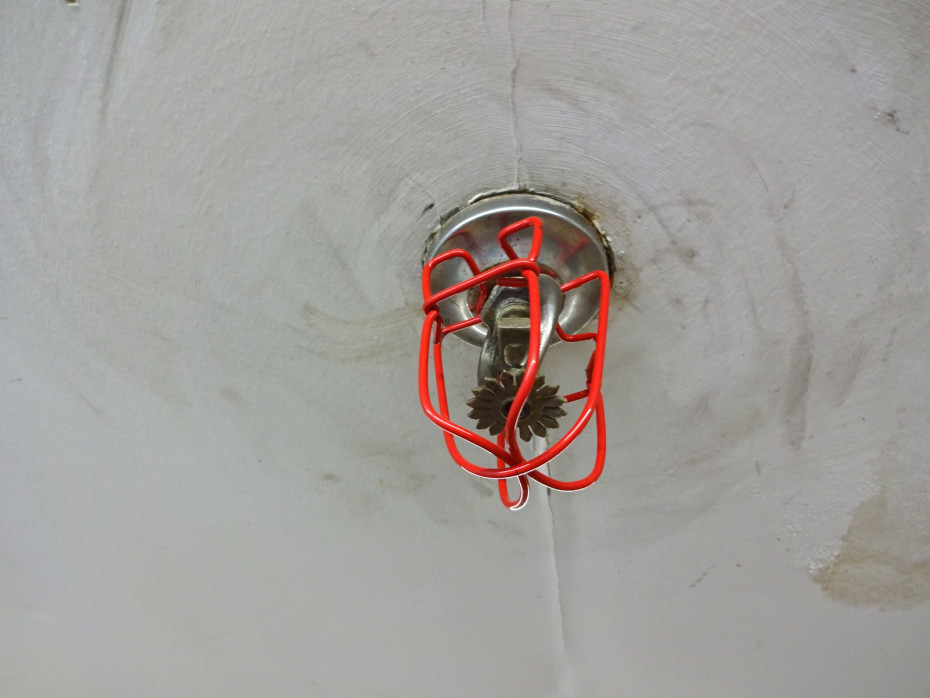 Large apartment buildings are also sprinklered, or converted to sprinklers, in lieu of building them with outside fire escapes. However, more recently in NYC code requirements have changed. Most new three, two, and even one family homes require domestic fire sprinklers. Interestingly, one of the key determining factors in the requirement of a fire sprinkler system in small residential homes is the width of the roadway. In NYC a fire truck must be easily able to access the home in the case of a fire, even when cars are parked on either side of the street.
The benefits of domestic fire sprinklers
Many people don't realize that the majority of fire-related deaths occur in residential homes, rather than in offices or factories. The clear reason for this fact is because fire incidents usually happen at night, when everyone in a home is typically asleep. In the majority of cases commercial buildings are unoccupied at night. Without a preventive system, chances are great that a fire will grow out of control before anyone realizes it. Besides a high risk of property damage, death is an obvious risk. A fire sprinkler system almost always extinguishes a fire soon after it happens. Therefore the risk of injury, death, and property damage is clearly minimized.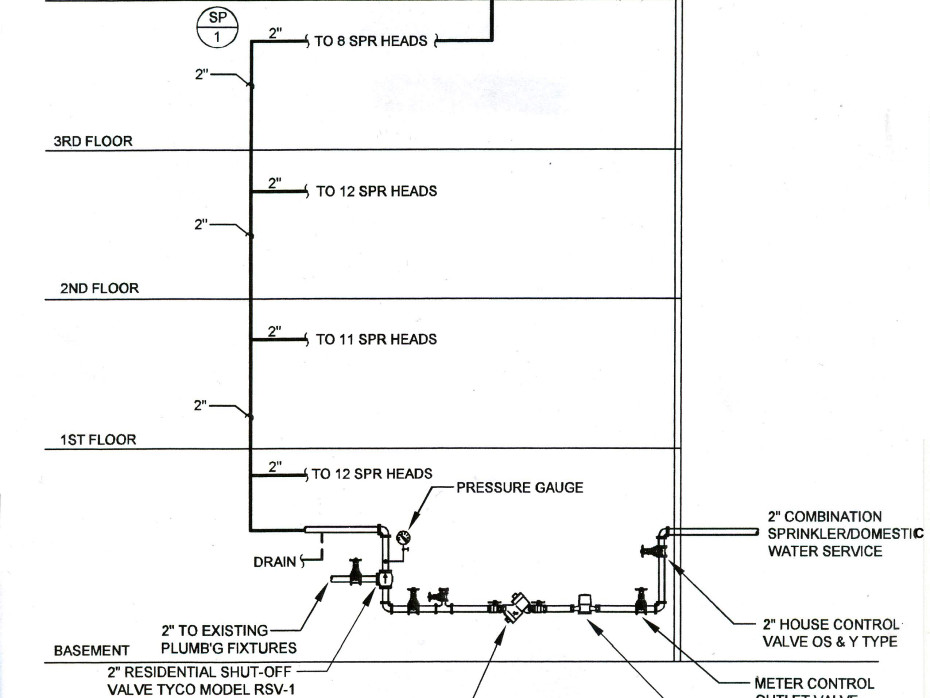 A fire sprinkler system installation is similar to that of an electrical or plumbing system. Difficulty and length of time required for installation depends on the size and complexity of the home. Certain parts of the system, such as the water supply line, is more easily installed and can be finished earlier. The final phase of the installation is frequently placing the fire sprinkler heads inside the house, according to approved plans. Obviously this part of the installation has to wait until the house is framed.
In rare cases the existing water supply line can be used. But in almost all cases a new and larger fire sprinkler, or combined, water service line will have to be installed. Typically a new tap connection is also required into the public main water supply line. This line will also have to be installed according to approved plans. These plans will include the requirement of a sidewalk curb valve, and an OS&Y type main control valve. In some exceptional cases, particularly in the past, a fire sprinkler system receives it's water supply from a roof water tank. A professional will have designed the water tank to determine the proper tank size and capacity, so the system can work to its full potential when needed.
Fire Sprinkler Systems Typically Require Annual Testing
Domestic fire sprinklers are basically maintenance-free. However, every fire protection system requires regular testing of various components of the system. But all portions of a fire protection system are designed to work for at least 20 years or more without any considerable maintenance procedures required. Every sprinkler head is equipped with heat sensor, so you should not cover it with paint or other decorations. This will affect the heat sensitivity, and cause the head to be ineffective. Hanging decorations or other objects on a fire line, or off a sprinkler head, can also cause the system to fail.
There will be a need for multiple sprinkler heads to be installed in any size home. But what most people do not realize ifs that each fire sprinkler head works independently of the others. Each sprinkler head is triggered by fire, or excessive temperature. Sometimes two heads work in tandem, meaning when one is triggered, another automatically follows. Compared to a fire hose, a sprinkler head requires much less volume of water to operate, and therefore the risk of property damage is reduced as well.
How a fire sprinkler head works
The sensors in a sprinkler head and a smoke detector work in similar manners. In case there is a potential fire, the sensors automatically respond to trigger something. A smoke detector will trigger an alarm which alerts the fire department and the buildings residents. While an automatic fire sprinkler system immediately tries to put the fire out. The existence of one system does eliminate the need for the other. It is best to have both as complete preventive measures in case one system fails to deliver.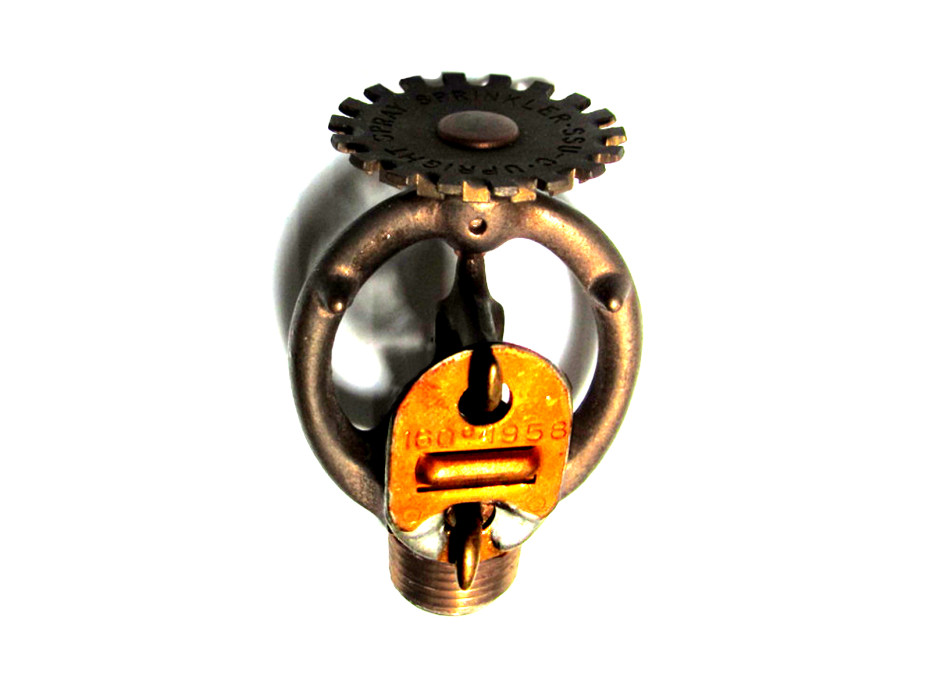 When a fire starts, the resulting smoke will trigger a smoke detector which rings the alarm. In a home or residential building, it gives an immediate alert for everyone inside the building to get out at once before the fire spreads. As the fire grows, it heats up the surrounding air. A sprinkler head is sensitive to high temperature, so it activates as the hot air reaches its sensor. To avoid mistakenly being set off, the sprinkler head is designed to detect fire-specific temperature which is usually between 135 to 165 degrees Fahrenheit. The sensors are typically made of glycerin-based liquid contained in a small glass tube. Hot air will make the liquid expand and eventually break the glass to activate the sprinkler head.
How Are Fire Sprinkler Heads Connected To A Water Supply?
Depending on the installation type, a sprinkler head can be connected to a dedicated water service line, or a water service line that also serves the domestic usage. In some cases the system is fed from rooftop water tanks. When it is active, the valve that connects the water supply to the sprinkler head is opened to release water. The water doesn't spray in a single direction, but it behaves similar to water coming out from a lawn sprinkler head. This enables it to cover a greater area. The water is evenly dispersed, to cover a 360 degree area. This greatly helps prevent a fire from spreading.
Types of systems for Domestic Fire Sprinklers
There are several common types of systems for domestic fire sprinklers. Each type utilizes water supply in different manners. There is no one-size-fits-all; the best type for a particular building is not always the best for your particular home.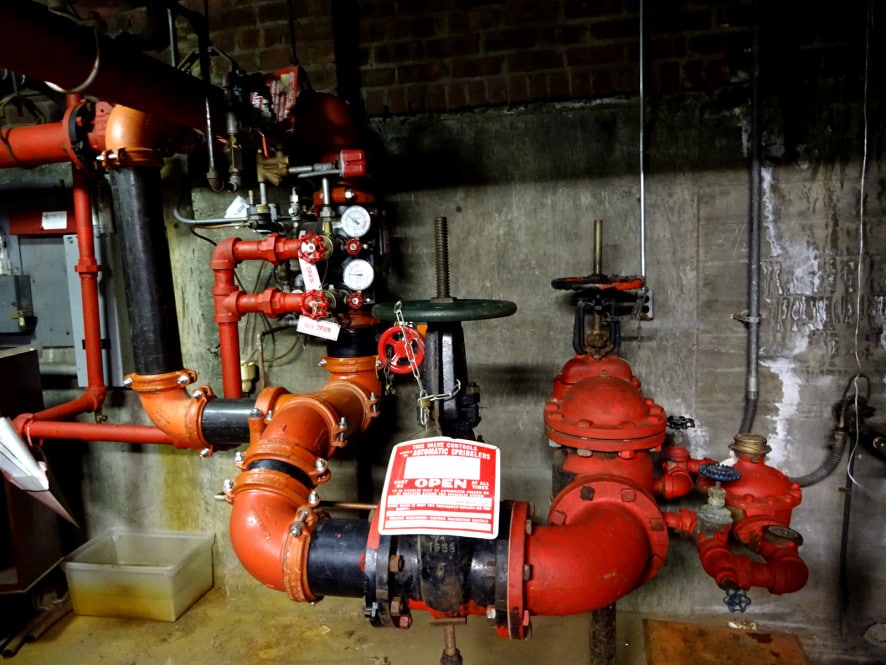 • Wet Pipe System: In homes where there is no risk of freezing, wet pipe is the most commonly used. There is always water in the pipe above the sprinkler head for quicker reaction in case of a fire.
• Dry Pipe: The pipes above the sprinkler head are filled with air under pressure, and the flow of water is controlled by a valve. A drop in air pressure will occur when a fire sprinkler head opens, as occurs during a fire. This will then open the valve and send water out into the system, activating it. These systems are most prevalent in warehouse type buildings, where there may not be adequate heat to prevent freezing.
• Alternate: A combination of dry and wet pipe systems. The pipe can be filled with water during summer and replaced with air pressure during winter.
How Much Water Do Domestic Fire Sprinklers Require?
Domestic fire sprinklers use only a relatively small amount of water during a fire. It is frequently a part of the home's main water supply, referred to as a combined water service. If the water supply is large enough to provide water with adequate pressure for everyday activities, there is a chance a fire sprinkler system can also works well. But again it must be clearly understood, when fire protection is involved every portion of the system must be designed by an Engineer, and then carefully approved by various City agencies. Any deviation from the plan process, and a carefully inspected installation, can result in extreme property damage and fatalities during a fire incident.