A Queens water main break late on a Saturday created havoc for a housing complex in D0uglaston. This complex of tidy two family homes had a heavy leak from a circular break on their private 6″ water main. The water leak was washing out the roadway and threatened to interrupt water service for the complex over the weekend. As water line leaks go, a circular break is the worst.
Even though the situation occurred late on a Saturday afternoon a Balkan Sewer And Water Main representative was on the site within an hour carefully looking over the situation. As this housing complex had used Balkan before with positive results they felt comfortable hiring them again. Arrangement were made that very afternoon to start and complete a water main repair the very next day on a Sunday.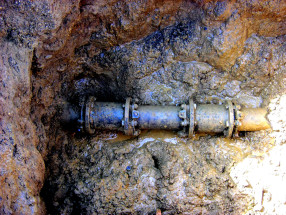 Having a dependable work force means that a crew can be put together on short notice, even on a weekend. Dealing with a well established water main contractor means that all pipe and specialty water main materials are in stock and that equipment and trucks are ready to roll. In addition a highly experienced field supervisor was on hand to personally supervise all aspects of the job. All these details came together to complete a top quality water line repair which included leaving a safe and clean job site.
The Balkan difference
Experienced crews available seven days a week.
High quality specialty material and pipe in stock.
All excavated material trucked away the same day.
Clean backfill material provided the same day.
A 5,000 PSI concrete base installed the same day.
Water service restored to dozens of houses.
A safe and broom clean job site.
Next day final restoration of all disturbed areas.
Seeing is believing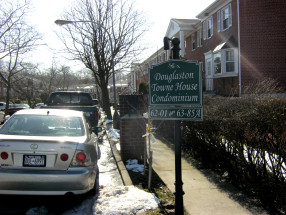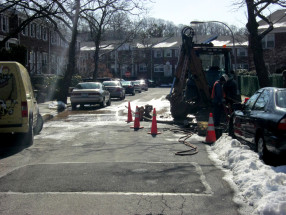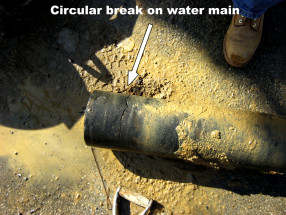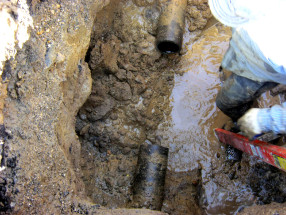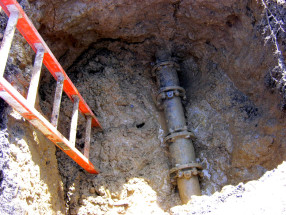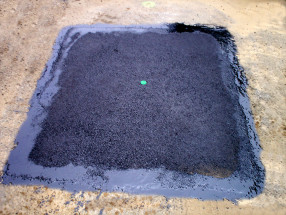 From an emergency call late on a Saturday work commenced Sunday morning around 8AM. By Sunday around lunch time water service was restored with a high quality water main repair. Balkan provides answers and solutions, never excuses.
What does Queens water main work cost?
The above job involved a large water service line than is typical in Queens. Thus the cost was correspondingly higher. Typical water main replacement works in Queens requires a 1″ or 1 1/4″ K copper line. The following information pertains to scope of work for a typical one to three family house.
Water main replacement cost in Brooklyn and Queens are determined by only a few basic factors. For a number of years now the medium price of a Queens water main replacement and Brooklyn water main replacement is between $2,200.00 and $3,500.00. The medium price is a rough average of all water main replacement work by all companies. Some jobs will cost less than that and some jobs more than that. But that is a safe price range to expect to pay.
[button link="/contact-balkan-plumbing/" bg_color="#EA6E24″ window="yes" size="xl"]Get a FREE 0n-site visit today![/button]
A little history about Douglaston in Queens
courtesy of wikipedia
The earliest known residents of the area that would become Douglaston were the Matinecock Native Americans. Early Dutch settlers were drawn to the area by the rich land and abundant fishing. Thomas Hicks settled the area in 1656 on a peninsula first called Little Madnan's Neck. In 1796, his estate passed to Thomas Wickes (1770–1854), and in 1819, to Wyant Van Zandt, a wealthy merchant, who built a large Greek Revival mansion in the area. Today, this mansion houses the Douglaston Club, a private club with tennis courts, social activities and swimming pools. In 1835, George Douglas bought 240 acres of land along with Van Zandt's mansion. Upon Douglas' death in 1862, the land was inherited by his son, William Douglas. Four years later, the North Shore Railroad extended its service to the area. William Douglas donated an outbuilding for use as the station house, and in thanks, the railroad named its new stop "Douglaston," which soon was taken on as the name of the community.

Douglaston Hill is the oldest area of the community, and is characterized by turn-of-the-20th-century homes in Queen Anne and Victorian styles. It was laid out with very large lots in 1853, at the very beginning of a movement in the United States to create suburban gardens. The area was recognized as an Historic District of New York City in December 2004 by the New York City Landmarks Preservation Commission.

In the early 20th century, the Rickert-Finlay Realty Company of Manhattan purchased 175 acres of the Douglas' family holdings, and formed the Douglas Manor Association, creating a planned community. Many of the houses in this area were built in architectural styles popular at the time, such as Tudor, Mediterranean, Colonial Revival, and Arts and Crafts. In 1997, New York City's Landmarks Preservation Commission designated Douglas Manor as the Douglaston Historic District, ensuring that no new buildings or external alterations could be made without the commission's approval.

Other areas of Douglaston were developed during the latter half of the 20th century. Douglaston Park contains a mixture of large, older homes as well as Capes, Tudors, and ranch-style homes dating from the 1960s. The areas adjacent to the Douglaston Shopping Center are occupied mainly by attached single-family homes built in the early-1970s, as well as four-story condominiums added in the mid-1980s.