A rupture of a large water main means two things, ductile iron pipe repair and inconvenience.  However, depending on when and where it happens it can be downright destructive. The force of water which is suddenly set free from a pipe can cause a lot of damage, which was the case recently in Astoria. Fortunately, Balkan Sewer And Water Main stepped in to complete the ductile iron pipe repair in a timely manner.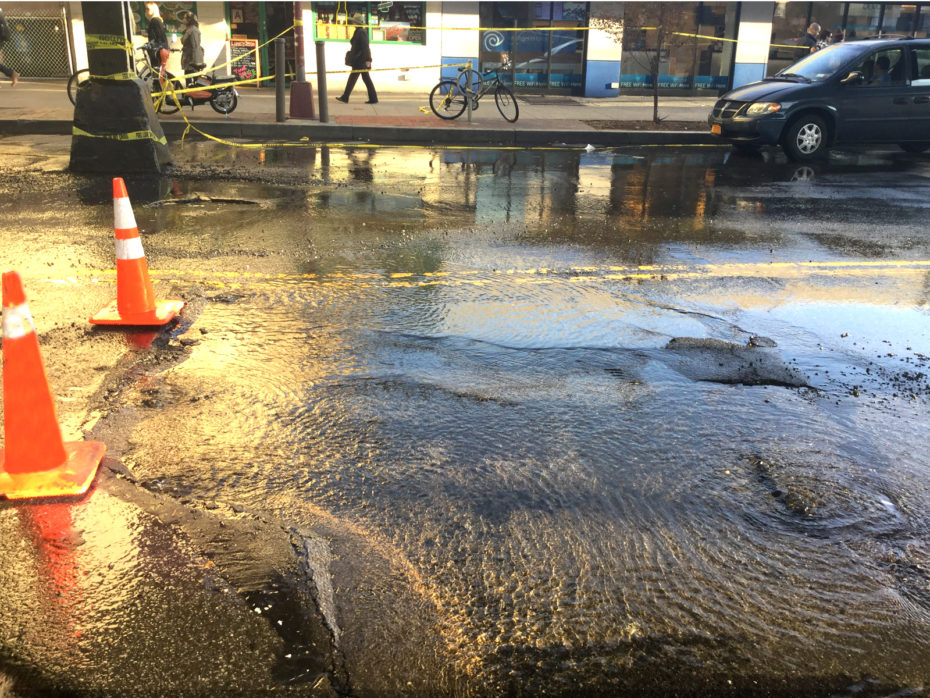 In this case, the water main break occurred on 31st Street, a very busy street in Astoria. The burst pipe released a torrent of water which washed out the road for a distance of 45 feet. Officials had no choice but to close down the road, which created some traffic headaches for those in the area. Some local homes and businesses were without water, so the repair job was of an urgent nature. In addition, the damaged roadway from the leak posed an imminent threat to vehicles and pedestrians alike.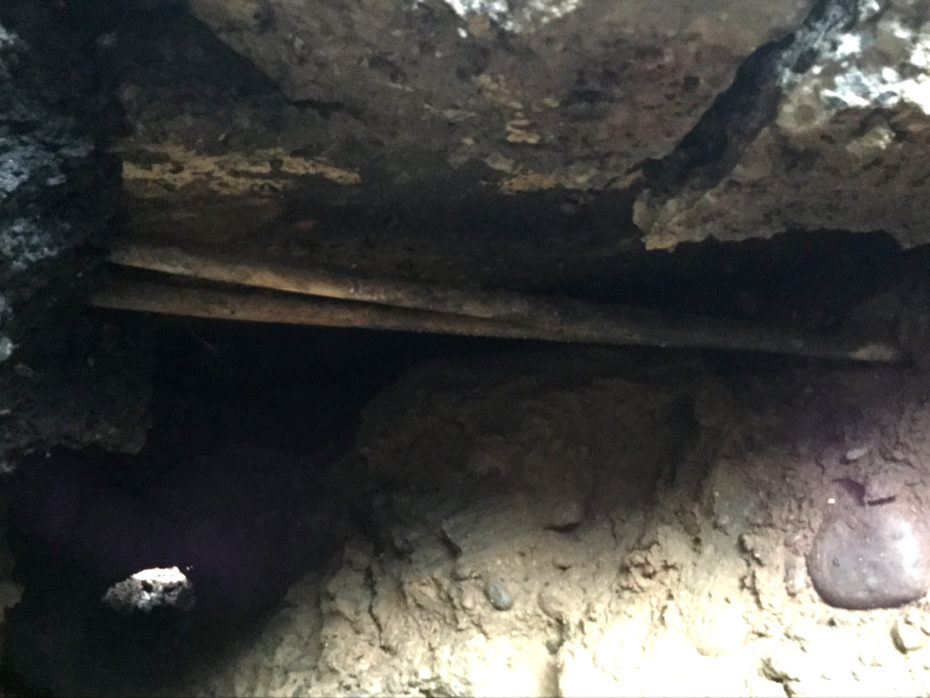 When Balkan Sewer And Water Main was called on the scene, it was a Thursday morning, and the Department of Transportation was already talking about how to handle diverting traffic for the weekend. This was no small job, with 20 feet of 4-inch iron pipe having to be replaced. Also, the entire road, including the road base, and the ground several feet underneath,  had to be restored as well.  Therefore it was estimated by many that the repairs would take several days, and probably into the next week.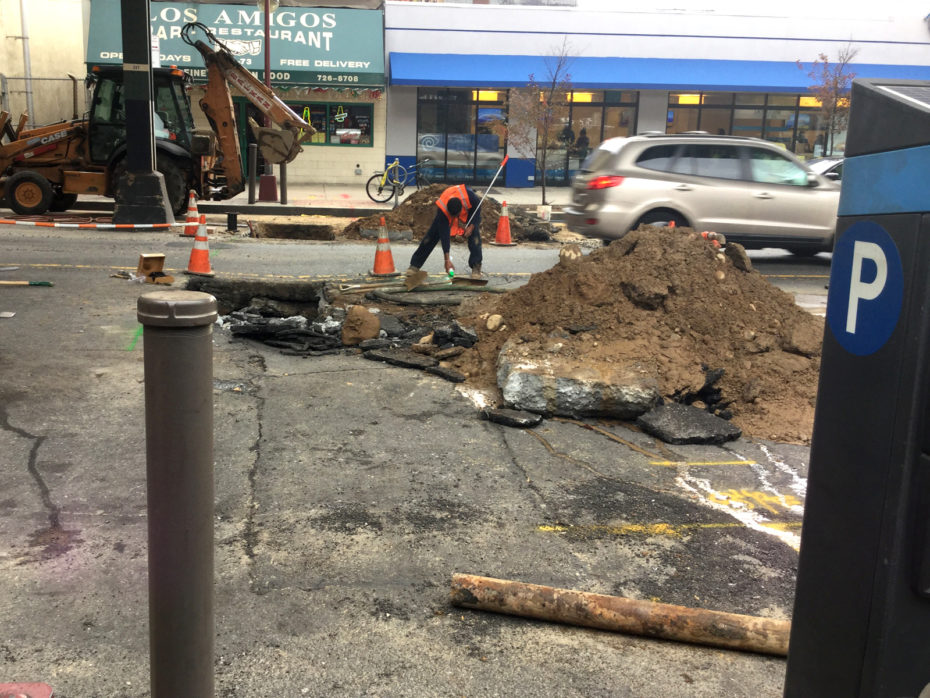 However, as usual, Balkan Sewer And Water Main does not shut down at 5 pm when there are urgent repairs needed. We jumped in with our crew and replaced the entire pipe in one day. After that, normal water delivery was restored, and the roadway was repaired. To the surprise of everyone involved, the entire repair was done before the weekend, and the road was open to normal traffic flow. Before the upcoming weekend traffic did not need to be detoured. For a busy commercial strip, like 31st Street in Astoria, this is vitally important to save loss of business, and inconvenience to shoppers as well.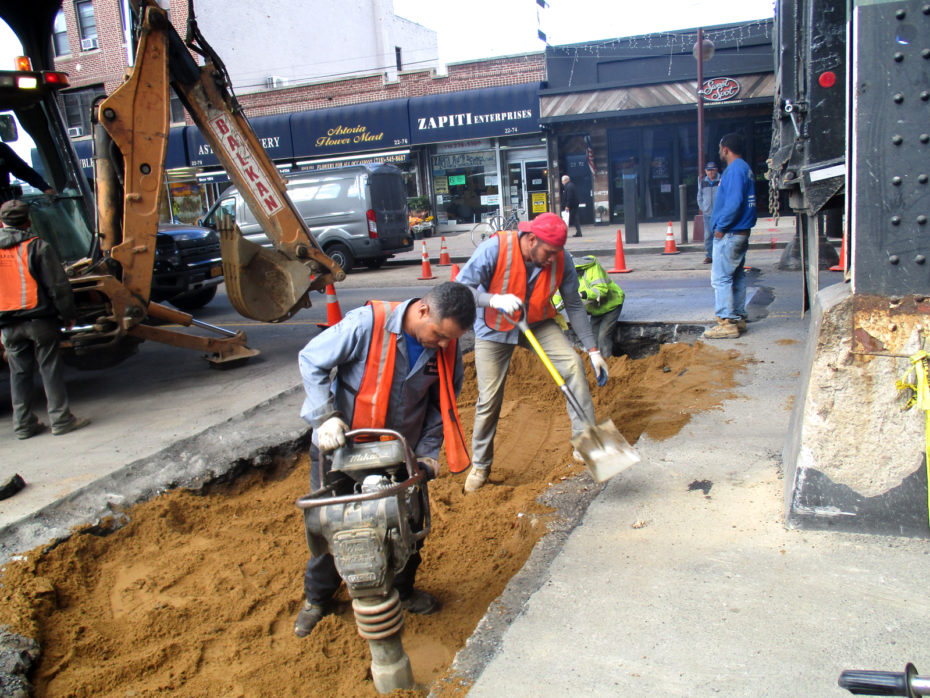 Ductile Iron Pipe Repair requires a high level of skill
Unlike repairs on copper water services, a ductile iron pipe repair requires an extremely high level of skill. There are different grades and types of ductile iron, each with subtleties in how to make proper connections. If improperly connected, a ductile iron pipe can dislodge causing immense amounts of damage. As a point of fact, the repair referenced in this article was on a water  line a little more than 20 years old. Typically a properly installed ductile iron water line, using high grade material, will last well in excess of 50 years.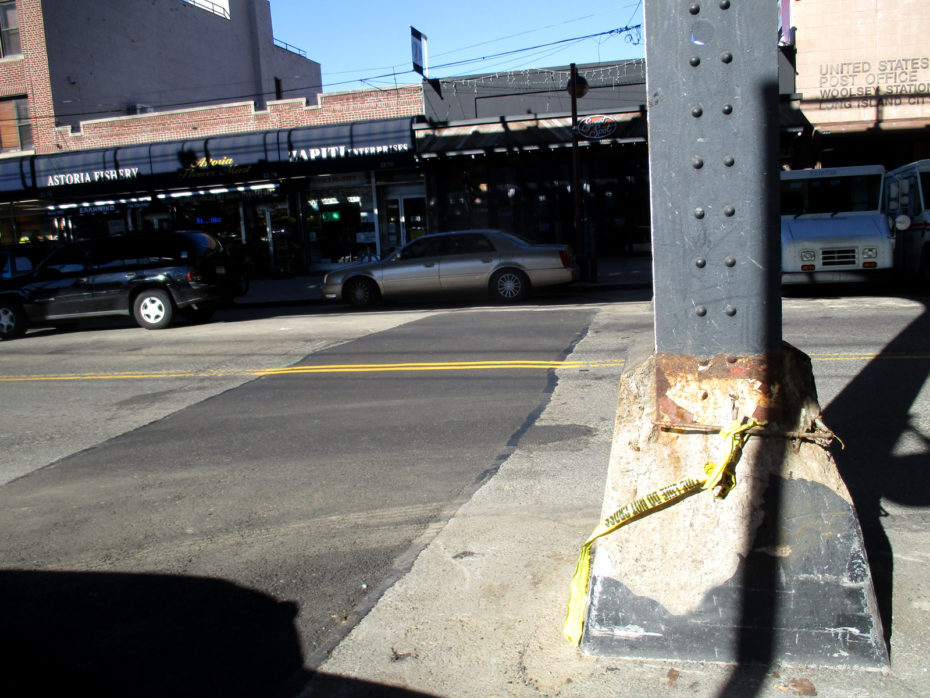 The expert in Ductile Iron Pipe Repair
Many water main breaks happen without warning, but Balkan Sewer And Water Main is ready to jump in and do whatever needs to be done to repair the breach. Whether it is a commercial business or your home, we always do our best to make the repairs in a timely manner. If you have concerns about water or sewer mains in your area, contact Balkan Sewer And Water Main.