Recently a 6″ water main providing fire protection for a large office building snapped under the floor of the building. Simultaneously a second break occurred near the property line.  A new ductile iron water main would be required, but in the meantime the water had to be shut. Luckily for the tenants and the owner a curb valve was available. Using a specialty curb valve key the water was shut, and the emergency temporarily addressed.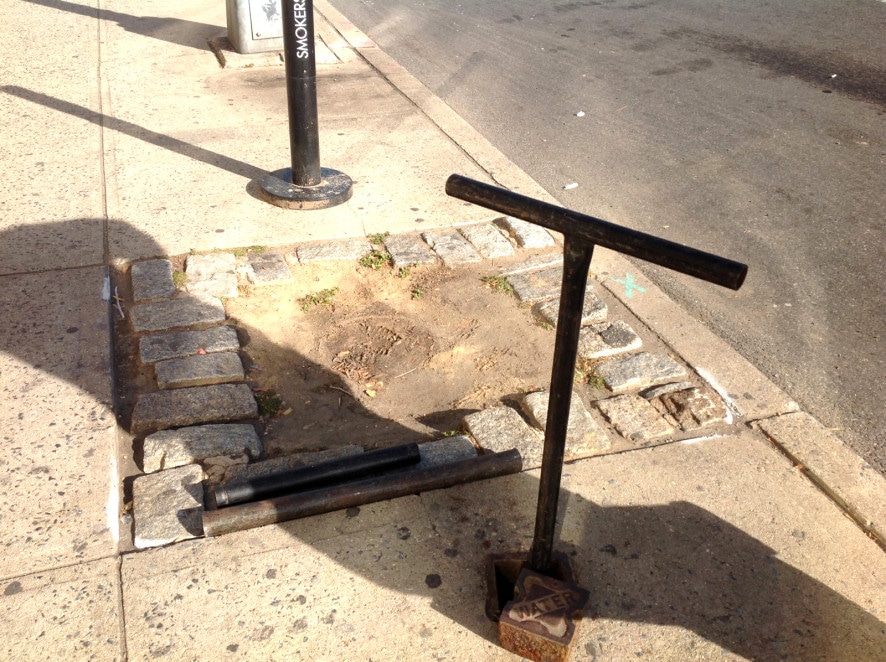 The building in question was occupied by a major city agency, which serviced a great many customers. Because of the high volume of vehicular traffic and pedestrians, safety was a main concern. Traffic barriers and pedestrian barriers were both used to maintain a safe work site at all times. Careful planning also allowed for the flow of vehicular traffic on this busy thoroughfare to be unimpeded.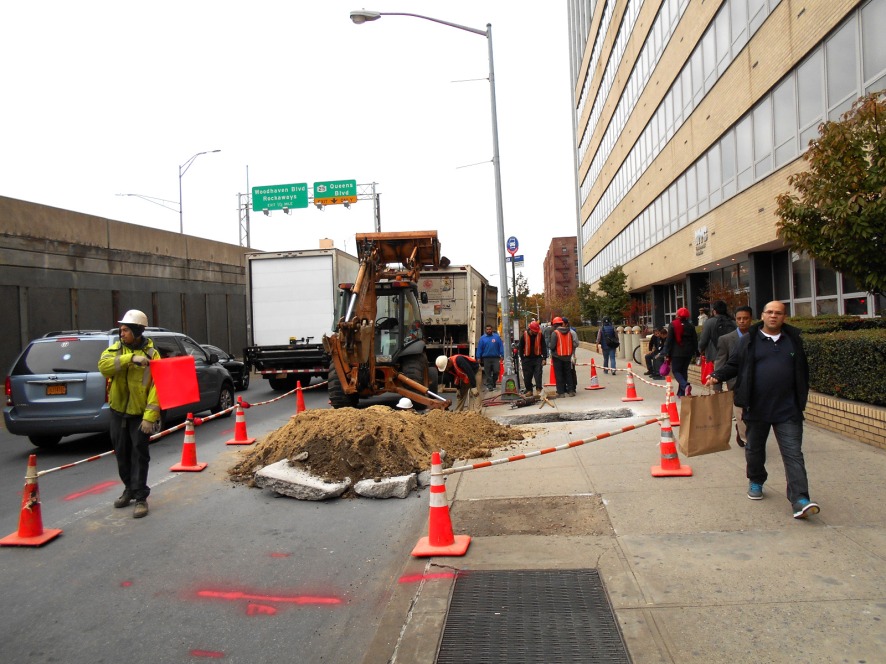 Over the next three workdays a Balkan ductile iron water main installation crew worked to install a complete new 6″ main. Included was a new curb valve and a new inside main control valve. Clean and dry backfill material was trucked to the site to ensure that all excavations would never sink in the future. As is standard with most Balkan installations, restoration of disturbed surfaces was performed the very next workday.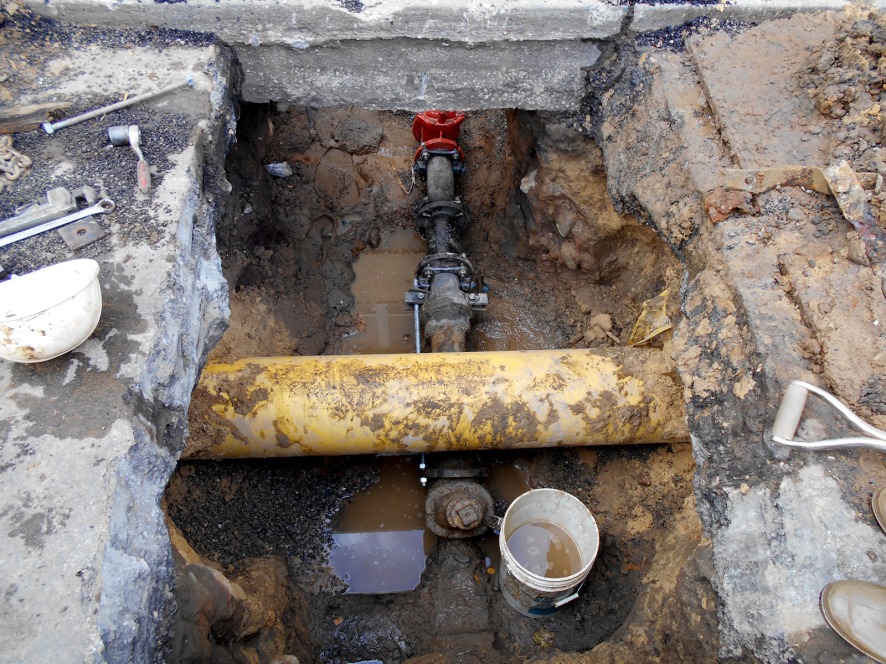 Of all the approved materials for water main service line work, ductile iron has the longest life expectancy. Whereas K copper water service lines and cast iron sewer lines each last around 50 years or so, a Ductile Iron water main can last over 100 years.
To learn more about water main materials visit our  "Water Service Line Material – A NYC Water Main Materials Tutorial". Regardless of the material used, Balkan unconditionally guarantees all service line replacements for 10 years.
[button link="/contact-balkan-plumbing/" bg_color="#EA6E24″ window="yes" size="xl"]Get a free on-site visit today[/button]
What is ductile iron water main pipe?
Ductile iron pipe is a direct descendent of cast iron pipe. Actually both types of pipe are in fact cast iron. However the addition of magnesium changes the properties of ductile iron pipe, making is more malleable.
Ductile iron pipe was formulated during the time of World War II.  Both materials are formed by using centrifugal molds. This means that molten material is entered into a mold that is spun around until the molten metals adhere to the sides of the mold, and then hardens.The use of a centrifugal mold ensures an even and uniform thickness of the walls of the pipe.
Ductile iron pipe is lined on the inside with a cement material, and usually coated on the outside with an asphaltic material. These coatings greatly help reduce corrosion. A ductile iron water main is extremely durable. It is not unusual for a ductile iron main to last for well in excess of 100 years.
While typical cast iron pipe can be cut using a chain or a snap cutter, this is not the case with ductile iron pipe. When working on a ductile iron water main or sewer pipe a saw must be used with a specialty blade.
While cast iron pipe is still widely used for many purposes, including sewer lines, ductile iron is the preferred material for water mains. The main reason that ductile iron water lines last longer than cast iron is because they are more malleable. Whereas cast iron pipe tends to snap when under certain pressures, ductile iron pipe does not tend to break when placed under the same stresses.
Can ductile iron pipe be used for other types of service lines?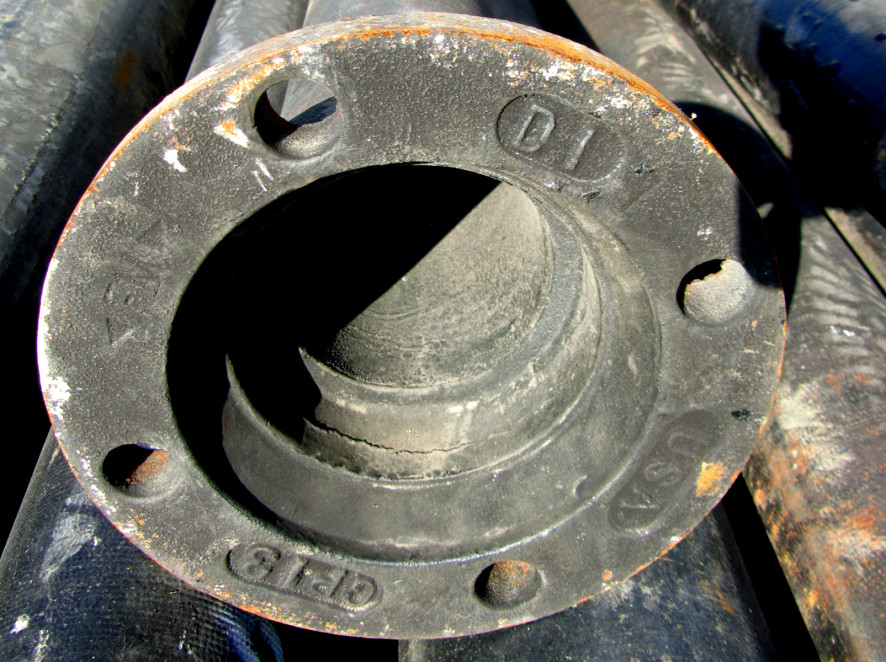 There are times that Ductile Iron pipe is required by code or requested by a client in lieu of the typical material used in that jurisdiction. In NYC the typical material required is extra heavy cast iron pipe. The typical reason ductile iron pipe may be used in lieu of extra heavy cast iron is when there is an unstable soil condition, or heavy vibration present.
The two primary reasons to use ductile iron pipe on a sewer line are as follows:
1. Heavy vibration can cause many types of pipes to dislodge due to the way they are designed to be joined. For instance, extra heavy cast iron pipe is typically joined be using a gasket inserted in the bell end of the pipe. The spigot, or bald end, is then pressed into the gasket.
Ductile iron pipe is joined by either field lock gaskets or mechanical joints, neither of which is prone to come apart, even when exposed to vibration over a prolonged period of time. An example of a condition that exposes a sewer line to extreme vibration is when the line runs underneath an elevated train.
2. Unstable or filled in ground can settle and cause many sewer lines to fail prematurely. However ductile iron pipe is much less brittle than cast iron, and does not deflect under pressure like pvc pipe. Therefor DI (as it is referred to in the trade) is able to much better withstand ground settlement and other underground conditions than other materials.
New York City and many other municipalities install ductile iron water mains exclusively when replacing existing, or installing new main lines. In addition it is also used when certain soil conditions exist, such as heavy ground water or unstable ground, for public sewer systems.
[button link="/contact-balkan-plumbing/" bg_color="#EA6E24″ window="yes" size="xl"]Get free expert advice today[/button]