East Elmhurst in Queens is a valued Balkan Sewer And Water Main service area. Recently a home owner in Elmhurst received a NYC DEP notice to correct a broken sewer that was causing sink holes in the roadway and sidewalk area. This type of DEP notice is called an Order To Cease And Desist. House sewer line defects in multiple spots mean that a complete Queens sewer replacement has to be done. In addition the affected areas where there was a sinking condition have to be properly filled in, compacted, and restored.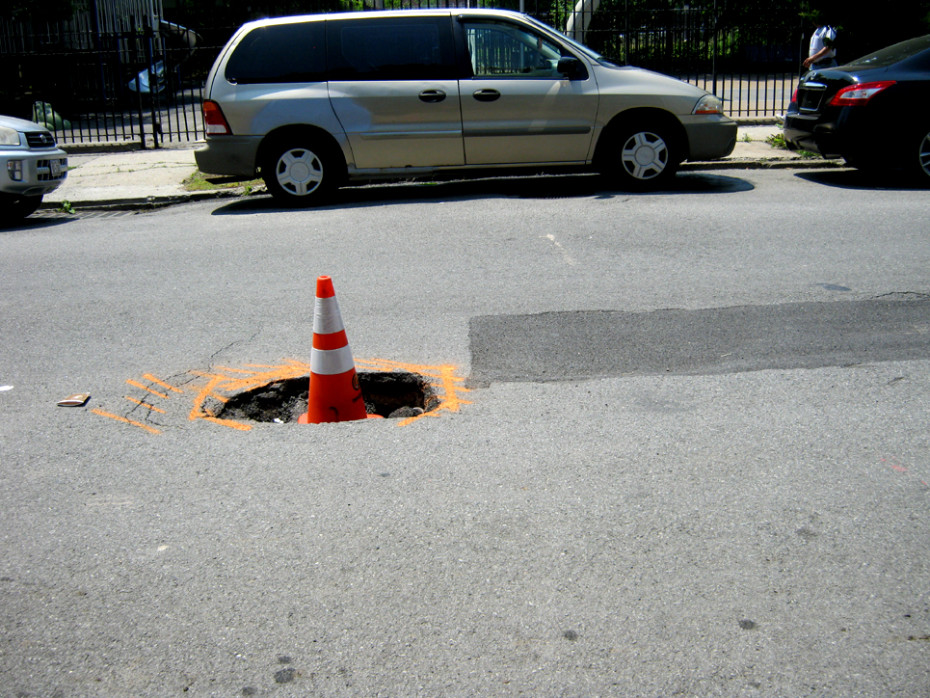 Balkan is a NYC sewer contractor that prides itself on customer service, quality Queens sewer replacements, and satisfied customers. Being committed to fulfilling it's obligations to a customer and being professional frequently results in glowing client reviews.
"A large hole appeared in my front yard, near the curb. DEP came and inspected. I was informed that I had 30 days to have a new sewer line installed. Contacted Balkan and another company. Balkan came , examined the sewer line and gave me an estimate. I had researched it and i was o.k with the price but wanted another opinion. I contacted another company who was "in the neighborhood". Someone came by and they gave me a price $3000 more than Balkan. I asked to see their proposal to compare with Balkan's. It was a no brainer and I chose Balkan. They showed up earlier than stated and it was a rainy day. They dug up my yard and had to break some of the sidewalk. They worked in the rain all day and replaced my sewer pipe from the house to the sidewalk. At the end of the day they placed the "mud" back in my yard and placed a temporary side walk made of wood. They informed me that I could use the water in the house and that they would come back tomorrow to dig up the street and extend the pipe to the main sewer. Today that work is being done. So far I am very pleased with how they are handling this job."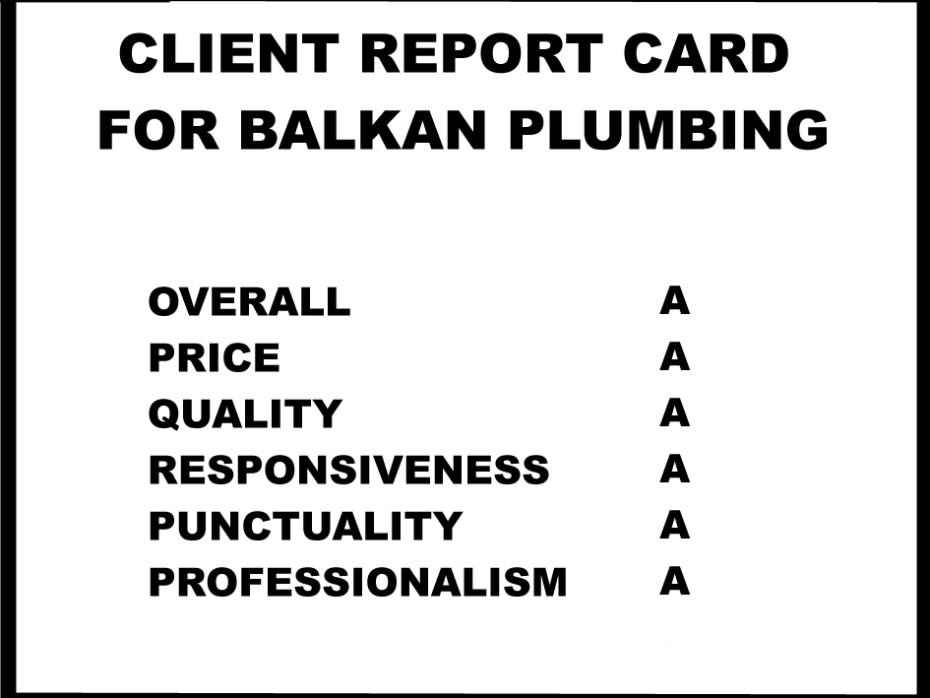 This sewer replacement customer in Elmhurst went as far as to give Balkan Sewer And Water Main straight A's for all aspects of the job and for client satisfaction as well. An honest and unsolicited review from an actual Queens  sewer line replacement customer is a plumbing contractors best advertisement. It is also an assurance to others that contracts and promises are backed up with results. The fact that Balkan performs more Queens sewer replacement and repair work than any other contractor is a testament to their reputation and dedication.
As they concern sub-surface plumbing an order to cease and desist  generally involves defective house sewers that are creating roadway wash-outs, undermines, allow sewer water leakage, etc. Typically the NYC DEP will perform a dye test, or a video camera is placed down a house sewer for a visual inspection and verify the cause of the problem. These situations can be of serious concern as roadway wash-outs can pose a danger to the general public and vehicular traffic as well.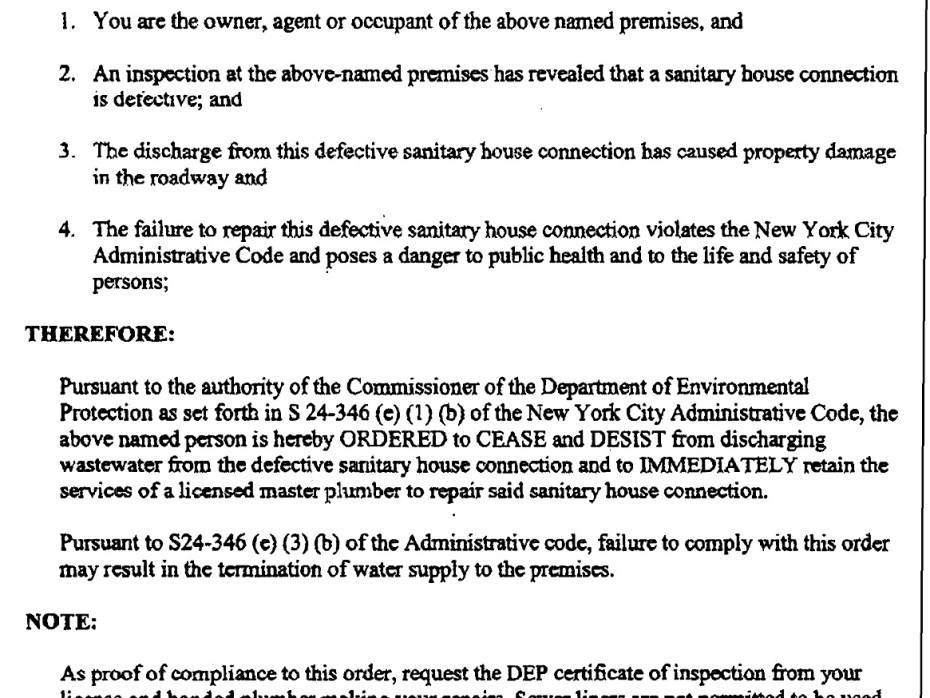 If unattended to the NYC DEP has in the past returned to the site and closed off the water supply to the offending property. That will prevent water from continuing to go down the house drain and worsening the condition and will also leave the property without the use of both the house sewer and water supply. At that point the terms of a "Ten day notice" will apply in addition to having to correct the house sewer problem. That includes a $1,000.00 shutdown fee payable to the Water Board.  Read more about a NYC DEP Notice or violation.
When Queens homeowners have a sewer line or water main problem Balkan provides free same day site visits and clearly written work orders describing the scope of work. Most sewer and water line work orders are commenced the very next day. All work is carefully coordinated in-house without any subcontracting. This keeps costs down, but raises the level of quality and service.
They are also the largest sewer and water main service company in NYC and are backed by the most dedicated and experienced staff and installers in the NYC plumbing industry. Paul R. Balkan and David Balkan who are 2nd generation owners have over 60 years of combined experience in the industry. Working out of a 48,000 square foot facility and having a fully stocked fleet of vehicles is your assurance of prompt and professional plumbing services.