Electrolysis damage to pipes is something most people associate with copper water pipes. It is an energy-related chemical reaction that happens most often when stray direct current (DC) electricity contacts a pipe. The direct electric current triggers the process of electrolysis, which decays the pipe. Electrolysis causes pitting, and eventually it will completely wear away the pipe. It may look similar to oxidation but without the excessive corrosion buildup. To learn more read about how electrolysis is a water main line killer.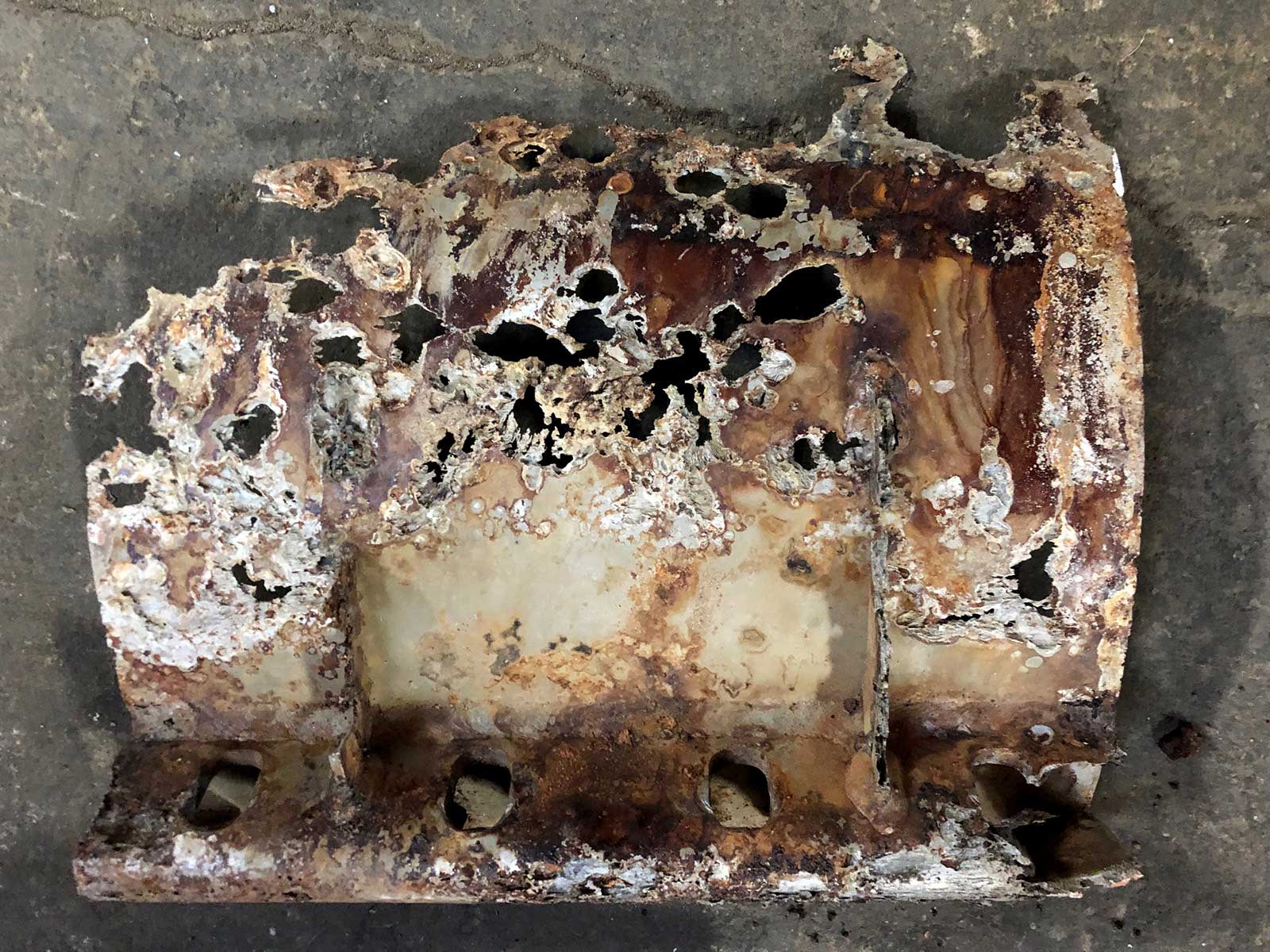 But what most people don't know is that electrolysis can happen not just to copper pipes, but to certified stainless steel as well. Copper is the most susceptible to electrolysis. It can be triggered just by the minor current created by touching a pipe of another metal type. As an example, galvanized pipe connected to brass or copper will cause an electrolytic action. Copper decays faster in response to electrolysis damage than other types of material. But with enough current, even more reliable metals, such as stainless steel, can decay when exposed to DC electricity for too long.
A "Shocking" Underground Discovery
This is what the Balkan Team discovered in a recent emergency repair call. Our customer had a water main with a wet connection made from an approved stainless steel sleeve. In most situations, this stainless steel sleeve would have held on for many decades. But exposed to DC current made this not the case. Electrolysis had so completely eaten away at the solid steel that the water main completely blew apart. This created an emergency need for immediate repairs.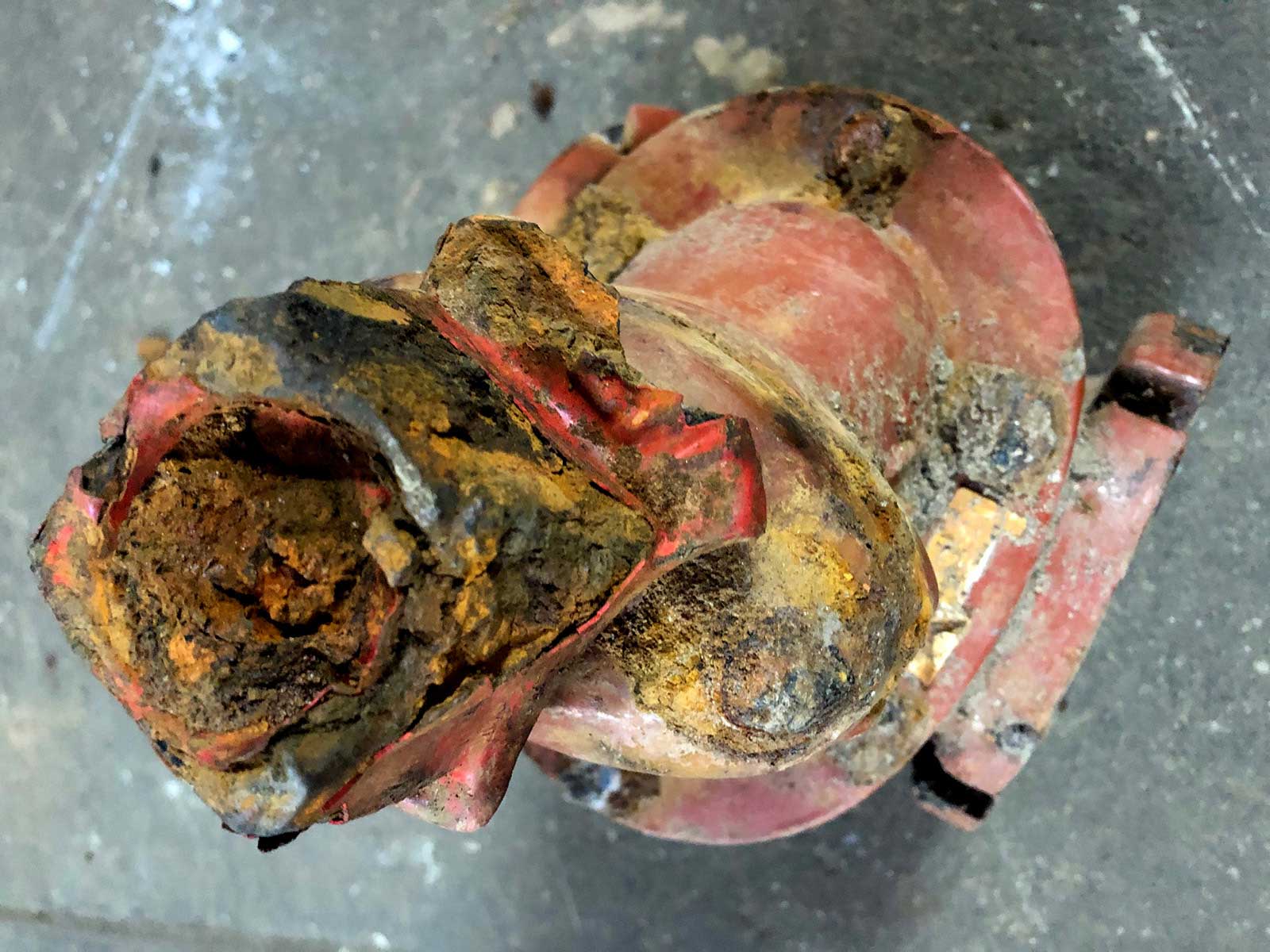 Even the experienced team at Balkan were astonished to see such an advanced and aggressive form of electrolysis damage. It is rare to see this extensive damage to a non-copper component. The steel was completely pitted and worn away, so that the slightest touch would have broken it. It's no surprise, in such a state, that the simple effort of containing pressurized water eventually blew the once-stainless-steel wet seal completely to pieces.
Believe it or not, the electrolysis didn't stop there. The damage even affected a cast iron valve that was also part of the wet seal connection.
Even the Strongest Metals Decay with DC Electricity
Those experienced in plumbing have come to expect electrolysis decay from copper pipes. But it is awe-inspiring and problematic to see electrolysis do so much damage to metals we consider to be the strongest in the business. Cast iron and stainless steel are our society's go-to resources when we need a material that will hold for tens to hundreds of years. However, a simple flow of direct current electricity can change all that.
With exposure to electricity, stainless steel becomes pitted and brittle with visible holes in the once-solid plate. Cast iron wears away as if it were rusting, but at a rapid pace and without the piles of flaky rust.
One of the most common questions we get about electrolysis damage is how the current got to the pipes. Sometimes it's obvious, a stray wire or broken utility line pumped electricity directly into the metal pieces. But often, homeowners have no idea how electricity wore away their plumbing with no obvious lines or broken connections nearby.
Often, the answer is that soil is less of a non-conductor than we believe. Ground wires pump stray current into the ground, but electric current can actually travel through soil and into buried pipes. Appliances like hairdryers and kitchen items can create DC current that enters the soil. Nearby subway lines also use a high amount of DC current, and leaking electricity can enter pipes in the nearby soil.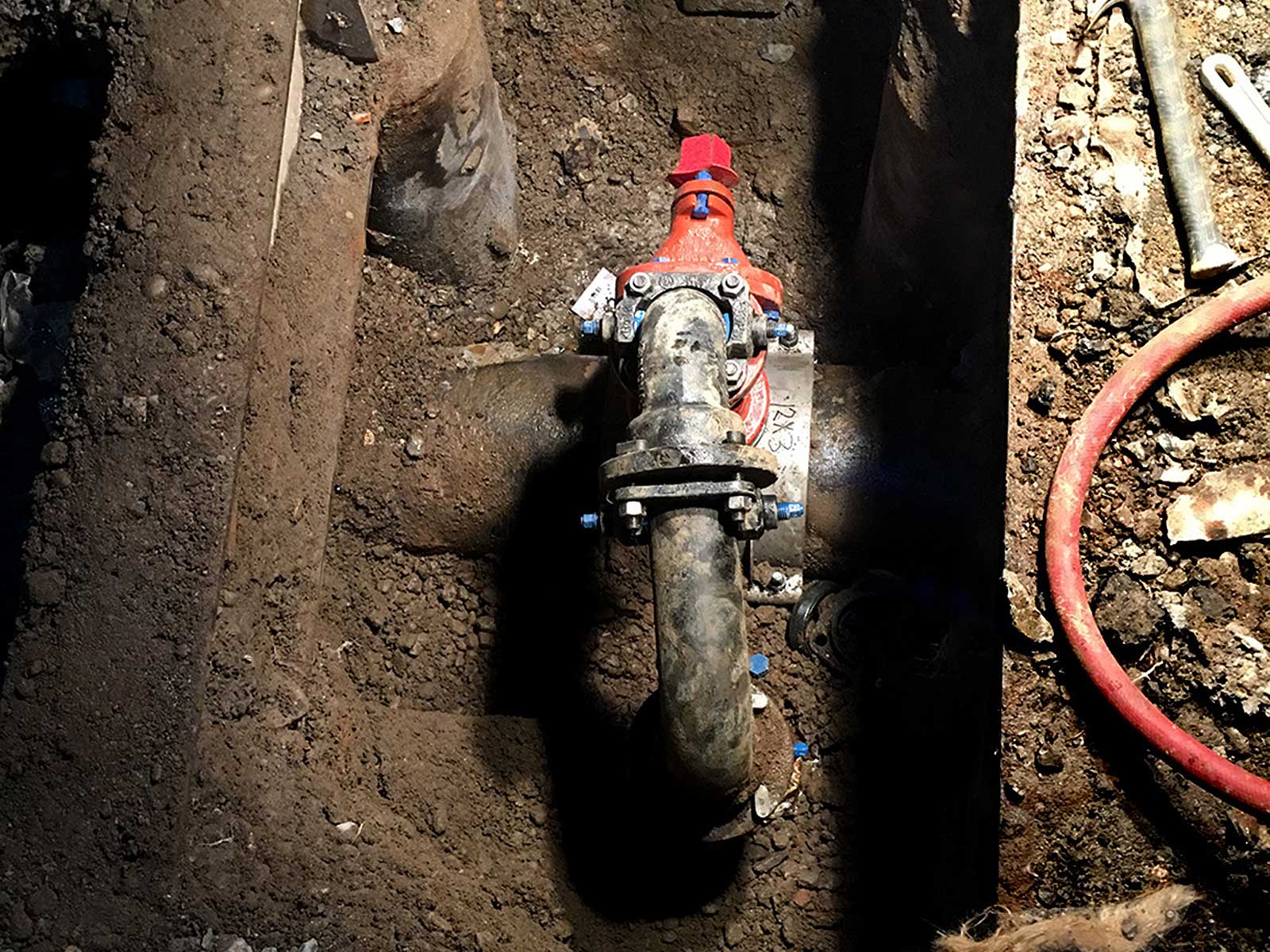 Call If You Detect or Suspect Electrolysis Damage
Electrolysis damage most often happens with buried pipes in electrically charged soil. However it can also happen in your home where it is visible. If, for example, stray current somehow comes in contact with your visible pipes. Electrolysis looks like corrosion with the metal pitting and bubbling away to create thin places and then holes in the solid pipe and plates. If you see anything like this, call a plumber immediately to replace the part and track down the source of stray electricity. Additional insulation and other measures can be taken to protect your pipes and prevent the kind of explosive repairs we talked about today. Contact Balkan Sewer And Water Main Service for more insights into NYC plumbing or to schedule your consultation or emergency repairs.