New York, USA (APRIL 16th 2010) FOR IMMEDIATE RELEASE:
Unfortunately for Peggy in Whitestone Queens she needed an emergency sewer repair. The NYC DEP performed tests to determine the cause of a sink-hole in front of her house they issued her an 'Order to Cease And Desist'. They determined that her house sewer was defective and needed a Licensed Master Plumber to secure DEP and DOT permits in order to correct the sewer problem. The DEP notice makes special note that 'Sewer liners are not permitted to be used for house sewer connections'.
When an unexpected plumbing emergency occurs, it is hard to know who to call. Luckily for Peggy, her sister Betsy had used Balkan Sewer and Water Main service on numerous occasions and could happily recommend Balkan. Within minutes of her call Vinnie, a Balkan representative, arrived at the location and answered all of her questions and promised next day service.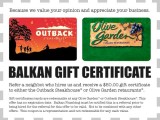 Next day service is frequently promised nowadays, with excuses after-wards when no-one shows up! That is not how Balkan Sewer and Water Main Service works – a full crew arrived the very next day to start the sewer work and worked two days straight until all sewer repairs were completed and inspected by the NYC DEP. Without proper inspections and permits (examples of DEP and DOT permits) the violation would not be satisfied. Within 24 hours of the completion of the installation the roadway was repaved and all disturbed concrete was replaced as well. Results – Not Promises.
About Whitestone, Queens.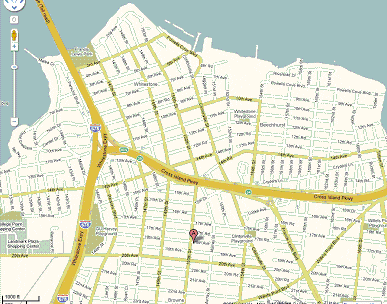 The area was, in large part, the estate of Francis Lewis, a delegate to the Continental Congress and a signer of the Declaration of Independence. The estate was the site of an English raid during the Revolutionary War. Lewis was not present but his wife was taken prisoner and his house was burned to the ground. In the late nineteenth century, many wealthy New Yorkers began building mansions in the area, on what had once been farmland or woodland. Rapid development of the area ensued in the 1920s, however, as trolley and Long Island Rail Road train service on the Whitestone Branch was expanded into the neighborhood. Although this rail service ended during the Great Depression, a small part of the right-of-way was later used by Robert Moses to help construct the Belt Parkway, which includes the Whitestone Expressway which runs along the southeast edge of the former Flushing Airport and through Whitestone. Flushing Airport has been abandoned since 1985; efforts to do something with the land have failed.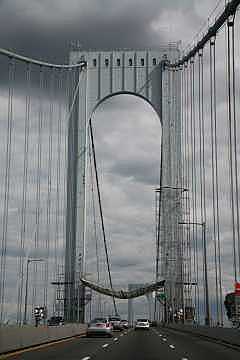 Further development came with the building of the Bronx Whitestone Bridge in 1939. The bridge measures 2,300 feet, and was the fourth longest bridge in the world at the time of its construction. The neighborhood is comprised mostly of well kept single to three family homes, tall and small condominiums and co-ops, as well as a large garden apartment complex. Whitestone is located only 25 minutes from Manhattan.
Notable community landmarks include St. Luke's Roman Catholic Church, Holy Trinity Roman Catholic Church and the DG athletic league. The neighborhood's large Italian community is evident on Sundays when St Luke's RC Church is filled to capacity during its Italian mass. The area around St Luke's consists of a complex of beautifully well kept semi-attached two family homes built in 1970. The Grace Episcopal Church, on Clintonville Street in Whitestone, was built in 1858 on land donated by the family of Francis Lewis. The Whitestone Hebrew Centre consists of two buildings on Clintonville Street and was founded in 1929. The Russian Orthodox Church of St Nicholas, with its distinctive great blue onion dome, was built in 1968. The Greek Orthodox Church, Holy Cross, or "Timios Stavros," is located on 150th street. Whitestone Academy is Whitestone's only high school.