Water main breaks vary is the degree of severity and the response time required. However when a large unit apartment complex has their water shut off, emergency water main service is truly required. That is exactly what happened one recent Winter morning to a 120 unit apartment complex on the Queens and Nassau border. A rupture of their water service was causing street flooding and an icing condition. The authorities deemed it such an emergency that the water main was shut, leaving hundreds of tenants without water and the threat of no heat in the middle of the Winter.
The Licensed Master Plumber who had been trusted with maintaining the complex's plumbing system for quite some time was called to the scene. The plumber quickly realized that the severity of the situation called for a water main expert. He then contacted Balkan Sewer And Water Main Service at around 7 AM. He was assured by one of the owners of Balkan that a crew would be diverted from a previously scheduled job and be sent directly to his job site. In less than 90 minutes emergency water main service would commence at the site, with an iron-clad assurance that water would be restored to the  complex that very same day. When emergency water main service is needed, Balkan is the professional that other licensed master plumbers trust.
Emergency water main service is needed more often in Wintertime
Unlike other times of the year the Winter time frequently produces completely ruptured water mains and water service lines. Larger water lines, such as the type servicing this apartment complex, can have circular breaks around the entire circumference of the pipe. This is typically caused by the freeze-thaw cycle that results in ground shifting. Other times smaller lines may burst after portions of the water line becomes frozen, or likewise are exposed to ground shifting from freeze-thaw cycles. Smaller water service lines that are made out of copper are better at surviving freeze-thaw cycles. This is because they are malleable and can bend along with the shifting soil around them.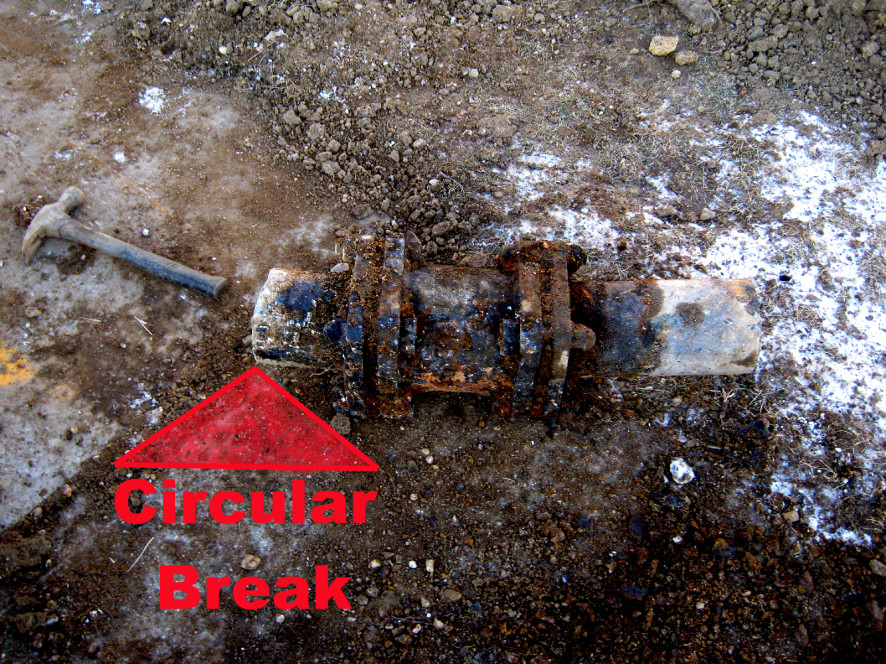 [button link="/contact-balkan-plumbing/" bg_color="#EA6E24″ window="yes" size="xl"]Get FREE expert advice today![/button]
A Balkan Sewer And Water Main job-site case in point
Custom tailoring the water main service it provides to the clients needs is a Balkan trademark. So when the Balkan Team received the call requiring emergency water main service at 7 AM, it arrived on-site by 8:30 AM – not bad considering the trip to the site was an hour away. You can always count on Balkan Sewer And Water Main to provide results, not excuses.
Once on site the crew traced out where the connection for the water line was located in the roadway, and excavated to expose the connection. Once the water connection was exposed, various excavations had to be made to locate the point of the break. This was no easy task because there were various branch lines and tee connections. Branch lines and tee connections are not typical, but sometimes housing complexes such as this one have unusual situations.
Regardless of the complications the Balkan water main crew worked without interruption until the break was exposed. A new section of 4″ ductile iron pipe was installed using approved fittings. After the water main repair was pressure tested all of the excavations were back-filled with proper soil compaction performed. All excess soil and debris was carted away the very same day. As is customary Balkan procedure, even during extreme Winter weather, all disturbed concrete and asphalt areas were restored the very next morning. Because Balkan uses a uniform pricing policy, emergency water main service work typically costs no more than non-emergency or planned work.
 Use the water main contractor that the pros use
When specialty or emergency water main service or sewer work is required, more NYC licensed plumbers trust Balkan than any other firm. We at Balkan are very proud of that fact and work hard to maintain our stature in the industry. There are many reasons why the pros trust Balkan, and why you should to:
Free on-site visits 7 days a week, day or night.
Clearly written work orders with cost of services listed up-front.
A fully staffed office of trained professionals to answer any question you may have.
No subcontracting – all services performed by highly trained Balkan employees.
Most work commenced and completed within 24 hours.
In-house paving and cement crews for same-day or next-day final restoration.
High quality materials that meet or exceed code requirements.
10 year unconditional guarantees on all service line replacement work.
Over 60 years of continuous operation under the same trusted family name.
[button link="/contact-balkan-plumbing/" bg_color="#EA6E24″ window="yes" size="xl"]Get a FREE on-site visit today![/button]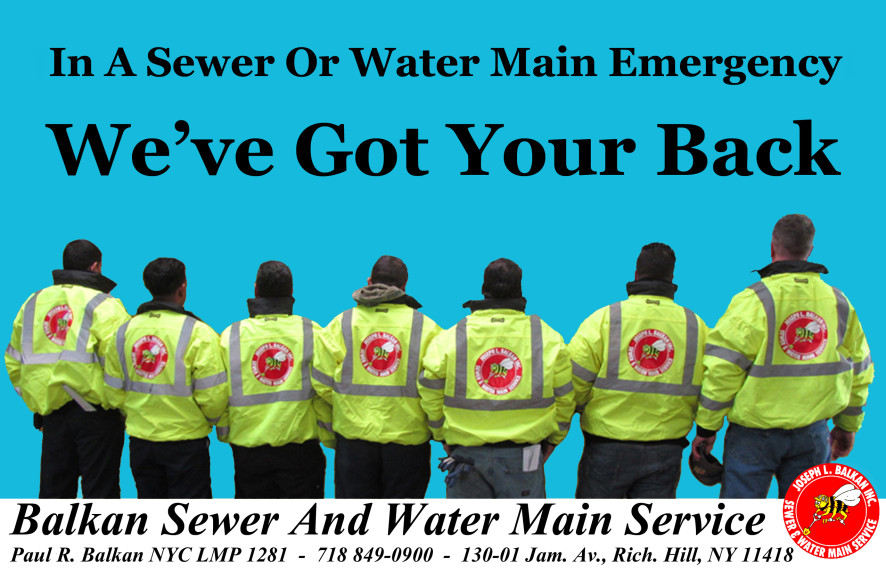 [credit]