Many drain line problems are hard to locate and equally hard to diagnose. Many times a sewer line camera inspection is a great tool to make use of. But just like many specialized tools it must be used properly to be effective. Perhaps even more importantly the sewer video must be interpreted properly or an incorrect diagnosis can be made.
Characteristics of a sewer line camera inspection
A sewer line camera inspection has unique characteristics. The video for the camera indicates specific distances out from the point where the camera was inserted. Estimating how many feet of cable is inserted has historically been quite inaccurate, so this is a marked improvement in terms of accuracy. Knowing the exact point of a problem also is very helpful in deciding what course of sewer repair action to take.
A sewer line camera inspection can be very helpful. In the case of this particular sewer problem it allowed for a spot repair that averted a complete sewer replacement that would cost thousands of dollars more.
A very important fact about a sewer camera inspection is that the camera magnifies images it captures. Frequently this means that minor imperfections appear to be major flaws in the drain pipe. Unless stoppages or constant sewer cleaning is needed, be vary wary of repairing a sewer line based solely on a sewer line camera inspection.
[button link="/contact-balkan-plumbing/" bg_color="#EA6E24″ window="yes" size="xl"]Get a FREE no-obligation site visit today![/button]
Misusing a sewer line camera inspection
Because images are enlarged on the video the information can be misinterpreted, sometimes intentionally by an unscrupulous contractor. It is not unheard of for unscrupulous sewer drain cleaners to pressure a property owner into performing unnecessary repair work. In many cases this has taken form in sewer lining installations. Since sewer lining in any borough of New York City is illegal, this is even more troubling. In these cases not only was work performed unnecessarily, but improperly as well.
Unless a property owner has extreme confidence in their sewer cleaning service, a second opinion is usually a good idea before commencing work.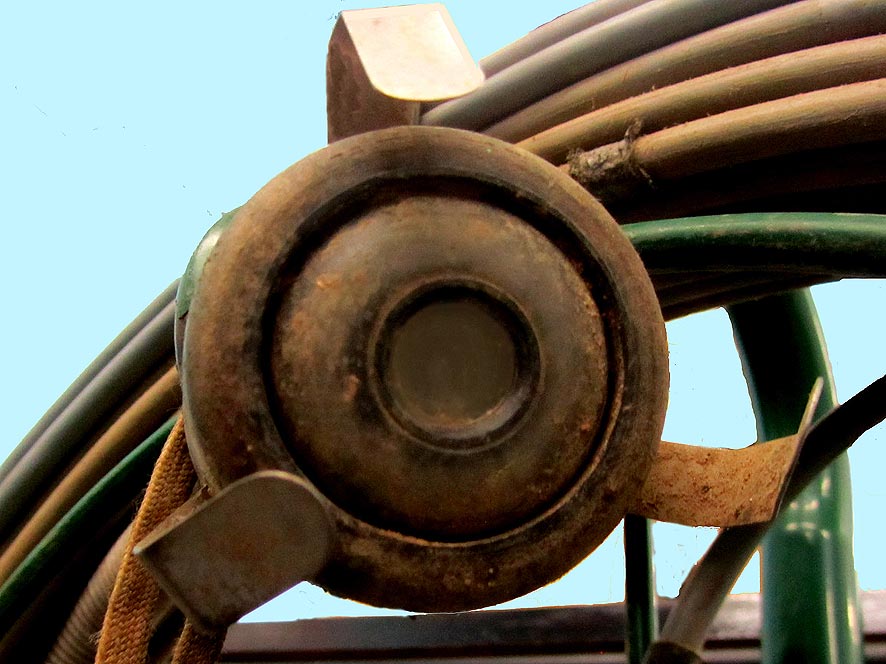 When can a sewer camera not be used
A sewer line must be dry and free of any backup for a camera to be used. A sewer camera will not function properly or capture images properly if a sewer line is full of water. In some cases where only a portion of the pipe is damaged or backed up the camera can be pushed through and used. An example would be where only a small portion of a house sewer is back-pitched. The camera may be able to go through the back-pitched section and ensure that the rest of the line is in good working order.
A case in point
The sewer line camera inspection revealed two issues with the house sewer. The major issue was a break out in the roadway that resulted in an Order To Cease And Desist from the NYC DEP. The break had caused an area of the roadway to washout and sink. The second less serious issue was a bad joint in the sewer line about 3′ out from the house trap. Since the sewer problem 3′ out was not causing a blockage the client opted not to fix it at this time. Older house sewer lines change from 4″ cast iron to 6″ clay soil pipe 3′ to 5′ out from the house trap. That is where many bad pipe joints can be found in a house sewer system. That particular joint was typically made using oakum and concrete. Over time the concrete may erode and the joint can leak. Eventually, due to erosion of the dirt under the pipe, the sewer line may settle in that particular section.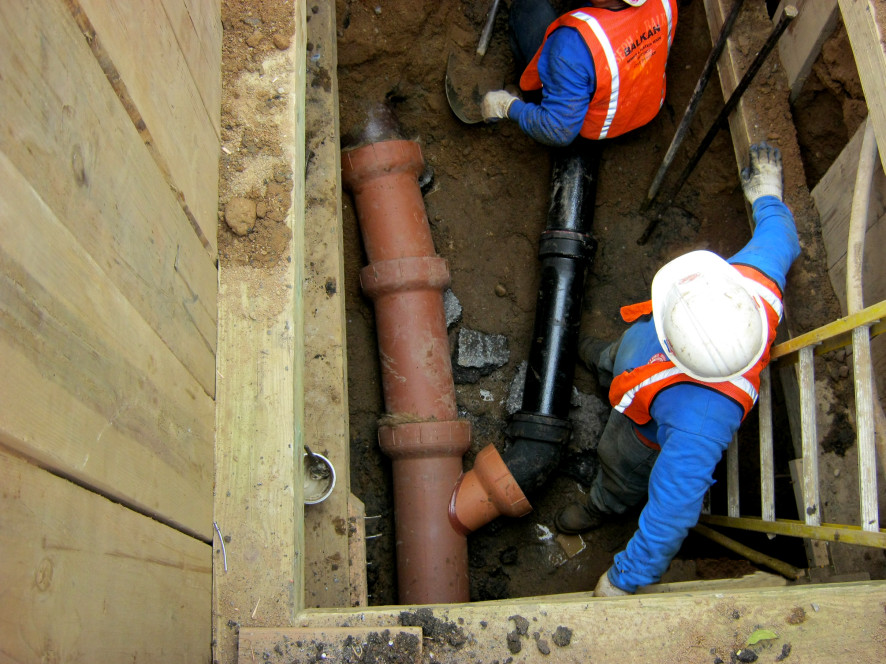 The actual repair that was performed was out in the roadway exactly where the sewer camera had determined the problem was. Once excavated it was discovered that the sewer line for this house was connected to an 8″ private drain that was then connected directly into a city manhole. It is hard to say what condition caused such a sewer connection. It could be that the city sewer did not extend down the roadway at the time the houses were built. The developer may have built the 8″ private drain to serve those particular houses. In some cases a city sewer is built at a later date, and the pre-existing homes remain connected to a private drain.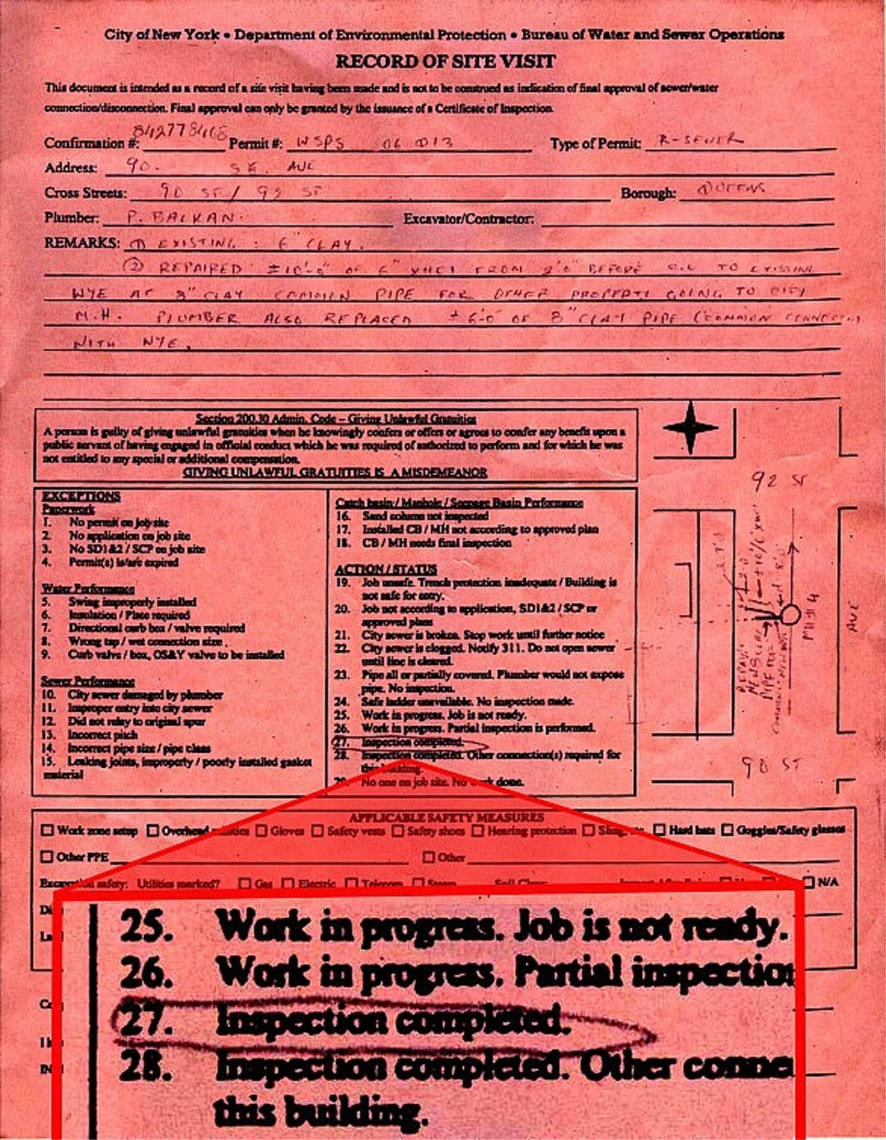 The sewer repair that was performed also including repairing 6′ of the 8″ clay private drain. Three pieces of clay pipe had to be installed, including an 8″ x 6″ clay wye to connect back the house. Approximately 10′ of new 6″ domestic extra heavy cast iron was used to connect form the existing 6″ clay house sewer to the 8″ private drain. As is required by code DEP and DOT permits were secured. A NYC DEP field inspector was on site to perform an inspection and sign off on the sewer repair. The complete job was finished in one workday, including backfill and compaction. As is customary with Balkan repair and replacement work, final restoration of the roadway was done the very next morning.
[button link="/contact-balkan-plumbing/" bg_color="#EA6E24″ window="yes" size="xl"]Get a FREE no-obligation site visit today![/button]
[credit]