Main line repair work can involve all types of sewer, water lines, distribution or steam lines. Recently a fire main at JFK Airport sprung a leak inside the complex. Because the outside paved areas of JFK Airport are designed to carry extremely heavy loads such as jet aircraft a contractor has to dig accurately or risk breaking in the wrong area. Not only would breaking in the wrong area waste a lot of labor and be costly to restore, but it would also greatly inconvenience the client.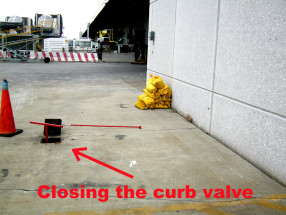 The fire main in question for this main line repair had a curb valve located approximately 10′ outside of a building foundation wall. The first step was to close the curb valve using the correct curb valve key and testing to see if the water line leak stopped, which it did. Since the location of the leak was now isolated Balkan used a specialty road saw to cut through 18″ of 5,000 PSI concrete that also included heavy rebar. Having to cut through concrete like this by using jackhammers would have taken over a day alone. Another additional advantage of using a road saw is that breaking by use of jackhammers greatly increases damage to the affected area.Balkan Sewer And Water Main specialty equipment, such a full-depth road saw, speeds along a job and allows a more professional restoration of the disturbed area.
Another job site condition that was encountered was a ground water condition. Because JFK airport is located on Jamaica Bay the water table is only about three or four feet deep. Balkan carefully shored up the excavation with lumber and de-watered the hole using its specialty pumps. All excavated material was carted away and replaced with clean, dry, and approved backfill material.Even the best concrete work will sink and settle unless proper material is used to backfill and compact an excavation.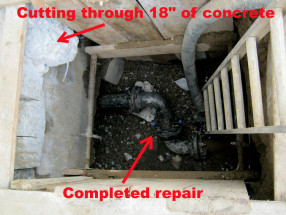 Balkan used specialty fittings from its fully stocked warehouse to perform a high quality and long-lasting repair. In addition specialty 5,000 PSI concrete and heavy duty rebar was used to restore the disturbed areas to their original integrity and to the full depth of the surrounding area. Balkan matches their high quality main line repair work on a fire main with equally high quality final restoration.
Specialty tools and equipment for main line work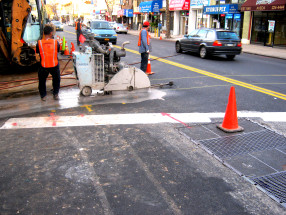 A sewer line or water main installation is specialized work within the licensed plumbing industry. Most licensed master plumbers do not perform sewer or water main work because it requires specialized and expensive equipment, highly trained personnel specific to sewer and water main work, and extremely costly insurance and bonding. That is why a water main, sewer repair, or a sewer line replacement should be left to a trusted professional who is a Licensed Master Plumber.
Balkan Sewer And Water Main Service never ceases to upgrade its fleet of vehicles, backhoes and add additional specialty vehicles and equipment specifically designed for sewer line replacement, sewer repair, and water main work. [Read more about Balkan's specialty tools and equipment for main line repair and replacement work]
[button link="/contact-balkan-plumbing/" bg_color="#EA6E24″ window="yes" size="xl"]Get a FREE 0n-site visit today![/button]
Balkan's use of 5,000 PSI concrete
Balkan Sewer and Water Main Service uses Quikrete 5000 supplied by Package Pavement to ensure the integrity of its finished restorations. Quikrete 5000 has been independently tested and verified by the NYC DOT to reach 5600 PSI. This specialized product adds a long-lasting integrity to our work that "regular" cement and our competitors simply cannot match.
Balkan uses concrete that is almost 2X stronger than required by NYC DOT code. Balkan's Clients are never left with a pothole as reminder that we worked for them.
A little bit about JFK International Airport
courtesy of wikipedia
John F. Kennedy International Airport (JFK) is an international airport in the borough of Queens in New York City owned by the City of New York and leased to the Port Authority of New York and New Jersey, about 12 miles (19 km) southeast of Lower Manhattan. In 2011 it was the busiest international air passenger gateway to the United States, handling more international traffic than any other airport in North America. It is also the leading freight gateway to the country by value of shipments. In 2012, the airport handled 49,292,733 passengers, making it the 17th busiest airport in the world and sixth busiest in the United States in terms of passenger traffic. The New York City metropolitan area's JFK International, LaGuardia, and Newark International airports, all operated by the Port Authority of New York and New Jersey, combine to create the largest airport system in the United States, second in the world in terms of passenger traffic, and first in the world in terms of total flight operations. In the last few years it has made extensive improvements to terminals, roadways and inter-terminal transportation.

Dedicated as New York International Airport in 1948, the airport was more commonly known as Idlewild Airport until 1963, when it was renamed after John F. Kennedy, the 35th President of the United States.