More and more frequently across the country fire protection for buildings is required. Among the most effective ways to accomplish this is through the use of a fire sprinkler system. In NYC requiring a fire sprinkler water supply line, and accompanying fire protection system, throughout a building is commonplace. The requirement of such a system is determined by code. The plans for such a system must be carefully drawn up by a design professional, and then approved.
Process & Requirements of a Fire Sprinkler Water Supply
The entire process of having plans drawn up, and the fire sprinkler system installation signed off, typically takes a number of months. Starting an installation before having approved plans would truly be foolhardy. In would also result in violations, liability issues, and a financial loss.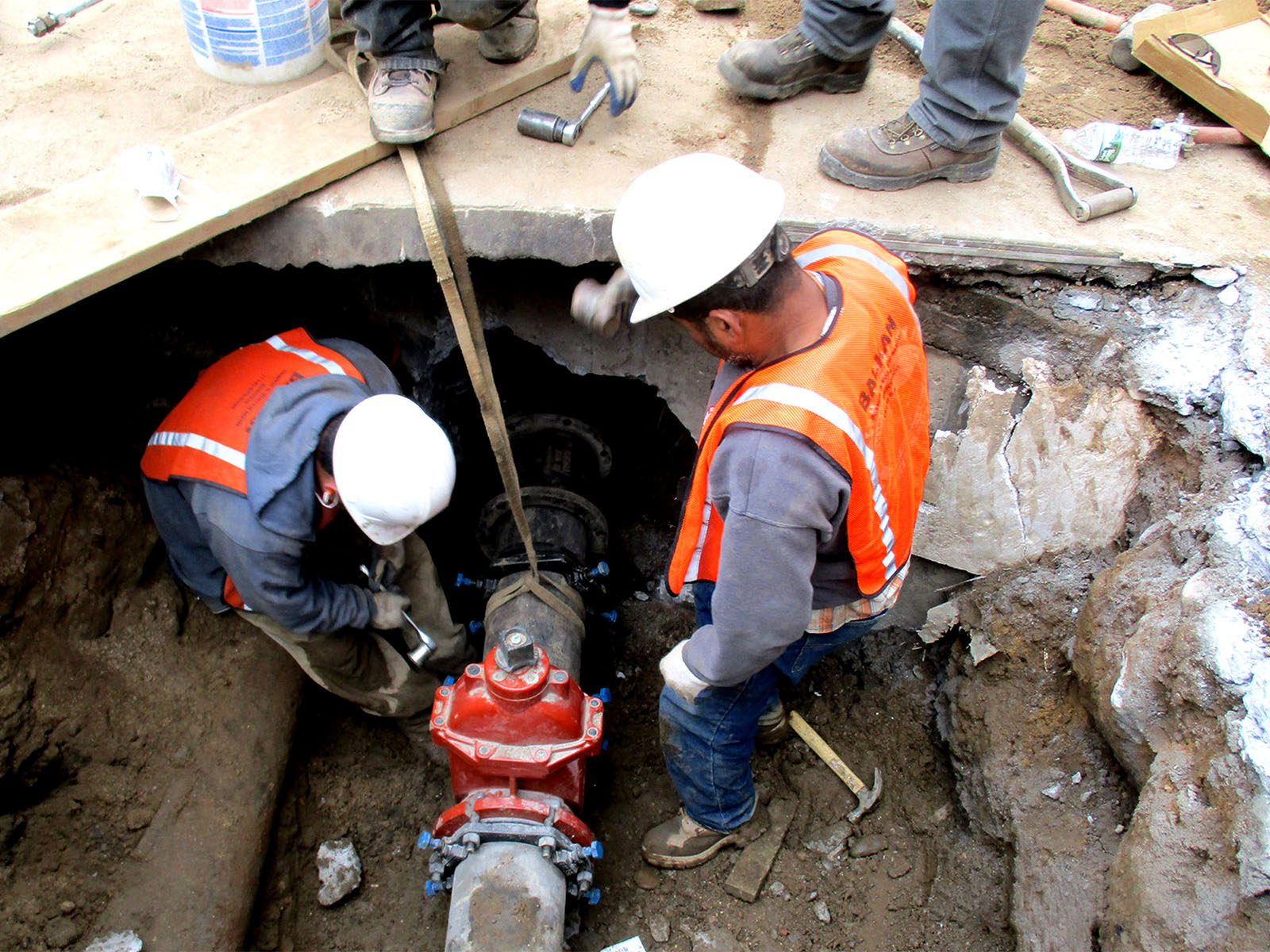 Plans Must Be Drawn By A Professional Engineer
Drawing up plans for a fire protection system is no easy task. A Professional Engineer must first be hired. The Engineer must be expertly familiar with the NYC Department of Buildings fire protection code and the plan approval process as well. Each classification of building and structure will have different requirements as far as the fire sprinkler water supply. Just as important as sizing is the layout of the fire sprinkler heads inside the building. An incorrectly sized service line will not adequately service the sprinkler heads. While a poor design or placement of the sprinkler heads will not provide proper fire protection.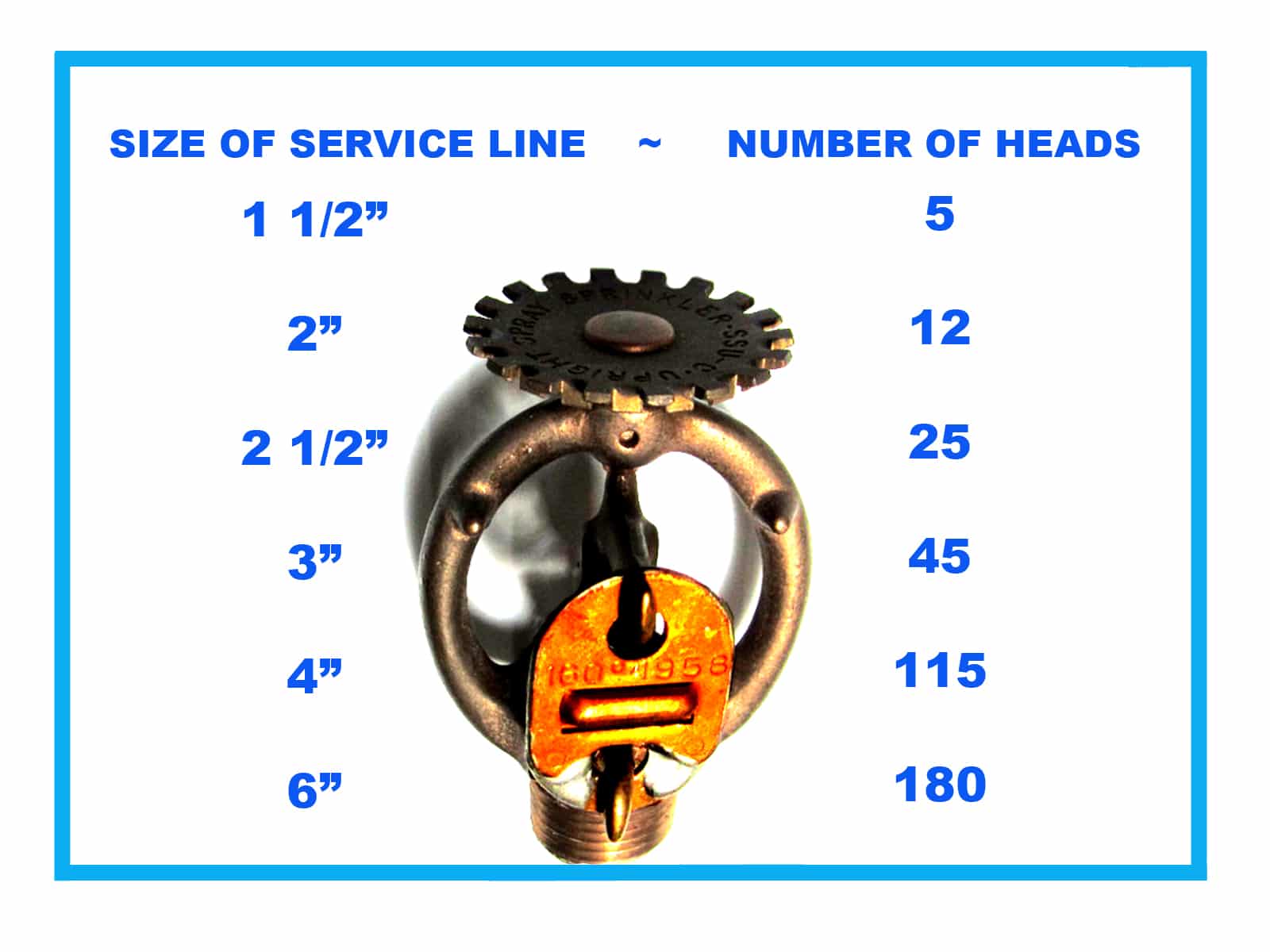 Connecting to the Public Main For A Fire Sprinkler Water Supply
In the city of New York all connections to the public water main for a service line are installed by NYC DEP field forces. There are typically two types of DEP tap connection installation crews, both utilizing specialized equipment. Tap connections up to 2″ in size are installed by drilling a hole into the city water main. The crew then screws the tap into the city water main.
Connections larger than 2″ are known as wet connections, and the installation process is quite different. For a wet connection the city water main is actually core drilled. The core drilled section is then removed from the city water main. A wet connection for a fire sprinkler water supply has two components. One component is a stainless steel clamp that has a flanged opening in its side for the valve. This clamp is placed around the public main. The valve is bolted to the opening on the clamp, and a watertight core drill rig is bolted to the valve. With the valve open the hole is cored into the side of the city water main. The core bit is pulled out of the main, the valve closed, and the drill is then removed.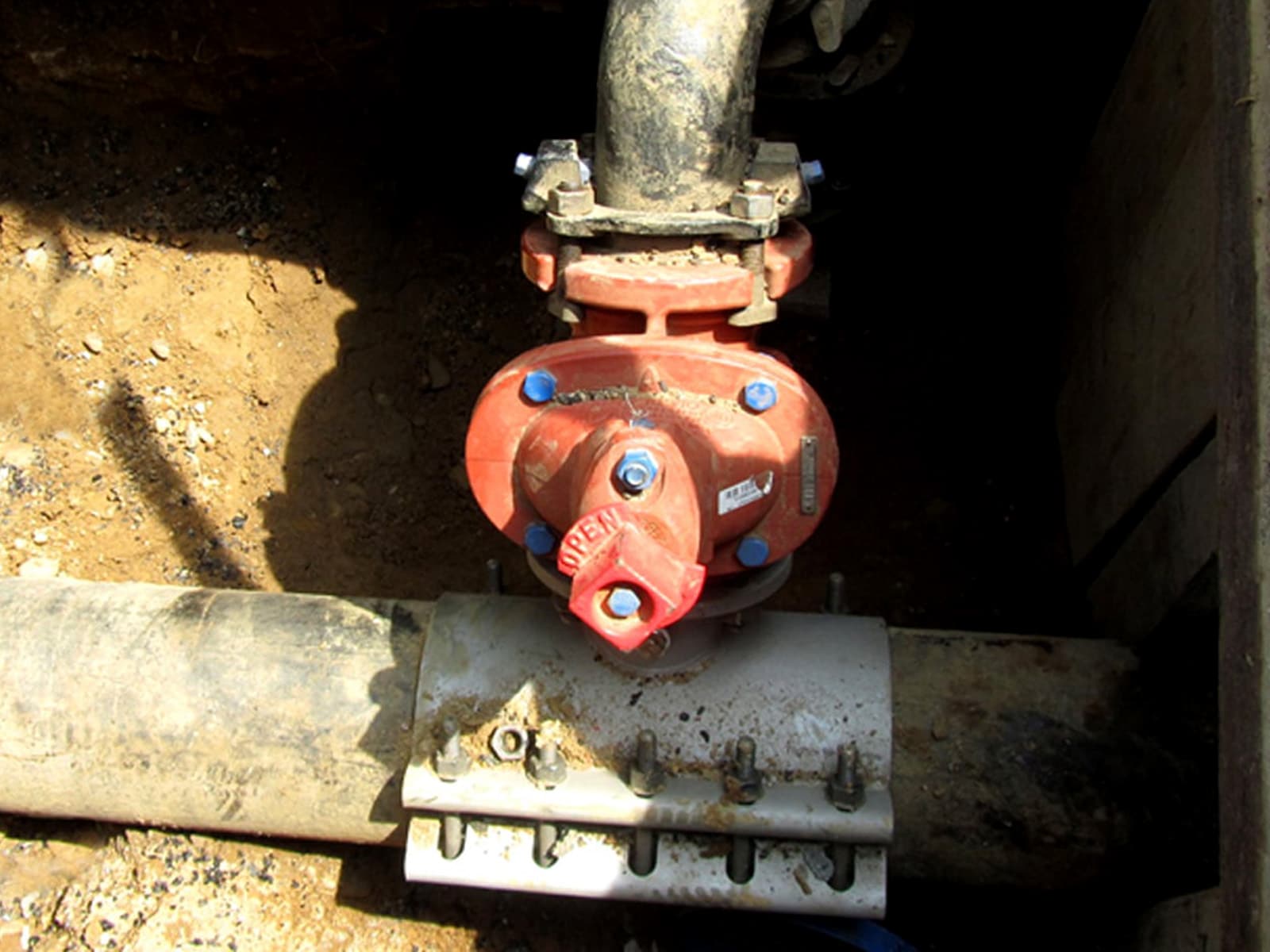 There is also a difference in the size requirements for a domestic water service and a fire supply service. Typically a domestic service line has a connection size which is one size smaller than the service line itself. However, for a fire sprinkler water supply service the connection size matches the service line size for any lines up to 4″. For fire lines larger than 4″ the wet connection size may be one size smaller in some cases.
Sidewalk Curb Valves For Fire Supply Lines
In the city of New York any water service line that serves to provide fire protection must have a sidewalk curb valve. On the other hand, only domestic service lines larger than 2″ are required to have a curb valve. Sidewalk curb valves are required to be installed 2′ within the curb. In certain instances exemptions can be made, such as if a tree is present.
Main Control Valves For Fire Sprinkler Water Lines
All fire sprinkler water supply lines must utilize an OS&Y valve as the main control valve. On the contrary, domestic water service lines are permitted to use either gate valves or full port opening ball valves. The term OS&Y translates to open stem and yoke. Simply stated, this means that the stem of the valve is exposed. By the stem and yoke being, one can tell visually to what extent the valve is open or if it is closed. This is particularly important on a closed fire system, where no test outlets may exist.
Inspection Process For Fire Sprinkler Water Supply Lines
Another difference in NYC is the inspection process for a fire sprinkler water service and a domestic water service line. In NYC a field inspection of any work on a fire sprinkler water supply line is mandatory. Because of the vitally important role that a sprinkler main plays in protecting the inhabitant's safety, each component of the fire sprinkler water supply must pass muster.
Metering For a Fire Sprinkler Water Supply
In most municipalities, NYC included, every water service line supply line must be metered. In the case of metering a fire service line, only very specific meters are permitted in NYC. As an example, domestic water service lines up to 2″ in size are typically metered by a displacement type meter. However displacement meters are not permitted for a fire sprinkler water supply line in NYC. The different types of meters, and where they are permitted for use is even confusing to experienced professionals at times. This is another reason why approved plans for fire protection also include detailed drawings that include water meter make, model, size, and the location to be installed. There are resources available online, such as the NYC DEP list of approved meters, and helpful articles about metering as well.
Expert Water Main Repair and Water Line Replacement
The Balkan Team provides expert home water main repair and water line replacement. We have expertise in all types of NYC underground plumbing. Balkan Sewer And Water Main Service was founded in 1952. Since its inception, the foundation of the company has been based upon integrity and honesty in all of our dealings. That solid foundation has enabled us to thrive in every economic climate. That is why guiding you through the decision of doing a sewer repair vs sewer replacement exemplifies our company culture of educating consumers. We feel the more you know, the better we'll look. The year 2020 actually marks our 68th consecutive year in business under the same family guidance. As we have grown, we have become increasingly dependent upon a "Team First" approach. What helps ensure a continuation of our high standards, overall integrity, and high company morale, is that same team approach. Complete client satisfaction has always been the number one goal at Balkan Sewer And Water Main. That is why we are NYC's largest and most trusted sewer and water main service in New York City. Simply put, if it's plumbing, and it's underground, we do it. For almost 70 years, and for over 70,000 New Yorkers to date, Balkan is "The Team You Trust".