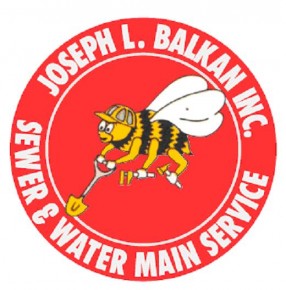 A sewer back up can cause a flooded basement and a Sewer Check Valve may be the answer. In certain areas of New York City a public sewer back up may cause a flooded basement on a regular basis. This back up can be due to heavy rains or a flash storm. In some cases over development in the area is the cause of the public drain system to be overburdened. Other possible causes of a sewer back up could be a malfunctioning city sewer, a high groundwater table, but there are various other reasons for this condition.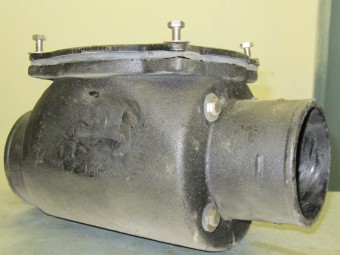 As in all of these cases a sewer back up does not mean that the house sewer is defective, or needs to be cleaned. Many times the solution to stopping a flooded basement from happening, and stopping a public sewer back up, is by installing a sewer check valve. A sewer check valve is also known as a backwater check valve.
A sewer check valve is a one-way valve that only lets water out. The device automatically closes when water attempts to enter the house drain system form the street side. A sewer check valve (backwater check valve) is a very simple and dependable device. It literally has only three parts, the body, the cover, and the flapper.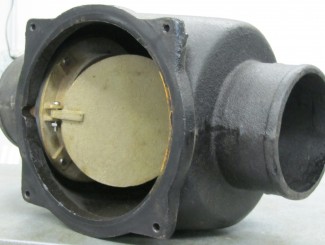 Once installed, a sewer check valve needs maintenance once or twice a year. The maintenance is to make sure it is clear of any debris or sediment that may block the flapper in the valve. This maintenance is done in a couple minutes by removing four screws with any number of simple tools. No special skill or tools are needed to maintain this device. Proper cleaning and maintenance will ensure many years of dependable operation, and that the flap closes fully.
Joseph L. Balkan Inc. has been specializing in all types of sub surface plumbing issues for over 60 years. This family owned business has been installing sewer check valves professionally and successfully for many years and has a long list of satisfied customers.
[button link="/contact-balkan-plumbing/" bg_color="#EA6E24″ window="yes" size="xl"]Get expert advice today[/button]
What to expect when calling Balkan about a sewer check valve due to a flooded basement issue from a sewer backup:
A discussion of your sewer back up issue over the phone or a prompt response to any web site inquiry by an experienced  professional.
A free on-site visit by an experienced field representative with no obligation whatsoever.
If the site visit determines that a sewer check valve will solve the problem, you will receive a free written quote explaining the installation with no obligation.
What to expect from a sewer check valve installation from Balkan:
Work started and completed in one day with no sub-contracting.
Most sewer check valve installations include a new water tight sewer pit with a matching fitted cover.
All disturbed cement professionally restored using 5,000 PSI concrete that is water proof.
American made material and fittings.
A work site left broom clean.
A written guarantee.
A completed installation performed at the quoted price.
The end of city sewer back ups flooding your basement from your house sewer.