What do you do when a sewer line breaks at your business right before one of the busiest nights of the year? You call Balkan, of course! That is what the Burger King at 39-20 Main Street did when a Flushing sewer break threatened business. Our Balkan Team started work to fix this plumbing emergency on the morning of Thursday, December 27, 2018. We kept at it 24/7 until the job was done (and done right) on Sunday, December 30th. The Team had everything fixed, cleaned up, and running properly in time for the store's busy New Year's Eve.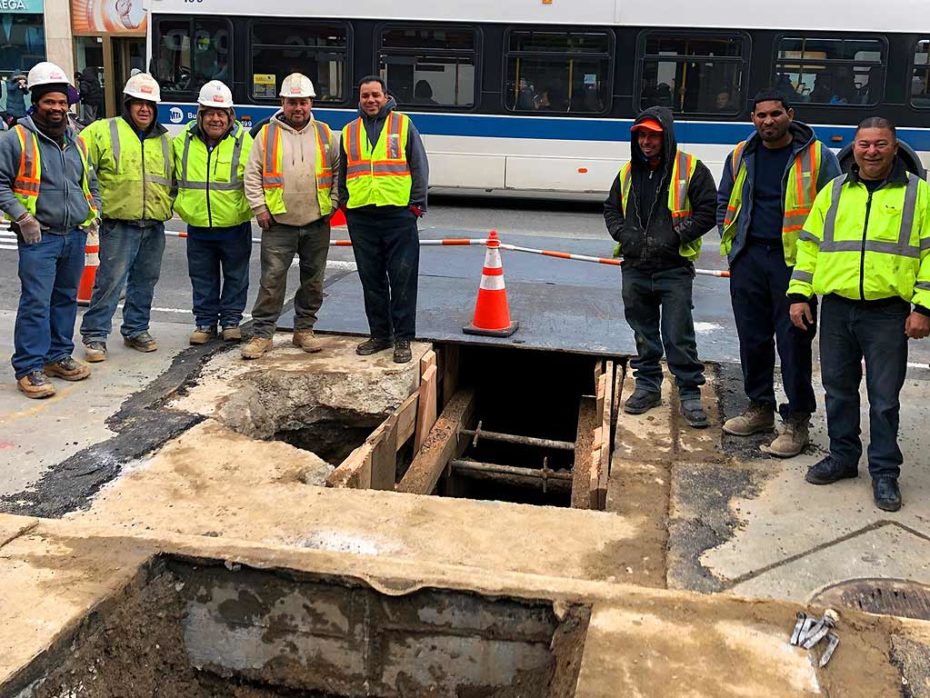 Being back to normal in time for a busy holiday is vital to any store's bottom line. But it is even more-so for a Burger King. At Balkan, we understand how critical a quick and proper sewer break repair is to our customers. When a business in distress calls on us, we take their emergency very seriously. We will do everything in our power to get them back up and running as quickly as possible. That effort can include working 24/7 around the clock.
Getting to work on the Flushing sewer break
In this case, sewer water was pouring into the basement, located on a lower level. The basement contained a nightmarish tangle of rusty and corroded plumbing pipes. Amid the mess, we also found an old water line in desperate need of replacement. Being professional, also means notifying customers of an impending future condition. This allowed the client to attend to two issues at the same time, and actually save money.
Making the house sewer repairs involved breaking up the roadway to gain access to the pipes we were replacing. Breaking up a heavy roadway like Main Street in Flushing required specialty equipment and tools.
Protecting underground utility lines is always a priority
There were multiple underground utilities in the vicinity, so we had to work carefully to remove the pipes we were replacing in order not to disrupt or damage any of the other utilities. The first step to avoiding utility damage is to call 811 for a mark out of all underground lines. The next step is excavating by hand until all utility lines are uncovered.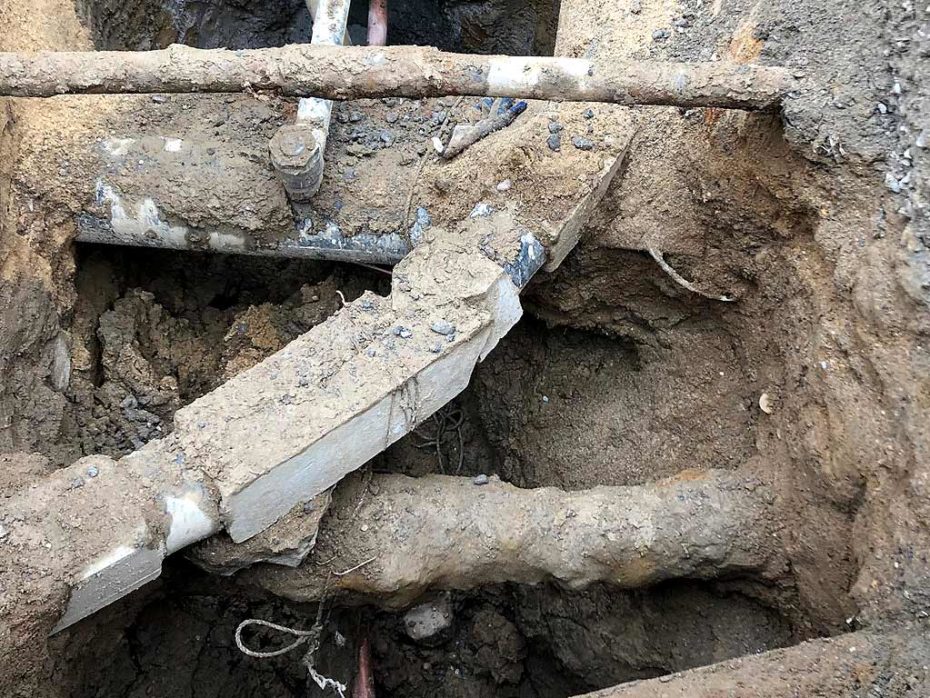 Fortunately, the members of our Balkan team are experts in their fields and are used to working in often difficult circumstances. As usual, they took this repair in their stride! With our extensive fleet of specialty trucks and equipment, we were able to handle all aspects of this sewer break job in-house. Once we had the roadway surface removed and the problem pipes exposed, our team went to work making the repairs.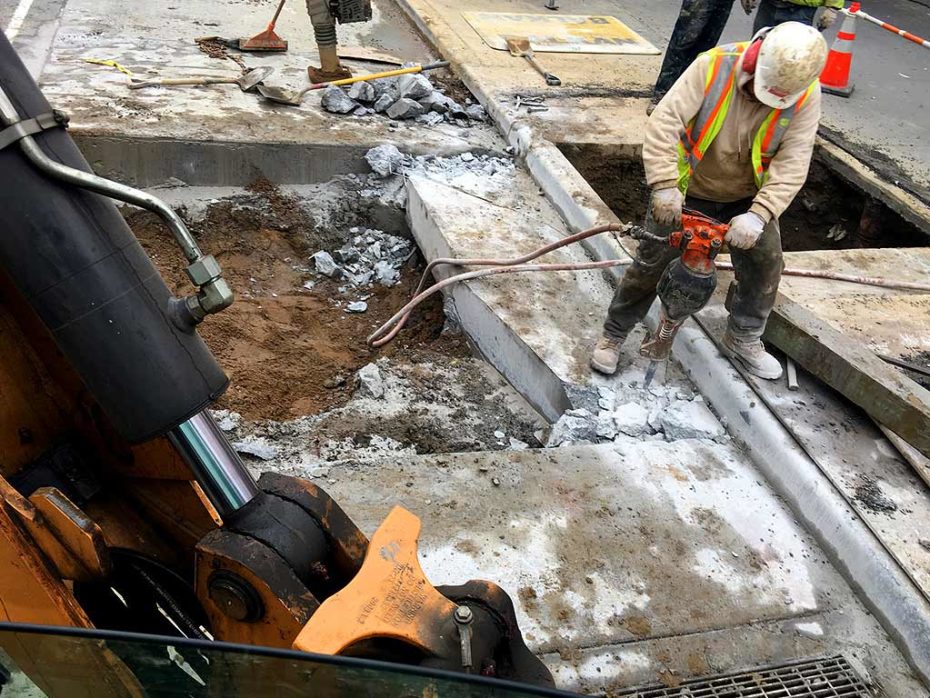 No job is complete without pipe support and soil compaction
We carefully removed the old pipes and replaced them with new pipes. The new pipes were placed on a bed of crushed stone for proper support. Then we compacted the excavation site carefully using imported backfill material. This is an essential step in the repair process. If the ground around the pipes is not compacted correctly, it will eventually settle. This can lead to significant problems down the road!
Once all pipe support and compaction was done, we were able to pour concrete to restore the roadway and sidewalk to like new condition. Our Balkan Team then cleaned up after themselves, leaving the entire site 'broom clean'.  Taking pride in always leaving a job site 'broom clean' leads to a truly devoted client base.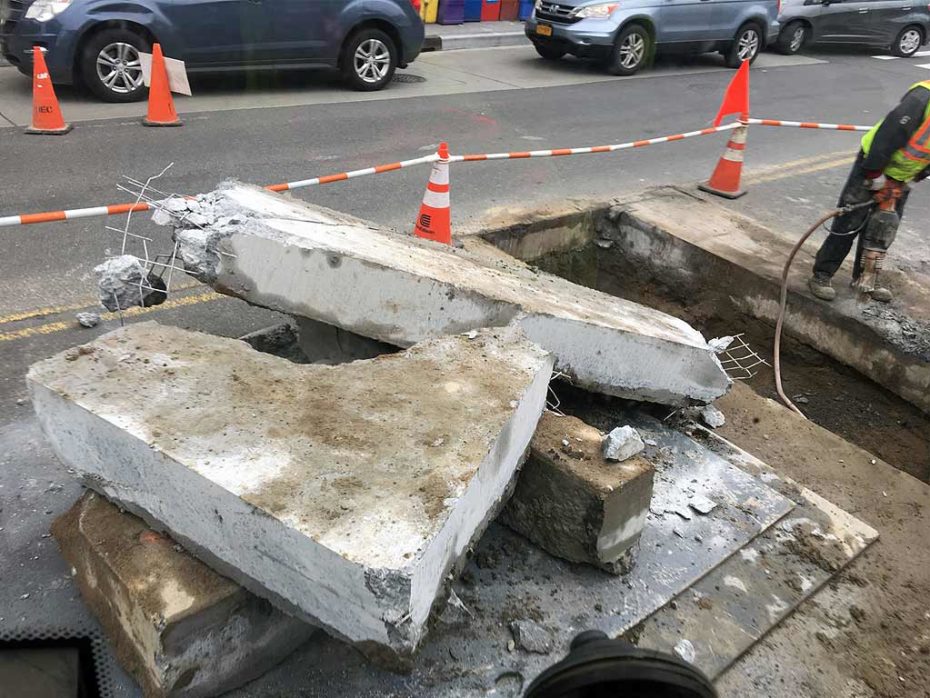 We have a great team of guys who enjoy working together and take pride in what they do. We think that is one reason we can complete repairs like these in such a timely and proper manner. Our fantastic team would not have it any other way!
Flushing sewer break restoration
Even though we were trying to get this job done quickly, so the restaurant could open for New Year's Eve, we did the job right. We believe that it is never right to rush a job at the risk of damaging the customer's property. Furthermore, maintaining a safe work site perimeter is a mandatory Balkan requirement.
Because of its intrusive nature, sewer line replacement work can cause damage to the customer's, or even public, property unless proper care is taken. That is why we always place excavated material on tarps and plywood we have set in position ahead of time. We also cushion the stabilizer bars and the front bucket of our backhoe, so they don't damage sidewalks, driveways, or roadways.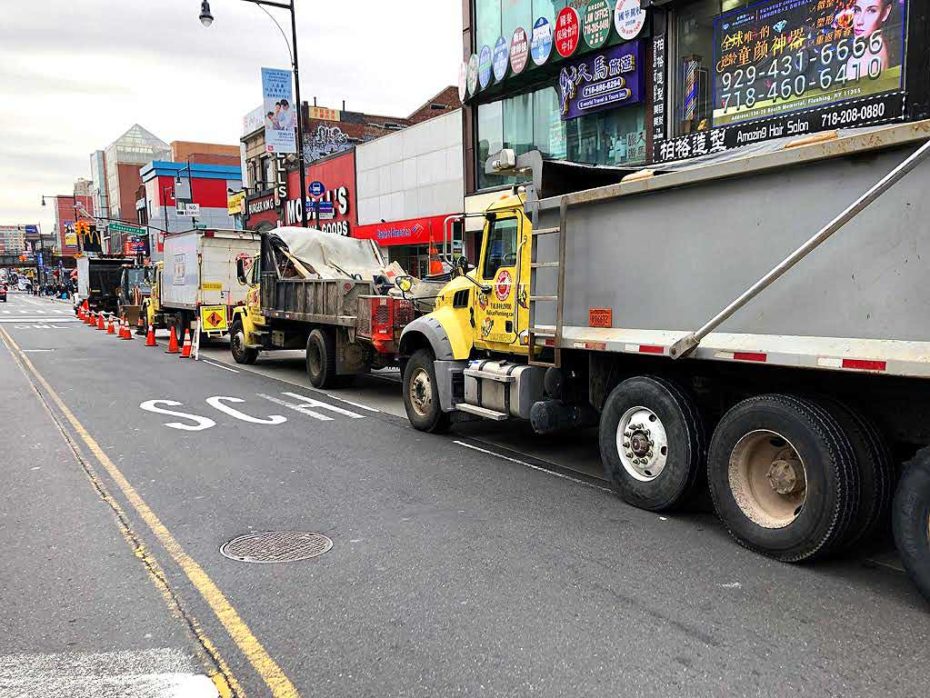 Balkan is the NYC Brand to trust for any Sewer Problem
Having a sewer problem is stressful enough. We do everything we can to minimize that stress, and to avoid leaving painful reminders of your sewer disaster. It is important to research any company you are thinking of hiring. At Balkan Sewer And Water Main Service, we are proud of our reputation and our outstanding reviews. Contact Balkan Sewer And Water Main today!