Recently a homeowner in Forest Hills, Queens had a water main emergency. Water was rushing out from their neighbors front yard and was beginning to enter into their basement. The natural reaction would be to insist on the neighbor hiring a water main contractor immediately and getting a little bit agitated. Instead this water line leak in Queens became another case in point why underground leaks can be difficult to diagnose, and why it is best to proceed with caution. Additionally this case in point explains why it is best to get a Three Day Notice from the NYC DEP before commencing work.
Water main work can be tricky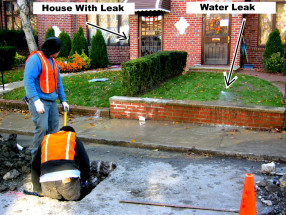 Forest Hills in Queens is a lovely neighborhood where many of the homes are attached or semi-attached. In this case the houses on the block were attached, with water pouring out of the front yard of one house in particular. One of the reasons that repairing and replacing a broken water main is tricky is that leaking water seeks the path of least resistance. That  means that water leaking under pressure will not necessarily surface where the point of the leak is. Leaking water can follow a void under the ground, another underground utility line, softer soil,  and appear far away from the point of the leak.
In this case the house that had a heavy leak erupting out of their front yard was not the house that had the water line leak.
The importance of a NYC DEP Three Day Notice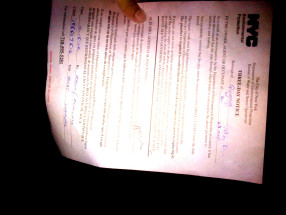 Many people mistakenly think that a DEP Three Day Notice is a kind of violation, with a fine or penalty attached to it. There is no fine or penalty associated with a DEP notice – it is not a violation. The importance of a Three Day Notice is that it verifies in writing the source of a water leak. Instead of a property owner randomly trying to determine if they have a leaking water line, the DEP performs that task free of charge. By issuing a notice to repair the defect the DEP is taking responsibility for making that determination. If a notice is issued in error the property can frequently file a claim to be reimbursed for any costs incurred to determine the correct source of the leak.
In this particular case, if the DEP was not called the incorrect house may have needlessly proceeded to replace their water line. The DEP correctly determined that the house next door with the less visible leak had the broken water main.
What is a Three Day Notice
A NYC DEP (Department of Environmental Protection) three day notice is generally a notice to repair a defective (leaking) water service line.  Depending on the severity of the leak, the department may act at their discretion to extend the period of the notice.  If an emergency condition is being created, the DEP can take swift and decisive action such as closing the tap connection on the city main.
How accurate is the DEP when they issue a Three Day?
The trained field forces of the NYC DEP are extremely accurate when assessing the source of a water line leak. The last audit on record has the NYC DEP with an accuracy rate of 98%. It may not be 100%, but anyone with an accuracy rate of 98% is doing a pretty darn good job. This alone is a compelling reason to quickly and completely resolve any DEP notices that have been issued to you. Read more about NYC DEP notices and violations.
Balkan provides emergency weekend service
Balkan Sewer And Water Main Service can typically mobilize on short notice to provide sewer or water main service at any time and on any day of the week. This water line leak in Forest Hills Queens was no exception. All work was started on a Saturday morning and completed the very same day. By 3PM Saturday the line was replaced, all excavations were compacted and filled, and the site was broom clean. Two days later on Monday when the asphalt plants were open all roadway excavations were permanently restored. Balkan is a company that backs up it's promises with results.
No matter the sewer line or water main issue Balkan continues to provide free and no-obligation site visits and written estimates – we are here for you seven days a week, daytime or evenings.