A frozen water line can occur during an extreme Winter cold spell. In an unoccupied building, the freeze-thaw cycle can result in undetected flooding and extreme damage from a burst water line. Unoccupied buildings are the most common to suffer from a frozen water line. This is because new construction, summer homes, and buildings scheduled for renovation or demolition typically have no heat. In many cases the do not have any sort of insulation either. Needless to say, they are also often left unattended for long periods of time.
The Winter of 2016 seemed to be the mildest Winter in recent memory. However, even with that in mind, many properties suffered from a frozen water line. One particular building, located in Jamaica Queens, suffered extreme flooding as a result.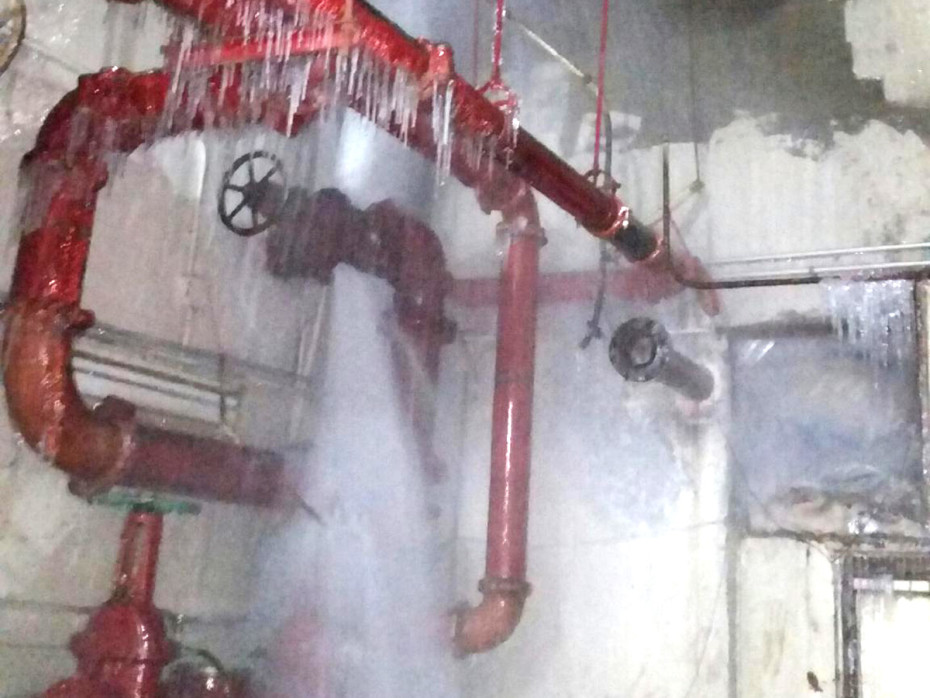 Case study: A frozen water line in Jamaica, Queens
Jamaica Queens, like many areas of New York City, is undergoing a revitalization. Located near JFK Airport, and all major forms of transportation, Jamaica is being rediscovered. Large commercial properties that had been vacate for awhile are being renovated, or demolished and rebuilt. One particular property on 89th Avenue scheduled for demolition had its fire protection system left intact, as is the typical code requirement in NYC. Unfortunately, no effort was made to winterize it, or protect it against freezing.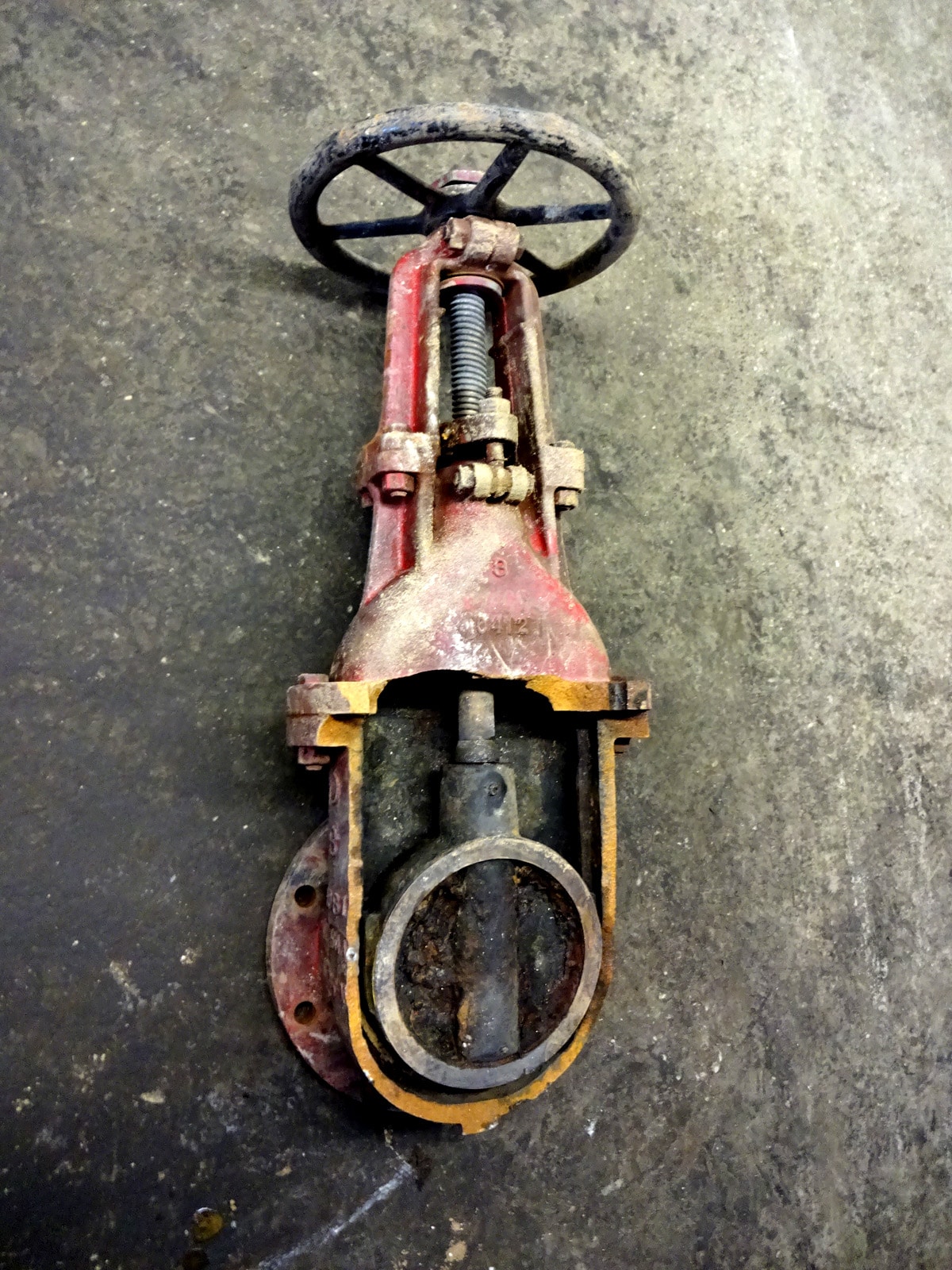 To understand the resulting damage, one must first understand that the typical size of a public main water line under a Queens roadway is 8″. That was the same size of the fire service line for this one building in question. As the ice built up inside the 8″ fire main piping, it slowly pushed down the pipe, until it came up against the gate inside the OS&Y main shut off valve. The ice continued its expansion, pushing through the gate inside the valve. Eventually the ice expansion broke through the side wall of the valve body itself. Different water valves serve different purposes, but an OS&Y valve is required for fire service mains. No matter the valve installed, under these conditions it would have failed.
Like many cases of a frozen water line, there was no sign of a leak as long as the line remained frozen. Likewise there was no sign of a loss of service because the building was not occupied. However when the thaw cycle hit, the continuous rush of water from the 8″ line was enormous. It was the equivalent of a typical NYC water main left broken in 1/2 and unattended. The entire building filled with many feet of water.
Response for a frozen water line providing fire protection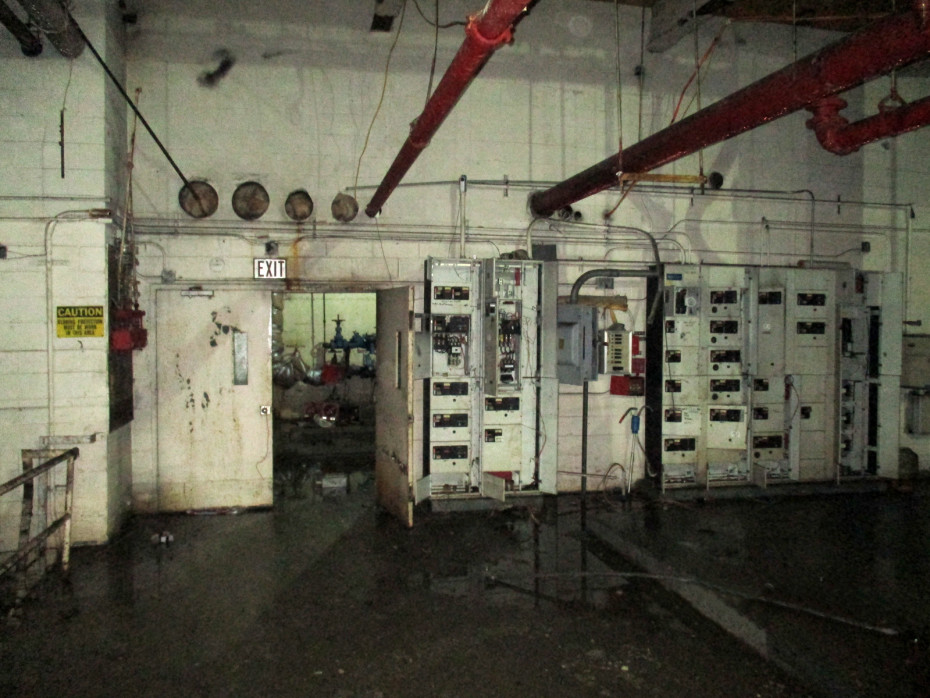 Of course everyone knows that when a water line freezes and bursts, the water has to be shut off quickly. But what many people do not realize, is that unless a building is in very specific compliance with the FDNY and Department of Buildings, the fire protection system must be left active. So in this particular case, the water could not simply be shut off. The 8″ fire main in this building had to be repaired to code, inspected, and left open.
To be clear, even if the fire system inside a building is damaged or leaking, a water main contractor is still obligated to leave the fire main itself on, and operational. It is the responsibility of the owner of the building to protect the system from future damage, and to be code compliant. When it involves fire protection, the penalties for non-compliance can range from fines, to license revocation, to criminal penalties. One should never cut any corners when it involves a fire protection system, and the resulting exposure from being in non-compliance.