New York, USA (Janurary 16, 2015) FOR IMMEDIATE RELEASE
Paul R. Balkan and David Balkan are fervent believers in the sense of fair play, and helping others that are less fortunate or have fallen on difficult times. In our society at this time, there are so many cases of individuals and entire families that are in stressful financial and social situations. That became particularly apparent when the Paul and David drove down Lefferts Boulevard in Richmond Hill on a recent Saturday. A long line of people stretched down the block and around the corner, waiting in line for food and other types of aid. A little investigation found that a foundation called The River Fund was heavily invested in the neighborhood, and in helping those in need. They provide on average 50,000 pounds of food a week, feeding on average 800 families.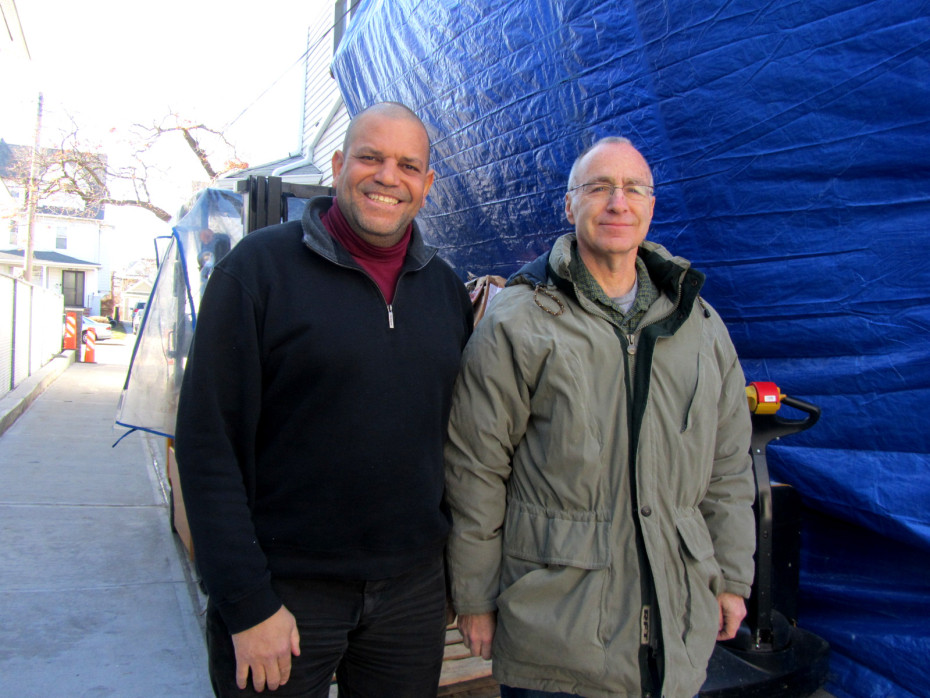 However, to The River Fund, giving back to the community means so many other things as well. They provide assistance from birth via once a month baby showers for between 8 to 15 new Moms. They continue the support they provide up through higher education in the form of scholarships and other educational assistance.
The Balkan family business has been located in Richmond Hill for well over 40 years. It is their 2nd home, and the neighborhood where much of their workforce resides. The residents of Richmond Hill have always supported the Balkan family business, Balkan Sewer and Water Main Service, over the years. Therefore, the Balkan brothers decided that giving back to the community by supporting The River Fund was a perfect fit for their core values.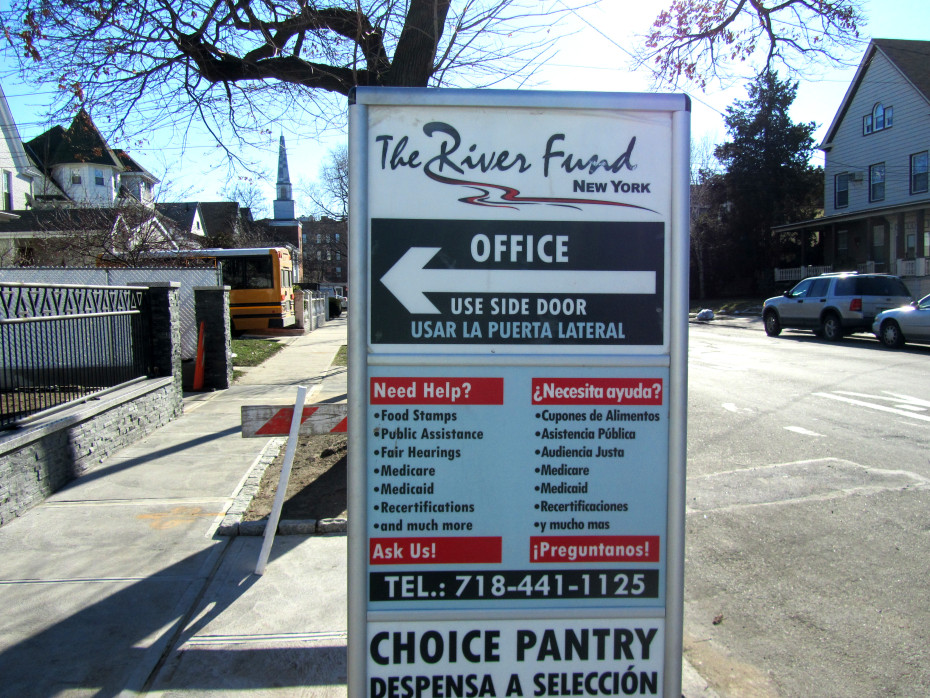 Paul R. Balkan and David Balkan have agreed to donate $250.00 per month in perpetuity to The River Fund. Balkan Sewer And Water Main has proudly kicked off this effort with a $500.00 initial donation. When the brothers visited The River Fund and met Otto Starzmann, the Chief Production Officer, it was clear that The River Fund of New York is a noble and altruistic endeavor. Furthermore, they are well run with a full and varied staff of devoted volunteers and paid professionals. We encourage others to support this worthy cause. Learn more About The River Fund.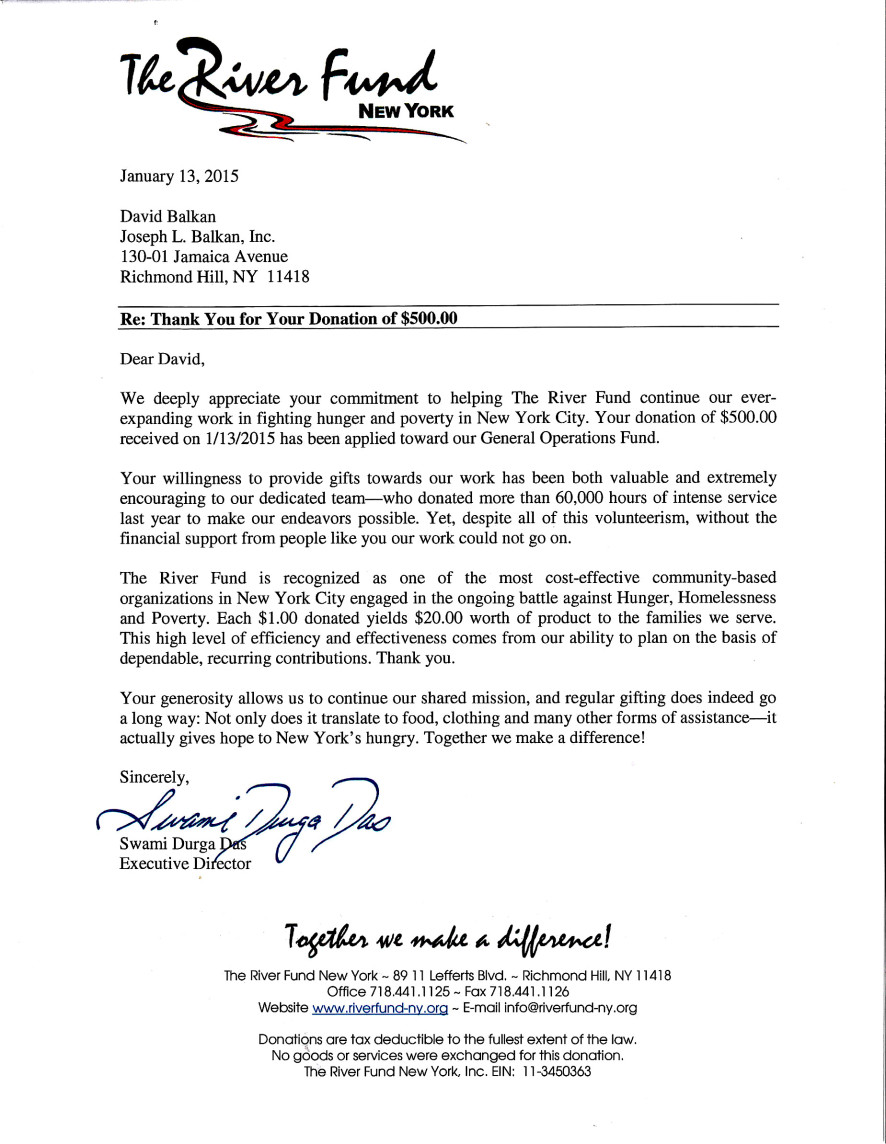 About The River Fund
The River Fund New York is recognized as an organization that is always coming up with innovative ways to fight hunger, homelessness and poverty in dozens of city neighborhoods. In fact, we became the national pioneer in getting federal support for the Mobile Food Pantry concept. It's an achievement that has benefited many communities across the country, and made a huge difference in the manner in which the aftermath of Sandy was addressed. We have always been known for our data-driven approach to developing new programs to meet the needs of our clientbase. We created our own empowerment tracking system that maintains bullet-proof confidentially of our client's data, while simultaneously allowing us to manage their advancement beyond the lines of poverty.
About Joseph L. Balkan Inc.
Balkan Sewer And Water Main is the largest sewer line replacement and water main service company in New York City. We are licensed, bonded, and insured. As a family run sewer and water main company in operation for over 50 years, our 10-year guarantee means we continue to stand by our work after the job is done.We are expertly equipped, from our 48,000 square foot facility to dozens of trucks, heavy moving equipment, backhoes and pneumatics. For all your subsurface plumbing including; water main repair and water main replacements, sewer repair and sewer replacements, catch basins, fire hydrants, manholes, and specialty excavation work, we can help. Contact Balkan Sewer And Water Main today or visit www.balkanplumbing.com.