Sometimes a sink hole in the roadway can be a sign of a broken sewer for a house.  Recently a homeowner in Glendale Queens reported a sink hole in the roadway fronting their own house. Unfortunately for the homeowner once the City investigated the situation it was determined that the house sewer for their home was defective and broken. The NYC DEP determined that in fact the broken sewer was the cause of the sink hole.
NYC DEP issues an order to Cease And Desist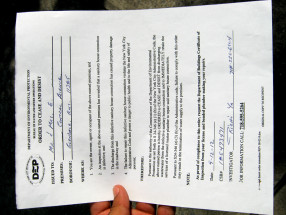 Calling the city to fix a roadway defect and being served with a violation for a broken sewer instead is a very unsettling experience. In this case the owner was ordered to immediately cease and desist from discharging water through their house sewer and to hire a licensed master plumber. The notice further states that if they do not act promptly the water supply for their house will be shut which would  result in a $1,000.00 bill from the NYC DEP.
Knowing who to rely on in a Queens plumbing emergency can be a great comfort. The owner knew to call Balkan Sewer And Water Main Service – a NYC plumbing company in business since 1952. Once the Queens sewer work order was approved by the owner Balkan got the permit process rolling, scheduled the required DEP inspections, and mobilized one of their work crews.
Sewer repair done professionally in Glendale Queens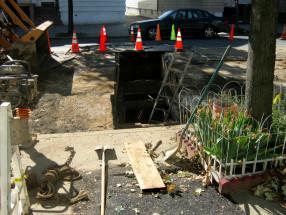 House sewer replacement work is a specialty field within the NYC plumbing industry. A sewer line replacement has to carefully coordinated so all aspects of the job are addressed in a seamless manner. When Balkan handles a sewer job the first consideration is job site safety and proper direction for both vehicles and pedestrians.
Secondly all excavations are made carefully with proper trench safety procedures. The materials used for all sewer repair and replacement work is domestically produced extra heavy cast iron pipe – the premier material for house sewer line work. After the sewer line is installed it is carefully inspected by the NYC DEP house connection inspection division. The DEP site inspection visit is vital to satisfy the order to cease and desist.
The final part of a successful sewer installation is proper backfill using approved material, followed by correct compaction of the material. Balkan ensures this meets NYC DOT standards by providing a certified compaction technician and by having a NYC DOT field inspector on the site. By installing a ready mix concrete roadway base Balkan further ensures that the roadway repair will be long-lasting and meet or exceed code requirements. All disturbed areas are restored by highly trained in-house paving and cement crews typically the very next day.
Call Balkan Sewer and relax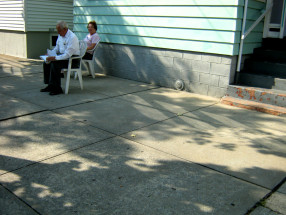 Balkans professionalism and experience takes the stress out of almost any house sewer or water main situation. The owners of this house in Glendale Queens actually pulled up a couple of chairs and watched the Balkan Team do their job. Like many thousands of other property owners throughout Queens, Brooklyn, Manhattan, or the Bronx these valued clients trusted their sewer problem to Balkan and knew all issues would be properly addressed.  Since 1952 the Balkan family has had a devotion to service, integrity, and quality that is unsurpassed in the NYC sewer industry.
[button link="/contact-balkan-plumbing/" bg_color="#EA6E24″ window="yes" size="xl"]Get a FREE 0n-site visit today![/button]
About Glendale in Queens, NY
courtesy of Wikipedia
Glendale is a neighborhood in the west-central portion of the New York City borough of Queens. It is bounded on the north by Cooper Avenue in the eastern portion (Upper Glendale) and by a section of the Montauk Branch of the LIRR in the western portion (Middle and Lower Glendale), Woodhaven Boulevard to the east, a number of contiguous cemeteries and part of Forest Park to the south and the Bushwick Branch of the LIRR to the west. The neighborhood is part of Queens Community Board 5.

Glendale is characterized as an upper-middle-class and middle-class residential community, with other upper and middle-class neighborhoods directly surrounding it such as Forest Hills, Ridgewood, Woodhaven, Middle Village, and Kew Gardens.[citation needed] Because of its relative isolation from the New York City Subway system, its abundance of trees, proximity to Forest Park, its bordering by over a dozen cemeteries, and slightly cooler microclimate, Glendale has a bucolic, sleepy quality unlike nearby Ridgewood.

Within Glendale are several smaller sections with their own unique attributes. The easternmost portion near the Shops at Atlas Park is known as Upper Glendale and in general has more expensive homes and slightly higher income levels than the rest of Glendale. Upper Glendale has detached single-family houses of above-average size, semi-detached wood-frame houses and a number of brick townhomes with often meticulously maintained grassy front yards. Many of these were built after the 1920s.

The middle portion of Glendale that straddles Myrtle Avenue is the primary business district and has a mix of semi-detached, wood-frame, single-family houses as well as a number of multifamily dwellings and townhomes. The housing stock here often dates back to the late 1800s/early 1900s and as a result, a significant number of them are made of yellow Kreischer brick much like similar buildings in neighboring Ridgewood and would likely be welcome in any good historic district.

The western part of Glendale includes the neighborhoods of Evergreen (around Evergreen Park) and Liberty Park just south of Cooper Avenue by Cypress Hills Street. Like most of Glendale, Evergreen is relatively flat. It has mostly late 1800s/early1900s semidetached, multifamily, wood-frame houses and brick townhomes. In contrast, Liberty Park, developed in the 1920s, is built on the north slope of a hill and is dominated by detached single-family, wood-frame houses with private driveways and backyards.

[credit]