Bioswales and rain gardens are types of green urban infrastructure designed to provide a nature-based solution for one of the largest polluters of our watersheds and rivers: urban stormwater runoff. In an urban environment, rainwater collects pollution from surfaces it runs over on its trip from the sky to the sewers. Moving over roads, buildings, and sidewalks, the water can collect heavy metals, hydrocarbons, pesticides, and other pollutants common in urban environments. Bioswales and rain gardens are built as natural filtering elements.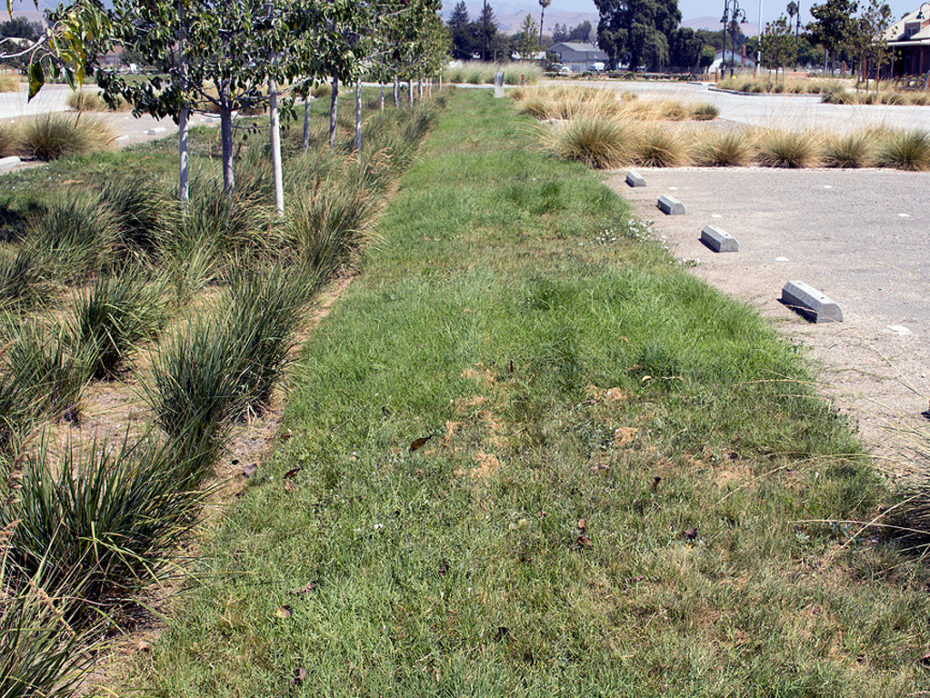 Built near impermeable sidewalks and roadways, the areas are either bowl-shaped or bermed to collect water. Filtration is done by layers of gravel and soil, and plant roots and leaves filter and sequester contaminants. By providing a living, green ecosystem among the impermeable surfaces of the city, rain gardens are lovely small patches of green and flowers, doing important work to keep the water clean.
Green urban infrastructure and the NYC EPA bioswale program
NYC is sponsoring a grant program so private property owners can fund the construction of bioswales and rain gardens on their property. The NY EPA is lead agency of a multi-agency public-private partnership designed to develop built green infrastructure in the urban environment.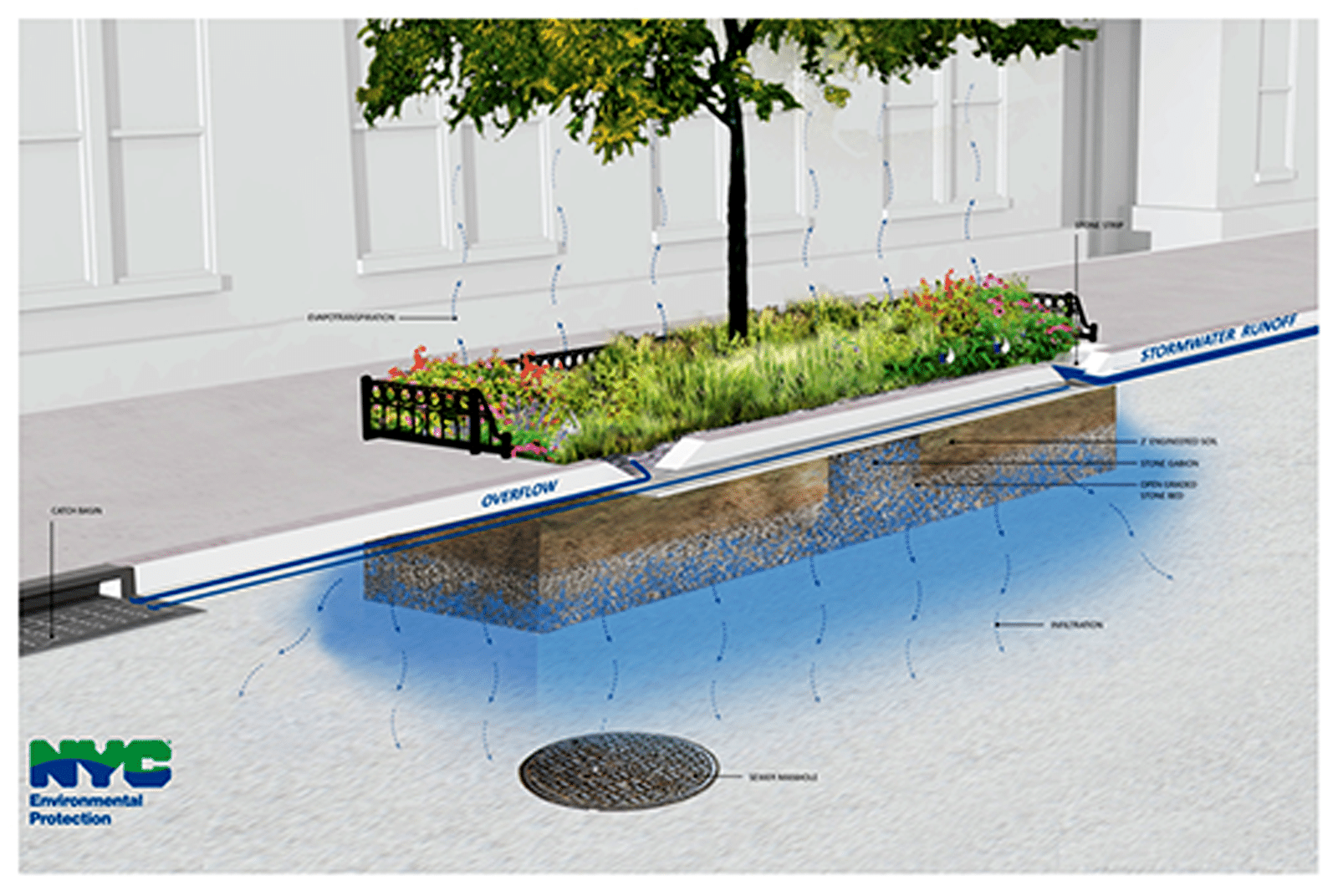 The grant program is for built bioswales or rain gardens that are designed to divert up to one inch of water from nearby impermeable surfaces such as sidewalks. The funding is for the design and construction of the green infrastructure. Property owners provide private property for construction and will be responsible for some maintenance and upkeep. This type of public-private partnership is becoming increasingly common for urban infrastructure development.
Urban boiswales require special care
Simply by the nature of an urban environment, and the location of a curb side boiswale, this type of green urban infrastructure needs special care and attention. An urban bioswale can be easily confused with a typical tree pit. Unlike a typical tree pit, this type of bioswale cannot function as intended if it become a dumping ground for unwanted trash and construction runoff.
As an example, contractors routinely rinse out concrete mixers and their masonry tools, allowing the water to run alongside the curb into a catch basin. While this does tend to damage the functionality of a catch basin, it is lethal to a bioswale. Concrete infused water runoff will cause the bioswale to essentially cease to function. That is why one of the requirements when construction is being performed nearby a bioswale is to block the curb cut inlet and outlet for the bioswale itself.
Another danger to an urban bioswale is the frequent need to replace underground service lines, also known as lateral connections. These connections run laterally from a public utility into a building, and can be located directly under the bioswale. When such a repair, replacement, or new installation is needed, great care must be taken to not damage the carefully designed underbelly of the bioswale. If the permeability of green urban infrastructure is damaged, it will cease to serve its intended function.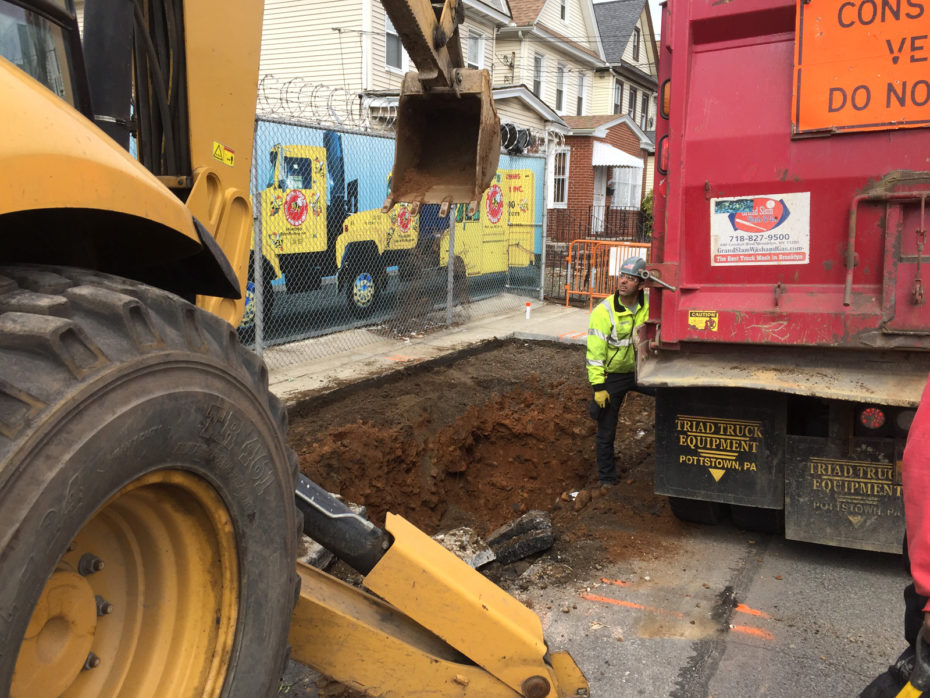 Green urban infrastructure has other benefits
Green urban infrastructure comes in various forms. For instance, rooftop gardens actually absorb rainwater, and lessen the burden on the sewer system as well. What may give these installations more meaning to you, is the fact that they lessen the need for major capital expenditures. Capital expenditures are something that you, the taxpayer, ultimately foot the bill for. Rainwater and waste water treatment plants, dry well systems, and the like, are very expensive to build. They also eat up capital budget by the cost of their maintenance, and eventual upgrade and replacement.
Bioswales, rooftop gardens, and other green infrastructure projects, cost little to maintain. They also have a relatively modest installation cost as compared to a treatment plant. Another positive effect is, unlike a water treatment plant, they leave no negative environmental foot print.
For all your water main and sewer needs, contact Balkan Sewer And Water Main today.