When Harris Street water main and sewer work is needed the residents count on Balkan Sewer And Water Main. Harris Street is located in Far Rockaway which is in Queens and is only two blocks long. But Balkan knows that even on quiet residential streets water main and sewer work needs accurate records from the DEP. Getting accurate city records ensures that work is done precisely, correctly, and excavations are made in the proper location and to the correct depth.
Having proper water main and sewer records also means that sewer and water line work is priced out correctly with little chance of a work order change or unexpected price increases.
Harris Street water main records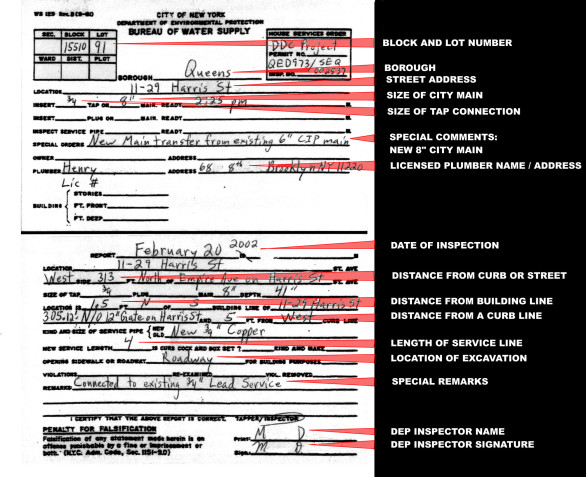 As an example Harris Street water main information indicated that the tap connection was 41" deep and 5' East of the West curb line. It also showed that a new City water main had been installed and that new ¾" taps had been installed for each house.
The tap card information provided meant that Balkan would know ahead of time the exact location of the city water main, the exact depth, and what size tap connection already exists. Information like this is vital to avoid unwanted job delays, extra cost due to poor planning, or excavating in an incorrect location.
Harris Street sewer records
When it involves sewer work the information supplied by the NYC DEP is even more important than when water line repairs are needed. DEP sewer records for Harris Street showed the location of the city manholes.
Manhole locations are very important as manholes sometimes are buried or get paved over. In addition manholes for certain type of utility or sewer lines can be confused with others causing a risk of incorrect work being performed.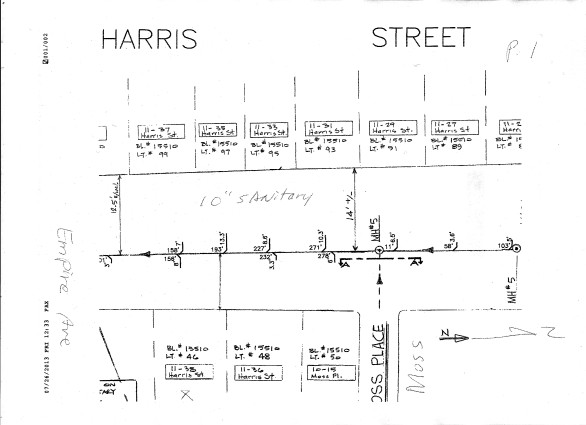 City sewer 'as-built' records also indicated that the sanitary city sewer on Harris Street was on a concrete cradle, which means it was installed relatively recently. Having a concrete cradle under a city sewer means that if a new sewer connection has to drilled in to the city sewer pipe it would not have to encased in concrete as it already has concrete underneath it.
Having a concrete cradle already in place can actually save a day on a job site for a crew. This would amount to a substantial savings for the property owner or developer.
The DEP also had a spur map available for the Harris Street sewer lines that showed exact locations for every house connection, which are called spurs. In addition some of the house had additional pipe installed on the spur going towards the house. Knowing information such as this avoids making an excavation in excess to the needs of the sewer line repair or replacement.
In some cases a city sewer may have a connection installed all the way from the city sewer to the curb line. This type of house sewer line connection is called a 'curb connection'. When a curb connection exists it may mean avoiding making any excavation in the roadway whatsoever.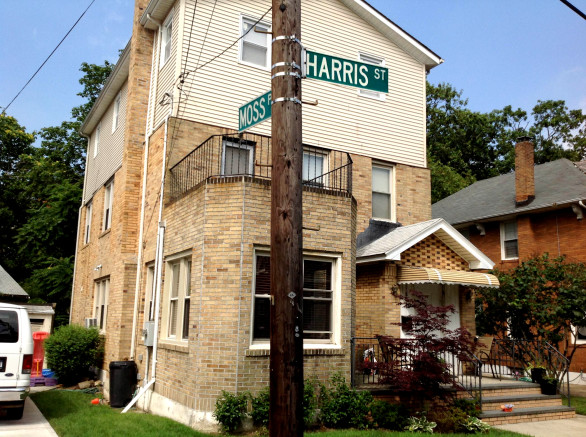 Not only does our uniform pricing policy guarantee you a fair price very time, but our careful preparation helps ensure an accurate quote with very little chance of any unforeseen circumstances later on.
A Little Bit About Far Rockaway In Queens
Housing in Far Rockaway is quite varied as it includes some very large private and public housing projects. It also includes many private homes that range from modest frame houses and beach front bungalows to fairly opulent brick homes as well.
Over the past couple of decades many of the beach bungalows Far Rockaway was famous for, and sometimes infamous for, were demolished to make way for new development. While some welcomed the new water front development many miss the old time Rockaway feel of the bungalows.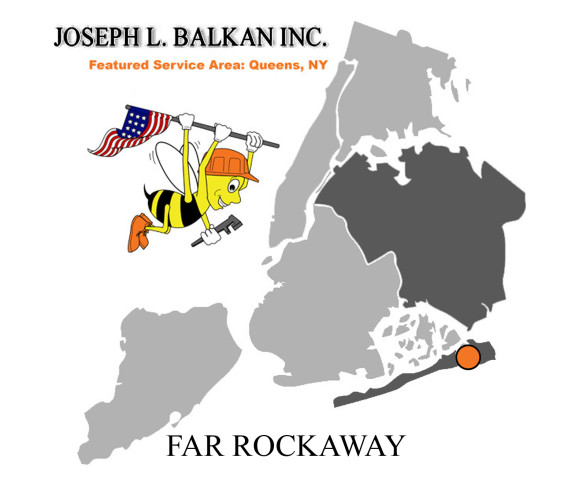 Far Rockaway is physically on the eastern end of the Rockaway peninsula and extends from around Beach 32nd Street to the Nassau County border, which starts the Five Towns area.
The areas educational facilities not only include a number of public schools but due to its cultural diversity it also includes many accredited religious schools, such as Christian and Jewish places of education as well.