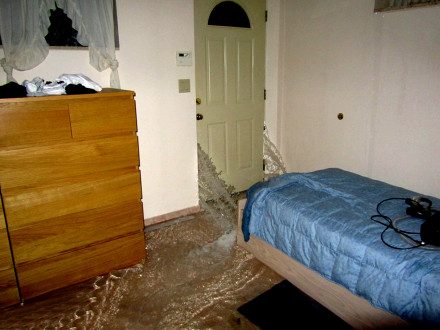 Heavy rains frequently can cause a sewer backup, and sudden downpours do occur much more frequently than ever before. Many NYC sewers frequently back up during, and even after, heavy rainfalls. Property owners can be left with inches, or even many feet, of waste-water in their basements due to a public drain system being overburdened.
There are various reasons for this occurrence during and after a heavy rain. The reasons  may include vacant land being developed, grassy areas being paved over, and changes in weather patterns, just to name a few. The problem is usually not the house sewer, and the remedy could be very low cost.
After a sewer backup from heavy rain, safety precautions must be taken to prevent serious injury
First of all, never enter into a condition when there is any chance of live electric current being present. Serious injury or death can result from wandering into water where electric current is flowing.
Secondly water can make a pilot light go out for a gas appliance thereby resulting in a dangerous gas condition. Always call your public utility gas provider if you smell gas. In NYC that would be National Grid or Con Edison; or call a licensed professional.
What can you do after taking safety precautions?
After a City sewer backup from a heavy rain there may be little a property owner can do. Frequently the sole cause of the house sewer backup is actually from the City sewer being backed up. After the rain dissipates, the City sewer flows normally again and the water in a basement will dissipate as well.
No drain cleaning or sewer repair work will be needed in this case. A wet/dry vacuum and a dehumidifier may be all you need. If you still have an issue with sewer run off, always call a licensed professional when it comes to a plumbing problem.
[button link="/contact-balkan-plumbing/" bg_color="#EA6E24″ window="yes" size="xl"]Get expert advice today[/button]
Precautions to prevent future flooding or damage
Certain preventive measures can be taken to prevent a City sewer from backing up into your basement during or after a heavy rain. Some are low cost, while others require corrective plumbing work.
wing nut plug

Make sure sewer trap plugs are fit tightly on the house trap. Replace old ill-fitting sewer trap plugs with fit-all plugs. Fit-all plugs can be purchased from any plumbing supply or hardware store for less than $10.00 each. A $10.00 item may save hundreds or thousands of dollars in future damages from heavy rains.

If the house sewer is solely for sanitary use (not for any rain water flow) a back-water check valve can be installed in front (the street side) of the house trap. This work must be performed by a Licensed Master Plumbing firm such as Joseph L. Balkan, Inc.
If the house sewer in question is also for storm water (rain water) flow and there are plumbing fixtures in the basement (such as a toilet, shower, or a sink) backwater check valves can be installed for individual plumbing fixtures.
What is a backwater check valve?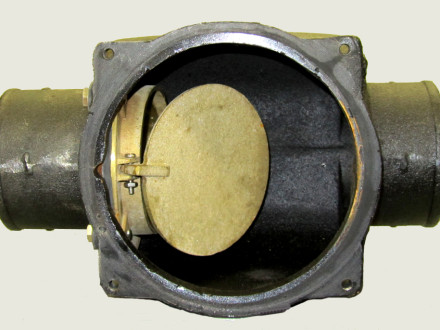 A backwater check valve is a self-operating valve that only allows for water flow in one direction. If properly maintained it will prevent water from flowing in the opposite direction thereby preventing a sewer backup from a public sewer system.
A backwater check valve should be cleaned every 6 months to a year, a task easily performed by a non-professional by removing a few screws. No special tools or skills are required for maintenance on a backwater check valve.
This relatively low-cost installation can prevent heavy rain from causing damage to your house ever again.
What is an automatic backwater valve?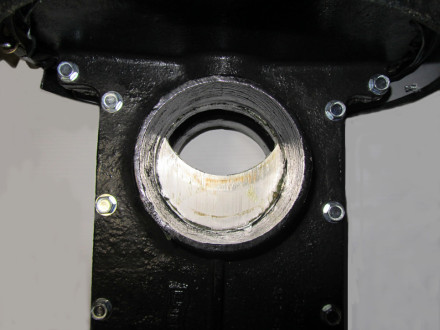 Balkan Sewer And Water Main Service is proud to introduce an automatic backwater valve as a new and exciting product.This item is far superior to a sewer check valve or a manual gate valve.
An automatic flood gate valve seems to provide a final solution to property owners suffering from waste water flooding from a public sewer backup.
While check valves do not completely stop backwater, only greatly reducing it. And manual knife edge gate valves have to be manually opened and closed prior to and after a sewer backup. An automatic backwater valve has none of these drawbacks and many advantages. An automatic flood gate valve will stop backwater 100%, and over long periods of time. [Learn more about an automatic sewer valve] Not only will an automatic backwater valve stop sewer water 100%, but it does not work using electricity, and as it's name implies is completely automatic.
Have a question or need clarification?
Contact Balkan Sewer And Water Main for a same day response to any question or concern regarding your water main or house sewer. Sewer backup issues caused by heavy rain or from any other cause will likewise receive our prompt and professional attention. We are here for you 7 days a week, day or night, will free professional advice and expertise. Free on site visits are provided seven days a week, and without any obligation whatsoever. Balkan Sewer and Water Main Service also provides a useful resource page; Visit our Balkan Sewer and Water Main Resource Center.