Hollis is a working class community which is centrally located in the Borough of Queens in NYC. When water line repair or other plumbing work is needed it must be done correctly the 1st time, money cannot be spent on a poor quality water line repair. Unfortunately in this particular case a plumber's choice to save $5.00 on fittings cost a homeowner $2,300.00. This job location is a clear case of a plumber saving a couple of dollars with no consideration for the consequences for their client.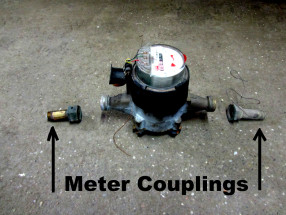 What transpired was that the water main for this house was completely replaced about 4 years and received a 3 year guarantee. When connecting to the existing tap connection instead of using a brass fitting made to withstand underground conditions the plumber used a meter coupling. A meter coupling is meant to connect to a water meter in a basement and not meant to be placed under any undue stress, such as under 4′ of dirt and subject to roadway traffic vibrations. A meter coupling is not legal to connect to a water service line or underground plumbing work.
To add insult to injury the original plumbing contractor failed to respond to the water line leak by claiming that the 3 year guarantee was over.  He neglected to state to this Hollis Queens homeowner that illegal plumbing work which is not performed to code is not subject to the limitations of a written guarantee.
Homeowner forced to pay to repair illegal plumbing work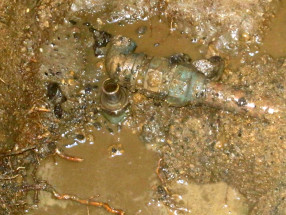 Joseph L. Balkan Inc was called to look over the situation and give an evaluation. Balkan quoted the correct water line repair in the roadway, which also included installing a new tap connection. After securing all required DEP and DOT permits the new tap connection was scheduled. Careful planning resulted in all work completed in one work day and completed to code with long-lasting brass fittings.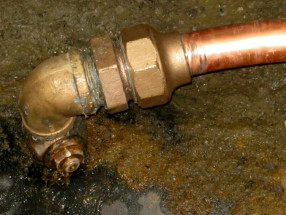 Because domestic water services 2″ or smaller do not require a mandatory inspection, property owners are left to trust the water main contractor that they hire. For this reason it is wise to shop carefully. Check licensing status, check online reviews, but maybe most importantly make sure you get a long-term guarantee. Many firms including Joseph L. Balkan Inc give 10 year unconditional guarantees on sewer and water main replacement work. Being centrally located in Queens, not far from Hollis, means the Balkan family knows the community and respects their neighbors. The hard working people of Queens are assured of top-notch sewer and water main work every time, and our uniform price policy guarantees a fair price every time as well.
What is a wet tap connection ?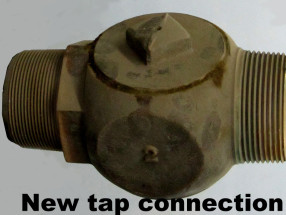 A connection to a public water main for a water service line is much more important than a property owner may realize. There can be various issues with a water main connection for a service line that will affect the service life of the water line and water pressure for the property:
A connection for a main water line may be a 'driven' – installed before power tools were used. A driven tap can blow out of the main line without warning.
A connection can be too small to supply the proper volume of water to a property.
A tap can leak or be defective.
Many NYC properties have added plumbing fixtures or living space to an existing building over the years. A tap that may have been adequate or marginal years ago will now provide an inadequate volume of water and result in low water pressure as well. No matter how large the actual size of the water line, if the tap is too small there will not be enough water volume or pressure for the property. The minimum size allowed is 5/8″ for a one family house – many taps in NYC are only 1/2″ and wholly inadequate. Read more about wet tap connections.
[button link="/contact-balkan-plumbing/" bg_color="#EA6E24″ window="yes" size="xl"]Get a FREE 0n-site visit today![/button]
A little about Hollis Queens
courtesy of wikipedia
Hollis is a neighborhood within the southeastern section of the New York City borough of Queens. A predominantly African American community, the boundaries are considered to be the Far Rockaway Branch of the Long Island Rail Road to the west, Hillside Avenue to the north, Francis Lewis Boulevard to the east (although parts of Queens Village are addressed as Hollis on Jamaica water bills) and Murdock Avenue to the south. Much of this area is considered to be within the St. Albans postal district. Hollis is close to Jamaica and Queens Village, Queens. The neighborhood is part of Queens Community Board 12. Hollis is patrolled by the NYPD's 113th Precinct.

The first European settlers were Dutch homesteaders in the 17th century. A century later, early in the American Revolutionary War, it was the site of part of the Battle of Long Island, a battle in which the rebel Brigadier General Nathaniel Woodhull was captured at a tavern on what is now Jamaica Avenue. Woodhull Avenue in Hollis is named after him.

The area remained rural until 1885, when developers turned 136 acres (55 ha) into houses, and the area is still developed primarily with single family houses. In 1898, it became a part of New York City with the rest of the borough of Queens. Since the end of the Korean War, the neighborhood has been settled primarily by African-American lower middle-class families. In recent years, the area has seen a large influx of South Asians and West Indians. The area has a majority of working parents with many early childhood schools in Hollis. Hollis is mainly within zip code 11423.