A Brooklyn home in Sunset Park recently suffered a complete blockage, and a failure of their house sewer. The circumstances that caused the problem are what made this situation most unusual. It seems that a brand new house was being built right next door to them. As is normal, excavation was needed to pour the foundation for the new house. The new house abutted the existing homeowners house. The work next door should not have resulted in this homeowner requiring any corrective work. However it did result in them requiring a complete Brooklyn sewer line replacement.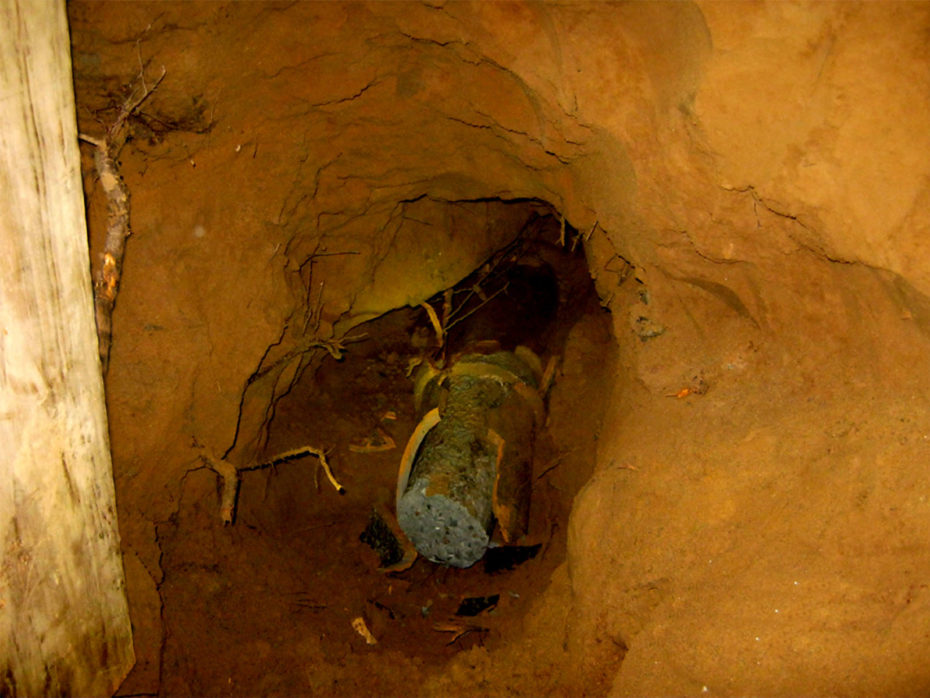 Unique Causes For A Brooklyn Sewer Line Replacement
What made this Brooklyn sewer line work required was quite unusual. It was caused when the excavation contractor for the new house over dug, and undermined the front stoop for the existing house. They tried to solve this problem by pouring ready mix concrete under this owners front stoop. This was an attempt to fill in the void they created. Unfortunately, when they over dug they also dislodged the home sewer line for the house next door.
When the contractor next door tried to cure the issue they created, they actually exasperated the situation. When they filled in the excavation with concrete, they also filled in house sewer with solid concrete. As ready mix concrete will tend to flow, it flowed down the house sewer line, and completely filled in the house sewer. What made matters even worse is that concrete will harden even under water. The ready mix they poured solidified throughout many feet of sewer pipe. This completely and permanently cut off use of the house drain. Concrete will harden under virtually any circumstances. It will harden even when under water, and even under moving water. Never let wet concrete enter your drain, or sewer system. Wet concrete will harden and become a permanent blockage.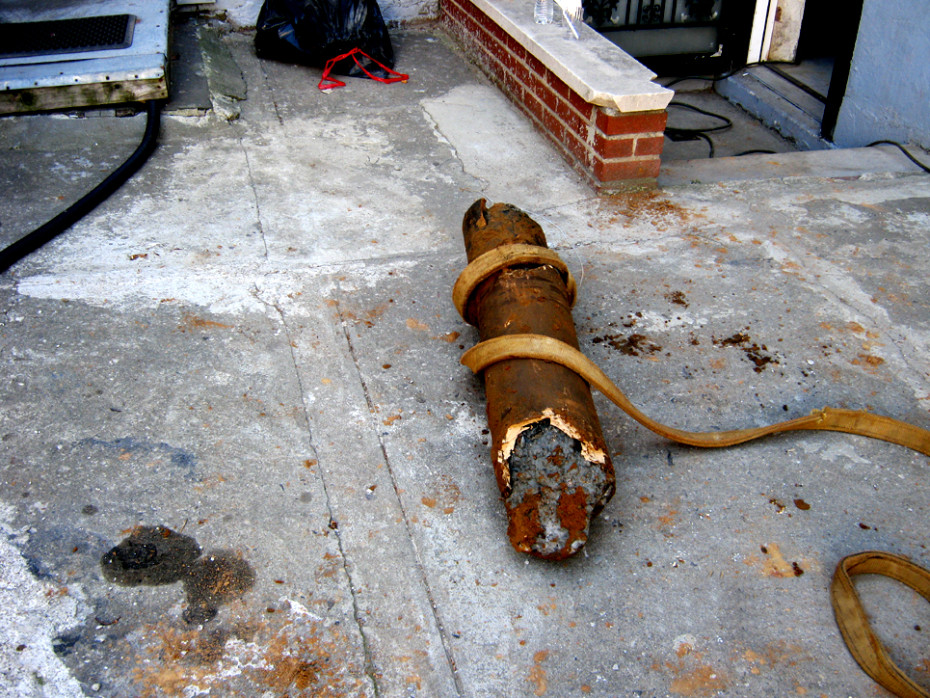 A Brooklyn home sewer filled with hardened concrete is a unique obstacle
Besides this being a Brooklyn sewer line job that was made necessary by damage caused by others, it was also made more difficult by their actions as well. Breaking out and removing an old clay sewer pipe is not typically a difficult process. On the other hand, removing clay pipe filled with solid concrete is quite difficult. This obstacle added to the already substantial cost of this sewer line replacement, and to the scope of work. The advantage of hiring Balkan Sewer And Water Main Service is the pride that they take in their installations. This owner received many benefits that would ensure a long-lasting home sewer line. But they also received relief from other pre-existing drain line issues as well.
Correcting an existing plumbing violation
In most cases attending to all sewer issues at once, instead of one at a time, will save money and aggravation. In this case there was an area drain illegally connected to the fresh air inlet. A fresh air inlet is designed to allow a home sewer to run freely. However, drain connections to a fresh air inlet are not allowed by code. While not a worrisome error, it is a plumbing violation nonetheless. Balkan corrected this by installing a separate line and a separate trap (as required by code). It was then connected inside the sewer access pit to meet plumbing code.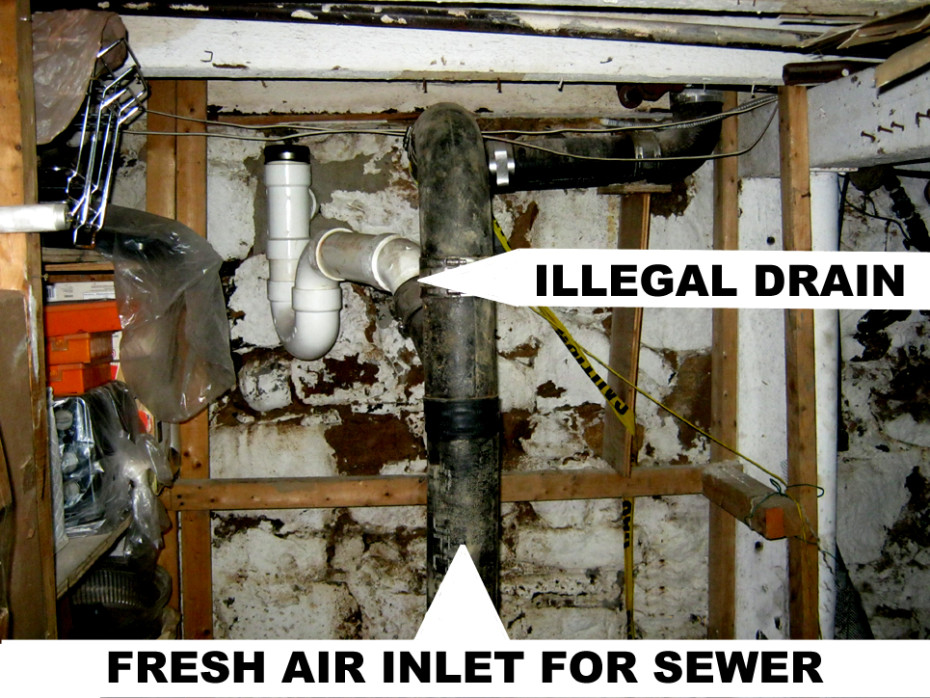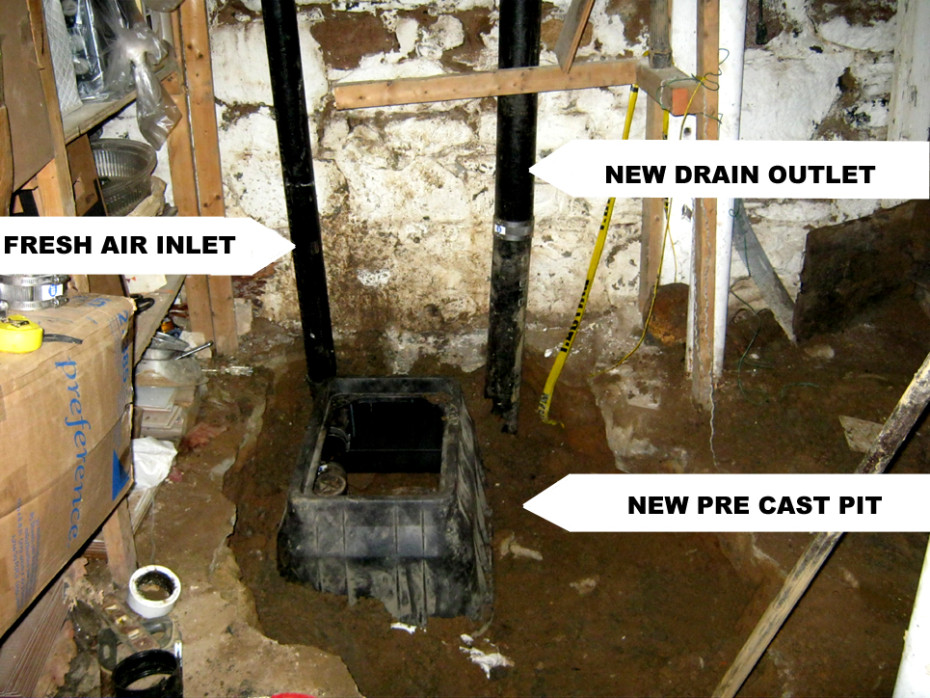 Preventing future Public Sewer Backups and Surcharges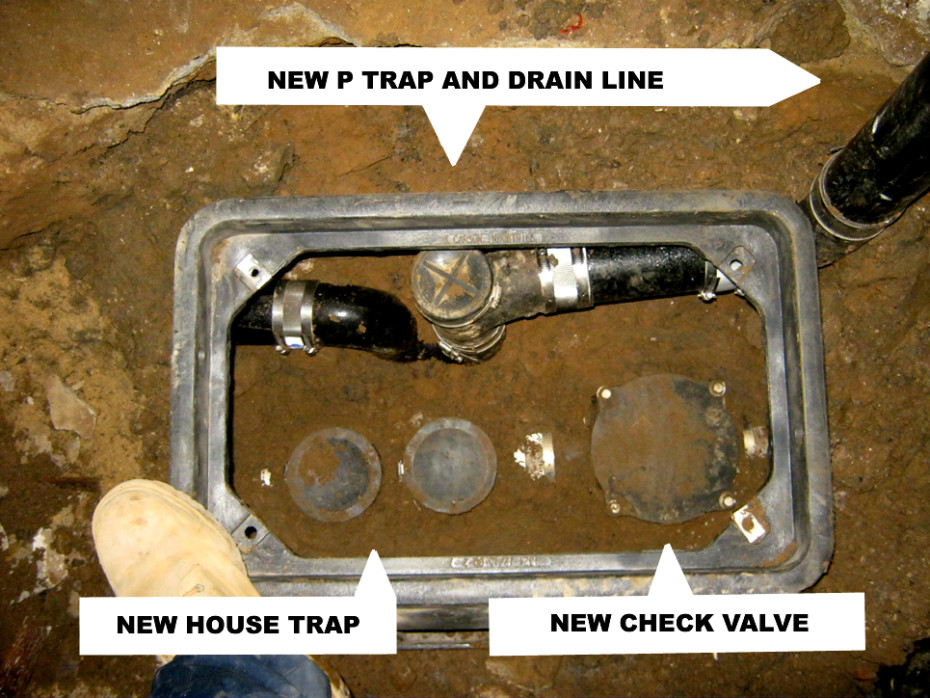 When performing a sewer line replacement from the city sewer to inside the basement, other problems can be addressed as well. In this case, it was an ideal time to install a sewer check valve. A sewer check valve adds very little to the cost of a job such as this. However, if done at a later date as a separate job, it can easily cost over $2,000.00.
A sewer check valve greatly reduces the chance of a public sewer getting surcharged and flowing into your basement. Installing this device to code in an easy to access pit can prevent damage from foul waste water. Sewer water backups can amount to thousands of dollars in damage, and present health issues as well.
Eliminating a dangerous trip hazard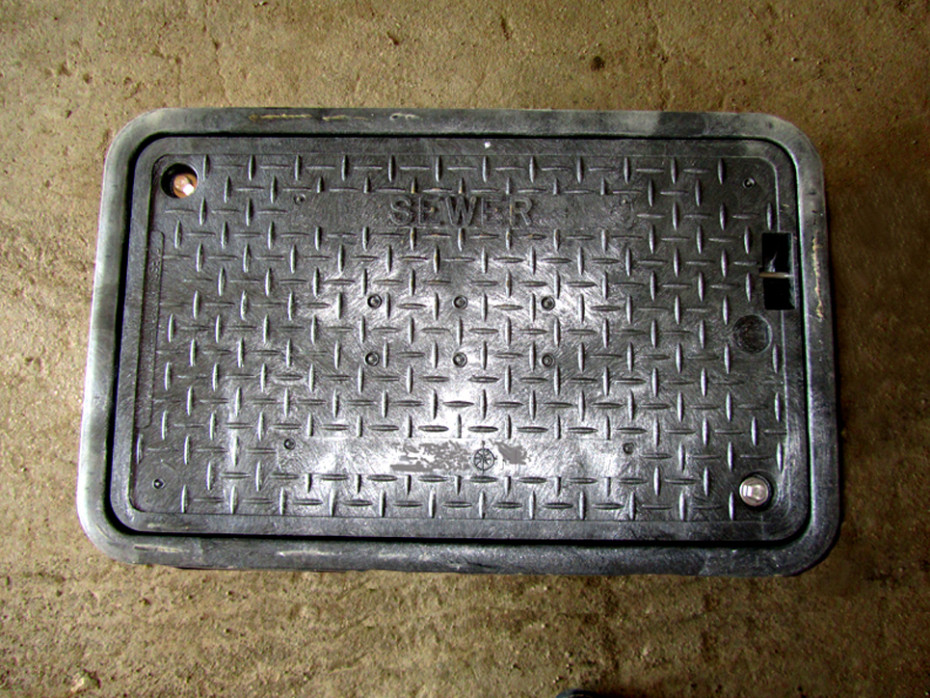 Balkan's attention to detail also means eliminating a dangerous trip hazard presented by an open and unsightly sewer pit. Open pits in your basement should always be a cause for concern. Balkan installed a water-tight composite access pit. It was installed complete with an anti-slip fitted cover. A pit such as this will prevent injuries, water infiltration, and is professional looking. In addition, it actually costs less than constructing a concrete access pit by hand.
Completely replacing the home sewer line
When a sewer line is replaced frequently a sewer contractor may leave some old pipe in place. Examples would be such as the old pipe going into the basement, or under a front porch. Using this case as an example, trust Balkan to do a truly complete Brooklyn sewer line replacement. Replacing your home sewer from inside the basement to the front of the foundation wall, if done as a separate job, would cost well over $2,000.00. Not to mention the aggravation of having work done all over again. Replacing this area of piping under one mobilization saves at least 1/2 of the cost.
Balkan worked four hard days to complete this new sewer system. It was installed featuring domestic extra heavy cast iron pipe, and with an unconditional ten year guarantee. A complete and worry-free installation included a new house trap, sewer check valve, a legalized drain connection, and a sewer access pit. As is typically the case, all disturbed areas were professionally restored by Balkan in-house paving and cement crews the next work day. This homeowner in Sunset Park became another satisfied Balkan customer. It also became another example of why Balkan is a licensed NYC plumber trusted for over 65 years.
About Joseph L. Balkan Inc.
Balkan Sewer And Water Main Service is the largest house sewer and water service line company in New York City. They are licensed, bonded, and insured. The Balkan Team is a family run sewer and water main company in operation for over 65 years. That means your 10-year guarantee on full replacements is rock solid long after your job is done. Balkan is expertly equipped from a 48,000 square foot facility which contains dozens of trucks, heavy moving equipment, backhoes and pneumatics. For all your subsurface plumbing including; water main repair and water main replacements, sewer repair and sewer replacements, catch basins, fire hydrants, manholes, and specialty excavation work, we can help. Contact Balkan Sewer And Water Main today for service 7 days a week, and after hours as well.