When considering a Home Repair Plan, or Service Line Protection Plan, choosing between providers can seem like a difficult decision. Plans can seem confusing, complicated, and include pages of terms and conditions. In some cases after paying a fee for months, you may suffer a claim, only to be denied by your provider, who will cite a clause or term in the plan.
That is just what happened recently to an elderly couple living on a fixed income in Brooklyn, NY. They had been participating in the NYC service line protection plan, and paying their monthly fees. But when their sewer failed, they were denied coverage. They were left with a non-functioning house sewer, and a growing health hazard in their basement. Needless to say, they were in a state of absolute distress.
HomeServe Cares: A service line protection company that comes to the rescue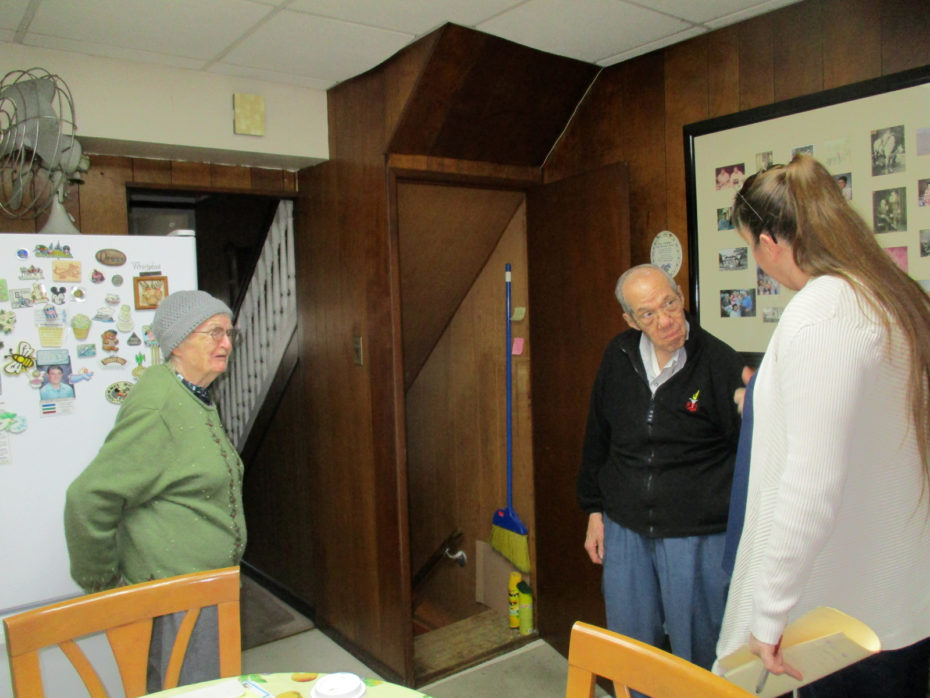 In the case of this couple in Brooklyn, HomeServe was NOT their service line protection company, nor did they have a Home Repair Plan with HomeServe. It was with disbelief that they learned of HomeServe's offer the pay in full for their entire sewer repair through the HomeServe Cares program. Mary Michell, HomeServe's Regional Operations Manager, took a personal interest in this case, led the couple through the sewer repair process, allaying all of their fears and apprehension.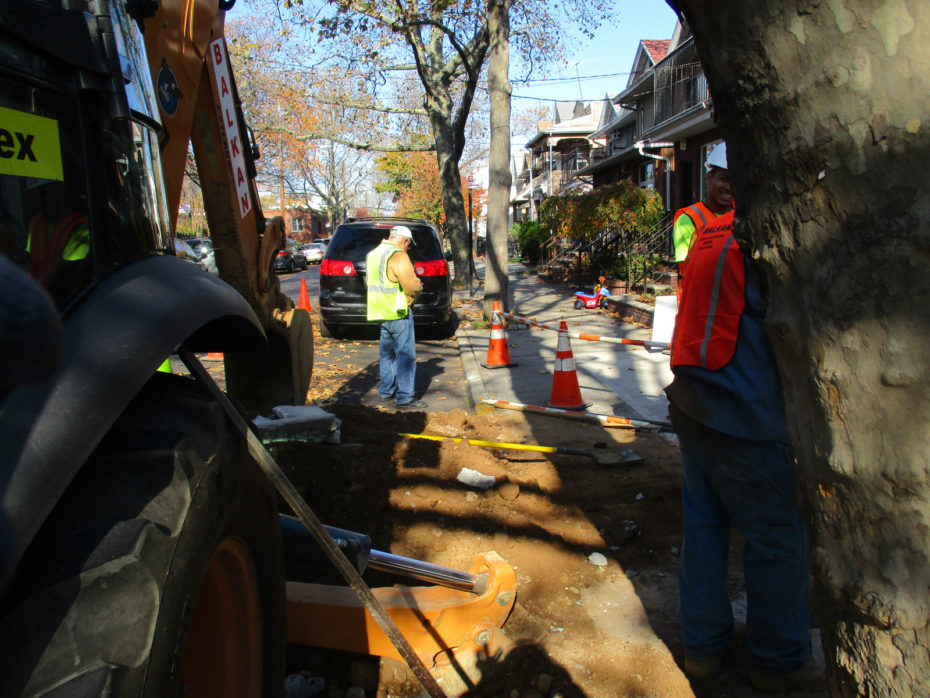 Balkan Sewer And Water Main Service was trusted to coordinate and perform all aspects of the Brooklyn sewer repair. First an Emergency Permit was secured, and a Tree Arborist hired, to both provide temporary relief and ensure no tree roots were damaged during excavation. Initial excavations were made to expose the old pipe. Large tree root growth was removed from the old pipes, allowing for resumption of sewer service.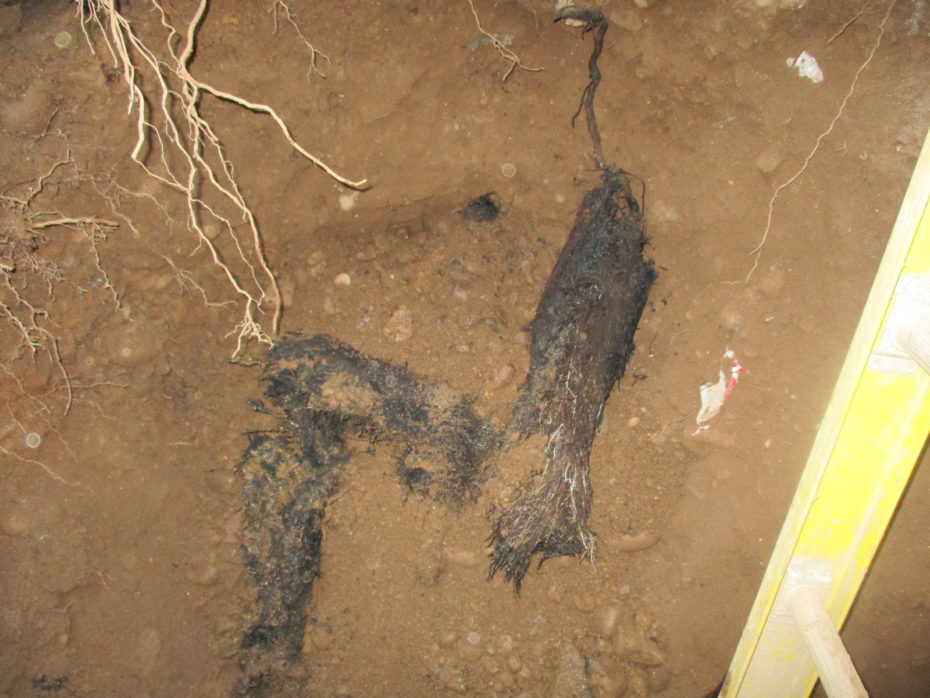 Hard copy DEP and DOT permits were secured, and a DEP site inspection was arranged. That is when Balkan's team returned to the site to install new extra heavy cast iron domestic sewer pipe from inside the basement to the curb line. The remaining sections of the house sewer leading up to the city connection were visually inspected, and deemed clear of any root damage. Specialty backfill material was trucked to the job site, installed, and compacted. All the steps of a carefully coordinated Brooklyn sewer repair added up to long lasting and trouble free end result. The disturbed area of the sidewalk was professionally restored by Balkan tradesmen the very next day.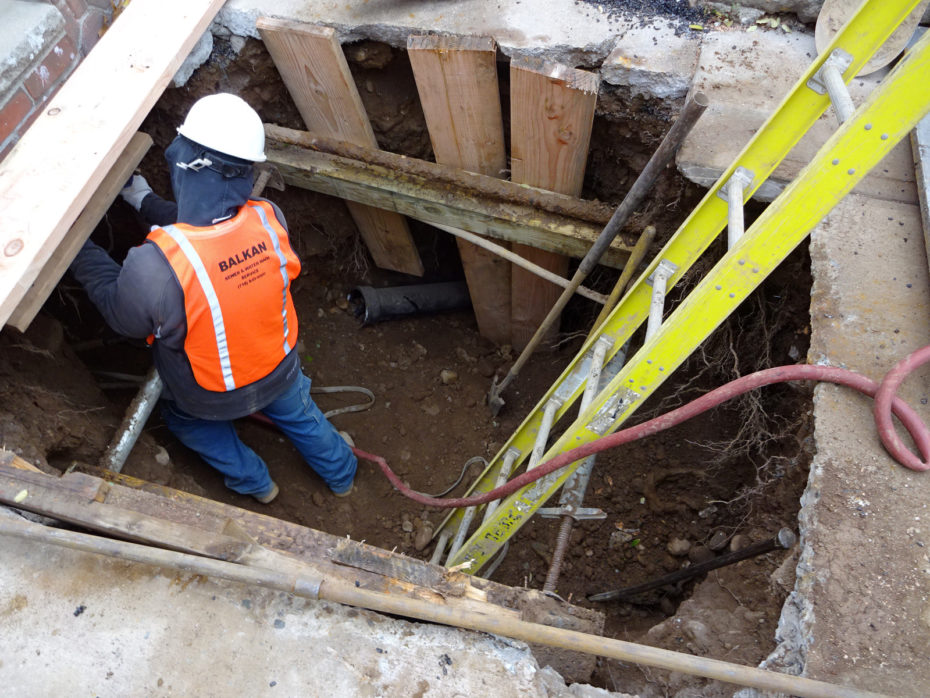 The very last part of a Brooklyn sewer repair can be the hardest for a homeowner, paying the bill! But in this case, there was no bill for the homeowners. Through the HomeServe Cares Program, HomeServe paid the complete sewer repair bill as they had promised. So indeed, there is a difference in service line protection companies, and the home repair plans offered by them. It would seem that a company like Homeserve, one who steps up to the plate when others decline coverage, may be the wiser choice.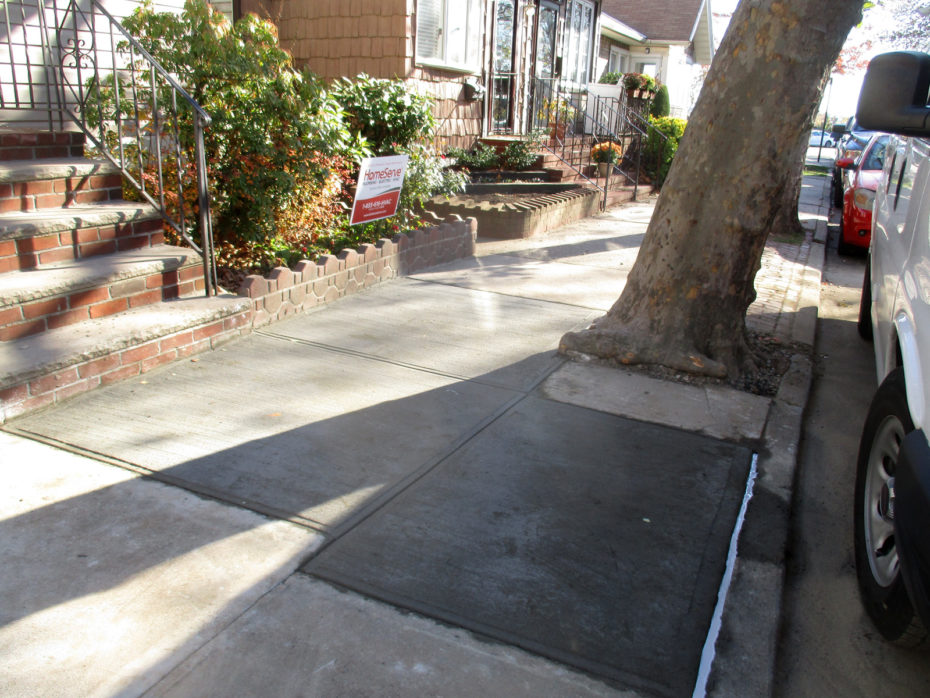 About HomeServe and a home repair plan
At HomeServe USA, our mission is simple: to free our customers from the worry and inconvenience of home emergency repairs. And since 2003 we've been doing just that. We provide homeowners across the country with affordable home emergency repair plans that offer protection from the high costs of repair bills and provide help for home emergency repairs, all with just one phone call.
Who We Are
HomeServe USA is an independent provider of home repair service plans. For over a decade, we have protected homeowners against the expense and inconvenience of water, sewer, electrical, heating, cooling and other home emergencies by providing affordable coverage, and a quality service. HomeServe – a Better Business Bureau Accredited Business – serves over two million homeowners in the U.S. and Canada, and dedicates itself to being a customer-focused company providing best-in-class emergency repair plans through leading utility partners and directly to consumers.
HomeServe USA has been serving customers in North America since 2003.
We offer services with more than fifty utility companies, manufacturer partner brands, and service providers in the U.S. and Canada.
We provide service to more than 2.3 million customers, with more than 3.5 million service plans.
HomeServe USA is the North American arm of HomeServe PLC, a London Stock Exchange listed company in the top 200 UK companies by market capitalization.
What We Do
We protect homeowners from the high cost and hassle of emergency home repairs, with repair service plans that cover parts and labor to repair critical electrical, gas, heating, cooling, and water systems. These affordable plans provide repair service in an emergency through our 24/7 repair hotline by local, licensed, and insured technicians with a $0 deductible and a one-year guarantee on all covered repairs.
Why What We Offer Is Important
Our customer surveys have shown that the majority of homeowners are unaware of what their responsibilities are regarding the maintenance and repair of their water and sewer laterals. For example, many homeowners assume their local utility covers the water pipe that runs from the street to their home. Typically, this is not the case. If a service line breaks the homeowner is responsible for the repairs, which could range from $3,000 to $10,000 or more – and according to CNN Money, 64% of consumers do not have $1,000 on hand to cover an unexpected home repair.
Home sewer repair companies
Just like there is a difference in a home repair plan, there is a difference in contractors that perform that type of work as well. When it involves a water service line or home sewer repair, why not trust the same company that those "in the know" trust? Balkan Sewer And Water Main Service has been trusted by NYC professionals, and homeowners alike, for their "best in class" service and professionalism for over 60 years.
The Balkan Team provides free and no-obligation site visits 7 days a week, and after hours as well. For a professional evaluation of any house sewer or water line issue Contact Balkan Sewer And Water Main.