In the not so distant past, a spot sewer repair would have been a questionable undertaking. House sewer lines tend to take twists and turns, and frequently do not run in a straight line. In addition, sewer cleaning machines are a questionable means to pin-point where a defect exists, or even if a defect exists. All these factors can result in excavating in the wrong location, or even when no defect actually exists.
Fortunately for many property owners, these current times have brought new improved methods. Nowadays, modern sewer tools, equipment, and technologies allow for a highly successful spot sewer pipe repair to be accomplished. Using a licensed and experienced sewer contractor, who follows a 3 point plan, will save you money and provide a long term and successful cure.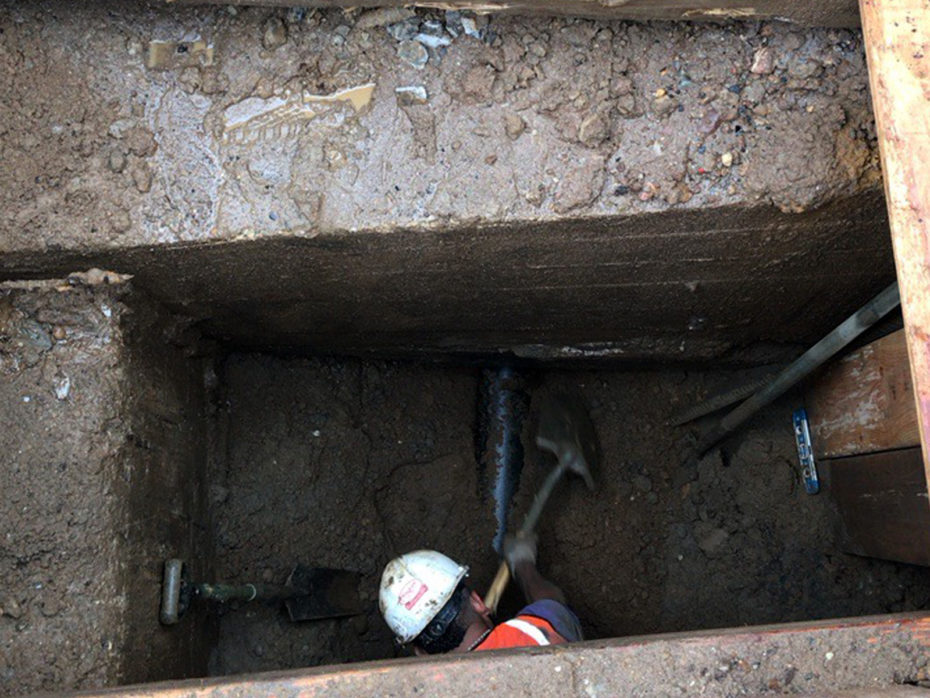 Spot Sewer Pipe Repair: The 3 keys to a successful cure
There is a sensible and straightforward 3 point plan to accomplish a successful spot sewer pipe repair. Although it may seem simple, and make perfect common sense, it is frequently not followed by sewer contractors. Failure to follow these 3 steps, and utilize modern tools ad equipment, frequently results in contractor / client disputes. While secondary sewer breaks on one line are not unheard of, excavating in an incorrect location should be infrequent. While it may be in some sewer contractors self-interest to do additional work, proper diagnosis is the 1st step in an all-important 3 point plan to avoid unnecessary excavations. So, all that said, here's your 3 point plan:
1. Before excavating make sure there is a structural problem
The sole point of excavating to repair or replace a house sewer is due to a structural problem with your home sewer line. That could mean a backpitch problem (which typically cannot be solved with a spot repair), or more frequently a break or dislodged pipe. Before any excavation takes place, a professional grade cleaning should be performed. That should be done by using a powerful professional grade electric sewer snake. In many cases a stubborn clog, or grease issue, can only be fully cleared by using a high pressure water jet.
Obviously if the line cannot be cleared using the above means, a dig must be done. But even if the line is cleared, it is advisable to have a HD sewer camera inspection done. Modern HD sewer cameras are fairly impressive devices. They provide you with the following 4 vital pieces of information:
A high definition and sharable video of the inside of your sewer line: does a defect exist?
An exact footage of the location of the camera as it enters your drain line.
An exact location of the direction of the line via an electronic tracing feature.
A major point of proper diagnosis is not just confirming that a defect exists. It is equally important to make sure your sewer problem can be cured with just a spot repair. Multiple defects, backpitched pipe, or illegal type connections, are but 3 conditions a spot repair cannot cure. Learn more about your home sewer by reading: different types of sewer problems.
2. Determine the exact location of the sewer issue
In the not too distant past, a spot sewer pipe repair could easily result in excavations in an incorrect location. Excavations could miss your sewer line entirely, or miss the point of the defect. These were major reasons why spot repairs were not advisable. It is always important to note that your home sewer may not run in a straight line. Sewers with bends or on angles are particularly common in homes that were originally built with septic systems.
Modern detection equipment has an extremely high success rate in locating your house sewer to within an acceptable tolerance. An additional benefit of you this, is knowing if sentimental or valuable finished area will be disturbed ahead of time. For instance, having the ability of removing valuable trees or shrubs is quite advantageous.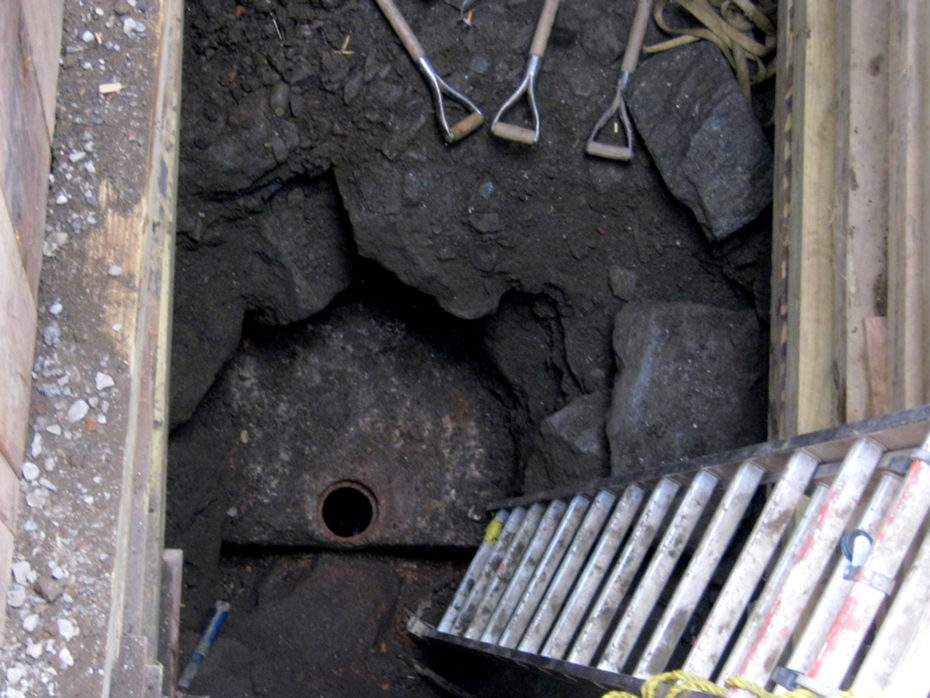 3. A spot sewer pipe repair done correctly
In many cases, and in many municipalities, spot sewer pipe repairs are not monitored or inspected. This is particularly true if the defect is inside your property boundary line. This is when using a licensed, bonded, and insured plumber is highly recommended. Do not be shy in requesting a verifiable plumbing license, certificate of insurance, and copies of permits, from your plumber. A reputable sewer contractor should be happy to comply.
Performing sewer repair or replacement work correctly requires a knowledgeable and skilled trades person. The following are just 7 vital parts of a process for a long lasting sewer repair:
A utility mark out must be called for prior to any excavation.
Trench and job site safety must be followed.
Proper and approved materials must be used.
All pipe must be installed with pitch.
Before backfilling the excavation the house plumbing must be tested.
Piping must be properly supported to prevent future settlement.
Your NYC expert at a cost saving spot sewer pipe repair
Through over 65 years of continuous dedication, the Balkan Team has emerged as NYC's sewer repair and replacement expert. You can trust Balkan to have a full stock of the most modern tools, detection equipment, and HD sewer video cameras. When you do need a sewer dig, Balkan has a full fleet of Case 580 backhoes, and support equipment. Our 48,000 square foot facility contains over 60 pieces of equipment. Backing up our capital investment is a team comprised of over 100 dedicated individuals. From the moment we take your call, throughout your entire customer experience, your will be treated with courtesy, honestly, and respect. That is the "Balkan Experience" – our family name stands behind that promise of integrity in all of our actions. Contact the Balkan Team for expert advice, service, or installation.